Terrorists that attacked Mumbai on November 26, 2008, arrived by sea, exploiting holes in India's national security ecosystem. India's officials have been heeding the lessons of 26/11 for over ten years, and ongoing reforms are being made to bolster the country's security mechanisms. At the same time, though, terrorism's forms have changed. Terrorist organisations are employing technology, social media, and other novel strategies not only to avoid capture and prosecution but also to disseminate propaganda and recruit foot troops. Terrorists are attempting to make a spectacle in recognition of the impossibility of militarily overpowering state forces.
As a result, the challenge for India's security forces is to confront an adversary whose goal is not merely to kill but also to win hearts and minds. Cities, by virtue of their ostensibly cosmopolitan and open nature, provide a stage for terrorists to gain a global audience.
Any effective counter-terrorism system relies on credible and actionable intelligence. Following the 26/11 Mumbai assaults, it was determined that there had been an intelligence failure as well as an incapability to disseminate information to the appropriate parties. There are three major flaws in India's intelligence system. The first is when no intellect exists at all. Second, the intelligence that is accessible is too broad, ambiguous, and ineffective. The lack of actionable intelligence is cited by law enforcement agencies all around the world as a major impediment to the prevention of terrorist strikes. The third issue is that many agencies fail to adequately relay the details of intelligence they obtain to the appropriate law enforcement agency. The government of India has taken significant steps to improve the state's information collection process and enhance inter-agency cooperation among the various security agencies in the decade since the 26/11 Mumbai attacks. 
Terrorism has progressed from the physical to the digital realm. In this setting, intelligence gathering must also become more multidimensional. The dispute over whether human intelligence or technical intelligence is superior is no longer feasible. It would be a more useful tactic for India to supplement its information-gathering operations with human intelligence in order to improve the state's capabilities in dealing with the increasing threats presented by terror groups.
Maritime and coastal security provide unique issues. Many of the flaws in India's marine security architecture were exposed by the 26/11 Mumbai attacks and the 1993 serial bomb bombings in Mumbai. To begin with, policing is difficult due to the porous character of the oceans. As many agencies attempt to enter the realm of coastal security, it is necessary to ensure that their responsibilities are clearly defined and that a clear sense of command, control, accountability, and coordination exists.
Following the events of September 11, one key improvement was the unambiguous assignment of coastal security responsibility to several authorities. The Indian Navy, with the help of the Coast Guard, would be in charge of guaranteeing the security of territories beyond 12 nautical miles. The Coast Guard would be in charge of coastal security from five to twelve nautical miles out, while the maritime police would be in charge of security from the baseline to five nautical miles out. The Indian Navy has been tasked with overseeing all areas of maritime security on an organisational level. The level of coordination between various agencies has improved, and joint exercises to familiarise with the standard operating procedures (SOPs) have been held on a regular basis. This effort also necessitates joint training.
Another issue with coastal security is that coastal states' perceptions of their own security differ. Many of the port or maritime-based infrastructure projects that are being built in India's coastal cities are heavily reliant on technology. This significantly increases their vulnerability to cyber-attacks. To provide heightened coastal security, the Coast Guard's fleet strength (ship and air elements) has been boosted. To improve maritime monitoring, the Coast Guard is using electronic techniques. They've also expanded combined exercises with state marine police units and appropriate agencies.
Following the events of September 11th, countries in the Indian Ocean region have indicated a desire to collaborate with India on maritime and coastal security issues. This trend should be bolstered by giving bilateral and multinational scenario-building exercises more thought. Civil officials stationed in coastal districts should be more maritime-aware, and retired specialists should participate in maritime community empowerment.
In recent years, India's foes have turned their attention to the digital sphere. To combat these risks, India should develop solid systems to ensure the country's digital infrastructure runs smoothly and safely. Many other countries are employing technology-driven information warfare to combat threats posed by both state and non-state actors. Manipulation in elections through the use of propaganda on social media, fake news that causes fear, and digital disruption of energy assets and transportation networks are just a few of the many difficulties posed by the cyber domain. Taking on these cyber threats will necessitate a concerted effort from multiple agencies as well as novel techniques. To begin with, it is critical to address the country's cyber security apparatus' structural and organisational flaws. The obstacles are immense, and more financial resources are required. India needs to make use of its vast human resources in the fields of information technology, data science, and cyber security.
Some countries have already taken steps to improve their cyber operations. In addition to enacting cyber legislation, the government has taken organisational measures such as establishing new cyber security centres such as the National Critical Information Infrastructure Protection Centre and the National Cyber Coordination Centre; creating a division within the Ministry of Home Affairs dedicated to cyber and information security; and improving institutional capacity building through personnel training and awareness.
There has been a noticeable improvement in India's counterterrorism systems in over ten years since the 26/11 Mumbai attacks. India, on the other hand, continues to face complex issues. Inter-agency cooperation is lacking, and decision-making is unproductive. State forces in charge of India's counterterrorism response will have to adapt to these transformations and strengthen the security ecosystem's resilience as terrorism's manifestations evolve swiftly and become increasingly technology-centric.
Faria Choudhry, a student of Architecture and Political Science, strives to uncover hidden dynamics through her writing.
"Let people eat cake" says Pakistan Navy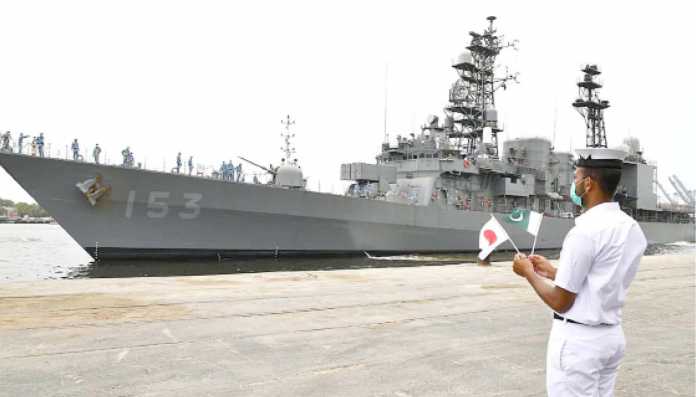 In 1789 during yet another famine in France, the princess Marie Antoinette upon being told that the peasants had no bread, is said to have replied with frivolous disregard for the starving peasants with the words "Let them eat cake". Today, the condition of the Pakistani citizens is quite similar to the French peasants of 1789.
The desperate economic conditions in Pakistan and the impact of floods has led the Finance Ministry to issue directives for implementing strict austerity measures for year 2022 – 2023. These measures aim to curtail operating expenditure and reduce the economic burden of the people.
However, it seems that these directives never reached their Navy.
Very recently, Pakistan Navy Ships Shamsheer and Nasr visited Yokosuka Port in Japan with an aim to participate in the International Fleet Review. In much contrast to the government verdict of "no unnecessary expenditure", the visit was neither mandatory nor of importance. However much to the citizen's dismay, neither the empty coffers nor the grave economic situation of the people seemed to deter the Navy from going on a tourism cum shopping spree.
Pakistan Navy Ships visit Yokosuka Port in Japan
In economically stable conditions, a Naval ship's visit to a foreign port would have been welcomed by the citizens. However the economic burden posed by  these activities have quadrupled the fear of a complete breakdown of society. While the cost of fuel for such a long voyage is in itself a huge deterrent, the fact that the ships will be stopping at almost five to seven countries during the futile passage, has made matters worse.
Monetary Implications of this cruise
Let's look at the basic requirement of a naval voyage. The mandatory requirements include buying stores, fuel/lubricants, undertaking necessary repairs, paying the crew in international currency etc. But is this all? Definitely not. Each stop at a foreign port will require a mandatory interaction with the diplomats, exchange of gifts, parties with great pomp and show to announce the naval ships' arrival, preparation of native cuisines etc.…The expenditure is definitely mind boggling.
Who is paying for this?
All this is paid through already depleting foreign reserves. Therefore understandably, if news of such frivolous expenditure, especially in these trying times were to reach the general public there would be a furore, and a well justified one. But Pakistan's Navy has been clever, or at least it thinks it has been.
Where normally, all port visits are turned to a media circus by the Navy, this time not a single press release is available on the open media. Why? Because of a stringent gag order on issuing media bites by the government. The Navy has warned cruising ships to conduct events without the presence of press. The aim apparently is to prevent citizens from becoming aware of this trip to Japan. Pakistan's naval commanders seem to be relying on their belief (definitely flawed and misguided) that – ordinary Pakistani citizen are like the proverbial ostrich with its head buried in the sand – what it cannot see, does not exist!
In today's world where information travels faster than light – there are enough people who monitor everything. Which is why hiding the journey of two huge warships was definitely worthless. As soon as a local net-hawker identified the movement of the naval ships – the world and entire Pakistan was made aware of the secret journey.  The Maverick could not outfox these people.
Frivolous Spending in Desperate Times
While one may still be able to find an excuse for Navy's foreign visits, but what about the inflating expenditure on the procurement and projects, which are of no immediate importance? As pointed out by social media users a few days earlier, the Pakistan navy has been planning to procure four Frigates (each from Turkey and China), four to eight Corvettes (from the Netherlands), eight submarines (from China) and almost ten new aircraft for its maritime fleet.
Which brings a very interesting scenario to light – the huge lack of communication between the Pakistan's government and its navy. On one hand the government has been insisting on cutting down operating costs and even travel/fuel usage by every ministry and service, but on the other, the Armed Forces are on a shopping spree. And whose money are these forces using?  The question that the citizens of Pakistan need to ask is despite the mushrooming economic crisis, why is there a need to undertake such frivolous expenditure/cruises? And if they are really necessary, why the extra effort to hide it?
Many Pakistanis have already started asking such questions, a mass outcry is not far. And while the Pak armed forces especially its navy may pretend to be blissfully unaware of their countrymen's plight, they must realize that secret voyages will not help the deplorable situation of their country and their fellow countrymen.
This article has been contributed by Commander Abhishek Rathi (Retd), Indian Naval Officer
Commander Abhishek Rathi (Retd) is a retired executive officer and holds an experience of commanding two naval warships. He has a keen interest in maritime history and technology. The officer is also an avid nature photographer and likes traveling all across India for it.