Numerous violations of civil rights and annihilations of human lives are now akin to normal in the middle-east. While a distinctively painless and luxurious life is advertised when talking about the Middle-east, it is only when one dwells deeper in the turmoil raging in Syria, Iraq, Yemen and Libya, it gets introduced to the sorry state of affairs and traditional travesty.
History
It is very difficult to certainly pin-point the inception of the ongoing wars as such is the distorted history of the time. However, the Iraqi invasion of Kuwait in the 1990, can be marked as the first proper beginning of America's endless wars. Instances before 1990, were mostly small mutinies and border disturbances. It was only when the then President of the United States of America George H.W. Bush decided to respond forcefully, fiercely against Iraq's aggression. While Bush avoided an open-ended war with Iraq, Kuwait's restoration and a creation of no-fly zone in Northern Iraq had unanticipated consequences. The no-fly zone in Northern Iraq extended to the Southern part to keep the Iraqi military at bay from Saudi Arabia and Kuwait.
The excitement and overconfidence of victory took America again to Iraq in 2003, under the leadership of President Bush, ignoring critical warnings from Brent Scowcroft, America's National Security Advisor, that waging war at the said juncture would only deeply puncture and divert critical resources from the fight against terrorism. The contest of attaining supremacy over Iraq, also led America to dismiss the intelligence report that claimed Iraq to be absolved of active participation in the 9/11 war. The undue, unsolicited and unwarranted invasion of America in Iraq in 2003 has been referred to as the worst decision in American foreign policy ever.
Leaders following Bush tried to rectify the state of war. President Barack Obama and Vice President Joe Biden did try to withdraw American troops from Iraq but the surgency of ISIS drained them back in. President Trump, also tried to put a stop to the war but ended up deploying more troops than ever, including deployment in Saudi Arabia. It is therefore conclusive to attest that getting into foreign matters without due diligence has cost America manifold.
Countries bordering and neighboring the Middle-East, especially Afghanistan, have also faced heat and wrath of the ongoing endless war. The concentration of military and armed forces across Latin America, East Asia and even sub-Saharan Africa since World War-II till date has intensified the wars and inter-territorial conflict exponentially, tracing the basic inception to the Middle-East.
Present Situation
While Asia and Africa have been the epicenter of largest conflicts, the Middle East has seen a much more relative increase in the past few years. Over the past decade, the bulk of the world's deadliest human travesties and civil rights violations have been witnessed in the Middle-East. Syria among the aforementioned states, has been reduced to a battleground and is a sorry example of the deadliest conflicted state since 1989.  During the 2018-19 pre-covid timeline, almost twenty million people have been displaced and thirty-five million people are in desperate and dire need of humanitarian aid.
The handicapped nature of International Law and inefficiency of the 2018 U.S. National Defense Strategy has further resulted in violence and chaos. In the year 2019 itself, the Middle East saw ten interstate-based conflicts. To top it all, the horrors of Covid-19 in the stream has further brought nations on its knees. With limited access to medical aid in refugee camps and disputed territories has further escalated the number of casualties.
Oppressed by both natural and man-made calamities, states like North-East Syria, where more than 3 million people are living in refugee camps during covid, have made it almost impossible for the general population to come out on top. Yemen, another horrified example of the war, has also witnessed a significant deterioration of human lives due to a prolonged civil war fueled by Iran and terrorist organizations, further worsened by the Covid-19 pandemic. As a result of the war, the country's health care system has been shattered and therefore is woefully inadequate to face the pandemic. Libya also shares a similar fate in terms of healthcare system. The ongoing conflict in the state has crippled medical infrastructure rendering an extreme number of lives lost. Though a ceasefire has furthered U.N. to form a new transitional government to protect and preserve public interests, the situation still remains volatile.   
Conclusion
Though the intentions of the US appear to be clean at heart in stabilizing the conditions across the Middle-East, efforts in furnishing globalization seem to be equally important. It is imperative to concretize globalization in order to enable the population to access medical and humanitarian aid, return to their homes, contribute to economic development and rebuild their lives.
Written by Hamza Jamal is presently reading law and writes for The Wonk on polity and world affairs.
When a Chinese Spy Balloon Made UFOs, a Matter of Grave Concern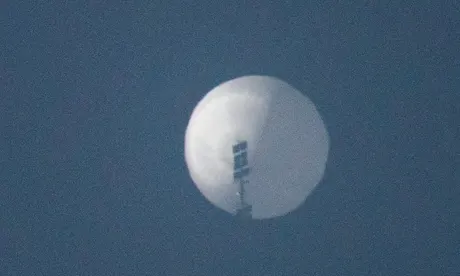 A year back, if someone told you that they spotted a "mysterious looking, white, balloon-shaped object" in the sky…you would have probably rubbished it, right? But what about today…how would you react to a news of 'mysterious balloons in the sky'? With a lot of concern, I presume…and rightly so! In this article we have discussed the incident of Chinese Spy Balloon aka Unidentified Flying Object.
From January 28 to February 4 this year, a giant white balloon was sighted across various parts of the North American airspace. This balloon, that was said to have traveled across South Korea, Japan, Alaska, Canada, and the contiguous United States, was later accepted by the Chinese government to be one of theirs – a Chinese 'Meteorological' Balloon that had drifted off-course due to the westerlies.
"The airship is from China. It is a civilian airship used for research, mainly meteorological, purposes. Affected by the Westerlies and with limited self-steering capability, the airship deviated far from its planned course."

– Chinese Foreign Ministry Spokesperson's Remarks on the Spy Balloon on 03 Feb 2023
But the American and Canadian intelligence services had different opinions – they claimed that the balloon was an instrument of surveillance which were endangering peace and security of these nations. On February 3, USA's Department of Defense reported that a second Chinese balloon was flying over Latin America, which China also claimed as its own. Following orders from U.S. President Joe Biden, the US Air Force shot down the balloon on February 4 in the Atlantic Ocean off the coast of South Carolina. 
But peace was not restored. The spy balloon incident has opened the pandora's box and the intelligence agencies now find themselves thinking on many fronts.
Before we dive into this, let's talk about China's "Civil-Military Fusion" program, under with such emerging technology is being developed.
China's National Strategy of Civil-Military Fusion (CMF)
"China encourages joint building and utilization of military and civilian infrastructure, joint exploration of the sea, outer space and air, and shared use of such resources as surveying and mapping, navigation, meteorology and frequency spectra. Accordingly, military and civilian resources can be more compatible, complementary and mutually accessible."

– China's Military Strategy, May 2015
To fulfill the Chinese goal of becoming a "world class military" by 2049, the Chinese government accelerated its program of CMF in 2015. Under this program, advanced technologies like Quantum Computing, AI, Big Data, nuclear, space and near-space technologies would be developed by exploiting both civilian and military capabilities. The importance of this Military Civilian Development Program can be identified by the fact that the President of the country, Xi Jinping, himself controls and oversees its progress. 
But why has the CCP government opted for this civilian-owned militarily empowered program? The reason is quite simple – 
If Caught – The government has the option to claim innocence by citing civilian–error and proving that there is no relation to the government or military. 
If Successful – The government successfully has access to the sensitive data of adversary and may weaponize this information as and when required for their benefit.
Now let's take another look at the Chinese Foreign Ministry Spokesperson's Remarks on the Spy Balloon –
"The airship is from China. It is a civilian airship used for research, mainly meteorological, purposes."
There should be no doubt that China's recent 'meteorological' balloons are a by-product of it's Civilian-Military Fusion program. The claim that the balloon's purpose was to spy on military installations in the Pacific region, cannot and should not be swiftly rejected. 
In the past few weeks, the North American Aerospace Defense Command has shot down four objects, and there are rumors of another balloon floating over the Middle East. What was once claimed to be a "civilian airship used for research, mainly meteorological, purposes", is now recognized as a component of a vast surveillance program.
Regardless of the quantity or caliber of the balloon's data gathered while flying over the United States, the controversy surrounding it has grown into an international incident, with multiple claims of similar "UFO" sightings all over the world – Japan, India, Taiwan, Colombia and list goes on.
What damage could the China's Spy Balloon inflict on the countries? Should we be bothered?
Let's answer the 2nd question first, should the spying balloon matter to us? 
YES, it definitely should. 
 It is no surprise that most members of Generation Z are unconcerned about data privacy, since they are so accustomed to being watched. In fact, a prevailing thought during a discussion about the balloon was, "Oh, the U.S. probably has comparable programs in China." The idea of a foreign competitor power gathering surveillance data on them therefore doesn't seem that terrifying to young people since. 
But, let's not forget this balloon was flying over the country's military areas, significant bases and important sites. 
Now let's come to the first question, what is the extent of damage that this balloon could cause? – Well, for this we leave you with two opinions to deliberate and make your own judgement.
Opinion 1
First, the chances of electronic surveillance to identify and possibly disrupt sensitive military communications cannot be ruled out at all. Second, is the possibility of cyber espionage or sabotage. With the cyber-skills and hacker army available with China's People's Liberation Army (PLA), it is a possible that this 'balloon-voyage' was a mere precursor to a full-fledged hybrid war. Third, the spy balloon could be a test, aimed to establish the reaction ability and potential of intelligence agencies worldwide. 
Opinion 2
Human brain is wired in a way to look at a shocking event with fear and assume that worst has happened. Therefore, had the Chinese diplomat in USA immediately met POTUS to explain China's position and taken strict (and public) against the civilian owners of this balloon, the matter would have been resolved peacefully without USAF interference. Diplomatic dialogue, should have been China's response, and not escalating the situation with threats – let's be clear 'cold-war' scenario, does more damage than good.
What's Next For China & USA Relations?
Chinese spy balloon illegal intrusion into USA's airspace has further deteriorated relations between the two countries. With Secretary of State Antony Blinken indefinitely postponing his trip to China, all prospects for a detente between the two superpowers seems to be eliminated. 
The incident has also heightened tensions and has accelerated alliance formation, not very different from the pre-Cold war era of USA and USSR!
"I believe in evidence. I believe in observation, measurement, and reasoning, confirmed by independent observers. I'll believe anything, no matter how wild and ridiculous, if there is evidence for it. The wilder and more ridiculous something is, however, the firmer and more solid the evidence will have to be."

-Isaac Asimov