Introduction
The obnoxiously shivering evening of 26/11 can never be forgotten. The horrors, panic and chaos collectively experienced by every Indian can never be obliterated, especially from the people of Maharashtra. The unparalleled efforts from brave soldiers, doctors, police-men, firemen and workers at the Taj and Trident, Chhatrapati Shivaji Maharaj Terminus Railway station in order to save lives and neutralize the terrorists at the same time, were sheer display of brute force, fierceness and valiance. As many as 166 people lost their lives during the unpardonable violence which comprised 18 security personnel, rendering many injured with grievous injuries.  While nine out of ten terrorists were killed during the encounter and Maharashtra managed to recover from this paralyzing instance, the mere mention of the 13-year-old event still spooks the spines of a billion Indians.
The Timeline
Numerous media-coverages, documentaries and movies have been made for the general public. A total of 10 Lashkar terrorists arrived in Mumbai from Karachi through speedboats in the wake of 26th November.  Late evening, what broadcasted as a tiny mutiny during the initial scarps of violence, later was announced as a full-fledged terror attack. Four of the terrorists entered the Taj, two in the Trident and the rest entered the Nariman House. The terrorists were exceedingly armed and fully loaded with ammunitions. Without any hesitation, the terrorists inhumanely and unflinchingly opened fire on innocent men, women and children. Another two terrorists, Ismail Khan and the vicious Ajmal Kasab penetrated in the heart of Mumbai, the Chhatrapati Shivaji Maharaj Terminus and yet again opened fire, killing 58 people and injuring more than 100. Following to the chaos and mayhem at CSMT, the two terrorists absconded and ascended towards the Cama Hospital, ambushing and killing six police officials on the way, including the ATS Chief Hemant Karkare, Vijay Salaskar and Ashok Kamte. The two terrorists then absconded in a police jeep but were later intercepted by the police. While the police began with the legal proceedings after the arrest, army soldiers and marine commandos surrounded the hostage sites after a 3 day long-drawn encounter with the terrorists. and secured the Taj on 29th November.
Ajmal Kasab was the only terrorist who was arrested while the others were gunned down by the police during the encounter.  Ajmal Kasab was later tried by the Indian Courts and was rightfully convicted. Ajmal Kasab was hanged on November 21st 2012, five days before the fourth anniversary of the horrendous incident.
How did Lashkar-e-Taiba manage to execute such an elaborate plan?
Carrying out such an elaborate attack of such magnanimous stature with the help of only 10 acting militants or terrorists, appears to be an impossible venture. The Islamic Jihadist Terrorist group, Lashkar-e-Taiba is a whole grown substantial terrorist network, founded and anchored by Hafiz Saeed with the sole intent of acceding Kashmir into Pakistan. The attack of 26/11, which brought a country of a billion population on its knees within 3 days, cannot be conceived to be executed just by one group. Indian delegators and dignitaries believe that the issue of Kashmir is the silver-lining of the attack which invariably coincides with the India-Pakistan border tensions. Hence, the theory coupled with Kasab's testimony in court, provides grounds for solidifying the fact that Pakistan has indirectly supported and funded the terrorist group to further their robust stance. Pakistan's intelligence agency ISI is accused by eminent nations namely, the USA, the United Kingdom and the European states to have provided the terror groups, especially Lashkar-e-Taiba, with financial aid and assistance, military training and shelter. Credited with 26/11 abhorrent attacks, Lashkar-e-Taiba is also notably made responsible for 2001 Parliament Attacks and the 2019 Pulwama Attack on Armed Forces.  
Present-day Taliban and its traditional ties with Lashkar-e-Taiba
The Taliban resurgence in Afghanistan has shocked the whole world. Ever since the Taliban government gained control of the nation, the entire world is waiting for the axe to fall on either side of the fence. However, as the world sits with delirious restlessness, it is imperative to build a conscious narrative based on the past instances of Taliban. As Lashkar-e-Taiba's anchoring members belonged to both Pakistan and Afghanistan, it is believed that the two misconstrued Islamic terror groups have shared close ties in the past. Inferences from instances during 1998 U.S. missile attacks in Afghanistan terror camps which lead to the killings of terrorists from Lashkar-e-Taiba and Hizbul Mujahideen further cements the fact that, distinguished terror groups have found themselves, accommodating and acting under one umbrella at one time or the other.  
Therefore, the present resurgence of Taliban in Afghanistan coupled with due support from Pakistan and China puts India in a state of a potential tripartite multi-faceted war, much bigger than the one from 26/11. Needless to stay, the potential oncoming attacks are not subjected to invalidate the martyrdom of the past and the sacrifice of police and security personnel during the November attacks, shall be duly remembered.
Written by Hamza Jamal is presently reading law and writes for The Wonk on polity and world affairs.
Kamikaze Drones – Latest from Russia Ukraine War Front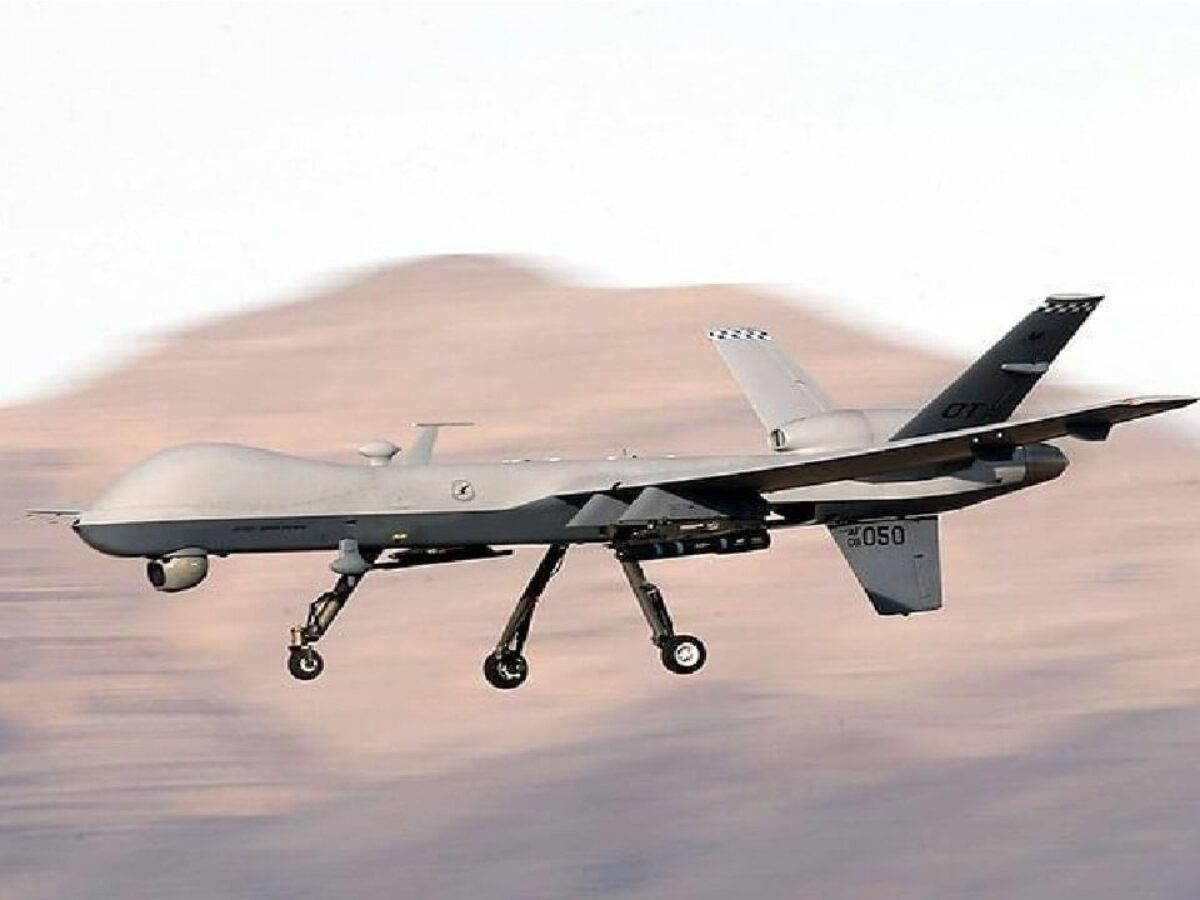 Drones or unmanned aerial vehicles (UAVs) are aircraft that do not require a human pilot onboard. They can perform various functions such as reconnaissance, surveillance, communication, or combat support. However, there is a special type of drone that is designed to be used as a weapon itself. These are called Kamikaze drones or loitering munitions. 
Kamikaze drones are aerial weapon systems that can loiter around the target area passively for a while before striking once a target is found. They explode when they contact the target and are loaded with explosives. Because their wings fold out as they are launched, they are also known as switchblades or suicide drones.
Various nations and actors have utilised kamikaze drones in an array of wars and crises. They have benefits like stealth, accuracy, cost-effectiveness, and drawbacks including vulnerability, moral dilemmas, and a finite range. They differ from UAVs in their use, functionality, and design. We shall examine the development, characteristics, uses, and implications of kamikaze drones in contemporary warfare in this article. 
Evolution of Kamikaze Drones
The concept of kamikaze drones is not new. It dates back to World War II when Japan used manned aircraft loaded with explosives to conduct suicide attacks against Allied ships. These were called kamikaze (divine wind) missions, and they caused significant damage and casualties to the enemy. However, the modern version of kamikaze drones emerged in the late 20th century, with the advancement of technology and miniaturization. 
The US was one of the first countries to develop and deploy loitering munitions, such as the Harpy anti-radar drone developed by Israel Aerospace Industries (IAI) in the 1980s. The Harpy could detect and destroy enemy radar emitters autonomously. Since then, several countries have developed and acquired their versions of kamikaze drones, such as Israel's Harop and Hero series, Turkey's Kargu and Alpagu series, China's CH-901 and WS-43 series, Iran's Raad-85 and Ababil-3 series, etc. Some of these drones can be launched from ground vehicles, aircraft, ships, or even soldiers' backpacks.
Kamikazes in the Russia-Ukraine War
In the Russia-Ukraine war, both sides have been using various types of drones and UAVs for surveillance, reconnaissance, communication, and combat support. However, since autumn 2022, Russia has been using a new type of drone that has caused significant damage and casualties to the Ukrainian forces. These are the Iranian-made Shahed-136 kamikaze drones.
What are Shahed-136 Kamikaze Drones?
The Shahed-136 kamikaze drones are loitering weapons that could fly independently or remotely to a target location and then detonate upon collision, destroying both the target and themselves. Russia refers to them as Geranium-2. They contain explosives in a warhead on their nose and are programmed to hover over a target until told to attack. The Shahed-136 has a wingspan of around 2.5m (8.2ft) and is difficult to detect on radar. It has a range of about 2,000 kilometres (1,240 miles) and an endurance of up to ten hours. It has a cargo capacity of up to 50kg (110lb) and a top speed of 250km/h (155mph). It can direct itself to its target using GPS or inertial navigation technologies.
How are Shahed-136 Kamikaze Drones Used by Russia?
Since October 2022, Russia has started utilising Shahed-136 kamikaze drones to target Ukrainian forces along the Donbas front line. Since then, Russia has launched over 300 drone strikes, killing over 200 soldiers and wounding over 500 more, according to Ukrainian sources. Russia has also targeted civilian infrastructure, including power plants, bridges, railroads, and factories. Russia frequently employs swarms of drones to overpower Ukrainian air defences and cause confusion and panic among troops. Drones are also used by Russia to offer real-time intelligence and guidance for artillery and missile attacks. Russia maintains that the drone operations are in response to provocations and violations of ceasefire agreements by Ukraine.
How is Ukraine Trying to Combat Shahed-136 Kamikaze Drones?
Ukraine has been trying to counter the drone threat by using various means such as small arms fire, heavy machine guns, portable anti-air missiles, electronic jamming devices, and counter-drones. However, these methods have proven to be ineffective or insufficient when faced with large numbers or high speeds of drones. Ukraine has also sought international assistance and support to enhance its air defence capabilities and acquire more advanced drones and UAVs. The US has said it is supplying Ukraine with 700 of its Switchblade kamikaze drones, but it is unknown whether any have been used. The US has also provided Ukraine with Javelin anti-tank missiles, radars, communications equipment, and training. Ukraine has also used its kamikaze drones to attack Russian targets in Crimea and inside Russian territory. In autumn 2022, Ukraine used kamikaze drones of some sort to attack a Russian military base in western Crimea, an airbase near Sevastopol, and ships in Sevastopol harbour. In December 2022, Ukraine used kamikaze drones for three separate attacks on airbases at Saratov and Ryazan – both hundreds of miles inside Russian territory.
Development of UAVs and Drones in the India-Pakistan Equation
India and Pakistan are two rival neighbours in South Asia who have been engaged in several wars and conflicts over the years. Both countries have been developing and acquiring UAVs and drone technologies for military and civilian purposes. However, there are some differences in their approaches and achievements in this domain. The following table summarizes the comparison of India and Pakistan in UAV and drone technology:
| Aspect | Pakistan | India |
| --- | --- | --- |
| Market size | Smaller and more focused on military applications | Larger and more diverse with potential use cases in various sectors |
| Talent pool | Smaller and more dependent on foreign partners | Larger and more independent with domestic innovation and development |
| Policy framework | Supportive but less transparent and consistent | Supportive and more liberal and progressive |
| Ecosystem | Vibrant but less mature and competitive | Vibrant and more mature and competitive |
| Strategic advantage | Higher due to geopolitical location and security interests | Lower due to geopolitical location and security interests |
| Import dependence | Higher for high-endurance and combat-capable platforms | Lower for high-endurance and combat-capable platforms |
| Cybersecurity threats | Higher due to hostile actors and weak systems | Lower due to hostile actors and strong systems |
| Ethical and legal issues | Higher due to autonomous targeting and accountability concerns | Lower due to autonomous targeting and accountability concerns |
India has a growing UAV and drone technology industry that is diverse and innovative in various domains and a supportive policy framework and a vibrant ecosystem of drone startups and companies. But with rapidly failing nations as neighbours, India must ensure all border security organizations are adept and capable of utilising these drones to maximum capability.