Introduction
Technology now reigns supreme. You may use your phone to perform a variety of functions, whether it is looking up crucial information, getting directions, ordering food, shopping, counting your steps, and so much more. "There's an app for that," they say these days, and it's completely accurate.
If you have a dog, there are a number of apps available that are designed exclusively for owners of canine friends. Of course, this does not imply that you must download each and everyone; otherwise, your phone would run out of storage capacity. Instead, concentrate on these seven options for the best dog applications, and choose the one that's appropriate for you and your new puppy.
1. Chewy
Chewy offers a large selection of toys, snacks, medications, and other items that will almost definitely fulfil your needs at a reasonable price. It's no wonder that this software has become a staple on the devices of all pet owners. It's also incredibly well-designed and organized, with obvious categories, auto-ship orders, and your favourite things.
Your food can be delivered to your house on a regular basis, eliminating the need to go to the store whenever you run short. You will also receive a substantial discount if you subscribe.
2. Puppr
This app has been around for a long time and has only gotten better. It was even named an Editor's Choice by Apple. The application is an excellent choice for training your dog. More than 70 lessons created by professional educators are available on Puppr. Each lesson includes clear written instructions as well as photographs and videos that show you how to carry out the lesson. In the app, your dog has its own profile, which you can use to track your advancement through all of the lessons.
They've turned training your dog into a game by awarding digital awards for completed classes. The programme also includes an in-app digital clicker for clicker training, as well as a catalogued shop with training goodies, equipment, crates, and other essentials that have been approved by reputable trainers.
3. Petcube
Petcube produces physical cameras and reward dispensers so you can keep in contact with your dog (or cat) while you're on vacation. The most basic Petcube camera is designed to keep an eye on your dogs, while others come with reward dispensers that you can activate from anywhere. Monitor your dog, talk to them with the Petcube's built-in microphone and speaker, and, of course, award them with a treat if they sit. It's entertaining for you, enabling you to interact with them while you're away, and they, of course, receive a treat!
4. Goodpup
This beautifully designed platform allows you to have one-on-one training sessions with certified, reviewed, and vetted trainers to get your dog to behave as well as possible. Lessons are held in real-time via video chat so that the trainer can observe how you're training the dog and ensure you're doing everything correctly. 
You can communicate with your trainer in between video sessions to get immediate solutions to frequent questions. The software provides flexibility in scheduling, so you can train your dog whenever you want. With the pandemic, training remotely is even more advantageous because you don't have to leave your house or invite anyone in.
5. Whistle
Whistle is a hybrid activity tracker and locator for dogs in case they ever get out. This is important for city dog owners who can run through roads, as well as country dog owners who have no boundaries. Even the most well-trained dogs can get sidetracked and wander off.
The Whistle tag is attached to their collar and will automatically inform you if they leave their protected zone. That might be your own backyard or a neighbourhood dog park. Then you can relax knowing that your dog is safe and secure. If it flees, you'll receive an alert and be able to track them down so you may safely return them to their home.
6. Doglog
DogLog is an app that allows dog owners to keep track of all of their dog's critical information, receive notifications for things like vet appointments, and report daily or weekly events. You can also include family members to form a "pack" to look after the dog.
Create and track activities such as feeding, treats, walks, poop, urine, grooming, meds, and training. The individual who adds the event to the app is credited with doing it in packs. You may also register your pet's vitals and follow their weight and temperature as they grow and age. If you or the vet need to study the data, it's all accessible in the primary profile.
7. Dog Food Calc
Dog Food Calc is a comprehensive meal planner for dogs and cats. It is designed for raw-food diets like BARK or Prey, although it may also be used for cooked foods.
Start using the web app because it's the simplest way to create a diet for your dog. Choose the items you'll feed the dog, as well as the quantities of each. Then decide how many times a week you'll include these in your pet's diet. When you're finished, Dog Food Calc will then calculate your dog's nutrition, which will be broken down into subcategories like protein, lipids, minerals, and vitamins.
Conflict, COVID and Climate Crisis: Major Risks of our Time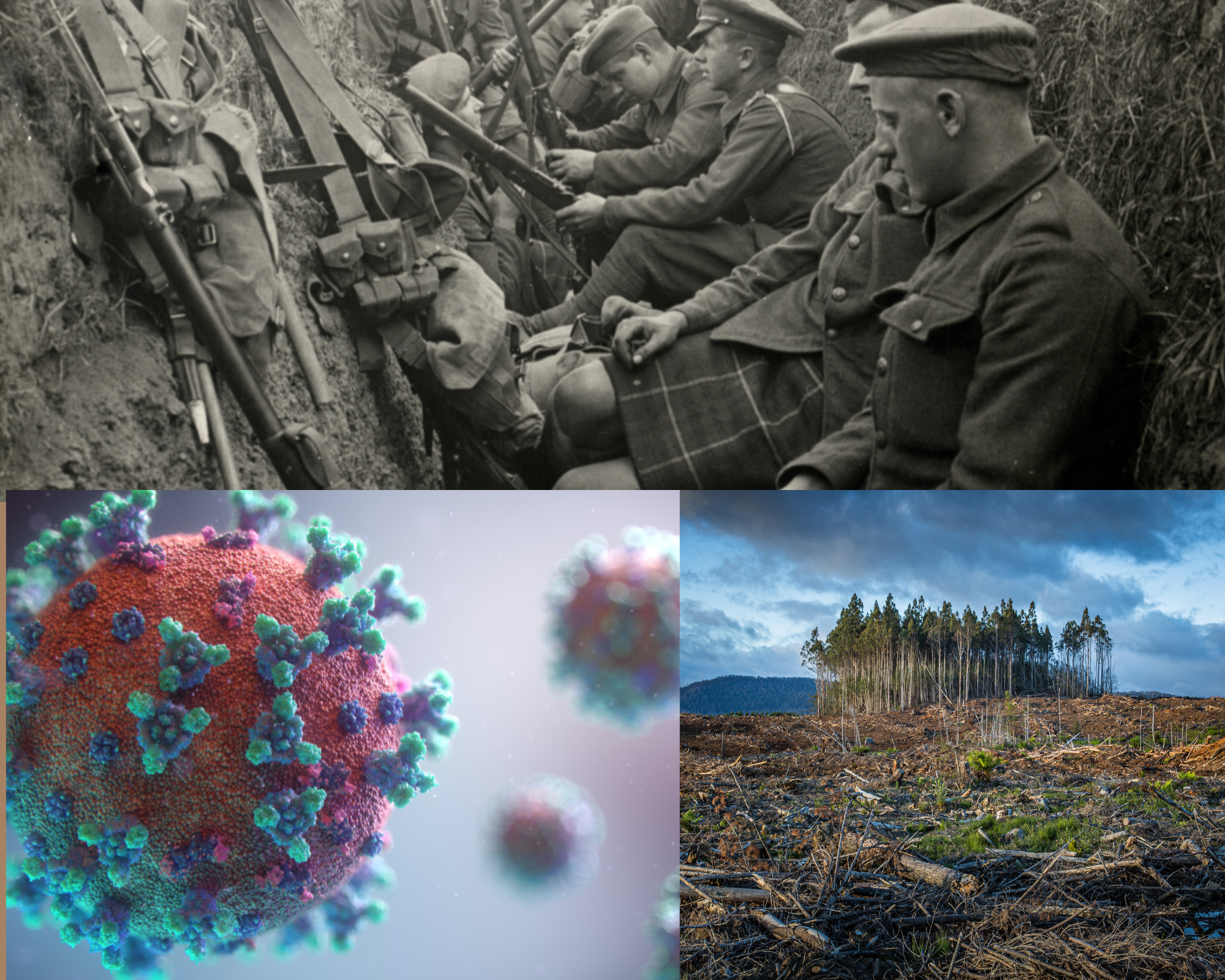 Conflict, COVID and Climate Crisis: Major Risks of our Time
'If anything kills over 10 million people in the next few decades, it's most likely to be a highly infectious virus rather than a war. Not missiles but microbes……' words spoken by Bill Gates in 2015 at Ted Talks proved true, especially in the wake of the COVID pandemic that brought the world to a stand-still. Killing millions of people within two years with tons of collateral damage in areas of health, economy, national security, etc. has shaken the world to its core. But is it just the microbes over missiles that are going to cause mayhem, or a combined effort of both, catalyzed with cyber-catastrophe? The current Russia-Ukraine conflict, Taliban take-over in Afghanistan, the Worst Emergency crisis in Sri Lanka, and the never-ending Israel-Palestine war – these all point towards intensified armed-conflict chaos around the world. On the other hand, the worsening climate crisis is further aching the world manifold. The Australian Wildfires in 2020, East Africa droughts in 2011, 2017 and 2019, regular cloud bursts, and the melting of icebergs in Antarctica are a few of many natural disasters that beg for climate action. But the newest addition to the list of challenges for survival is cyber-warfare. During COVID lockdown, even large-scale businesses and industries moved online for their survival. This transition was never expected to be as sudden as it did during these troubled times. As a result, the move was made out of fear and fright rather than undergoing due diligence which is the general practice when shoring a business from stores to wires. Hence, the threats of cyber-attacks and other associated risks have further escalated. The increased threats required improved IT security thereby leading to a substantial number of corporate entities signing up for consultancies that offer digital dependency in business processes. This even led to a sharp increase of $20 Billion in the cyber-insurance sector between 2020-2025, which is almost triple to what it was. The market is anticipated to grow even more strongly with the additional momentum gained from digitalization. Munich Re, an insurance company that provides coverage for cyber risks has experienced meteoric growth in this sector gaining a share of 10% of the total market, making it one of the world's leading insurers.
 Multi-Dimensional Crisis
The Doomsday clock is stuck at 100 seconds to midnight. The world seems to be inching towards a civilization-ending apocalypse. Rising conflict, worsening climate change, and never-ending microbe attacks have the world hanging by a very thin thread of hope, perseverance, of resilience. While a larger section of the world wants to live in a world free of war, the power concentration sadly is inversely proportional to the mammoth population. Even a minimalistic endeavor of having a healthy family, working just enough to put food on the table and have access to quality education for children, seems bleak. But is it really the end or is it just a prolonged halt looking forward to an update?
The World Economic Forum has stressed ongoing and upcoming challenges created by cyber fraudsters, climate change, and space technology. As per the Global Risks Report, 2022 released on January 11, cyber security and space technology were listed as the most emerging risk sectors for the global economy followed by the existing pandemic. Cyberthreats are in no way a particular-sector-centric threat. It has the potential to affect entire civilizations as we live in a time where there is absolutely no connection-deficit. Everyone is connected with everything and vice-versa. And hence, cyber threats are growing faster than society's ability to effectively prevent and manage them. The rise of cryptocurrencies has given birth to a new breed of online dacoits, resulting in an increased number of malware and ransomware attacks.
What can be done?
It is a race. A race between what trumps what. Ever since the lockdown around the world has been lifted, inter-state wars and conflicts have dominated the attention of decision-makers. Needless to say, the pandemic is by no means over. Similarly, the climate-associated risks are piling up and it remains the largest and most complex existential challenge of our time that warrants unparalleled action. Evidently, vaccination is on roll and has proved to be effective against the invisible enemy, and hence one needs to understand the gravity of 7 million deaths where air pollution has been a major contributor. A heating world, in general, is detrimental to human health and thus, significant obstruction to a thriving society. While a total of 110 countries are now monitoring the quality of air their population breathes, it's simply not enough. The deterrent theory of removing factories and industries and adapting the primitive way of living is also impossible, especially in the urbanized world. Hence preserving nature and also concentrating on all-around economic development seems oxymoronic and ironical.
But, technological advancements during the wake of COVID have hinted that if ideas are shared and transcended beyond boundaries, there is hope. A simple instance of Tesla championing the sector of electric automobiles has prompted even a developing country like India to work in the furtherance of completely replacing fossil fuels with an alternative transformative source thereby resulting in an increase in electric vehicle production. A hybrid power strategy is inadvertently the need of the hour today. But how much does a country like India which promises a good mix of bright sun and wind along its coasts, requires resources to make the shift to Net Zero. Setting up hybrid power plants is also cost efficient as the plants share common equipment, electronics, and storage, as a dedicated hybrid plant can work round-the-clock with only sporadic recourse to storage.
The aforementioned mechanism is just one facet of a multi-dimensional resolution that the world warrants. The national leaders of countries can no longer lament and find nonchalant advisory bodies to pin their blames act. Furthermore, the citizens are also to be self-monitored. Citizens cannot resort to unveiling a red carpet for a government that completely negates the existence of climate change and cyber security. Rather, the citizens are to hold the constitutional entities accountable, answerable, and liable for negligence and poor performance.
Conclusion
Peace underpins all that is good in our society. But with each passing day, a realization of sorts that 'peace' is in short supply, resurfaces itself. The horrors of Covid have shown the world, that no matter how technologically advanced, monetarily rich, and systematically sustainable it looks, it is as vulnerable as one can be. The only upside that one can perceive from the horrifying pandemic, is that the loss of millions of lives and trillion dollars have only waken up the world from its deep slumber. Digitalization and globalization may have brought the world close, but the shrunk world is failing to realize that, with great inter-connectedness comes great interdependencies. And thus, the multi-dimensional crisis is not an individual but collective responsibility.