World War I
At the start of World War I, opposing armies were equipped to varied degrees with contemporary signal communication systems, but they had little understanding of the enormous burden that signal systems had to carry in order to keep control of the massive forces that had been set in motion. Armies differed tremendously in terms of structure and efficiency. At one end of the scale, Great Britain had a tiny but well-developed signal service, while Russia had a signal service that was inferior to the Union Army's at the end of the American Civil War.
Both the Allies and the Central Powers quickly realised that commanders could not control, coordinate, or guide large modern armies without effective signal communication. Despite spending years focusing on the Schlieffen Plan, the Germans failed to ensure appropriate communication between higher headquarters and the right-wing armies pushing through Belgium and northern France. As a result of the lack of coordination between these armies, the strategy was foiled, and the army was forced to evacuate north of the Marne.
As the war proceeded, there was a growing understanding of the need for enhanced electrical communications with considerably more capacity for larger units, as well as the necessity for electrical communications inside regiments, which had previously been considered unnecessary and impossible. On either side, a complex telephone system with thousands of kilometres of wire arose quickly. In the rear of the opposing armies, pole lines with multiple crossarms and circuits arose, and buried cables and wires were placed in the elaborate trench systems leading to the forwardmost outposts.
As a result, there grew an enormous gridwork of deep-buried cables, with underground junction boxes and test points every few hundred yards, particularly on the German side and in the British sections of the Allied side. To some extent, the French used buried wire, but they chose to string their telephone lines on wooden supports set against the walls of deep open trenches. Despite efforts to protect the wire wires, the intensive artillery fire regularly cut them at vital periods. As a result, all belligerents developed and used radio (wireless) as a secondary mode of communication.
The ease of enemy interception, the necessity for cryptography or encoding messages, and the inherent instability of these early systems prompted them to be viewed as strictly auxiliary to the wire system and intended for emergency usage when the wire lines were cut.
The employment of electric signal lamps brought visual signalling back to the battlefield in World War I. Pyrotechnics, rockets, Very pistols, and flares were all commonly used to send pre-programmed signals. Messenger services expanded to the point where they were used on motorcycles, bicycles, and automobiles. Homing pigeons and dog messengers were widely utilised and proved to be quite effective.
The aeroplane, which was introduced in World War I as a new element in warfare, posed an urgent communication difficulty. Communication between the ground and the air was difficult and primitive during most of the battle. Between the planes and ground headquarters, extensive attempts were made to use radiotelegraph and radiotelephone. Many planes were equipped with radios in the latter months of the war, but the service was never satisfactory or reliable, and thus had little impact on military operations.
Wireless telegraph transmission was widely used by international navies during World War I and had a significant impact on the nature of naval warfare. Wireless communication over vast distances was made possible by high-powered shore and ship stations.
Post World War I
The pressing necessity for scientific study and the development of military equipment and procedures was one of the war lessons acquired by most of the major nations. Although the amount of money spent on military development from World War I through World War II was relatively tiny, the small sums helped to forge a link between industry, research, and the armed forces of the main powers.
Pioneering in the use of very high frequencies by amateurs, industry, and science was crucial in postwar radio communication. Armed forces now have access to portable short-range equipment for mobile and tactical usage by armies, navies, and air forces as a result of these breakthroughs. Germany, the United Kingdom, and the United States all engaged in active military effort in these domains. Germany had designed and manufactured a complete line of portable and transportable radio equipment for its army and air force as early as 1938.
The printing telegraph, also known as the teleprinter or teletypewriter machine, entered civilian usage between World Wars I and II and was incorporated into military wire-communication systems, but military networks were not substantial. Military radio teleprinter circuits did not exist prior to World War II.
Frequency-modulated (FM) radio was another key communication advancement that arose and grew rapidly between World Wars I and II. This new method of modulation, developed by Edwin H. Armstrong, an inventor and a major in the United States Army Signal Corps during World War I, offered a previously unattainable reduction of the effect of ignition and other noises encountered in radios used in vehicles during the late 1920s and early 1930s. It was originally adapted for military usage by the United States Army, which had tank, vehicle, and man-pack frequency-modulated radio transmitters and receivers under development prior to World War II.
The world's navies entered World War II with highly developed radio communication systems, both telegraph and telephone, and several electronic navigational aids in the works. Signalling with blinker lights was still in use. On navy boats, the usage of telephone systems and loud-speaking voice amplifiers had become commonplace. Air forces used wire and radio transmission to connect their bases and landing fields, and built airborne long-, medium-, and short-range radio equipment for air-to-ground and air-to-air communication.
World War II and After
In some ways, World War II was comparable to World War I in terms of communications electronics: the most extravagant prewar projections of military requirements quickly proved to be only a fraction of the real demand. The demand for various types of communication equipment, as well as enhanced communication quality and quantity, grew beyond the industry's immediate capabilities. Manufacturing facility expansion became critical, and research and development in the communications–electronics industry reached new heights. 
The evolution of the air, infantry, artillery, and armoured teams necessitated increased radio communication needs for all members. Portable radio sets were distributed all the way down to the platoon level in the military. There was at least one radio in every tank, and some command tanks had as many as three.
Wire communications were provided by multiconductor cables, which could be reeled out quickly and carried up to four conversations at the same time using carrier telephony. The Germans were the first to employ this form of military long-range cable, and both British and American forces quickly followed suit.
At the division and regimental level, high-powered mobile radio sets were commonplace. Telegraph communication may be carried out with these sets at distances of more than 100 miles (160 kilometres) with automobiles in typical traffic on the road. Significantly larger telephone switchboards were required. The greatest communication development of World War II was radio relay, which was created out of the need for mobility. Sets that used frequency modulation and carrier techniques, as well as radio relay sets that used radar pulse transmission and reception techniques and multiplex time-division methods to get several voice channels from a single radio carrier, were created and used.
The necessity for improved long-range overseas communication networks arose from the requirement for communication between homelands and several far-flung theatres of battle. A radioteletypewriter relaying system was designed, allowing a radioteletypewriter operator in Washington, London, or other capitals to transmit immediately to the commander in any theatre of battle via teleprinter. A system of torn-tape relay centres was also devised so that tributaries may send messages through the major centres and retransmit them swiftly by shifting a perforated tape message from the receiving to the sending positions.
During the final years of the war, new and improved communication and electrical equipment emerged in ever-increasing numbers from research and development. Short-range navigational devices, known as shoran, and a new long-range electronic navigation gadget, known as loran, were created for both navy vessels and aeroplanes.
The landing of aircraft in zero visibility was perfected using a combination of radar and communications. The GCA, or ground-controlled approach system, was one such system. For ground control of intercept aircraft, a system called GCI was created using a combination of radio direction-finding, radar, and communications devices (ground-controlled intercept). The radio-controlled guiding of falling bombs allowed a bomber operator to lead a bomb to its intended target. Electronic countermeasures such as jamming transmitters for radio channels, radar, navigation, and other military electronics first appeared in the form of jamming transmitters.
Conclusion
The armed services learned the value of scientific research and development in all sectors, including communications electronics, from their combat experiences. Advances in the communication capacity of wire and radio relay systems, as well as enhanced electronic navigation aids, were produced. The main powers' armies, navies, and air forces continued to emphasise measures to offer more comprehensive and reliable communication and electronic technology.
As a result, after the mid-century, military activities in all aspects of signal transmission continued to ramp up almost as aggressively as they had during World War II. As a result, signal communication, which combines the capabilities of photography, television, radar, and other instruments that use the electromagnetic radiation spectrum, has moved into new areas of military electronics, such as battle area surveillance and electronic warfare devices to jam enemy transmitters.
In the United States, Surveillance of the fighting area by the army greatly supplemented traditional reconnaissance measures. Using optical, sonic, photographic, infrared, and radar equipment, an electronically controlled target acquisition system was being designed to detect enemy troops or cargo on the ground or in the air. The data collected by these sensors across a large enemy front can be electronically compiled and shown at headquarters, allowing the battle commander to quickly assess the situation and make tactical decisions.
"Let people eat cake" says Pakistan Navy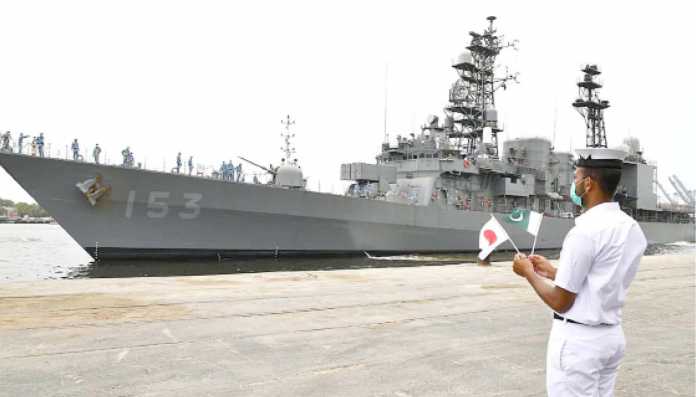 In 1789 during yet another famine in France, the princess Marie Antoinette upon being told that the peasants had no bread, is said to have replied with frivolous disregard for the starving peasants with the words "Let them eat cake". Today, the condition of the Pakistani citizens is quite similar to the French peasants of 1789.
The desperate economic conditions in Pakistan and the impact of floods has led the Finance Ministry to issue directives for implementing strict austerity measures for year 2022 – 2023. These measures aim to curtail operating expenditure and reduce the economic burden of the people.
However, it seems that these directives never reached their Navy.
Very recently, Pakistan Navy Ships Shamsheer and Nasr visited Yokosuka Port in Japan with an aim to participate in the International Fleet Review. In much contrast to the government verdict of "no unnecessary expenditure", the visit was neither mandatory nor of importance. However much to the citizen's dismay, neither the empty coffers nor the grave economic situation of the people seemed to deter the Navy from going on a tourism cum shopping spree.
Pakistan Navy Ships visit Yokosuka Port in Japan
In economically stable conditions, a Naval ship's visit to a foreign port would have been welcomed by the citizens. However the economic burden posed by  these activities have quadrupled the fear of a complete breakdown of society. While the cost of fuel for such a long voyage is in itself a huge deterrent, the fact that the ships will be stopping at almost five to seven countries during the futile passage, has made matters worse.
Monetary Implications of this cruise
Let's look at the basic requirement of a naval voyage. The mandatory requirements include buying stores, fuel/lubricants, undertaking necessary repairs, paying the crew in international currency etc. But is this all? Definitely not. Each stop at a foreign port will require a mandatory interaction with the diplomats, exchange of gifts, parties with great pomp and show to announce the naval ships' arrival, preparation of native cuisines etc.…The expenditure is definitely mind boggling.
Who is paying for this?
All this is paid through already depleting foreign reserves. Therefore understandably, if news of such frivolous expenditure, especially in these trying times were to reach the general public there would be a furore, and a well justified one. But Pakistan's Navy has been clever, or at least it thinks it has been.
Where normally, all port visits are turned to a media circus by the Navy, this time not a single press release is available on the open media. Why? Because of a stringent gag order on issuing media bites by the government. The Navy has warned cruising ships to conduct events without the presence of press. The aim apparently is to prevent citizens from becoming aware of this trip to Japan. Pakistan's naval commanders seem to be relying on their belief (definitely flawed and misguided) that – ordinary Pakistani citizen are like the proverbial ostrich with its head buried in the sand – what it cannot see, does not exist!
In today's world where information travels faster than light – there are enough people who monitor everything. Which is why hiding the journey of two huge warships was definitely worthless. As soon as a local net-hawker identified the movement of the naval ships – the world and entire Pakistan was made aware of the secret journey.  The Maverick could not outfox these people.
Frivolous Spending in Desperate Times
While one may still be able to find an excuse for Navy's foreign visits, but what about the inflating expenditure on the procurement and projects, which are of no immediate importance? As pointed out by social media users a few days earlier, the Pakistan navy has been planning to procure four Frigates (each from Turkey and China), four to eight Corvettes (from the Netherlands), eight submarines (from China) and almost ten new aircraft for its maritime fleet.
Which brings a very interesting scenario to light – the huge lack of communication between the Pakistan's government and its navy. On one hand the government has been insisting on cutting down operating costs and even travel/fuel usage by every ministry and service, but on the other, the Armed Forces are on a shopping spree. And whose money are these forces using?  The question that the citizens of Pakistan need to ask is despite the mushrooming economic crisis, why is there a need to undertake such frivolous expenditure/cruises? And if they are really necessary, why the extra effort to hide it?
Many Pakistanis have already started asking such questions, a mass outcry is not far. And while the Pak armed forces especially its navy may pretend to be blissfully unaware of their countrymen's plight, they must realize that secret voyages will not help the deplorable situation of their country and their fellow countrymen.
This article has been contributed by Commander Abhishek Rathi (Retd), Indian Naval Officer
Commander Abhishek Rathi (Retd) is a retired executive officer and holds an experience of commanding two naval warships. He has a keen interest in maritime history and technology. The officer is also an avid nature photographer and likes traveling all across India for it.