World War I
At the start of World War I, opposing armies were equipped to varied degrees with contemporary signal communication systems, but they had little understanding of the enormous burden that signal systems had to carry in order to keep control of the massive forces that had been set in motion. Armies differed tremendously in terms of structure and efficiency. At one end of the scale, Great Britain had a tiny but well-developed signal service, while Russia had a signal service that was inferior to the Union Army's at the end of the American Civil War.
Both the Allies and the Central Powers quickly realised that commanders could not control, coordinate, or guide large modern armies without effective signal communication. Despite spending years focusing on the Schlieffen Plan, the Germans failed to ensure appropriate communication between higher headquarters and the right-wing armies pushing through Belgium and northern France. As a result of the lack of coordination between these armies, the strategy was foiled, and the army was forced to evacuate north of the Marne.
As the war proceeded, there was a growing understanding of the need for enhanced electrical communications with considerably more capacity for larger units, as well as the necessity for electrical communications inside regiments, which had previously been considered unnecessary and impossible. On either side, a complex telephone system with thousands of kilometres of wire arose quickly. In the rear of the opposing armies, pole lines with multiple crossarms and circuits arose, and buried cables and wires were placed in the elaborate trench systems leading to the forwardmost outposts.
As a result, there grew an enormous gridwork of deep-buried cables, with underground junction boxes and test points every few hundred yards, particularly on the German side and in the British sections of the Allied side. To some extent, the French used buried wire, but they chose to string their telephone lines on wooden supports set against the walls of deep open trenches. Despite efforts to protect the wire wires, the intensive artillery fire regularly cut them at vital periods. As a result, all belligerents developed and used radio (wireless) as a secondary mode of communication.
The ease of enemy interception, the necessity for cryptography or encoding messages, and the inherent instability of these early systems prompted them to be viewed as strictly auxiliary to the wire system and intended for emergency usage when the wire lines were cut.
The employment of electric signal lamps brought visual signalling back to the battlefield in World War I. Pyrotechnics, rockets, Very pistols, and flares were all commonly used to send pre-programmed signals. Messenger services expanded to the point where they were used on motorcycles, bicycles, and automobiles. Homing pigeons and dog messengers were widely utilised and proved to be quite effective.
The aeroplane, which was introduced in World War I as a new element in warfare, posed an urgent communication difficulty. Communication between the ground and the air was difficult and primitive during most of the battle. Between the planes and ground headquarters, extensive attempts were made to use radiotelegraph and radiotelephone. Many planes were equipped with radios in the latter months of the war, but the service was never satisfactory or reliable, and thus had little impact on military operations.
Wireless telegraph transmission was widely used by international navies during World War I and had a significant impact on the nature of naval warfare. Wireless communication over vast distances was made possible by high-powered shore and ship stations.
Post World War I
The pressing necessity for scientific study and the development of military equipment and procedures was one of the war lessons acquired by most of the major nations. Although the amount of money spent on military development from World War I through World War II was relatively tiny, the small sums helped to forge a link between industry, research, and the armed forces of the main powers.
Pioneering in the use of very high frequencies by amateurs, industry, and science was crucial in postwar radio communication. Armed forces now have access to portable short-range equipment for mobile and tactical usage by armies, navies, and air forces as a result of these breakthroughs. Germany, the United Kingdom, and the United States all engaged in active military effort in these domains. Germany had designed and manufactured a complete line of portable and transportable radio equipment for its army and air force as early as 1938.
The printing telegraph, also known as the teleprinter or teletypewriter machine, entered civilian usage between World Wars I and II and was incorporated into military wire-communication systems, but military networks were not substantial. Military radio teleprinter circuits did not exist prior to World War II.
Frequency-modulated (FM) radio was another key communication advancement that arose and grew rapidly between World Wars I and II. This new method of modulation, developed by Edwin H. Armstrong, an inventor and a major in the United States Army Signal Corps during World War I, offered a previously unattainable reduction of the effect of ignition and other noises encountered in radios used in vehicles during the late 1920s and early 1930s. It was originally adapted for military usage by the United States Army, which had tank, vehicle, and man-pack frequency-modulated radio transmitters and receivers under development prior to World War II.
The world's navies entered World War II with highly developed radio communication systems, both telegraph and telephone, and several electronic navigational aids in the works. Signalling with blinker lights was still in use. On navy boats, the usage of telephone systems and loud-speaking voice amplifiers had become commonplace. Air forces used wire and radio transmission to connect their bases and landing fields, and built airborne long-, medium-, and short-range radio equipment for air-to-ground and air-to-air communication.
World War II and After
In some ways, World War II was comparable to World War I in terms of communications electronics: the most extravagant prewar projections of military requirements quickly proved to be only a fraction of the real demand. The demand for various types of communication equipment, as well as enhanced communication quality and quantity, grew beyond the industry's immediate capabilities. Manufacturing facility expansion became critical, and research and development in the communications–electronics industry reached new heights. 
The evolution of the air, infantry, artillery, and armoured teams necessitated increased radio communication needs for all members. Portable radio sets were distributed all the way down to the platoon level in the military. There was at least one radio in every tank, and some command tanks had as many as three.
Wire communications were provided by multiconductor cables, which could be reeled out quickly and carried up to four conversations at the same time using carrier telephony. The Germans were the first to employ this form of military long-range cable, and both British and American forces quickly followed suit.
At the division and regimental level, high-powered mobile radio sets were commonplace. Telegraph communication may be carried out with these sets at distances of more than 100 miles (160 kilometres) with automobiles in typical traffic on the road. Significantly larger telephone switchboards were required. The greatest communication development of World War II was radio relay, which was created out of the need for mobility. Sets that used frequency modulation and carrier techniques, as well as radio relay sets that used radar pulse transmission and reception techniques and multiplex time-division methods to get several voice channels from a single radio carrier, were created and used.
The necessity for improved long-range overseas communication networks arose from the requirement for communication between homelands and several far-flung theatres of battle. A radioteletypewriter relaying system was designed, allowing a radioteletypewriter operator in Washington, London, or other capitals to transmit immediately to the commander in any theatre of battle via teleprinter. A system of torn-tape relay centres was also devised so that tributaries may send messages through the major centres and retransmit them swiftly by shifting a perforated tape message from the receiving to the sending positions.
During the final years of the war, new and improved communication and electrical equipment emerged in ever-increasing numbers from research and development. Short-range navigational devices, known as shoran, and a new long-range electronic navigation gadget, known as loran, were created for both navy vessels and aeroplanes.
The landing of aircraft in zero visibility was perfected using a combination of radar and communications. The GCA, or ground-controlled approach system, was one such system. For ground control of intercept aircraft, a system called GCI was created using a combination of radio direction-finding, radar, and communications devices (ground-controlled intercept). The radio-controlled guiding of falling bombs allowed a bomber operator to lead a bomb to its intended target. Electronic countermeasures such as jamming transmitters for radio channels, radar, navigation, and other military electronics first appeared in the form of jamming transmitters.
Conclusion
The armed services learned the value of scientific research and development in all sectors, including communications electronics, from their combat experiences. Advances in the communication capacity of wire and radio relay systems, as well as enhanced electronic navigation aids, were produced. The main powers' armies, navies, and air forces continued to emphasise measures to offer more comprehensive and reliable communication and electronic technology.
As a result, after the mid-century, military activities in all aspects of signal transmission continued to ramp up almost as aggressively as they had during World War II. As a result, signal communication, which combines the capabilities of photography, television, radar, and other instruments that use the electromagnetic radiation spectrum, has moved into new areas of military electronics, such as battle area surveillance and electronic warfare devices to jam enemy transmitters.
In the United States, Surveillance of the fighting area by the army greatly supplemented traditional reconnaissance measures. Using optical, sonic, photographic, infrared, and radar equipment, an electronically controlled target acquisition system was being designed to detect enemy troops or cargo on the ground or in the air. The data collected by these sensors across a large enemy front can be electronically compiled and shown at headquarters, allowing the battle commander to quickly assess the situation and make tactical decisions.
India US Military Exercise Amidst China's Taiwan Conflict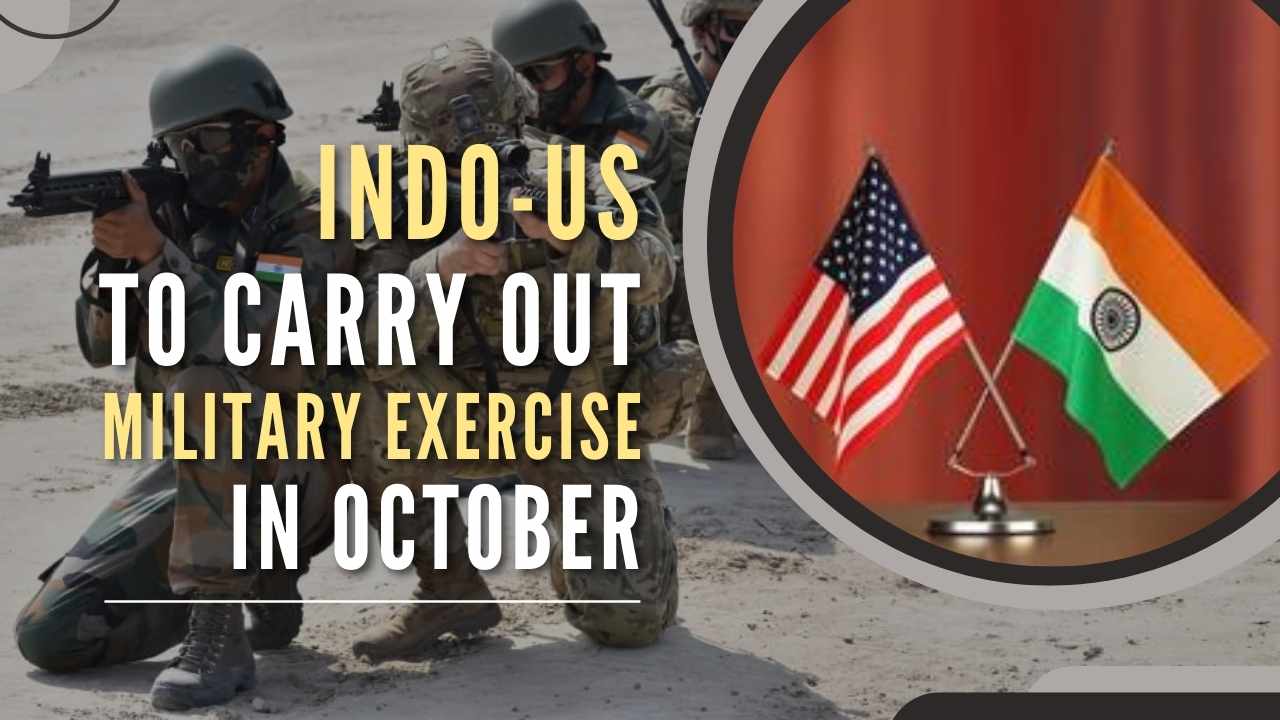 Indian and American military forces will conduct the periodic 'Yudh Abhyas' or 'War Practice' from October 14 to 31, 2022 at Auli in Uttarakhand, which is 95 km away from the Line of Actual Control. The India US military exercise is undertaken to enhance the interoperability between the two armies, and the joint exercise will carry out maneuvers to exploit the full scope of high-altitude warfare.
The occurrence of 18th edition is happening at a very crucial moment as both countries have strife relations with China. The Indian side will showcase its high-altitude warfare strategies and US forces will complement them by exposing various technologies that can be used in challenging scenarios.
This edition will witness the participation of the Indian Air Force in the effective utilization of aerial and ground assets. Also, the India America Military Exercise develops the social relationship with country.
More About India America Yudh Abhyas in Uttarakhand
Yudh Abhyas is the largest running joint India US military exercise and defence cooperation between the countries. The program was started in 2004 under the US Army Pacific Partnership Program.
It is hosted alternately between both countries. The 17th edition was held in Alaska in October 2021. The exercise aims at enhancing understanding, cooperation, and interoperability between the two armies.
Also, the moto of India America military exercise is successfully achieved in Auli Uttarakhand. Also, the impact of this social training is shown on different countries, and various controversies has been made.
Why India-China Standoff? Facts & Statements
In the last two years, there has been a constant rise in tensions between India and China, as the Chinese People's Liberation Army (PLA) made an effort to unilaterally change the status of LAC. Also, the good relationship of India with powerful countries, terrify the China government, and such social activities such as joint India US military exercise, helps to more strong relations.
The Indian army struck back and thwarted the Chinese attempts. The External Affairs Minister while describing New Delhi's efforts had said, "We've been resolute when challenged in border areas. 2 years ago, in the middle of COVID, we had China move forces in violation of an agreement. But we stood our ground and have been working it out without making concessions. The world recognizes that a country is capable of defending its interests".
As per the latest news reported on 13 September 2022, the armies of both countries have confirmed their return from PP-15 (Patrolling Point) in the Gogra-Hot Springs area of eastern Ladakh, and Indian officials are hopeful for further negotiations on more crucial face-offs of Depsang Plains and Demchok.
US-China Tussle
Following the controversial Taiwan visit of the Speaker of the United States' House of Representatives Ms. Nancy Pelosi, and the support extended by China to Russia in the ongoing Russia-Ukraine war, the US-China relationship has also deteriorated further. The two economic superpowers are generally also involved in a cold war in the
China's Reaction on India US Military Exercise
Chinese officials strongly opposed the military exercise, referring to it as a violation of past agreements between New Delhi and Beijing, and following conversation has been made:
"We firmly oppose any third party to meddle in the China-India border issue in any form", Senior Colonel Tan Kefei, spokesperson for the Chinese defence ministry said. "In light of the relevant agreements signed by China and India in 1993 and 1996, neither side is allowed to conduct military exercise against the other in areas near the LAC", Tan said.
He further added, "It is hoped that the Indian side will strictly abide by the important consensus reached by the leaders of the two countries and the relevant agreements, uphold its commitment to resolving border issues through bilateral channels, and maintain peace and tranquillity in the border area with practical actions".
New Delhi's Reply to China's Allegations
In response to China's allegations, "I do not understand the reference to third party interference. The India US military exercise is something completely different and I do not know what color has been given that it is targeted there or it is violating any existing agreement", External Affairs Ministry spokesperson Arindam Bagchi said.
"The two sides should stick to the agreements (signed) in the past and obviously that did not happen", Bagchi said, referring to China violating the agreements which led to the face-off in eastern Ladakh.
After the coming together of like-minded countries for informal dialogue, namely Quad (Quadrilateral Security Dialogue), China's apprehension has increased and it has levelled the grouping as an 'Indo-Pacific NATO'.
"The Indo-Pacific strategy cooked up by the United States, in the name of 'freedom and openness,' is keen on forming cliques", Foreign minister of China, Wang Yi had said. He further criticized the grouping as 'it claims that it intends to change China's surrounding environment, but its purpose is to contain China and make Asia-Pacific countries serve as pawns of US hegemony'.
All the members of Quad had cleared their agenda and said they are committed to cooperation with partners in the region who share the vision of a free and open Indo-Pacific region. India being an essential part of the grouping has always put its best efforts to maintain peace and stability in the region.
India's Prospective with All Countries
India has always called for peace and co-operation in the region, that's why the concept for India US military exercise has been conducted. Being a member of SCO, the two Asian giants have resolved their misunderstandings.
New Delhi has always asked countries to respect each other's sovereignty, territorial integrity, and international agreements. In the coming years, one can hope for a free and open Indo-Pacific region which will be beneficial for all the countries situated in this region.