India is currently facing a threat with China slowly inching towards its territory. A new rail and road link to Sri Lanka via Myanmar gives overland access to China to establish infrastructure projects in the northern and eastern part of Sri Lanka opening its mouth in the vicinity of the Indian Coast. Hence an alarming concern is instilling at the New Delhi offices.
While India has unilaterally confronted China along the dense and rugged Himalayas for a very long time, the maritime challenges have increased manifold as China has grown its diplomatic relations with many Asian countries. Furthermore, the Chinese authoritarian outlook has also resulted in gaining them the territorial control of small countries. For instance, the non-condemnation of the army coup in Myanmar has consequently provided China with a more thorough channel for accessing the ports closer to India. Furthermore, China is pressing ahead with bilateral projects that include a deep seaport in Myanmar's Kyaukpyu along the Bay of Bengal making it the third Chinese-developed port in India's vicinity after Gwadar in Pakistan and Hambantota in Sri Lanka.
The director of the Centre for Security, Strategy and Technology at New Delhi's Observer Research Foundation, Rajeswari Pillai Rajagopalan has attested that the Chinese authorities are inching closer to India and is extremely worrying given its adversarial, hostile relations with China. Needless to say, the projects are mere of civil nature, as more and more countries are falling into Chinese influence, the situation is exceedingly worrisome.
The concerning infrastructure projects are mainly concentrated in Sri Lanka and Myanmar which provide access to the Indian Ocean that further cater the ferrying of Beijing Oil's imports to Africa, the Middle East, and Europe. Sri Lanka's Colombo Port City being built by a Chinese state-owned firm is one of the latest worries for India as it is adjacent to the strategic Colombo port which is just 300 km away from India. Furthermore, the tension intensified when local legislation enabled China to gain virtual control over 62-hectare unclaimed land neighboring the port which is to be developed as a special economic zone. Furthermore, another $12 million renewable energy project is awarded to a Chinese firm to be built on Sri Lankan islands that lie barely 50kms away from New Delhi.
The leaders of Sri Lanka have long been chums of China and are therefore said to have amplified the pro-China tilt. However, Sri Lankan geopolitics and foreign policy analyst Asanga Abeyagoonasekera has described the current state of affairs as a 'Strategic Trap'. He has further stressed the point that giving these projects a 99-year lease would eventually dissolve the Sri Lankan control and the nation can easily be turned into a Chinese colony or Chinese zones of activity.
Does India need to step up its own naval capabilities to gain control of the already falling shreds of sovereignty?  Yes…most definitely. However, while it may seem like India is lacking in overseas infrastructure, it must be noted that Indian maritime forces, including the Indian Navy and Indian Coast Guard, through their proactive and timely assistance and aid to foreign nations, have not just won goodwill for the country but has also led India to attain the status of "most preferred maritime partner". Now while on one hand there is the Sri Lankan MLA's letter to Xi Jinping that highlights China's deceitful acquisition, on the other we have India's maritime aid and rescue missions to extend friendships beyond borders.

So while India has some work to do, China also has an important question to ponder and decide on – will binding
economically weak countries with controversial agreements with non-disclosure clauses and her "debt trap" strategy, help win the loyalty and friendship of suffering nations and their citizens? Or will it just isolate and seal their position as the world's most notorious nation? The Chinese authorities are not restricted to commerce but are further eyeing territorial expansion and are envisioning dominating the high seas and emerging as a great maritime power.
India US Military Exercise Amidst China's Taiwan Conflict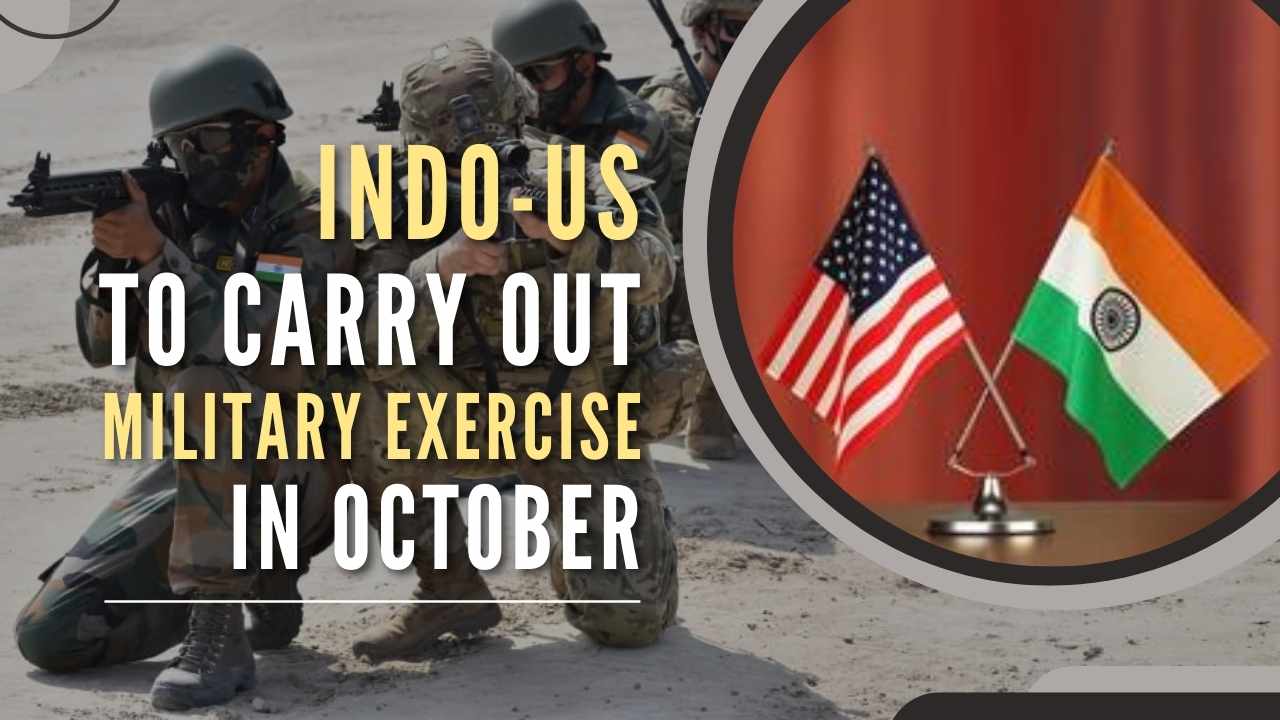 Indian and American military forces will conduct the periodic 'Yudh Abhyas' or 'War Practice' from October 14 to 31, 2022 at Auli in Uttarakhand, which is 95 km away from the Line of Actual Control. The India US military exercise is undertaken to enhance the interoperability between the two armies, and the joint exercise will carry out maneuvers to exploit the full scope of high-altitude warfare.
The occurrence of 18th edition is happening at a very crucial moment as both countries have strife relations with China. The Indian side will showcase its high-altitude warfare strategies and US forces will complement them by exposing various technologies that can be used in challenging scenarios.
This edition will witness the participation of the Indian Air Force in the effective utilization of aerial and ground assets. Also, the India America Military Exercise develops the social relationship with country.
More About India America Yudh Abhyas in Uttarakhand
Yudh Abhyas is the largest running joint India US military exercise and defence cooperation between the countries. The program was started in 2004 under the US Army Pacific Partnership Program.
It is hosted alternately between both countries. The 17th edition was held in Alaska in October 2021. The exercise aims at enhancing understanding, cooperation, and interoperability between the two armies.
Also, the moto of India America military exercise is successfully achieved in Auli Uttarakhand. Also, the impact of this social training is shown on different countries, and various controversies has been made.
Why India-China Standoff? Facts & Statements
In the last two years, there has been a constant rise in tensions between India and China, as the Chinese People's Liberation Army (PLA) made an effort to unilaterally change the status of LAC. Also, the good relationship of India with powerful countries, terrify the China government, and such social activities such as joint India US military exercise, helps to more strong relations.
The Indian army struck back and thwarted the Chinese attempts. The External Affairs Minister while describing New Delhi's efforts had said, "We've been resolute when challenged in border areas. 2 years ago, in the middle of COVID, we had China move forces in violation of an agreement. But we stood our ground and have been working it out without making concessions. The world recognizes that a country is capable of defending its interests".
As per the latest news reported on 13 September 2022, the armies of both countries have confirmed their return from PP-15 (Patrolling Point) in the Gogra-Hot Springs area of eastern Ladakh, and Indian officials are hopeful for further negotiations on more crucial face-offs of Depsang Plains and Demchok.
US-China Tussle
Following the controversial Taiwan visit of the Speaker of the United States' House of Representatives Ms. Nancy Pelosi, and the support extended by China to Russia in the ongoing Russia-Ukraine war, the US-China relationship has also deteriorated further. The two economic superpowers are generally also involved in a cold war in the
China's Reaction on India US Military Exercise
Chinese officials strongly opposed the military exercise, referring to it as a violation of past agreements between New Delhi and Beijing, and following conversation has been made:
"We firmly oppose any third party to meddle in the China-India border issue in any form", Senior Colonel Tan Kefei, spokesperson for the Chinese defence ministry said. "In light of the relevant agreements signed by China and India in 1993 and 1996, neither side is allowed to conduct military exercise against the other in areas near the LAC", Tan said.
He further added, "It is hoped that the Indian side will strictly abide by the important consensus reached by the leaders of the two countries and the relevant agreements, uphold its commitment to resolving border issues through bilateral channels, and maintain peace and tranquillity in the border area with practical actions".
New Delhi's Reply to China's Allegations
In response to China's allegations, "I do not understand the reference to third party interference. The India US military exercise is something completely different and I do not know what color has been given that it is targeted there or it is violating any existing agreement", External Affairs Ministry spokesperson Arindam Bagchi said.
"The two sides should stick to the agreements (signed) in the past and obviously that did not happen", Bagchi said, referring to China violating the agreements which led to the face-off in eastern Ladakh.
After the coming together of like-minded countries for informal dialogue, namely Quad (Quadrilateral Security Dialogue), China's apprehension has increased and it has levelled the grouping as an 'Indo-Pacific NATO'.
"The Indo-Pacific strategy cooked up by the United States, in the name of 'freedom and openness,' is keen on forming cliques", Foreign minister of China, Wang Yi had said. He further criticized the grouping as 'it claims that it intends to change China's surrounding environment, but its purpose is to contain China and make Asia-Pacific countries serve as pawns of US hegemony'.
All the members of Quad had cleared their agenda and said they are committed to cooperation with partners in the region who share the vision of a free and open Indo-Pacific region. India being an essential part of the grouping has always put its best efforts to maintain peace and stability in the region.
India's Prospective with All Countries
India has always called for peace and co-operation in the region, that's why the concept for India US military exercise has been conducted. Being a member of SCO, the two Asian giants have resolved their misunderstandings.
New Delhi has always asked countries to respect each other's sovereignty, territorial integrity, and international agreements. In the coming years, one can hope for a free and open Indo-Pacific region which will be beneficial for all the countries situated in this region.