Google's feature of Indian-English pronunciation is quite not applicable to India's sociolinguistic milieu. It is seemingly difficult for India to follow standard English as Indians speak English with a tint regional dialect.
In language or linguistics, pronunciation plays a key role in defining culture and ethnicity. Keeping this in perspective, Google last year added a feature of Indian-English pronunciation to its website. According to this feature, while searching for a word's pronunciation the user gets three options: British, American and Indian pronunciation. In addition to English and Hindi last year, Google provided its users with another new feature through which they can find search results to their queries even in regional languages such as Tamil, Telugu, Bangla, and Marathi.
The option of Indian-English is an experiment to standardise pronunciation of Indian-English, which itself is spoken differently across the country. It is seemingly difficult for India to follow standard English as Indians speak English with a tint regional dialects.
India is a country of different sociolinguistic backgrounds
More than a hundred million Indians speak English to some extent. It is believed to be the first language of a small minority of people only and is often used as a second or third language that people usually learn in school. Indian English has developed a number of dialects, distinct from the standard English that educators have attempted to establish and institutionalise.
It is possible to distinguish a person's sociolinguistic background from the dialect that they use. These dialects are generally influenced by the geographical divisions of the country. The issue arises when one realizes that there is no single variant of Indian-English as people living in different parts of the country use different regional languages.
The dialects differ in their phonology and pronunciations. The widely recognised dialects include Malayali English, Maharashtrian English, Punjabi English, Bengali English, and Hindi English. Most Indian-English pronunciations on Google sound are like how a north-Indian TV news anchor would say it.
Partha Talukdar, a staff research scientist at Google Research, Bengaluru, and head of a group focused on Natural Language Understanding and called it a challenge. "For all of the variations we want to cover, if we want to take help of voice artists for different dialects, that's not scalable. So the idea is, how can we take one representative database and adapt it to different situations, or dialects of a language using data collected from artists and making some technical alterations to that. That's in the realm of research right now," stated Talukdar.
The push to accept British English
Britain has ruled India for so long that British English is often included in Indian English. In India, there is an attachment especially among the older generation to the Queen's English. Moreover, there is this preconceived notion that British English sounds posh. Officially, Indians follow the rules of British English grammar. English speakers in India follow British English as specified in the Oxford or Longman English dictionaries. Even British and American English have incorporated a number of Indic words such as pajamas, juggernaut, and thug.
Role of Indian literature in the spread of Indian English
Early Indian writers used to incorporate many Indian words in their writings and this can be experienced throughout the works of RK Narayan in Malgudi Days. The literature from the West was essentially what formed the canonical literature until the mid 20th century after which, for the very first time, Indian writings in English received the due visibility it deserved.
A writer, Ranjan Kumar Auddy says, "Until a few decades ago, the way Indians wrote and pronounced the English language was looked down upon. They were not considered as something not genuine. I remember reading an interview once where Anita Desai said that she sometimes felt she would be among the last generation of Indian writers to write in English."
When Salman Rushdie's Midnight's Children was awarded Best of the Booker Prize and Arundhati Roy's The God of Small Things achieved international acknowledgment, Indian English reached a crescendo. The words like chutney, jungle, karma, khaki, veranda, and many more, made their space in the Oxford English Dictionary. Salman Rushdie's use of the expression 'chutnification' epitomises his use of language in the novel.
The accommodation of Indian writing in English in the English canon is a momentous achievement because it provides autonomy to this genre as it is not merely an imitation of Commonwealth English.
May Fourth Movement at Tiananmen Square- China's Awakening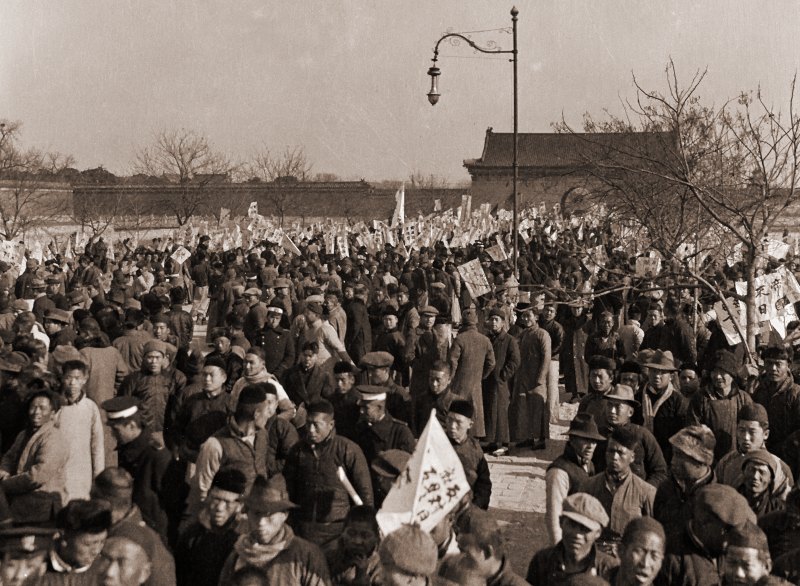 Early in the 20th century, China had a significant socio-political and intellectual movement known as the May 4th Movement, often called the New Culture Movement. It gained support from a wide range of intellectuals, laborers, and business people as it migrated from Beijing to other significant Chinese cities with demands to abandon ancient Confucian principles and to adopt the Western ideals of democracy, freedom, and equality instead. 
While aiming to imbibe the modern thought, these protesters demanded that foreign imperialism be ceased and control be given back to the Chinese. By challenging long-standing conventions and paving the way for a more progressive and open society, this Movement had a significant impact on Chinese intellectual and cultural history.
What Happened on May 4th 1919? 
On May 4, 1919 Chinese students started a series of demonstrations in Beijing, notably in Tiananmen Square. They took to the streets to protest and express their dissatisfaction with the government. Gradually this movement spread to parts of Shanghai and Guangzhou, making it a large-scale student protest. 
What was the Reason of the Student Protest on May 4, 1919?  
First, The Treaty of Versailles & Shandong Problem – The discussion of the Treaty caused much resentment over how China was being treated during the post-World War I by Western powers, especially with regards to Shandong. The German concessions in Shandong were not returned to China but instead were given to Japan. Intellectuals and students in China therefore could not help but be patriotic and anti-imperialist.
Second, existing sociocultural problems in the Chinese society – Disillusionment with traditional Chinese culture and values were growing among Chinese intellectuals and students. Discontentment with existing and belief on the new concepts and philosophies, especially those acquired from the West, were sought to replace these established principles. Thus, fostering science, democracy, and individuality became very important.
What Made May Fourth Movement so Successful?
The Movement's ability to win widespread support from various facets of society was one of the main factors in its success.

Unlike any previous protests in China, the

May 4

Movement

was organised and led by students and intellectuals. They planned gatherings, marches, demonstrations, printed newspapers, and pamphlets to disseminate their views and unite participants. It was this initiative that attracted more people to join, including workers, business people and warlords. This increased the movement's power, and the government was pressured to respond to its demands thanks to this wide-ranging support.
Utilizing new media and communication channels effectively was another key.

Students published their ideas through newspapers, journals, and speeches to get support from the public. They also built relationships with activists and intellectuals who shared their views in other places, which helped the cause extend outside of Beijing. The Movement was able to unite thanks to these communication tactics and develop a sense of a common goal.
The next reason of the movement's success can be traced to its appealing and distinct goals

. The Movement had a clearly stated mission, which included calls for democracy, the democratization of China, and the nation's revitalization. A sizeable segment of the populace, demanding modernization and reform in the face of foreign dominance, identified with these goals.
The Movement also capitalized on a potent anti-imperialist and sense of national pride.

The 'Shandong Problem' that was viewed as a violation of Chinese interests in the Treaty of Versailles sparked a strong sense of fury and served as the Movement's unifying cause. The participants shared rage against foreign imperialism, and the need for national self-determination was a potent unifying force.
What was the May Fourth Movement Significance & Impact on Post World War 1 China?
The success of the May 4th Movement left a long-lasting influence on Chinese politics and society. The movement produced an intellectual and cultural awakening that significantly changed Chinese values and thought. Some major political and social reforms in China that are still cherished and recognised as attributes to the May 4 movement are-
Anti-Imperialist and anti-Warlord Feelings: The Movement stoked a genuine anti-imperialist feeling among the Chinese. It stepped up the fight against foreign meddling and prepared the way for the eventual downfall of imperial control. The Movement also helped reduce the influence of warlords by exposing their corruption and incompetence, further damaging their reputation among the populace.
Founding of Communist Party in 1921: The Chinese Communist Party (CCP) was established mainly due to the May 4th Movement. Many academics and students identified with the Movement's emphasis on social justice, anti-imperialism, and the empowerment of the working class. Therefore, this Movement offered a favourable environment for the propagation of communist doctrine, resulting in the CCP's founding in 1921. The party would later be crucial in determining the course of China's development.
Anti-Japanese Sentiments: The Movement also stoked prejudice towards the Japanese, which is still present today. The Movement's hostility to the Treaty of Versailles's unfair treatment of China, particularly the transfer of German concessions in Shandong to Japan, strengthened a sense of national outrage towards that country. This attitude was the impetus for later resistance to Japanese aggression, culminating in the Sino-Japanese War (1937–1945), and the present that hate that since liberation was kept alive by CCP leaders especially Mao Zedong and Xi Jinping. 
Large-scale but not widely supported – Controversies & Criticisms of May 4th Movement
Despite its enormous support and influence, the May 4th Movement came under fire from 
several groups, notably Chinese Muslim Community and Kuomintang (KMT) – affiliated nationalists. 
The Chinese Muslims & ethnic groups were concerned about the Movement's emphasis on Westernisation and rejection of traditional values, most notably by people in Northwest China. They felt that the calls for a secular society and the adoption of modern ideas were in opposition to Islamic doctrine and cultural norms. Chinese Muslims saw the Movement as a potential danger to their identity and way of life since they connected so closely with their religious and cultural history. They were concerned that the emphasis on Westernisation might undermine their Islamic principles and push their communities to the margins.
The KMT Nationalists under the leadership of Chiang Kai-shek criticized the Movement's extremism and connection to communist philosophy. Chiang and other KMT members thought the Movement's focus on the class struggle and worker emancipation would erode social stability and impede national unity. They said that the Movement's emphasis on urban intellectuals ignored the requirements and ambitions of the rural masses, who comprised most Chinese citizens. As a danger to Chinese culture and social order, the KMT also criticized the Movement's rejection of traditional Confucian principles.
A revolution is not a dinner party, or writing an essay, or painting a picture, or doing embroidery; it cannot be so refined, so leisurely and gentle, so temperate, kind, courteous, restrained and magnanimous. A revolution is an insurrection, an act of violence by which one class overthrows another.

– Mao Zedong
Despite the criticism, it is essential to note that the May 4th Movement it must be accepted that the Chinese history underwent significant change during this Movement. It brought about substantial political, social, and cultural transformations that influenced the development of contemporary China. The Movement's legacy still impacts Chinese society today and represents youth activism, pride in one's country, and the desire for social change.