Google's feature of Indian-English pronunciation is quite not applicable to India's sociolinguistic milieu. It is seemingly difficult for India to follow standard English as Indians speak English with a tint regional dialect.
In language or linguistics, pronunciation plays a key role in defining culture and ethnicity. Keeping this in perspective, Google last year added a feature of Indian-English pronunciation to its website. According to this feature, while searching for a word's pronunciation the user gets three options: British, American and Indian pronunciation. In addition to English and Hindi last year, Google provided its users with another new feature through which they can find search results to their queries even in regional languages such as Tamil, Telugu, Bangla, and Marathi.
The option of Indian-English is an experiment to standardise pronunciation of Indian-English, which itself is spoken differently across the country. It is seemingly difficult for India to follow standard English as Indians speak English with a tint regional dialects.
India is a country of different sociolinguistic backgrounds
More than a hundred million Indians speak English to some extent. It is believed to be the first language of a small minority of people only and is often used as a second or third language that people usually learn in school. Indian English has developed a number of dialects, distinct from the standard English that educators have attempted to establish and institutionalise.
It is possible to distinguish a person's sociolinguistic background from the dialect that they use. These dialects are generally influenced by the geographical divisions of the country. The issue arises when one realizes that there is no single variant of Indian-English as people living in different parts of the country use different regional languages.
The dialects differ in their phonology and pronunciations. The widely recognised dialects include Malayali English, Maharashtrian English, Punjabi English, Bengali English, and Hindi English. Most Indian-English pronunciations on Google sound are like how a north-Indian TV news anchor would say it.
Partha Talukdar, a staff research scientist at Google Research, Bengaluru, and head of a group focused on Natural Language Understanding and called it a challenge. "For all of the variations we want to cover, if we want to take help of voice artists for different dialects, that's not scalable. So the idea is, how can we take one representative database and adapt it to different situations, or dialects of a language using data collected from artists and making some technical alterations to that. That's in the realm of research right now," stated Talukdar.
The push to accept British English
Britain has ruled India for so long that British English is often included in Indian English. In India, there is an attachment especially among the older generation to the Queen's English. Moreover, there is this preconceived notion that British English sounds posh. Officially, Indians follow the rules of British English grammar. English speakers in India follow British English as specified in the Oxford or Longman English dictionaries. Even British and American English have incorporated a number of Indic words such as pajamas, juggernaut, and thug.
Role of Indian literature in the spread of Indian English
Early Indian writers used to incorporate many Indian words in their writings and this can be experienced throughout the works of RK Narayan in Malgudi Days. The literature from the West was essentially what formed the canonical literature until the mid 20th century after which, for the very first time, Indian writings in English received the due visibility it deserved.
A writer, Ranjan Kumar Auddy says, "Until a few decades ago, the way Indians wrote and pronounced the English language was looked down upon. They were not considered as something not genuine. I remember reading an interview once where Anita Desai said that she sometimes felt she would be among the last generation of Indian writers to write in English."
When Salman Rushdie's Midnight's Children was awarded Best of the Booker Prize and Arundhati Roy's The God of Small Things achieved international acknowledgment, Indian English reached a crescendo. The words like chutney, jungle, karma, khaki, veranda, and many more, made their space in the Oxford English Dictionary. Salman Rushdie's use of the expression 'chutnification' epitomises his use of language in the novel.
The accommodation of Indian writing in English in the English canon is a momentous achievement because it provides autonomy to this genre as it is not merely an imitation of Commonwealth English.
Assassination of Shinzo Abe & Salman Rushdie – Know Real Facts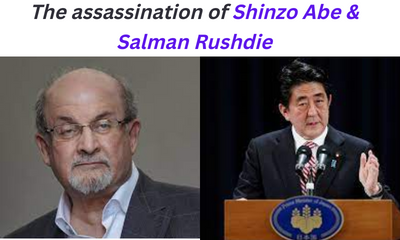 The months July and August of 2022 saw two cases of extermination to promote the fear of terrorism. One of the assassination of Shinzo Abe former Japanese Prime Minister, and another of the famous Novelist Salman Rushdie.
Shinzo Abe succumbed to a gunshot wound, whereas Rushdie's health conditions are improving and he is under medical supervision after the knife attack. However, various assassination attempt of Salman Rushdie has been made during the year.
These two terror acts force us to think about the impact of terrorism on society, the main objective of which is to create an atmosphere of fear so that citizens of the country cannot rely on their government.
This ultimately disturbs the law and order of the society, and serves the terrorists' purpose of creating a chaos.
Here we will see how these two attacks had different reasons but the objective remained the same – to stop someone from propagating his/her opinions independently, and also the factors that make attackers indulge in such acts.
Assassination Attempt of Salman Rushdie – Satanic Controversy
On 12 August 2022, Rushdie was attacked several times by a 24-year-old man Hadi Matar. The attacker's intentions can be linked to Rushdie's fourth novel, The Satanic Verses, published in 1988. Some Muslims considered the novel disrespectful towards Prophet Mohammed.
Soon after its publication, the novel sparked a 'fatwa' or a religious decree. The Iranian revolutionary leader Ayatollah Ruhollah Khomeini called for Rushdie's death in 1989. After, this various assassination attempt of Salman Rushdie has been made.
Complete conversation for Salman Rushdie Assassination:
When asked about the attack Hadi Matar said, "I don't like the person. I don't think he's a very good person. I don't like him very much". He further criticised Rushdie's work by saying, "He's someone who attacked Islam, he attacked their beliefs, the belief systems". Mr. Matar also told New York Post that he had only read 'a couple of pages' of the book and did not tell about whether the fatwa had inspired him or not.
While praising the Iranian religious leader, he stated, "I respect the Ayatollah. I think he's a great person. That's as far as I will say about that".
One can observe that the psychology of the attacker was that he simply disliked the novelist because of his work; although he read only two pages of the novel, but was rather influenced by the religious leaders and their sayings. Just, like this the assassination of Shinzo Abe has been made during this year, which we will discuss on next section.
Perceptions like these can have a long-lasting impact on future generations which can further deteriorate the situation. Violent acts like this demand proper scrutiny of the dissemination of information.
Extremists take advantage of such incidents and brainwash the young minds so that they can be used by them for their selfish purposes.
Assassination of Shinzo Abe – Complete Truth
On 8 July 2022, it was just another day of Abe's political campaign for the upcoming parliamentary elections. He was delivering a speech in Nara City, but no one is the aware about the assassination of Shinzo Abe that day. When a 41-year-old Tetsuya Yamagami shot him twice from behind from a distance of about 10 meters.
During the investigation, he confessed his intentions of killing and it was found that his motives had more to do with religious backing instead of a political reason.
It so happened that Yamagami's mother was a member of a religious group which she joined after her husband's death in 1998. She used to donate huge amounts of money as charity to the group, after the assassination of Shinzo Abe and Yamagami blames the sect for bankrupting his mother.
Confession Statement on Abe Case
The report reveal that Abe was closely associated with the sect, and wanted to take revenge against him for promoting it. "The suspect stated that he held a grudge against a particular organisation and that he committed the crime because he believed former Prime Minister Abe had a connection to it", a senior police officer in Japan's Nara region told reporters.
While the police hasn't given any clarification regarding the unidentified organization, social media in Japan has it that it could be the Unification Church.
Yamagami was unemployed, felt isolated in society, was against religious preaching and blind faith, and wanted to kill the leader of the religious organization but couldn't. One can see the psychological aspects of it that, the killer was anguished with the organisation and blamed them for his conditions and economic turmoil.
Ultimately his grudge converted into a motive of taking revenge for his loss and he did that by killing the perpetrator of the religious group, to give a message to the society and the world that one should avoid themselves from joining or contributing to such groups.
Japan has the strictest gun laws after the assassination of Shinzo Abe , so to bypass such stringent laws the killer used a handmade gun. The occurrence of such incidents in the island nation shows how much resentment the killer has and how strongly he was motivated to commit the murder.
Such incidents are eye-openers for the society that someone's freedom of belief can become others' pain, and teaches that as a society we should try to maintain a balance between them.
Two Paths to Crime
The above two accidents of assassination of Shinzo Abe, and the assassination attempt of Salman Rushdie has been terrifying for the country. First, being a part of a religious group the killer face hardship in his life, which forced him to commit the crime. In the second instance, the attacker got the impression that his religion is being targeted and that it is his responsibility to take revenge so that next time no one dares to do anything like that again.
Interpretation of things based on pre-assumed thoughts can lead to revenge, and revenge based on half-baked knowledge causes harm to the whole humanity, and not just the particular group concerned.