The miscarriage of a pregnant Chinese woman who was denied medical treatment due to the COVID-19 lockdown has revived controversy about China's zero-tolerance policy. China, where the coronavirus was found in 2019, is one of the last countries to follow the "Zero Covid" policy, which placed millions of people under quarantine.
What is 'Zero Covid'?
According to the Chinese government, this approach has helped to suppress more than 30 COVID-19 outbreaks, including several caused by the highly contagious delta type. To prevent the infection from spreading, rigorous procedures have been implemented, including mass testing, lockdowns, and extended quarantines.
To contain outbreaks, China employs the "dynamic zero" strategy, which entails strict lockdowns and widespread testing. People in China may be prohibited from leaving their buildings or confined to their rooms if they are deemed high-risk contacts, in contrast to other areas where lockdowns are less severe. In the similar-sized city of Zhengzhou, an extreme incidence happened when all people were tested after only 11 cases. International flights are a tenth of what they were before the outbreak, and new visitors are quarantined for weeks. Close contacts are frequently found and quarantined rapidly as a result of obligatory track-and-trace software.
What is the cost of 'Zero Covid' and who pays it? 
Yes, "Zero Covid" is not free. Businesses have been compelled to abandon locations near Myanmar's border as a result of the near-constant lockdowns.
Food, medical care, and supplies have all been reported to be in short supply in communities that have been closed down. In the meantime, migrants have been separated from their families for months due to onerous travel requirements and limitations. In many circumstances, enforcing the law has been overbearing. Quarantine staff beat a Corgi to death after its owners were quarantined in one incident that sparked anger. Despite the fact that China is the only global economy expected to grow in 2020, the country's recession is exacerbated by frequent plant and business closures.
Why is China sticking to it?
The benefits of Covid Zero outweigh the expenses, according to its calculations. According to the government, the strategy has saved 1 million lives and 50 million illnesses. Covid claimed the lives of fewer than 5,000 people in China, the majority of whom perished in Wuhan during the virus's first transmission. In comparison, more than 900,000 people died in the United States, which has a population of less than a fourth of China's. These numbers have been utilised by Beijing to represent their governance system as superior. In addition, Covid Zero has helped China's economy, the world's second-largest, to rise in 2020 when other major economies fell. By the end of 2021, the industrial economy had mostly escaped the effects of increasingly regular flare-ups, with record export growth thanks to robust international demand. In some cases, the illnesses and the limits imposed to contain them snarled supply lines and made it difficult for businesses to meet production targets.
Is China ever going to reopen?
"China has undoubtedly proved it is conceivable to continue the zero Covid Strategy virtually indefinitely," says Ben Cowling, an epidemiologist at Hong Kong University.
The country was effectively cut off from the rest of the world in March 2020. Foreigners have been effectively barred from entering. Despite the fact that travel restrictions have relaxed marginally since then, foreign tourism is still non-existent. The government has stated that Chinese passports will not be renewed unless a genuine justification for travel is supplied. The government is desperately defending the capital and strengthening restrictions, so the country is unlikely to reopen until after the Winter Olympics and Paralympics in Beijing.
Those who challenge "zero Covid" have been met with a nationalistic backlash. In July, Zhang Wenhong, a well-known Chinese medical specialist, said that countries must "learn to coexist with the virus," prompting troll attacks online.
What's the domestic downside? 
As the virus has evolved to become more contagious, outbreaks have become increasingly common, with some requiring rigorous lockdowns to contain. A few have dragged on for weeks, causing food and medical shortages, and even claiming lives in the western metropolis of Xi'an. In other big cities, such as Beijing and Shanghai, outbreaks have been contained without the need for city-wide lockdowns. Consumers who are restricted from travelling or who are afraid of diseases have foregone vacations, shopping, and dining, depressing retail spending. Sporadic lawsuits and restrictions exacerbated sluggish investment and a broader property market decline by the end of 2021. Due to the increasing challenge of managing the omicron variety, Goldman Sachs Group Inc. lowered its growth prediction for China in 2022 by 0.5 percentage points. Economic growth might plummet to 1.5 per cent, the lowest in more than four decades, if a national lockdown is implemented, according to the bank.
In the event that China opens up, what will happen? 
There are conflicting opinions.
According to Peking University researchers, if limitations are lifted to the same extent as in Europe and the United States, China will face a "colossal outbreak." Meanwhile, Ivan Hung, an infectious diseases expert at Hong Kong University, believes that second-generation vaccines targeting the Delta and Omicron variations, paired with high immunisation rates, could prevent a catastrophe. In this case, Hung believes Covid will be similar to influenza.
Allowing the virus in, on the other hand, maybe dangerous for Xi Jinping, who is running for a third term in October after campaigning as a leader who would keep China secure. "When it comes, the shift may be difficult because Chinese society has grown accustomed to low levels of transmission," says University of Oxford's Thomas Hale. 
Why Olaf Scholz, Chancellor of Germany, is sending a message of Independence by visiting China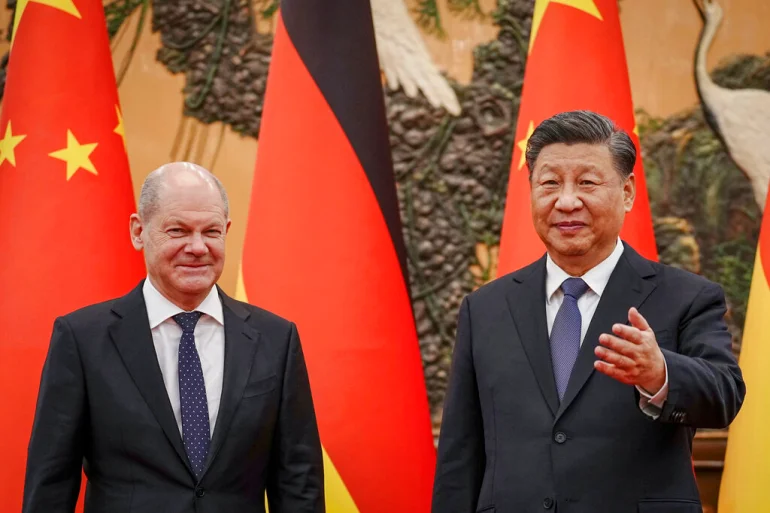 German Chancellor Olaf Scholz was the first G7 head of state to visit China since the outbreak. After the public health crisis, the world changed. The relationship between China and Germany seems to be returning to normal. Since Xi Jinping was re-crowned as the General Secretary of the Communist Party of China, Scholz is the first prominent European figure to visit China.
Nguyen PhuTrong, the head of the Vietnamese Communist Party, Shehbaz Sharif, and Samia Hassan, the president of Tanzania, arrived in Beijing before Scholz. Given that China's relations with Europe have deteriorated due to Uyghur human rights in Xinjiang and Chinese support for Russia in the Ukraine conflict, the Scholz visit last week was positive for Beijing.
Germany's biggest European economy will be even more reliant on China in the first quarter of 2022. During this time, Germany invested €10 billion in China. The amount of bilateral commerce increased by 0.9% to $173.57 billion. Imports from Germany are up 54%. The medium-term ambitions of Germany are in jeopardy due to its 1.9% growth rate.
German investment in China grew by 30% in 2022 despite the Ukraine crisis and criticism of China. A €69.5 billion railway project connecting Tianjin, in North China, and Beijing Daxing International Airport is being financed by KfW (the German state-owned development and investment bank), BASF, Hella, and Robert Bosch. For a total of $17 billion, China is purchasing 140 Airbus planes. Costco, a Chinese shipping business, was permitted to invest in Germany's busiest port, Hamburg, prior to the visit, but with a smaller share. Additionally, the arrival of Scholz coincided with polarization and deteriorating US-China ties. Due to the Ukraine conflict, Germany soon adopted a similar strategy to the US, breaking its contact with Russia.
It maintains caution regarding China because its economic interests are crucial. Scholz met with PM Modi in Berlin after starting his Asia strategy with a visit to Japan rather than China. Germany's foreign policy did not give China top priority, but it is nevertheless significant. It looks inconvenient that the visit comes right after the CCP's 20th National Congress.
Germany confronting China alone has angered Europe. Germany rejected the joint Scholz-Macron visit. The visit by Scholz and a corporate delegation demonstrates a duplication of Angela Merkel's approach. German businesses, which are already suffering from the epidemic, the energy crisis, and the break from Russia, according to the ruling SPD, cannot afford to decouple from China. The German Foreign Ministry criticizes China's human rights record and is developing a new China strategy to counter the systemic rivalry that the EU anticipated.
The Scholz visit revealed strategic independence in Germany. When viewed from the perspective of German relations with Russia, the same autonomy is apparent.
If Germany sways away for its own reasons, how will it continue to lead Europe? Scholz needed to pull many savvy rabbits out of his Beijing visit if he wanted to position Germany and potentially Europe as independent players in the inevitable US-China polarization.
Scholz provided background information for his visit in an opinion piece that was published in the FAZ the day before. Since Merkel's most recent trip to China in 2019, he admitted that the world had undergone significant upheaval. It was crucial to have a face-to-face meeting with Xi in order to address the world's unresolved problems, not because he intended to carry on as normal. China had seen a major upheaval. The German approach had to adapt as well because China had changed.
Additionally, the world had changed. Russia posed a menace that needed Chinese assistance to counter. China was reminded of its unique duty to uphold the UN Charter's ideals and exert influence over Russia as a permanent member of the UN Security Council. This is similar to what China claims about Russia in its Global Security Initiative, which it has yet to put into action. Scholz talked about the necessity of increasing Germany's partnerships and the multipolarity of the world.
Berlin works with various partners because he does not want to see blocs reemerge. China shouldn't be left alone, and a Chinese-dominated world system cannot be cozy. Germany and Europe continue to value China as a trading partner. Berlin didn't want to cut its ties with it. With China, Germany would want more parity and economic diversification. When it came to rare earth, cutting-edge technologies, or raw resources, "risky dependencies" had grown. German enterprises were developing different supply chains. China and Germany will now look for a differentiated basis for trade and investment. Instead of "protectionism and withdrawal," Germany prefers diversity and strengthening.
Scholz's fourth goal was that the disparities between China and Germany, notably those involving political and civil rights, including in Xinjiang, could not be overlooked. Scholz stated that while Germany adheres to the One-China policy, any change to Taiwan's status must be peaceful and reached via mutual consent.
Germany's China policy, according to Scholz, will be effective if it is in line with European policy. In his opinion, there were various areas where China should have a role, including dealing with the G 20, the SDGs, and other things. Before his visit, he consulted with the EU, French President Macron, and the US.
The Chinese readout supports the majority of what Scholz claimed. To preserve Germany's strategic autonomy, Xi is courting it. Despite Scholz's concerns, it stated that "there should be no self-imposed constraints or unrealistic expectations" and publicly disregarded the Taiwan and Xinjiang issues.
This visit is significant because Germany has again demonstrated its desire for strategic independence from the US. Before the Ukraine crisis, which caused them all to flee in the wake of NATO and US leadership, the German coalition and other German and European nations had this as their top priority. Europe is suffering from sanctions and a diminished energy supply due to the standoff in the Ukraine conflict. Despite resistance from within Germany and outside Europe, Germany appears prepared to continue its relationship with China. It must protect its economic growth against the ravages of conflict.