2022 brought a ray of hope in people's lives as the world was recovering from the pandemic. The economy was recuperating, the healthcare systems were rebuilding themselves after a stressful period and countries all around the world could finally focus on safeguarding their national interests in the changing world order, which brought with itself some irreversible changes. Here's a 2022 Recap / quick rewind of the major events of 2022 that made their way to the headlines.
1. China's New Law on Land Borders
The Sino-Indian border conflict became more complex as Beijing's new land law, which was passed on 23rd October 2021, was enforced from the first of January this year. China tried to unilaterally reshape its border areas and in the past too, it had renamed several areas in the Indian state of Arunachal Pradesh. In response, India protested against the issue which could have impacted the existing bilateral relations with China. The political conflict that India faces in such a situation is that since China has not yet finalized its border agreement with India, there is a possibility that it can expand its boundaries and encroach on Indian territory. Speculations were rife that the Chinese law was passed in order to restrict India from developing infrastructure near its border areas. The controversial standoff that started in 2020 is continuing even after the 17th round of military talks and negotiations, and China's reluctance in abiding by rules, regulations, and past agreements may elongate it further.
2. Ukraine Crisis 
February saw the emergence of war in Europe, and the invasion in Ukraine by Russia which impacted the quality of life in other countries too. The global economy was again hampered by the Ukraine crisis; inflation rates soared in developing and developed countries. The humanitarian crisis inflicted upon the people involved in this bloodshed is indeed spine-chilling. The NATO expansion made Russia more apprehensive in its attempt to secure its territorial integrity and according to Vladimir Putin, this justified the invasion. Ukrainian President Volodymyr Zelenskyy also fought vehemently and did not surrender in front of the mighty Russian military. The ultimate cost is being paid by the citizens of these countries as they lost their loved ones, children were deprived of education, and at a time when they should've been in schools they were hiding beneath bunkers to save their lives. All other nations cooperated to the best of their ability, and urged both nations to take the diplomatic route to solve the crisis as the Indian Prime Minister rightly said "this is not an era of war". 
3. Operation Ganga
March witnessed the horrific consequence of the Ukraine crisis, dividing the world into two geopolitical blocs. The number of refugees increased to 11.4 million, and the Indian government started 'Operation Ganga' to bring back the Indian citizens that were stranded in the areas of conflict, and whose lives were in danger. 
4. BIMSTEC Summit
The 5th BIMSTEC (Bay of Bengal Initiative for Multi-Sectoral Technical and Economic Cooperation) summit was hosted in virtual mode by Sri Lanka, the current chair of BIMSTEC, in which the member nations reconstituted the number of areas of cooperation to 7 from 14 to make the grouping more manageable and efficient. They also adopted a master plan of connectivity as a guide for future connectivity.The summit's theme was 'Towards a Resilient Region, Prosperous Economies, Healthy People' which highlighted the main priorities of the member states, focusing on economic progress along with the health of their citizens.
5. 2+2 Dialogue
In April 2022, the fourth '2+2' dialogue between India and the United States was held in Washington DC, where they both concluded a Memorandum of Understanding (MoU) on Space Situational Awareness and promised to extend their bilateral relationship. Their officials looked forward to meeting again at the Indo-Pacific Armies Chiefs Conference (IPACC) and Indo-Pacific Armies Management Seminar (IPAMS) in 2023 which will be hosted by India.
6. Political Turmoil in Pakistan
In Pakistan, Imran Khan lost the no-confidence motion which led to political instability in the country. Pakistan has always been a deep state, and Imran Khan's souring relationship with ISI and the national military cost him his position. In protest of this, he started a long march, in which he got injured after a failed assassination attempt at him. Shehabaz Sharif is the current Pakistani Prime Minister who also faced backlash after a leaked audio surfaced on the internet, which reinforced the corruption charges leveled against him.
7. SCO-RATS Meeting
In May 2022, India hosted a meeting of Shanghai Cooperation Organisation – Regional Anti-Terrorist Structure (SCO-RATS), which was organized to develop further cooperation among the member countries for dealing with regional security challenges.
8. IPEF Alternative to the Belt and Road Initiative (BRI)
India agreed to join the USA-led Indo-Pacific Economic Framework for Prosperity (IPEF), which calls for participating countries to solidify their relationships and engage in crucial economic and trade matters that concern the region, such as building resilient supply chains battered by the pandemic.
9. Israel-UAE Trade Deal
UAE became the first country in the Arab world to have a free trade deal with Israel, aiming to increase bilateral trade to $10 billion. The deal was significant as it was the first step towards a better relationship between Israel and other Arab nations.
10. 14th BRICS Summit
The 14th BRICS summit was held in virtual mode under the chairmanship of China. The major highlight of the summit was the adoption of the 'Beijing Declaration' which focuses on gender equality. India hoped to organize a startup event for boosting ties among the member countries.
That's all for 2022 Recap …..Happy New Year to all of our lovely readers. Keep supporting us!
Classified Documents Probe Involving US President Biden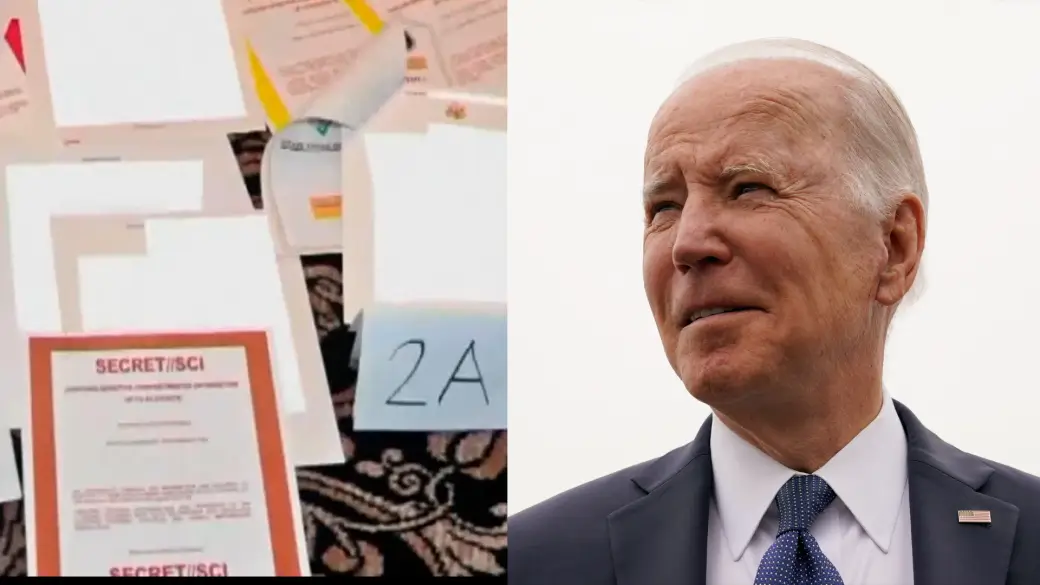 About 20 classified documents from President Joe Biden's vice presidency in the Obama administration were uncovered between November 2022 and January 2023 by the president's lawyers in his former workplace at the Penn Biden Center in Washington, D.C., as well as in his home in Wilmington, Delaware.
Joe Biden episode with Secret Documents
Biden's legal team found the first batch of top-secret documents on November 2, 2022, in a locked closet at the Penn Biden Center. They immediately reported them to the National Archives and Records Administration (NARA), which recovered them the following day. Informational memoranda and intelligence materials regarding the UK, Iran, and Ukraine were included in the secret documents. In cooperation with the Justice Department (DOJ), Biden's lawyers found a second set of papers at Biden's house on December 20. Then, on January 9 and January 12, 2023, they found several other pieces. On January 21, Biden's attorney reported that the Justice Department had found six items in his home that had classification markings during a consensual search the day before, some of which dated back to his time in the Senate. Investigators also took some of Biden's handwritten notes from his time serving as vice president. Robert Hur was assigned as special counsel to look into the "potential illegal removal and retention of classified documents or other records" by Attorney General Merrick Garland on January 12. The House Judiciary Committee launched a second investigation into the materials the following day.
Background of the case
According to CNN, the process of returning Biden's records to NARA started many weeks before his vice presidential term came to an end. Still, it was made more challenging because Biden continued using his vice presidential offices and acquiring more classified records. According to CNN, most of the packing of Biden's possessions and papers was carried out by lower-level staff members, citing "former aides and others with direct knowledge of the process." Despite this, the staff had "clear Presidential Records Act guidelines" and took those guidelines seriously. Kathy Chung, then-executive Biden's assistant, was one of the staff members who helped with the packing. She was reportedly questioned about investigating the secret documents discovered in Biden's private offices. The records that were "not deemed covered by the record requirements to send to the National Archives" were initially kept at a GSA-run temporary storage location close to the White House before being transferred to the Penn Biden Center.
Classified Documents Discovery in Biden's Private Office
The classified documents were discovered by Biden's lawyers in a locked closet in the future president's private Washington office while he was a visiting lecturer at the University of Pennsylvania. The records were turned over to the National Archives the morning after they were discovered when the White House Counsel's office received a notification. According to a source familiar with the situation who spoke to CNN, Biden was unaware the documents were in the office until his lawyers alerted him to their presence. He still needs to learn about the information's content. Federal officeholders must turn over official and classified records upon leaving government employment, as required by law. In contrast to Trump, Biden has not attempted to claim ownership of the documents, impede their transfer, or make ludicrous claims that he had previously declassified them based on unreported private thinking. Smith is looking into Trump to determine if he may have violated the Espionage Act by hoarding classified information and for potential obstruction of justice.
Which factors are similar between the two cases?
It was improper for Trump or Biden to possess any sensitive information. The documents from each administration are meant to be transferred to the legal custody of the U.S. National Archives during a presidential transition period. Removal or retention of classified material is prohibited if done knowingly or willfully. If sensitive information falls into the wrong hands, improper storage and protection could endanger national security.
Biden has stated that he was shocked to hear that he had secret information. While his lawyers have failed to reiterate that claim in court filings, Trump has claimed on social media that he declassified the information without offering any supporting documentation. The classified documents in question were created when Biden served as Vice President under President Barack Obama from 2009 to 2017 and under President Donald Trump from 2017 to 2021.
In the United States, improper management of correctly classified, vitally important material is viewed as a concern, as is overclassification. Once the information has been correctly classified, it must be managed according to the classification's rules, which may include locks, guards, or electronic surveillance countermeasures. For instance, Top Secret material cannot be accessed or discussed outside a secure information facility (SCIF). A SCIF can be a room inside a facility, like the Hart Senate Office Building, where the Senate Select Committee on Intelligence meets, or the building itself, like most of the CIA's headquarters. The present emphasis on classified materials could provide a chance to reassess the classification process and guarantee that material that requires classification is classified. The current focus on classified materials could allow reassessing the classification procedure and ensure that material that needs to be sorted is handled correctly. While I don't intend to draw any comparisons between Trump's behavior and that of Biden or to defend either president's acts, these incidents can be attributed to an entirely flawed classification system.