The third Ministerial Conference on Countering Financing of Terrorism, "No Money For Terror" (NMFT) took place in New Delhi in November 2022, immediately following the UN Security Council's Counter-Terrorism Committee sessions in October. India hosted the third edition of this conference in New Delhi, postponing it from 2020 due to COVID-19.
The Ministry of External Affairs press release said that, "Hosting of this conference shows the importance being given by the Modi Government to the issue of international terrorism as well as its zero-tolerance policy against this menace." The purpose of the NMFT ministerial meeting is to exchange knowledge and effective strategies for preventing the financing of terrorism that can be used globally. In April 2018, France hosted the inaugural NMFT conference.
Twenty years after government-enforced restrictions on mechanisms for financing terrorism through UN resolutions 1267 (1999) and 1373 (2001), it is clear that financial investigations play a critical role in diminishing the ability of criminal networks to secure, distribute, and conceal illegal revenues. Countries must regularly examine the financing of terrorism in order to ensure that their policy resources are enough to meet new and emerging threats as circumstances change.
Digitisation of Currency and The Threat
It is true that the majority of terror organisations continue to use cash and hawala channels, despite counter-terror financing authorities in India focusing on monitoring organised digitised channels like credit/debit cards and money value transfer services (MTSS). However, the potential of misusing fintech services remains due to the nation's rapid digitization. While cryptos aren't a big issue right now, the use of drones to smuggle weapons, IEDs, and drugs over borders in our border states is starting to pose unique challenges for India.
Countries must review the financing of terrorism not only on a regular basis but also to make sure that their policy resources are matched to address new and emerging dangers as conditions change. Threatening national, regional, and international security is terrorism financing, which is also a felony that precedes money laundering. 
At the background of this conference is the digital evolution. With currencies now being traded in the form of cryptocurrency, it has been a rising concern on the agenda of discussions surrounding funding terrorism. There are several speculative opinions in this regard – whether the rise of cryptocurrency would help ease mobilisation to fund terrorist activities.
Cryptocurrency is being hailed as the future of financial transactions, while partly it is true. The issue arises with the rise and development of crypto, especially with the speculations about its traceability. 
Cryptocurrency and its Untraceability: a Boon for Terror?
Why crypto may seem as a lucrative alternate source of funding, it is important to analyse why this might be seen as an alternative in the first place. 
One of the key topics discussed at the conference was the increasing use of cryptocurrency by terrorists to fund their activities. It has been reported that terrorists are using cryptocurrency to avoid detection and to move funds quickly and anonymously across borders. The decentralized nature of cryptocurrency makes it difficult for law enforcement agencies to track and trace transactions, making it a preferred method of payment for terrorists.
The conference also discussed the measures that can be taken to combat the use of cryptocurrency in terrorist financing. One of the recommendations made was to increase international cooperation and information sharing between law enforcement agencies to track and disrupt the flow of funds. The conference also stressed the importance of educating the public about the risks associated with cryptocurrency and the need to be vigilant when using these digital assets.
In an article describing the operations of the terrorist outfit. The article says that decentralized execution and centralised decision-making are features of terrorist groups. This implies that the top echelons of the leadership are responsible for creating any innovations in a terrorist group's grand strategy. Nearly all of these examples show how innovation in grand strategy was adopted top-down, with individual leaders' strong personalities and authoritarian leadership styles playing crucial roles in significant decision-making processes that altered the organization's identity.
For terrorist organizations, the adoption of cryptocurrencies is a convenient and profitable way to finance their operations. This is especially true for local terror hubs that rely on grassroots recruitment and small to medium scale attacks. The pseudo-anonymity of cryptocurrency transactions allows these groups to easily receive funding from international sources without fear of detection through traditional financial channels. These local hubs may only receive start-up funds and an annual allocation of finance from their transnational headquarters, but the use of cryptocurrency allows them to also accept sizable donations from other sources in their region of operations.
We assume that the traditional framework for financing terrorism will always exist, but the simplicity of setting up potentially untraceable cryptocurrency transactions will strengthen a local hub's strategy of evading the enemy's web of defence and demolish the resource constraint that previously dominated the operational calculus of these transnational non-state actors.
In conclusion, the third Ministerial Conference on Countering Financing of Terrorism highlighted the growing threat of cryptocurrency in financing terrorism and the need for global efforts to combat this threat. The conference provided a platform for government officials, financial experts, and representatives from the private sector to come together and discuss ways to counter the use of cryptocurrency in terrorist financing.
Classified Documents Probe Involving US President Biden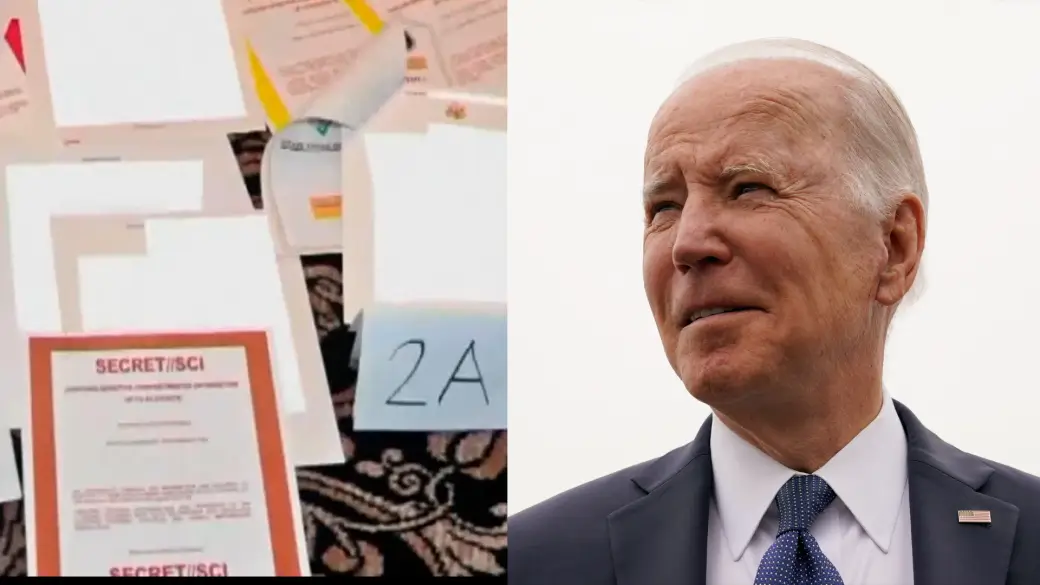 About 20 classified documents from President Joe Biden's vice presidency in the Obama administration were uncovered between November 2022 and January 2023 by the president's lawyers in his former workplace at the Penn Biden Center in Washington, D.C., as well as in his home in Wilmington, Delaware.
Joe Biden episode with Secret Documents
Biden's legal team found the first batch of top-secret documents on November 2, 2022, in a locked closet at the Penn Biden Center. They immediately reported them to the National Archives and Records Administration (NARA), which recovered them the following day. Informational memoranda and intelligence materials regarding the UK, Iran, and Ukraine were included in the secret documents. In cooperation with the Justice Department (DOJ), Biden's lawyers found a second set of papers at Biden's house on December 20. Then, on January 9 and January 12, 2023, they found several other pieces. On January 21, Biden's attorney reported that the Justice Department had found six items in his home that had classification markings during a consensual search the day before, some of which dated back to his time in the Senate. Investigators also took some of Biden's handwritten notes from his time serving as vice president. Robert Hur was assigned as special counsel to look into the "potential illegal removal and retention of classified documents or other records" by Attorney General Merrick Garland on January 12. The House Judiciary Committee launched a second investigation into the materials the following day.
Background of the case
According to CNN, the process of returning Biden's records to NARA started many weeks before his vice presidential term came to an end. Still, it was made more challenging because Biden continued using his vice presidential offices and acquiring more classified records. According to CNN, most of the packing of Biden's possessions and papers was carried out by lower-level staff members, citing "former aides and others with direct knowledge of the process." Despite this, the staff had "clear Presidential Records Act guidelines" and took those guidelines seriously. Kathy Chung, then-executive Biden's assistant, was one of the staff members who helped with the packing. She was reportedly questioned about investigating the secret documents discovered in Biden's private offices. The records that were "not deemed covered by the record requirements to send to the National Archives" were initially kept at a GSA-run temporary storage location close to the White House before being transferred to the Penn Biden Center.
Classified Documents Discovery in Biden's Private Office
The classified documents were discovered by Biden's lawyers in a locked closet in the future president's private Washington office while he was a visiting lecturer at the University of Pennsylvania. The records were turned over to the National Archives the morning after they were discovered when the White House Counsel's office received a notification. According to a source familiar with the situation who spoke to CNN, Biden was unaware the documents were in the office until his lawyers alerted him to their presence. He still needs to learn about the information's content. Federal officeholders must turn over official and classified records upon leaving government employment, as required by law. In contrast to Trump, Biden has not attempted to claim ownership of the documents, impede their transfer, or make ludicrous claims that he had previously declassified them based on unreported private thinking. Smith is looking into Trump to determine if he may have violated the Espionage Act by hoarding classified information and for potential obstruction of justice.
Which factors are similar between the two cases?
It was improper for Trump or Biden to possess any sensitive information. The documents from each administration are meant to be transferred to the legal custody of the U.S. National Archives during a presidential transition period. Removal or retention of classified material is prohibited if done knowingly or willfully. If sensitive information falls into the wrong hands, improper storage and protection could endanger national security.
Biden has stated that he was shocked to hear that he had secret information. While his lawyers have failed to reiterate that claim in court filings, Trump has claimed on social media that he declassified the information without offering any supporting documentation. The classified documents in question were created when Biden served as Vice President under President Barack Obama from 2009 to 2017 and under President Donald Trump from 2017 to 2021.
In the United States, improper management of correctly classified, vitally important material is viewed as a concern, as is overclassification. Once the information has been correctly classified, it must be managed according to the classification's rules, which may include locks, guards, or electronic surveillance countermeasures. For instance, Top Secret material cannot be accessed or discussed outside a secure information facility (SCIF). A SCIF can be a room inside a facility, like the Hart Senate Office Building, where the Senate Select Committee on Intelligence meets, or the building itself, like most of the CIA's headquarters. The present emphasis on classified materials could provide a chance to reassess the classification process and guarantee that material that requires classification is classified. The current focus on classified materials could allow reassessing the classification procedure and ensure that material that needs to be sorted is handled correctly. While I don't intend to draw any comparisons between Trump's behavior and that of Biden or to defend either president's acts, these incidents can be attributed to an entirely flawed classification system.