The President of Pakistan, Imran Khan has been under a lot of scrutiny and microscopic scan for his bold and sweeping remarks against neighboring countries as well as other distant nations. The recent hustle-bustle around his style of governance was largely vocalized when under his leadership, Pakistan became the first country to officially sign a huge trade deal with Russia. The concerns weren't entirely subject to the parties of the deal as it was against the timing of it. While Russia is a hardcore Federal authoritative republic that is bound to raise concerns when the said nation does business with a thoroughly democratic state as that Pakistan, the timing of the deal has received huge flak around the globe. The deal came at a time when Russia is facing a widespread uproar for waging war and invading Ukraine. The deal entails that Pakistan shall import 2 million tons of wheat and natural gas supplies from Russia.
The deal sends out an indirect and implied message to the world that the ongoing war has no bearing on Pakistan's morals as it has vociferously pledged its allegiance to Russia. However, Imran Khan has stated that the deal was done strictly from a financial perspective to improve the already dwindling economy of Pakistan. Although he did hint at the fact that with time, the talks between the nations are likely to pan out more constructively rather than being categorized as a controversial discussion. Furthermore, Pakistan has also managed to further distance itself from US and EU states as the said states stand against Vladimir Putin and therefore are bound to stand against its new ally, Pakistan.
The said deal has also attracted attention from the World Bank and IMF, as they have also issued a joint statement condemning Moscow on its stance against Ukraine, whilst providing monetary assistance as well as awarding refugee status to the aggrieved in Ukraine and other countries. It is further imperative to mention that Pakistan has sought a bailout package from the IMF worth $1 billion out of its $6 billion loan program but the current deal with Russia is likely to affect IMF's stance.
Pakistan's Increased dependence on the World Bank and IMF
Ever since Pakistan's independence and its continuous struggle with pressing democratic domestic concerns, the country has never really come up to terms with its deteriorating economy unlike the world around it which rapidly evolved. Reeling from the horrors of World War, United Nations and subsequent charters with respect to human rights were established. On the other hand, a set of institutions for governing global economic relations, the International Monetary Fund, World Bank, and International Trade Organization were set up. As a result, Pakistan was soon taken aback by the glittering developments in the international spectrum and became signatories of the UNDHR and even a member of IMF and World Bank by 1950.
The aftermaths of becoming signatories of the aforementioned governing bodies were equally reflected in Pakistan's constitution. Furthermore, the nation also compromised its balanced approach towards maintaining the security of the rights of its citizens as well as the country's commitment to free trade soon after the economic debacles of General Ayub Khans' government from 1956-to 1959. Post-1959, Pakistan entered into 53 treaties with 48 different countries merely intending to lure foreign investments. Interestingly, three prominent arbitrations resulted in heavy losses to the Pakistani government which also resulted in multi-billion fines almost equal to IMF aid packages. The country since then has been trying to graph an upward trend in its already sorry state of economic affairs.
To keep the country afloat, Pakistan's dependence on IMF assistance has risen in the last years with the growing external debt. The boulder of external financing requirements by Islamabad is as high as $30 billion. Therefore, Pakistan's Prime Minister's visit to Russia on the eve of the Ukraine attack can prove to be lethal for the nation's economic security especially when a joint statement by IMF and the World Bank condemning the attacks from Russia is already in place. The organizations have further called for coordinated international action to mitigate risks and navigate the treacherous period ahead as the Russia-Ukraine crisis intensified.
Fine and Sanctions
Post the Khan-Putin meeting, a 55-million-dollar fine was immediately levied on the National Bank of Pakistan's New York Branch by the US regulatory authorities (US Federal Reserve, the Central Bank of the country, Superintendent of Financial Services of New York) on the grounds relating to non-compliance and anti-money laundering laws. The $55 million is pieced into two meals out of which the Federal Reserve accounts for 20.4 million and the New York State Department of Financial Services accounts for the rest 35 million. The regulatory bodies have served the NBP branch in furtherance of 'significant deficiencies found in the 'risk management and compliance with federal laws, rules, and regulations of the said branch. The authorities also attested the fact that an order instructing an investigation to be carried out for the same matter was out on March 4, 2021, in consequence, to which, the NBP branch agreed to fix the 'deficiencies.' The recent developments however are contrary to the agreement made by the bank and hence the fines are duly levied.
While the investigations were in play since 2021, a mammoth fine just after the Khan-Putin meeting in Russia cannot be construed as a coincidence rather a well-organized slap-back by America condemns the ongoing war between Russia and Ukraine and therefore has significant reservations against Pakistan chalking out a financial deal with Russia during such disturbing times.
Russia is also suffering through similar causalities as that of Pakistan concerning fines, bans, and sanctions. As a consequence of the war, The US has banned Russia from making any new foreign investment in Russia and also has imposed severe sanctions on chief Russian banks – Alfa Bank and Sberbank. In addition, the US has further served major sanctions on the critical major state (Russia)-owned enterprises. On the other hand, the UK has imposed sanctions on Russia's largest bank, Sberbank, and committed to ending all imports of Russian coal and oil by the end of 2022.
In addition to imposing sanctions on banks and refraining from investments from Russia, a ban on the export of dual-use goods i.e., both civilian and military goods is imposed by the UK, US, and EU along with banning both commercials as well as private flights. Furthermore, the US, UK, and EU have collectively sanctioned more than 1000 Russian individuals, chiefly businessmen and industrialists who have close ties with Kremlin. The UK has moreover limited the sale of 'golden visas' which allowed wealthy Russians to get British residency rights.
Western countries have also attacked the financial reserves of Russia by freezing the assets of Russia's central bank to stop it from using its $630bn of foreign currency reserves. This has resulted in a significant slump in the value of the Russian Roble by 22% since the beginning of this year. As a result, the price of imported costs has been sky-rocketed leading to a 14% rise in Russia's rate of inflation.
The future also seems bleak for Russia in terms of its foreign investments as the war and its ramifications are further sway the US, EU, and UK winds away from the country and the bans seem to be more stringent and rigid extending beyond the ambits of protectionary measures.
Kamikaze Drones – Latest from Russia Ukraine War Front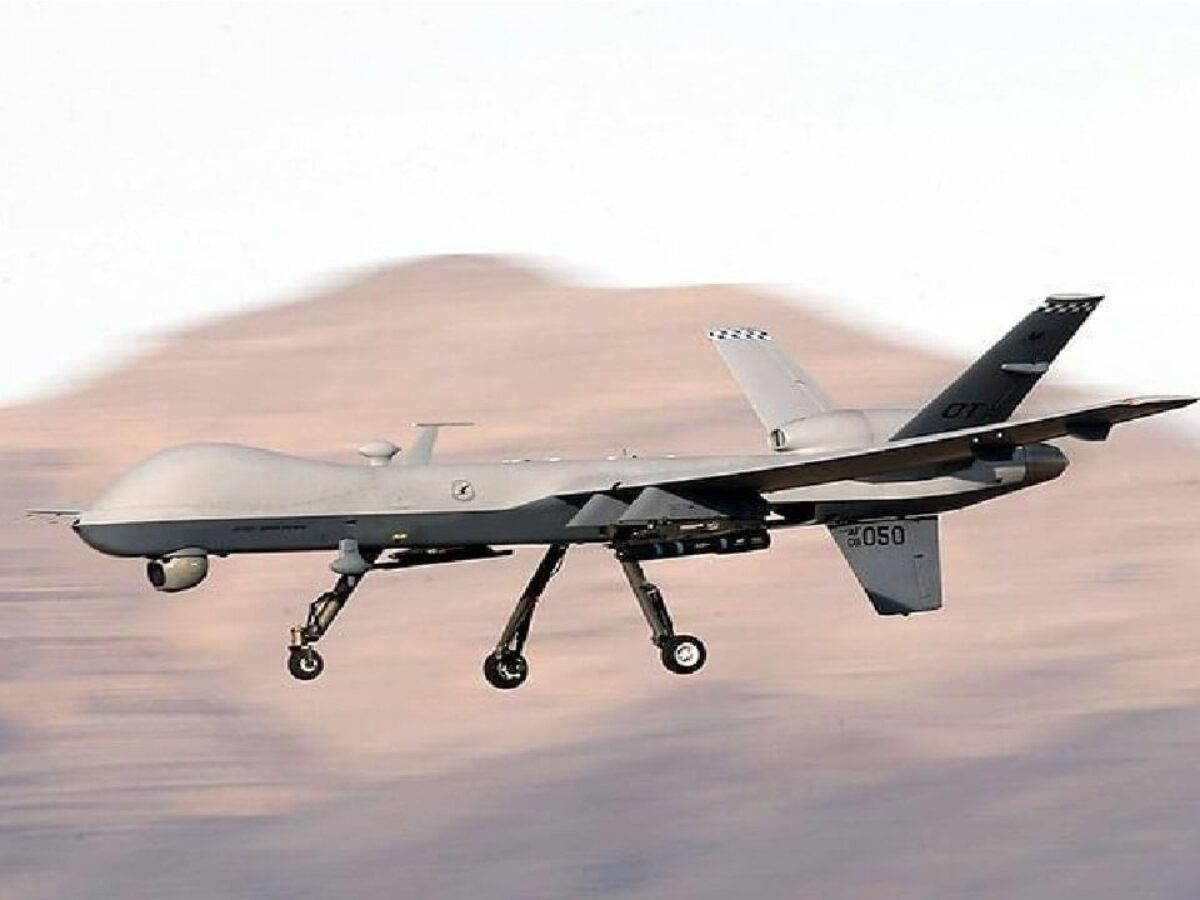 Drones or unmanned aerial vehicles (UAVs) are aircraft that do not require a human pilot onboard. They can perform various functions such as reconnaissance, surveillance, communication, or combat support. However, there is a special type of drone that is designed to be used as a weapon itself. These are called Kamikaze drones or loitering munitions. 
Kamikaze drones are aerial weapon systems that can loiter around the target area passively for a while before striking once a target is found. They explode when they contact the target and are loaded with explosives. Because their wings fold out as they are launched, they are also known as switchblades or suicide drones.
Various nations and actors have utilised kamikaze drones in an array of wars and crises. They have benefits like stealth, accuracy, cost-effectiveness, and drawbacks including vulnerability, moral dilemmas, and a finite range. They differ from UAVs in their use, functionality, and design. We shall examine the development, characteristics, uses, and implications of kamikaze drones in contemporary warfare in this article. 
Evolution of Kamikaze Drones
The concept of kamikaze drones is not new. It dates back to World War II when Japan used manned aircraft loaded with explosives to conduct suicide attacks against Allied ships. These were called kamikaze (divine wind) missions, and they caused significant damage and casualties to the enemy. However, the modern version of kamikaze drones emerged in the late 20th century, with the advancement of technology and miniaturization. 
The US was one of the first countries to develop and deploy loitering munitions, such as the Harpy anti-radar drone developed by Israel Aerospace Industries (IAI) in the 1980s. The Harpy could detect and destroy enemy radar emitters autonomously. Since then, several countries have developed and acquired their versions of kamikaze drones, such as Israel's Harop and Hero series, Turkey's Kargu and Alpagu series, China's CH-901 and WS-43 series, Iran's Raad-85 and Ababil-3 series, etc. Some of these drones can be launched from ground vehicles, aircraft, ships, or even soldiers' backpacks.
Kamikazes in the Russia-Ukraine War
In the Russia-Ukraine war, both sides have been using various types of drones and UAVs for surveillance, reconnaissance, communication, and combat support. However, since autumn 2022, Russia has been using a new type of drone that has caused significant damage and casualties to the Ukrainian forces. These are the Iranian-made Shahed-136 kamikaze drones.
What are Shahed-136 Kamikaze Drones?
The Shahed-136 kamikaze drones are loitering weapons that could fly independently or remotely to a target location and then detonate upon collision, destroying both the target and themselves. Russia refers to them as Geranium-2. They contain explosives in a warhead on their nose and are programmed to hover over a target until told to attack. The Shahed-136 has a wingspan of around 2.5m (8.2ft) and is difficult to detect on radar. It has a range of about 2,000 kilometres (1,240 miles) and an endurance of up to ten hours. It has a cargo capacity of up to 50kg (110lb) and a top speed of 250km/h (155mph). It can direct itself to its target using GPS or inertial navigation technologies.
How are Shahed-136 Kamikaze Drones Used by Russia?
Since October 2022, Russia has started utilising Shahed-136 kamikaze drones to target Ukrainian forces along the Donbas front line. Since then, Russia has launched over 300 drone strikes, killing over 200 soldiers and wounding over 500 more, according to Ukrainian sources. Russia has also targeted civilian infrastructure, including power plants, bridges, railroads, and factories. Russia frequently employs swarms of drones to overpower Ukrainian air defences and cause confusion and panic among troops. Drones are also used by Russia to offer real-time intelligence and guidance for artillery and missile attacks. Russia maintains that the drone operations are in response to provocations and violations of ceasefire agreements by Ukraine.
How is Ukraine Trying to Combat Shahed-136 Kamikaze Drones?
Ukraine has been trying to counter the drone threat by using various means such as small arms fire, heavy machine guns, portable anti-air missiles, electronic jamming devices, and counter-drones. However, these methods have proven to be ineffective or insufficient when faced with large numbers or high speeds of drones. Ukraine has also sought international assistance and support to enhance its air defence capabilities and acquire more advanced drones and UAVs. The US has said it is supplying Ukraine with 700 of its Switchblade kamikaze drones, but it is unknown whether any have been used. The US has also provided Ukraine with Javelin anti-tank missiles, radars, communications equipment, and training. Ukraine has also used its kamikaze drones to attack Russian targets in Crimea and inside Russian territory. In autumn 2022, Ukraine used kamikaze drones of some sort to attack a Russian military base in western Crimea, an airbase near Sevastopol, and ships in Sevastopol harbour. In December 2022, Ukraine used kamikaze drones for three separate attacks on airbases at Saratov and Ryazan – both hundreds of miles inside Russian territory.
Development of UAVs and Drones in the India-Pakistan Equation
India and Pakistan are two rival neighbours in South Asia who have been engaged in several wars and conflicts over the years. Both countries have been developing and acquiring UAVs and drone technologies for military and civilian purposes. However, there are some differences in their approaches and achievements in this domain. The following table summarizes the comparison of India and Pakistan in UAV and drone technology:
| Aspect | Pakistan | India |
| --- | --- | --- |
| Market size | Smaller and more focused on military applications | Larger and more diverse with potential use cases in various sectors |
| Talent pool | Smaller and more dependent on foreign partners | Larger and more independent with domestic innovation and development |
| Policy framework | Supportive but less transparent and consistent | Supportive and more liberal and progressive |
| Ecosystem | Vibrant but less mature and competitive | Vibrant and more mature and competitive |
| Strategic advantage | Higher due to geopolitical location and security interests | Lower due to geopolitical location and security interests |
| Import dependence | Higher for high-endurance and combat-capable platforms | Lower for high-endurance and combat-capable platforms |
| Cybersecurity threats | Higher due to hostile actors and weak systems | Lower due to hostile actors and strong systems |
| Ethical and legal issues | Higher due to autonomous targeting and accountability concerns | Lower due to autonomous targeting and accountability concerns |
India has a growing UAV and drone technology industry that is diverse and innovative in various domains and a supportive policy framework and a vibrant ecosystem of drone startups and companies. But with rapidly failing nations as neighbours, India must ensure all border security organizations are adept and capable of utilising these drones to maximum capability.