In April this year, the Chinese Communist Party (CCP) laid out a new vision to re-establish the primacy of the Middle Kingdom (or zhong guo, 中国) by adapting the ancient concept of Tianxia (天下) which literally means "all under heaven". In typical Beijing-style misdirection, this plan was disguised under the moniker 'Global Security Initiative'. When he announced the Initiative, at the Boao Forum on April 21, Xi Jinping asserted that this effort was based on dialogue, partnerships and win-win situations – or is this initiative just another case of standard CCP hypocrisy lexicon?
But before we discuss the Chinese proposal for GSI, lets glimpse into the other major decisions of Chairman Xi and the underlying factors which have necessitated Beijing's new gambit:
1. Xi's win-win developmental myth aka Belt and Road Initiative – As the CCP prepares to mark its 101st anniversary, global opinion and trust in China is reaching record low levels. With each passing week countries which bought into the Belt and Road Initiative (BRI), all face crippling loan repayments. Notably, China's banks are never willing to re-negotiate payments, and almost always have a 'debt-for-ownership' deal on hand – take for example the situation of Sri Lanka and Pakistan! So, even the CCP's friends are getting wary of making any new deals… which is casting a deep shadow over Xi's legacy. 
2. Zero-Covid Mismanagement – The loss of faith in Beijing has been exacerbated by Xi's refusal to recalibrate response to COVID in multiple Chinese cities. Extended lockdowns and mass quarantines have impacted global supply chains, with less developed countries facing the brunt of the economic hardship. Moreover, the complete failure of the much-touted Chinese model in containing COVID for over two months, even as the rest of the world regains a modicum of normalcy, has raised several questions about governance with CCP characteristics. Such doubts among political circles, where the CCP sought to expand influence, is deeply troubling for Xi and his party men.
3. China's assistance to Russia's Ukraine war – China has not been able to establish itself as a neutral player in the ongoing Russo-Ukraine conflict. Perceived by the West as supporting Russia, Beijing has faced strong headwinds across capitals in Europe. Moreover, coordinated Russia-China provocative military manoeuvres during the Quad Summit in Japan have reinforced the Western belief that Beijing and Moscow are cooperating militarily in the ongoing conflict. As a result, widespread resistance is being faced by Chinese commercial and political entities across Europe and America.
4. Rise of QUAD and Failure of Chinese Diplomacy – The deepening of the relationships among the Quad nations, as well as the declaration of multiple Quad projects and initiatives has impacted the CCP's self-belief. Beijing was so confident of its 'sea foam' narrative of the Quad, that it seemingly ignored the positive effect its own provocations were having in binding together like-minded countries of the region. The Quad, today, is an accepted, welcomed and respected arrangement, which has both the capacity and capability to ensure the requisite degree of security across the Indo-Pacific, needed for inclusive growth and shared prosperity. The rise of a credible alternative, in an area which Beijing had assumed was its own backyard, has significantly undermined the CCP's claims to absolute pre-eminence in the region.
Xi Jinping's Global Security Initiative – overlook
Aimed at building an Asian Security Framework (with Chinese characteristics), the GSI is being touted as an alternative to confrontational alliances which seek zero-sum outcomes. The "six commitments" promised under this initiative as issued by Chinese Ambassador to Somalia, Ambassador Fei Shengchao, are staying committed to – 
the vision of common, comprehensive, cooperative and sustainable security
respecting the sovereignty and territorial integrity of all countries
abiding by the purposes and principles of the UN Charter
taking seriously the legitimate security concerns of all countries
peacefully resolving differences and disputes between countries through dialogue and consultation
maintaining security in both traditional and non-traditional domains

 
Packaged as a utopian, inclusive construct which promises to better serve Asian interests (than Quad/ AUKUS) the GSI makes a wonderful read… as a work of fiction.  Some issues included in the GSI which jump out at the reader, particularly considering China's recent track record in these areas, are – trust deficit due to irresponsible actions of nations, cold-war mentality, (dis)respect for territorial & maritime integrity, rising extremism and lastly zero-respect for international law!
To put this hypocrisy in perspective, consider the following – 
China's all-weather friendship with Pakistan, including political support for proscribed terrorists, is the best example of a confrontational alliance anywhere in the world! Even today, extensive Chinese support to Pakistan's deep state is resulting in extremist attacks across India, Afghanistan and elsewhere.
China's undeclared launch of a missile by a submarine (which almost hit a passenger plane), dangerous manoeuvres and tactics by Chinese jets over international airspace which could have collided with an Australian warplane, and clear records of essential commodity hoarding (wheat, oils, etc) by Chinese businessmen (while countries across the world grapple with supply shortages) – these are some of the recent examples of how China is among the biggest contributors to the global trust deficit.

 
China's blatant violation of international laws, manipulating markets and supply chains, disrupting legal economic activities outside its jurisdiction, etc – Beijing has forced a gathering of like-minded countries, which share concerns and agree on the manner these illegal actions must be countered. Moreover, the calls of war from Chinese 'hawks' have become far more explicit, frequent and extreme, espcially since Xi Jinping has taken over the command of CCP.

 
China's claims of respecting territorial integrity are possibly the most ludicrous of them all. From South China Sea to Tibet, and Taiwan, Beijing's insatiable greed for territorial acquisition and disregard for opposing perspectives is well established. It is, therefore, laughable to see this point being championed by Xi, in his idea of GSI.
China was the first country to engage with the Taliban post the US withdrawal from Afghanistan, and it continues to shelter Pakistan's booming terror industry. Significant proof has also come to light about Chinese support to extremists in Myanmar, Maldives and Northeast India. It would consequently be appropriate to say that China's concern of rising extremism is another hypocritical feint by the CCP.
Will the world accept China's Global Security Model? 
Despite the obvious hypocrisy in the GSI proposal, Beijing does have a fair chance of success in areas where the US' influence is resented. Some countries in South America, in particular, will welcome it as a medium to hedge their bets, thereby extracting more from the West. Closer to China, however, nations would do well to be more circumspect. 
Alternatively, the GSI could be a way to distract the Chinese people from the widespread failures of the CCP in recent years, as well as China's declining influence in multiple regions. A big, grandstanding announcement, notwithstanding limited capabilities to ensure success, would provide enough short-term political gains for Xi and his men to retain a favourable narrative during the CCP's 101st birthday party. This may well be the true motive behind the GSI. 
Any security framework with CCP characteristics would ultimately have a hierarchical architecture, with Xi enthroned at its summit. The GSI's concept of an Asian Security Framework would yield an Asian order where Beijing commands the loyalty of all regional countries, and peace prevails at the pleasure of the CCP's top leadership. With Chairman Xi all but certain to stake a claim to the 'CCP Chairman for Life' position during the upcoming Congress, he would ultimately become the 'de facto' emperor of the new Tianxia… the true goal of the CCP, particularly since Xi's ascension in 2013-14.
India US Military Exercise Amidst China's Taiwan Conflict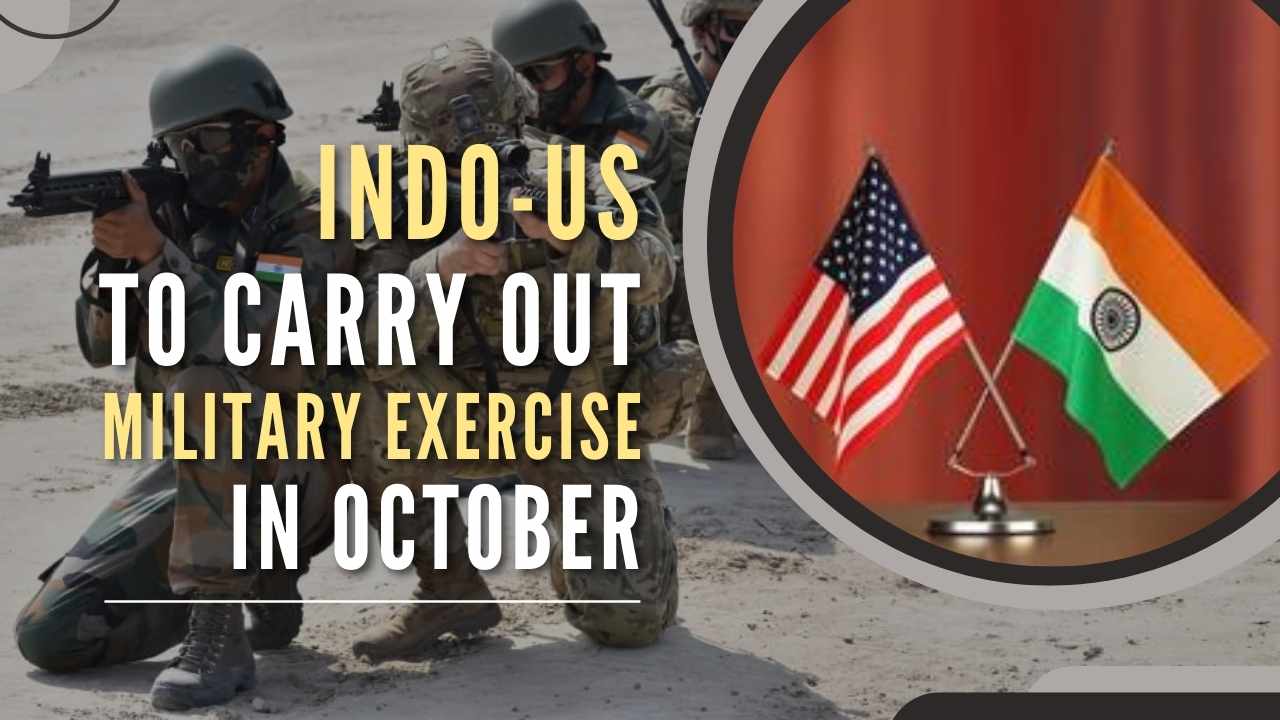 Indian and American military forces will conduct the periodic 'Yudh Abhyas' or 'War Practice' from October 14 to 31, 2022 at Auli in Uttarakhand, which is 95 km away from the Line of Actual Control. The India US military exercise is undertaken to enhance the interoperability between the two armies, and the joint exercise will carry out maneuvers to exploit the full scope of high-altitude warfare.
The occurrence of 18th edition is happening at a very crucial moment as both countries have strife relations with China. The Indian side will showcase its high-altitude warfare strategies and US forces will complement them by exposing various technologies that can be used in challenging scenarios.
This edition will witness the participation of the Indian Air Force in the effective utilization of aerial and ground assets. Also, the India America Military Exercise develops the social relationship with country.
More About India America Yudh Abhyas in Uttarakhand
Yudh Abhyas is the largest running joint India US military exercise and defence cooperation between the countries. The program was started in 2004 under the US Army Pacific Partnership Program.
It is hosted alternately between both countries. The 17th edition was held in Alaska in October 2021. The exercise aims at enhancing understanding, cooperation, and interoperability between the two armies.
Also, the moto of India America military exercise is successfully achieved in Auli Uttarakhand. Also, the impact of this social training is shown on different countries, and various controversies has been made.
Why India-China Standoff? Facts & Statements
In the last two years, there has been a constant rise in tensions between India and China, as the Chinese People's Liberation Army (PLA) made an effort to unilaterally change the status of LAC. Also, the good relationship of India with powerful countries, terrify the China government, and such social activities such as joint India US military exercise, helps to more strong relations.
The Indian army struck back and thwarted the Chinese attempts. The External Affairs Minister while describing New Delhi's efforts had said, "We've been resolute when challenged in border areas. 2 years ago, in the middle of COVID, we had China move forces in violation of an agreement. But we stood our ground and have been working it out without making concessions. The world recognizes that a country is capable of defending its interests".
As per the latest news reported on 13 September 2022, the armies of both countries have confirmed their return from PP-15 (Patrolling Point) in the Gogra-Hot Springs area of eastern Ladakh, and Indian officials are hopeful for further negotiations on more crucial face-offs of Depsang Plains and Demchok.
US-China Tussle
Following the controversial Taiwan visit of the Speaker of the United States' House of Representatives Ms. Nancy Pelosi, and the support extended by China to Russia in the ongoing Russia-Ukraine war, the US-China relationship has also deteriorated further. The two economic superpowers are generally also involved in a cold war in the
China's Reaction on India US Military Exercise
Chinese officials strongly opposed the military exercise, referring to it as a violation of past agreements between New Delhi and Beijing, and following conversation has been made:
"We firmly oppose any third party to meddle in the China-India border issue in any form", Senior Colonel Tan Kefei, spokesperson for the Chinese defence ministry said. "In light of the relevant agreements signed by China and India in 1993 and 1996, neither side is allowed to conduct military exercise against the other in areas near the LAC", Tan said.
He further added, "It is hoped that the Indian side will strictly abide by the important consensus reached by the leaders of the two countries and the relevant agreements, uphold its commitment to resolving border issues through bilateral channels, and maintain peace and tranquillity in the border area with practical actions".
New Delhi's Reply to China's Allegations
In response to China's allegations, "I do not understand the reference to third party interference. The India US military exercise is something completely different and I do not know what color has been given that it is targeted there or it is violating any existing agreement", External Affairs Ministry spokesperson Arindam Bagchi said.
"The two sides should stick to the agreements (signed) in the past and obviously that did not happen", Bagchi said, referring to China violating the agreements which led to the face-off in eastern Ladakh.
After the coming together of like-minded countries for informal dialogue, namely Quad (Quadrilateral Security Dialogue), China's apprehension has increased and it has levelled the grouping as an 'Indo-Pacific NATO'.
"The Indo-Pacific strategy cooked up by the United States, in the name of 'freedom and openness,' is keen on forming cliques", Foreign minister of China, Wang Yi had said. He further criticized the grouping as 'it claims that it intends to change China's surrounding environment, but its purpose is to contain China and make Asia-Pacific countries serve as pawns of US hegemony'.
All the members of Quad had cleared their agenda and said they are committed to cooperation with partners in the region who share the vision of a free and open Indo-Pacific region. India being an essential part of the grouping has always put its best efforts to maintain peace and stability in the region.
India's Prospective with All Countries
India has always called for peace and co-operation in the region, that's why the concept for India US military exercise has been conducted. Being a member of SCO, the two Asian giants have resolved their misunderstandings.
New Delhi has always asked countries to respect each other's sovereignty, territorial integrity, and international agreements. In the coming years, one can hope for a free and open Indo-Pacific region which will be beneficial for all the countries situated in this region.