In April this year, the Chinese Communist Party (CCP) laid out a new vision to re-establish the primacy of the Middle Kingdom (or zhong guo, 中国) by adapting the ancient concept of Tianxia (天下) which literally means "all under heaven". In typical Beijing-style misdirection, this plan was disguised under the moniker 'China's Global Security Initiative'. When he announced the Initiative, at the Boao Forum on April 21, Xi Jinping asserted that this effort was based on dialogue, partnerships and win-win situations – or is this initiative just another case of standard CCP hypocrisy lexicon?
But before we discuss the Chinese proposal for GSI, lets glimpse into the other major decisions of Chairman Xi and the underlying factors which have necessitated Beijing's new gambit:
1. Xi's win-win developmental myth aka Belt and Road Initiative – As the CCP prepares to mark its 101st anniversary, global opinion and trust in China is reaching record low levels. With each passing week countries which bought into the Belt and Road Initiative (BRI), all face crippling loan repayments. Notably, China's banks are never willing to re-negotiate payments, and almost always have a 'debt-for-ownership' deal on hand – take for example the situation of Sri Lanka and Pakistan! So, even the CCP's friends are getting wary of making any new deals… which is casting a deep shadow over Xi's legacy. 
2. Zero-Covid Mismanagement – The loss of faith in Beijing has been exacerbated by Xi's refusal to recalibrate response to COVID in multiple Chinese cities. Extended lockdowns and mass quarantines have impacted global supply chains, with less developed countries facing the brunt of the economic hardship. Moreover, the complete failure of the much-touted Chinese model in containing COVID for over two months, even as the rest of the world regains a modicum of normalcy, has raised several questions about governance with CCP characteristics. Such doubts among political circles, where the CCP sought to expand influence, is deeply troubling for Xi and his party men.
3. China's assistance to Russia's Ukraine war – China has not been able to establish itself as a neutral player in the ongoing Russo-Ukraine conflict. Perceived by the West as supporting Russia, Beijing has faced strong headwinds across capitals in Europe. Moreover, coordinated Russia-China provocative military manoeuvres during the Quad Summit in Japan have reinforced the Western belief that Beijing and Moscow are cooperating militarily in the ongoing conflict. As a result, widespread resistance is being faced by Chinese commercial and political entities across Europe and America.
4. Rise of QUAD and Failure of Chinese Diplomacy – The deepening of the relationships among the Quad nations, as well as the declaration of multiple Quad projects and initiatives has impacted the CCP's self-belief. Beijing was so confident of its 'sea foam' narrative of the Quad, that it seemingly ignored the positive effect its own provocations were having in binding together like-minded countries of the region. The Quad, today, is an accepted, welcomed and respected arrangement, which has both the capacity and capability to ensure the requisite degree of security across the Indo-Pacific, needed for inclusive growth and shared prosperity. The rise of a credible alternative, in an area which Beijing had assumed was its own backyard, has significantly undermined the CCP's claims to absolute pre-eminence in the region.
China's Global Security Initiative – overlook
Aimed at building an Asian Security Framework (with Chinese characteristics), the GSI is being touted as an alternative to confrontational alliances which seek zero-sum outcomes. The "six commitments" promised under this initiative as issued by Chinese Ambassador to Somalia, Ambassador Fei Shengchao, are staying committed to – 
the vision of common, comprehensive, cooperative and sustainable security
respecting the sovereignty and territorial integrity of all countries
abiding by the purposes and principles of the UN Charter
taking seriously the legitimate security concerns of all countries
peacefully resolving differences and disputes between countries through dialogue and consultation
maintaining security in both traditional and non-traditional domains

 
Packaged as a utopian, inclusive construct which promises to better serve Asian interests (than Quad/ AUKUS) the GSI makes a wonderful read… as a work of fiction.  Some issues included in the GSI which jump out at the reader, particularly considering China's recent track record in these areas, are – trust deficit due to irresponsible actions of nations, cold-war mentality, (dis)respect for territorial & maritime integrity, rising extremism and lastly zero-respect for international law!
To put this hypocrisy in perspective, consider the following –
China's all-weather friendship with Pakistan, including political support for proscribed terrorists, is the best example of a confrontational alliance anywhere in the world! Even today, extensive Chinese support to Pakistan's deep state is resulting in extremist attacks across India, Afghanistan and elsewhere.
China's undeclared launch of a missile by a submarine (which almost hit a passenger plane), dangerous manoeuvres and tactics by Chinese jets over international airspace which could have collided with an Australian warplane, and clear records of essential commodity hoarding (wheat, oils, etc) by Chinese businessmen (while countries across the world grapple with supply shortages) – these are some of the recent examples of how China is among the biggest contributors to the global trust deficit.

 
China's blatant violation of international laws, manipulating markets and supply chains, disrupting legal economic activities outside its jurisdiction, etc – Beijing has forced a gathering of like-minded countries, which share concerns and agree on the manner these illegal actions must be countered. Moreover, the calls of war from Chinese 'hawks' have become far more explicit, frequent and extreme, espcially since Xi Jinping has taken over the command of CCP.

 
China's claims of respecting territorial integrity are possibly the most ludicrous of them all. From South China Sea to Tibet, and Taiwan, Beijing's insatiable greed for territorial acquisition and disregard for opposing perspectives is well established. It is, therefore, laughable to see this point being championed by Xi, in his idea of GSI.
China was the first country to engage with the Taliban post the US withdrawal from Afghanistan, and it continues to shelter Pakistan's booming terror industry. Significant proof has also come to light about Chinese support to extremists in Myanmar, Maldives and Northeast India. It would consequently be appropriate to say that China's concern of rising extremism is another hypocritical feint by the CCP.
Will the world accept China's Global Security Model?
Despite the obvious hypocrisy in the GSI proposal, Beijing does have a fair chance of success in areas where the US' influence is resented. Some countries in South America, in particular, will welcome it as a medium to hedge their bets, thereby extracting more from the West. Closer to China, however, nations would do well to be more circumspect. 
Alternatively, the GSI could be a way to distract the Chinese people from the widespread failures of the CCP in recent years, as well as China's declining influence in multiple regions. A big, grandstanding announcement, notwithstanding limited capabilities to ensure success, would provide enough short-term political gains for Xi and his men to retain a favourable narrative during the CCP's 101st birthday party. This may well be the true motive behind the GSI. 
Any security framework with CCP characteristics would ultimately have a hierarchical architecture, with Xi enthroned at its summit. The GSI's concept of an Asian Security Framework would yield an Asian order where Beijing commands the loyalty of all regional countries, and peace prevails at the pleasure of the CCP's top leadership. With Chairman Xi all but certain to stake a claim to the 'CCP Chairman for Life' position during the upcoming Congress, he would ultimately become the 'de facto' emperor of the new Tianxia… the true goal of the CCP, particularly since Xi's ascension in 2013-14.
"Let people eat cake" says Pakistan Navy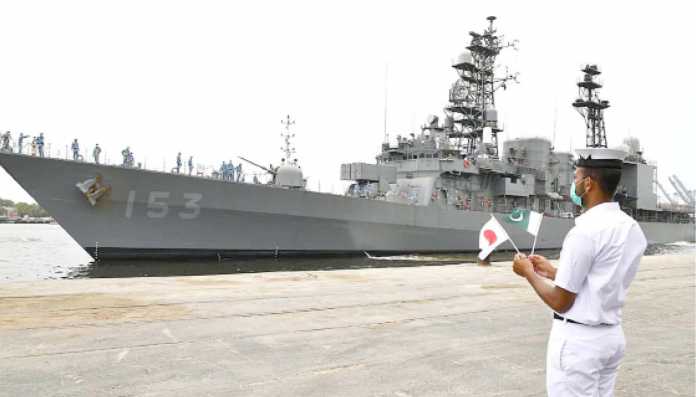 In 1789 during yet another famine in France, the princess Marie Antoinette upon being told that the peasants had no bread, is said to have replied with frivolous disregard for the starving peasants with the words "Let them eat cake". Today, the condition of the Pakistani citizens is quite similar to the French peasants of 1789.
The desperate economic conditions in Pakistan and the impact of floods has led the Finance Ministry to issue directives for implementing strict austerity measures for year 2022 – 2023. These measures aim to curtail operating expenditure and reduce the economic burden of the people.
However, it seems that these directives never reached their Navy.
Very recently, Pakistan Navy Ships Shamsheer and Nasr visited Yokosuka Port in Japan with an aim to participate in the International Fleet Review. In much contrast to the government verdict of "no unnecessary expenditure", the visit was neither mandatory nor of importance. However much to the citizen's dismay, neither the empty coffers nor the grave economic situation of the people seemed to deter the Navy from going on a tourism cum shopping spree.
Pakistan Navy Ships visit Yokosuka Port in Japan
In economically stable conditions, a Naval ship's visit to a foreign port would have been welcomed by the citizens. However the economic burden posed by  these activities have quadrupled the fear of a complete breakdown of society. While the cost of fuel for such a long voyage is in itself a huge deterrent, the fact that the ships will be stopping at almost five to seven countries during the futile passage, has made matters worse.
Monetary Implications of this cruise
Let's look at the basic requirement of a naval voyage. The mandatory requirements include buying stores, fuel/lubricants, undertaking necessary repairs, paying the crew in international currency etc. But is this all? Definitely not. Each stop at a foreign port will require a mandatory interaction with the diplomats, exchange of gifts, parties with great pomp and show to announce the naval ships' arrival, preparation of native cuisines etc.…The expenditure is definitely mind boggling.
Who is paying for this?
All this is paid through already depleting foreign reserves. Therefore understandably, if news of such frivolous expenditure, especially in these trying times were to reach the general public there would be a furore, and a well justified one. But Pakistan's Navy has been clever, or at least it thinks it has been.
Where normally, all port visits are turned to a media circus by the Navy, this time not a single press release is available on the open media. Why? Because of a stringent gag order on issuing media bites by the government. The Navy has warned cruising ships to conduct events without the presence of press. The aim apparently is to prevent citizens from becoming aware of this trip to Japan. Pakistan's naval commanders seem to be relying on their belief (definitely flawed and misguided) that – ordinary Pakistani citizen are like the proverbial ostrich with its head buried in the sand – what it cannot see, does not exist!
In today's world where information travels faster than light – there are enough people who monitor everything. Which is why hiding the journey of two huge warships was definitely worthless. As soon as a local net-hawker identified the movement of the naval ships – the world and entire Pakistan was made aware of the secret journey.  The Maverick could not outfox these people.
Frivolous Spending in Desperate Times
While one may still be able to find an excuse for Navy's foreign visits, but what about the inflating expenditure on the procurement and projects, which are of no immediate importance? As pointed out by social media users a few days earlier, the Pakistan navy has been planning to procure four Frigates (each from Turkey and China), four to eight Corvettes (from the Netherlands), eight submarines (from China) and almost ten new aircraft for its maritime fleet.
Which brings a very interesting scenario to light – the huge lack of communication between the Pakistan's government and its navy. On one hand the government has been insisting on cutting down operating costs and even travel/fuel usage by every ministry and service, but on the other, the Armed Forces are on a shopping spree. And whose money are these forces using?  The question that the citizens of Pakistan need to ask is despite the mushrooming economic crisis, why is there a need to undertake such frivolous expenditure/cruises? And if they are really necessary, why the extra effort to hide it?
Many Pakistanis have already started asking such questions, a mass outcry is not far. And while the Pak armed forces especially its navy may pretend to be blissfully unaware of their countrymen's plight, they must realize that secret voyages will not help the deplorable situation of their country and their fellow countrymen.
This article has been contributed by Commander Abhishek Rathi (Retd), Indian Naval Officer
Commander Abhishek Rathi (Retd) is a retired executive officer and holds an experience of commanding two naval warships. He has a keen interest in maritime history and technology. The officer is also an avid nature photographer and likes traveling all across India for it.