In April this year, the Chinese Communist Party (CCP) laid out a new vision to re-establish the primacy of the Middle Kingdom (or zhong guo, 中国) by adapting the ancient concept of Tianxia (天下) which literally means "all under heaven". In typical Beijing-style misdirection, this plan was disguised under the moniker 'China's Global Security Initiative'. When he announced the Initiative, at the Boao Forum on April 21, Xi Jinping asserted that this effort was based on dialogue, partnerships and win-win situations – or is this initiative just another case of standard CCP hypocrisy lexicon?
But before we discuss the Chinese proposal for GSI, lets glimpse into the other major decisions of Chairman Xi and the underlying factors which have necessitated Beijing's new gambit:
1. Xi's win-win developmental myth aka Belt and Road Initiative – As the CCP prepares to mark its 101st anniversary, global opinion and trust in China is reaching record low levels. With each passing week countries which bought into the Belt and Road Initiative (BRI), all face crippling loan repayments. Notably, China's banks are never willing to re-negotiate payments, and almost always have a 'debt-for-ownership' deal on hand – take for example the situation of Sri Lanka and Pakistan! So, even the CCP's friends are getting wary of making any new deals… which is casting a deep shadow over Xi's legacy. 
2. Zero-Covid Mismanagement – The loss of faith in Beijing has been exacerbated by Xi's refusal to recalibrate response to COVID in multiple Chinese cities. Extended lockdowns and mass quarantines have impacted global supply chains, with less developed countries facing the brunt of the economic hardship. Moreover, the complete failure of the much-touted Chinese model in containing COVID for over two months, even as the rest of the world regains a modicum of normalcy, has raised several questions about governance with CCP characteristics. Such doubts among political circles, where the CCP sought to expand influence, is deeply troubling for Xi and his party men.
3. China's assistance to Russia's Ukraine war – China has not been able to establish itself as a neutral player in the ongoing Russo-Ukraine conflict. Perceived by the West as supporting Russia, Beijing has faced strong headwinds across capitals in Europe. Moreover, coordinated Russia-China provocative military manoeuvres during the Quad Summit in Japan have reinforced the Western belief that Beijing and Moscow are cooperating militarily in the ongoing conflict. As a result, widespread resistance is being faced by Chinese commercial and political entities across Europe and America.
4. Rise of QUAD and Failure of Chinese Diplomacy – The deepening of the relationships among the Quad nations, as well as the declaration of multiple Quad projects and initiatives has impacted the CCP's self-belief. Beijing was so confident of its 'sea foam' narrative of the Quad, that it seemingly ignored the positive effect its own provocations were having in binding together like-minded countries of the region. The Quad, today, is an accepted, welcomed and respected arrangement, which has both the capacity and capability to ensure the requisite degree of security across the Indo-Pacific, needed for inclusive growth and shared prosperity. The rise of a credible alternative, in an area which Beijing had assumed was its own backyard, has significantly undermined the CCP's claims to absolute pre-eminence in the region.
China's Global Security Initiative – overlook
Aimed at building an Asian Security Framework (with Chinese characteristics), the GSI is being touted as an alternative to confrontational alliances which seek zero-sum outcomes. The "six commitments" promised under this initiative as issued by Chinese Ambassador to Somalia, Ambassador Fei Shengchao, are staying committed to – 
the vision of common, comprehensive, cooperative and sustainable security
respecting the sovereignty and territorial integrity of all countries
abiding by the purposes and principles of the UN Charter
taking seriously the legitimate security concerns of all countries
peacefully resolving differences and disputes between countries through dialogue and consultation
maintaining security in both traditional and non-traditional domains

 
Packaged as a utopian, inclusive construct which promises to better serve Asian interests (than Quad/ AUKUS) the GSI makes a wonderful read… as a work of fiction.  Some issues included in the GSI which jump out at the reader, particularly considering China's recent track record in these areas, are – trust deficit due to irresponsible actions of nations, cold-war mentality, (dis)respect for territorial & maritime integrity, rising extremism and lastly zero-respect for international law!
To put this hypocrisy in perspective, consider the following –
China's all-weather friendship with Pakistan, including political support for proscribed terrorists, is the best example of a confrontational alliance anywhere in the world! Even today, extensive Chinese support to Pakistan's deep state is resulting in extremist attacks across India, Afghanistan and elsewhere.
China's undeclared launch of a missile by a submarine (which almost hit a passenger plane), dangerous manoeuvres and tactics by Chinese jets over international airspace which could have collided with an Australian warplane, and clear records of essential commodity hoarding (wheat, oils, etc) by Chinese businessmen (while countries across the world grapple with supply shortages) – these are some of the recent examples of how China is among the biggest contributors to the global trust deficit.

 
China's blatant violation of international laws, manipulating markets and supply chains, disrupting legal economic activities outside its jurisdiction, etc – Beijing has forced a gathering of like-minded countries, which share concerns and agree on the manner these illegal actions must be countered. Moreover, the calls of war from Chinese 'hawks' have become far more explicit, frequent and extreme, espcially since Xi Jinping has taken over the command of CCP.

 
China's claims of respecting territorial integrity are possibly the most ludicrous of them all. From South China Sea to Tibet, and Taiwan, Beijing's insatiable greed for territorial acquisition and disregard for opposing perspectives is well established. It is, therefore, laughable to see this point being championed by Xi, in his idea of GSI.
China was the first country to engage with the Taliban post the US withdrawal from Afghanistan, and it continues to shelter Pakistan's booming terror industry. Significant proof has also come to light about Chinese support to extremists in Myanmar, Maldives and Northeast India. It would consequently be appropriate to say that China's concern of rising extremism is another hypocritical feint by the CCP.
Will the world accept China's Global Security Model?
Despite the obvious hypocrisy in the GSI proposal, Beijing does have a fair chance of success in areas where the US' influence is resented. Some countries in South America, in particular, will welcome it as a medium to hedge their bets, thereby extracting more from the West. Closer to China, however, nations would do well to be more circumspect. 
Alternatively, the GSI could be a way to distract the Chinese people from the widespread failures of the CCP in recent years, as well as China's declining influence in multiple regions. A big, grandstanding announcement, notwithstanding limited capabilities to ensure success, would provide enough short-term political gains for Xi and his men to retain a favourable narrative during the CCP's 101st birthday party. This may well be the true motive behind the GSI. 
Any security framework with CCP characteristics would ultimately have a hierarchical architecture, with Xi enthroned at its summit. The GSI's concept of an Asian Security Framework would yield an Asian order where Beijing commands the loyalty of all regional countries, and peace prevails at the pleasure of the CCP's top leadership. With Chairman Xi all but certain to stake a claim to the 'CCP Chairman for Life' position during the upcoming Congress, he would ultimately become the 'de facto' emperor of the new Tianxia… the true goal of the CCP, particularly since Xi's ascension in 2013-14.
When a Chinese Spy Balloon Made UFOs, a Matter of Grave Concern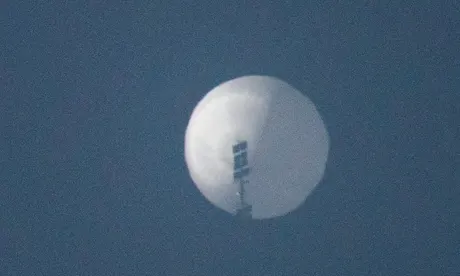 A year back, if someone told you that they spotted a "mysterious looking, white, balloon-shaped object" in the sky…you would have probably rubbished it, right? But what about today…how would you react to a news of 'mysterious balloons in the sky'? With a lot of concern, I presume…and rightly so! In this article we have discussed the incident of Chinese Spy Balloon aka Unidentified Flying Object.
From January 28 to February 4 this year, a giant white balloon was sighted across various parts of the North American airspace. This balloon, that was said to have traveled across South Korea, Japan, Alaska, Canada, and the contiguous United States, was later accepted by the Chinese government to be one of theirs – a Chinese 'Meteorological' Balloon that had drifted off-course due to the westerlies.
"The airship is from China. It is a civilian airship used for research, mainly meteorological, purposes. Affected by the Westerlies and with limited self-steering capability, the airship deviated far from its planned course."

– Chinese Foreign Ministry Spokesperson's Remarks on the Spy Balloon on 03 Feb 2023
But the American and Canadian intelligence services had different opinions – they claimed that the balloon was an instrument of surveillance which were endangering peace and security of these nations. On February 3, USA's Department of Defense reported that a second Chinese balloon was flying over Latin America, which China also claimed as its own. Following orders from U.S. President Joe Biden, the US Air Force shot down the balloon on February 4 in the Atlantic Ocean off the coast of South Carolina. 
But peace was not restored. The spy balloon incident has opened the pandora's box and the intelligence agencies now find themselves thinking on many fronts.
Before we dive into this, let's talk about China's "Civil-Military Fusion" program, under with such emerging technology is being developed.
China's National Strategy of Civil-Military Fusion (CMF)
"China encourages joint building and utilization of military and civilian infrastructure, joint exploration of the sea, outer space and air, and shared use of such resources as surveying and mapping, navigation, meteorology and frequency spectra. Accordingly, military and civilian resources can be more compatible, complementary and mutually accessible."

– China's Military Strategy, May 2015
To fulfill the Chinese goal of becoming a "world class military" by 2049, the Chinese government accelerated its program of CMF in 2015. Under this program, advanced technologies like Quantum Computing, AI, Big Data, nuclear, space and near-space technologies would be developed by exploiting both civilian and military capabilities. The importance of this Military Civilian Development Program can be identified by the fact that the President of the country, Xi Jinping, himself controls and oversees its progress. 
But why has the CCP government opted for this civilian-owned militarily empowered program? The reason is quite simple – 
If Caught – The government has the option to claim innocence by citing civilian–error and proving that there is no relation to the government or military. 
If Successful – The government successfully has access to the sensitive data of adversary and may weaponize this information as and when required for their benefit.
Now let's take another look at the Chinese Foreign Ministry Spokesperson's Remarks on the Spy Balloon –
"The airship is from China. It is a civilian airship used for research, mainly meteorological, purposes."
There should be no doubt that China's recent 'meteorological' balloons are a by-product of it's Civilian-Military Fusion program. The claim that the balloon's purpose was to spy on military installations in the Pacific region, cannot and should not be swiftly rejected. 
In the past few weeks, the North American Aerospace Defense Command has shot down four objects, and there are rumors of another balloon floating over the Middle East. What was once claimed to be a "civilian airship used for research, mainly meteorological, purposes", is now recognized as a component of a vast surveillance program.
Regardless of the quantity or caliber of the balloon's data gathered while flying over the United States, the controversy surrounding it has grown into an international incident, with multiple claims of similar "UFO" sightings all over the world – Japan, India, Taiwan, Colombia and list goes on.
What damage could the China's Spy Balloon inflict on the countries? Should we be bothered?
Let's answer the 2nd question first, should the spying balloon matter to us? 
YES, it definitely should. 
 It is no surprise that most members of Generation Z are unconcerned about data privacy, since they are so accustomed to being watched. In fact, a prevailing thought during a discussion about the balloon was, "Oh, the U.S. probably has comparable programs in China." The idea of a foreign competitor power gathering surveillance data on them therefore doesn't seem that terrifying to young people since. 
But, let's not forget this balloon was flying over the country's military areas, significant bases and important sites. 
Now let's come to the first question, what is the extent of damage that this balloon could cause? – Well, for this we leave you with two opinions to deliberate and make your own judgement.
Opinion 1
First, the chances of electronic surveillance to identify and possibly disrupt sensitive military communications cannot be ruled out at all. Second, is the possibility of cyber espionage or sabotage. With the cyber-skills and hacker army available with China's People's Liberation Army (PLA), it is a possible that this 'balloon-voyage' was a mere precursor to a full-fledged hybrid war. Third, the spy balloon could be a test, aimed to establish the reaction ability and potential of intelligence agencies worldwide. 
Opinion 2
Human brain is wired in a way to look at a shocking event with fear and assume that worst has happened. Therefore, had the Chinese diplomat in USA immediately met POTUS to explain China's position and taken strict (and public) against the civilian owners of this balloon, the matter would have been resolved peacefully without USAF interference. Diplomatic dialogue, should have been China's response, and not escalating the situation with threats – let's be clear 'cold-war' scenario, does more damage than good.
What's Next For China & USA Relations?
Chinese spy balloon illegal intrusion into USA's airspace has further deteriorated relations between the two countries. With Secretary of State Antony Blinken indefinitely postponing his trip to China, all prospects for a detente between the two superpowers seems to be eliminated. 
The incident has also heightened tensions and has accelerated alliance formation, not very different from the pre-Cold war era of USA and USSR!
"I believe in evidence. I believe in observation, measurement, and reasoning, confirmed by independent observers. I'll believe anything, no matter how wild and ridiculous, if there is evidence for it. The wilder and more ridiculous something is, however, the firmer and more solid the evidence will have to be."

-Isaac Asimov