With the Finance Ministry coming down heavily on the Fifteenth Financial Commission on the latter's suggestion for creating a 'Defense Modernization Fund', the question pesters the general public at large as to whether a separate defense cess is really required. Seemingly, the capital needs of the Indian military do not seem to be a problematic scheme. It rather appears to envisage a separately structured funding program in furtherance of enabling the Indian military to work in a more well-ordered manner.
WHY THE FUSS?
The root of every operative that there is, is guided by the procedure laid under the Indian Constitution. Hence, a casual read of the Seventh Schedule of the Constitution elucidates the responsibilities between the Union and the States.  Subjects such as defense, and foreign affairs are on the Union list while responsibilities like public order, healthcare, etc. fall under the purview of the State List. The third list, i.e., the Concurrent List is a unique, centralizing feature adopted from the British Raj, that embodies the fundamentals of federalism. The list has both State and Union play a role with powers tilting towards the latter. It was due to this provision only that the government brought in the farm laws.  However, while a large section of funds and resources rests with the Union in New Delhi, expenditure of those funds is at the behest of different States, the taxes of which is collected by New Delhi. Hence, the Financial Commission of today now distributes the revenue collected by the Centre to various States and therefore, supervises the financial commitments of the States and the Union.
Now, the problem with the creation of a special fund – in this case for 'defense'- creates a special third category along with Union and State. Theoretically, the Finance Commission therefore will inadvertently split monies between Union, State, and the Defense Fund. It is interesting to note that the defense is a subject already under the Union List and therefore, the creation of a third category would only cause stress for States to give up funds for defense. Now much like the game of dominoes, if one separate fund is created, many other demands for the creation of special pockets for every governance function would surface, which would unnecessarily create disruption of the flow of funds to the subjects in either of the lists and therefore would go far beyond the provisions prescribed under the Seventh Schedule in the Constitution. Hence the downpour of the Financial Ministry on the 15th Financial Commission for the reasons that setting up a separate fund for a function that is already covered under the Union's List is against good parliamentary practice is perfectly valid.
TECHNICAL OVERSTEPPING
While the Finance Ministry may have rebuffed the request to create a different fund for Defense, it is however significant to understand how such a report was allowed to be tabled before the ministry in the first place. NK Singh, the chairman of the 15th Finance Commission, when posed with similar questions, contended that as per the legal opinion he received, the defense was a "shared responsibility of the Union and the states". Defense is explicitly mentioned as the subject under Union List and the closest thing that resembles an iota of Defense is 'Public Order' which falls under the State List. In no way whatsoever, can anyone with the caliber and prudence as that of NK Singh can conclude that Defense is a shared subject. Furthermore, he also remarked that Finance Commission transcends the classification in the Seventh Schedule of the Constitution, which is simply an inexplicable argument. Finance Commission is in no way empowered to transcend any part of the Indian Constitution, especially something as critical as the Seventh Schedule.
Another interesting aspect here is the branding of the 'defense' fund as cess. Tax and Cess are two different contributions to State welfare. While Tax is already existing in the form of GST and Income Tax, a cess is imposed as an additional tax besides the existing tax (Tax on Tax). Now while the former is kept in the Consolidated Fund of India CFI for the government to use it for any purposes it deems fit, the latter, though also kept in the CFI, can be used by the government after due appropriation from Parliament for 'specified purpose'. Now, what rebranding of 'general tax' as 'cess' does is that it brings any revenue generated through cess under the ambit of 'specified purpose' resulting in states sharing any of that revenue. Statistically, cesses and surcharges that were around 10% in 2010-11 are almost doubled in the year 2021 figuring around 19.9%. This increase in cesses and surcharges is shrinking the divisive pool between State and Union, leaving States bleeding out to dry. Therefore, to have a defense cess under the 'specified purpose' funds would only hurt the States of the Country as the gap between State and Union's resources would further increase.
THE NEED OR THE WANT OF NEED?
The Union in 2019, empowered the Finance Commission with additional Terms of Reference to enable it to make a suggestion on how to create the fund. Defense Ministry further stressed on the need to increase focus on national security and warranted states to share the financial burden of maintaining and upgrading the security apparatus, including buying weapons from global suppliers, etc. Defense Ministry urged that subjects like Terrorism, insurgency, and securing national borders should be recognized as a shared responsibility for the Union and States, rather than leaving it just for the Union to take care of. The demand though extremely urgent goes beyond the nexus of the Constitution. Furthermore, the 10th Finance Commission also laid down the principle that cess and surcharge should be temporary and rare.
Union has always been seen complaining about limited resources and funds and yet does not shy away from spending money on subjects concerning the State List. Cribbing about not having enough money to fund its core function of defense and catering to the electoral compulsions by spending money on state subjects – Union has only made things difficult for itself and confusing for the public at large. A demand from the Home Ministry for a seed corpus of Rs. 50,000 crores to be carved out of dues from States for Central Armed Forces deployment is simply a result of the Union being derelict in its responsibilities. The constitutional remit of defense is often sidelined during elections and therefore, it is natural for the union to have a dry state of funds to cater to its core duty. It is therefore the job of the Finance Commission to stop the political drivers in their path and prevent populist rhetoric from influencing devolution. Instead, the Commission seems to be a puppet of the Union, to say the least.
Kamikaze Drones – Latest from Russia Ukraine War Front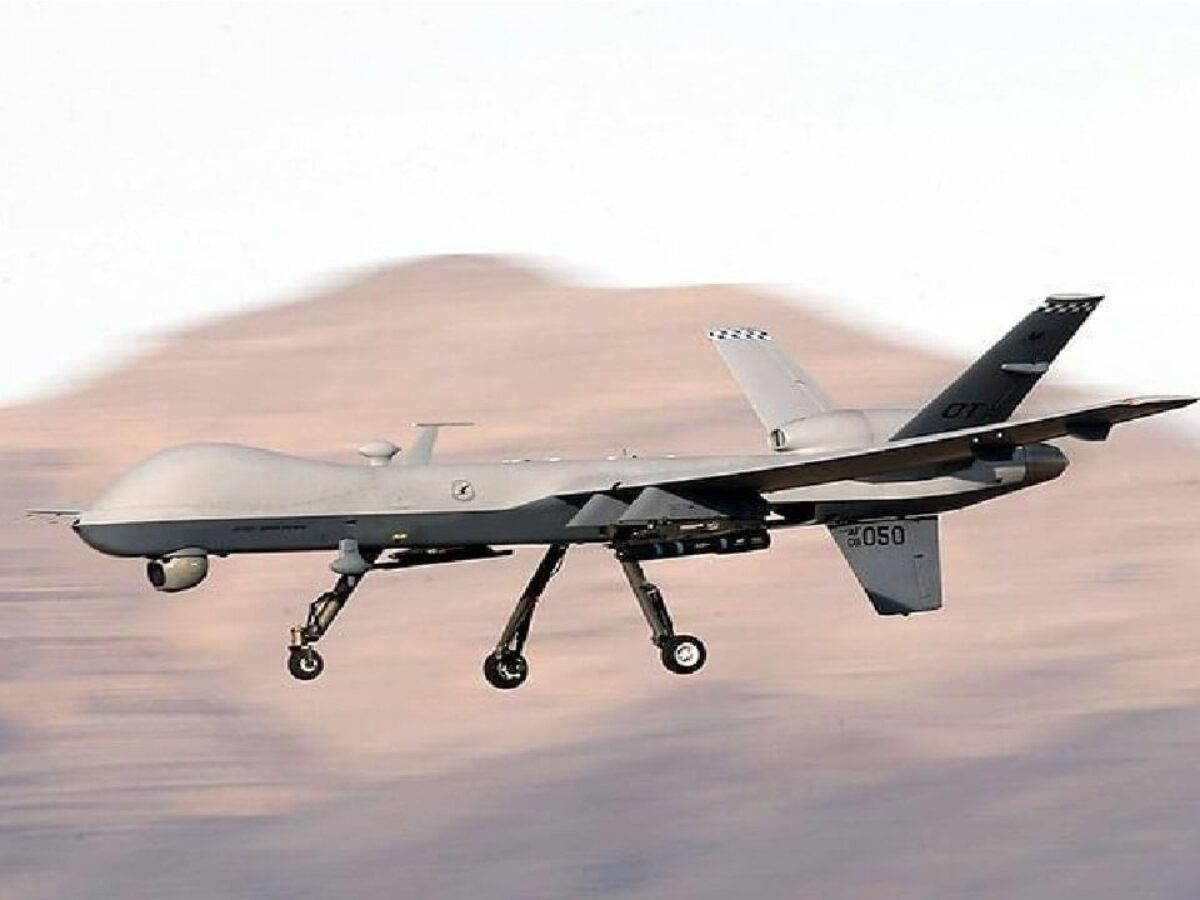 Drones or unmanned aerial vehicles (UAVs) are aircraft that do not require a human pilot onboard. They can perform various functions such as reconnaissance, surveillance, communication, or combat support. However, there is a special type of drone that is designed to be used as a weapon itself. These are called Kamikaze drones or loitering munitions. 
Kamikaze drones are aerial weapon systems that can loiter around the target area passively for a while before striking once a target is found. They explode when they contact the target and are loaded with explosives. Because their wings fold out as they are launched, they are also known as switchblades or suicide drones.
Various nations and actors have utilised kamikaze drones in an array of wars and crises. They have benefits like stealth, accuracy, cost-effectiveness, and drawbacks including vulnerability, moral dilemmas, and a finite range. They differ from UAVs in their use, functionality, and design. We shall examine the development, characteristics, uses, and implications of kamikaze drones in contemporary warfare in this article. 
Evolution of Kamikaze Drones
The concept of kamikaze drones is not new. It dates back to World War II when Japan used manned aircraft loaded with explosives to conduct suicide attacks against Allied ships. These were called kamikaze (divine wind) missions, and they caused significant damage and casualties to the enemy. However, the modern version of kamikaze drones emerged in the late 20th century, with the advancement of technology and miniaturization. 
The US was one of the first countries to develop and deploy loitering munitions, such as the Harpy anti-radar drone developed by Israel Aerospace Industries (IAI) in the 1980s. The Harpy could detect and destroy enemy radar emitters autonomously. Since then, several countries have developed and acquired their versions of kamikaze drones, such as Israel's Harop and Hero series, Turkey's Kargu and Alpagu series, China's CH-901 and WS-43 series, Iran's Raad-85 and Ababil-3 series, etc. Some of these drones can be launched from ground vehicles, aircraft, ships, or even soldiers' backpacks.
Kamikazes in the Russia-Ukraine War
In the Russia-Ukraine war, both sides have been using various types of drones and UAVs for surveillance, reconnaissance, communication, and combat support. However, since autumn 2022, Russia has been using a new type of drone that has caused significant damage and casualties to the Ukrainian forces. These are the Iranian-made Shahed-136 kamikaze drones.
What are Shahed-136 Kamikaze Drones?
The Shahed-136 kamikaze drones are loitering weapons that could fly independently or remotely to a target location and then detonate upon collision, destroying both the target and themselves. Russia refers to them as Geranium-2. They contain explosives in a warhead on their nose and are programmed to hover over a target until told to attack. The Shahed-136 has a wingspan of around 2.5m (8.2ft) and is difficult to detect on radar. It has a range of about 2,000 kilometres (1,240 miles) and an endurance of up to ten hours. It has a cargo capacity of up to 50kg (110lb) and a top speed of 250km/h (155mph). It can direct itself to its target using GPS or inertial navigation technologies.
How are Shahed-136 Kamikaze Drones Used by Russia?
Since October 2022, Russia has started utilising Shahed-136 kamikaze drones to target Ukrainian forces along the Donbas front line. Since then, Russia has launched over 300 drone strikes, killing over 200 soldiers and wounding over 500 more, according to Ukrainian sources. Russia has also targeted civilian infrastructure, including power plants, bridges, railroads, and factories. Russia frequently employs swarms of drones to overpower Ukrainian air defences and cause confusion and panic among troops. Drones are also used by Russia to offer real-time intelligence and guidance for artillery and missile attacks. Russia maintains that the drone operations are in response to provocations and violations of ceasefire agreements by Ukraine.
How is Ukraine Trying to Combat Shahed-136 Kamikaze Drones?
Ukraine has been trying to counter the drone threat by using various means such as small arms fire, heavy machine guns, portable anti-air missiles, electronic jamming devices, and counter-drones. However, these methods have proven to be ineffective or insufficient when faced with large numbers or high speeds of drones. Ukraine has also sought international assistance and support to enhance its air defence capabilities and acquire more advanced drones and UAVs. The US has said it is supplying Ukraine with 700 of its Switchblade kamikaze drones, but it is unknown whether any have been used. The US has also provided Ukraine with Javelin anti-tank missiles, radars, communications equipment, and training. Ukraine has also used its kamikaze drones to attack Russian targets in Crimea and inside Russian territory. In autumn 2022, Ukraine used kamikaze drones of some sort to attack a Russian military base in western Crimea, an airbase near Sevastopol, and ships in Sevastopol harbour. In December 2022, Ukraine used kamikaze drones for three separate attacks on airbases at Saratov and Ryazan – both hundreds of miles inside Russian territory.
Development of UAVs and Drones in the India-Pakistan Equation
India and Pakistan are two rival neighbours in South Asia who have been engaged in several wars and conflicts over the years. Both countries have been developing and acquiring UAVs and drone technologies for military and civilian purposes. However, there are some differences in their approaches and achievements in this domain. The following table summarizes the comparison of India and Pakistan in UAV and drone technology:
| Aspect | Pakistan | India |
| --- | --- | --- |
| Market size | Smaller and more focused on military applications | Larger and more diverse with potential use cases in various sectors |
| Talent pool | Smaller and more dependent on foreign partners | Larger and more independent with domestic innovation and development |
| Policy framework | Supportive but less transparent and consistent | Supportive and more liberal and progressive |
| Ecosystem | Vibrant but less mature and competitive | Vibrant and more mature and competitive |
| Strategic advantage | Higher due to geopolitical location and security interests | Lower due to geopolitical location and security interests |
| Import dependence | Higher for high-endurance and combat-capable platforms | Lower for high-endurance and combat-capable platforms |
| Cybersecurity threats | Higher due to hostile actors and weak systems | Lower due to hostile actors and strong systems |
| Ethical and legal issues | Higher due to autonomous targeting and accountability concerns | Lower due to autonomous targeting and accountability concerns |
India has a growing UAV and drone technology industry that is diverse and innovative in various domains and a supportive policy framework and a vibrant ecosystem of drone startups and companies. But with rapidly failing nations as neighbours, India must ensure all border security organizations are adept and capable of utilising these drones to maximum capability.