As COVID-19 cases start to intensify again after a short and peaceful interlude, the viral disease again stresses the issue that whether the disease is just a mere health emergency confided to its medical liabilities, or is it a National Security concern at large as it ostensibly affects the decisive decade i.e., 2020-2030. The Covid outbreak has conveniently presented an opportunity to reconsider the current emergency and disaster-response authorities. Not only has the disease threatened the well-being of the nation and its population but also has diverted the attention and resources of the government away from other national security threats. Hence, it is necessary for a country like India to explore and amend the old statutory framework that simply negates the healthcare challenges as national security threats. Furthermore, the geographical challenges which India anticipates with respect to China in terms of war increases manifold ever since the controversy regarding Covid-virus being synthesized in Wuhan's lab has surfaced. The controversy did not gain major traction with WHO and other global authorities brushing it away by calling it a baseless narrative. However, if at all there is a possibility of the virus being intentionally homegrown or domestically synthesized, India should put its guards up against a major biological war.
Global Perspective
It was on March 13, 2020, when President Donald Trump invoked the National Emergency Act and the Stafford Act in response to the novel coronavirus. It was the first time that a leader of a State equated a Health crisis to a National Emergency. Needless to say, the risks of Covid were exceedingly high and the casualties caused were also unparalleled. Therefore, as the well-being of the nation was threatened and the attention and resources of the government were diverted into one single crisis as opposed to other major risks, calling it a National Security concern is simply textbook-accurate. However, the current US Federal Law is rusted when it comes to dealing with high-risk virus outbreaks that have catastrophic consequences. While it acknowledges that disease outbreaks as potential threats to national security, the orientation however is statutorily limited in preparation and prevention but has absolutely no strategical way out once the disease spreads domestically. The organization of emergency response in Federal Law presently is unilateral as opposed to the disease in hand which is rather multi-lateral.
Covid-19 has not yet perished and it is highly unlikely that it is the last one of its kind. Future diseases with more serious casualties are likely to occur again as also attested by Bill Gates in one of his Ted Talks Speeches. Hence it is necessary that disaster response and national security should not be branched into two separate paradigms by the policymakers and must be conjoined into one. Acknowledging public health crisis naturally constitutes national security and is, therefore, an important conceptual step. Hence as for the US, the Federal Law must fill up the gaps that Covid-19 has thrown a spotlight on. For instance, invoking National Emergency Act was surely a brilliant move but it lacked execution. It was not exactly Congress but the law, in general, that was weak. The nature of the said statute is such that the Federal structure takes a back seat when the provision is invoked and consequently the states are left with a very large leadership vacuum which is an absolute necessity in response to such a crisis., As a result, President Donald Trump and his cabinet were widely criticized for this move as the underlying statutory framework limits the federal government's involvement in disaster response.
On the other hand, New Zealand under the able leadership of Prime Minister Jacinda Adern garnered lavish global praise for controlling the Covid-19 pandemic exceedingly well. While, thinkers and authorities like Thomas J. Bollyky, director of the Global Health program at the Council on Foreign Relations believe that the nation has an advantage of a relatively isolated location which invariably means that the country has far fewer visitors from China or other infected areas. In addition, the director also contended that the country is also small and rich with a population widely spread out, and therefore, the success of Kiwis cannot be replicated in a populous country like the US. However, the arguments appear to be mere evasive assumptions, and credit to New Zealand's administration must be given on all accounts, especially for taking immediate cognizance of the disease, unlike President Donald Trump who completely trivialized the issue when it first surfaced.
India's imminent need to take cognizance of Bio-Warfare
With a strong sense of 'We are in this together' echoing around the world, there has been a fair share of blame game amongst the countries as well. While the infamous 'virus escaped from Wuhan Institute of Virology' remains at the top of the 'it's your fault' pyramid, the US remains second. And it's China that has blamed the US Army for bringing the Virus to their country. Chinese diplomacy has simply rested its argument on the fact that the virus was engineered in the US and was deliberately sent to China to halt the country's progress. The blame game will continue to exist suiting to different political spheres of distinct nations. However, it is imperative for India to consider, collocate and confidently approach the possibility of bioterrorism.
Indian military at large is not as technologically advanced as the militaries of China and the US. Although training programs concerning chemical, biological, radiological, and nuclear attacks, the programs are on the back burner stewing in their own resourceless gravy. Furthermore, the country has a wide population with health facilities already taking a knee due to this pandemic. Thus, the possibility of a bio-warfare happening is indicative of India already sitting on a virus time-bomb. Japan has already taken cognizance of the matter and has started building its response against a bio-terror attack. For the first time, the country has imported five types of live viruses – Ebola, Marburg, Lass, Crimean-Congo, and South American viruses to study detection and precaution measures. Something, which India does not actively intend to do.
Another reason why India must not dismiss the possibility of a bio-war attack in the near future is simply the rise in the number of Bio-genetics labs in the US, China, and other states. While Iran and North Korea are believed to possess chemical weapons, countries like the US, Europe, Russia, and Australia also have around 50 functioning or under-construction security labs solely for the study of dangerous pathogens and churn out efficient results for their respective countries. In addition, virus sensors are largely ineffective and hence it becomes increasingly easy for a terrorist to simply ferry a contagion to other countries. The said virus can be mixed with powders, and aerosol sprays or can be infected through main, envelopes, or newspapers.
Chemical weapons were recently used in Afghanistan where people were seen suffering from blisters, severe anxiety, etc. Pertinent to mention, China endorsing and recognizing the recent Taliban takeover in Afghanistan and the nation experiencing biochemical attack episodes projects a highly probable image of the former vehemently supplying the latter with weapons and armory. Therefore India, on all accounts, must not be an ostrich for biochemical or genetic warfare in the coming future. While the United Nations explicitly bans the use of chemical weapons, the regulations are only bound to the member countries and thus can easily be used by an adversary. Quoting the former Chief of the Army Staff, General Bipin Rawat, a country like India must be prepared for all kinds of threat.
When a Chinese Spy Balloon Made UFOs, a Matter of Grave Concern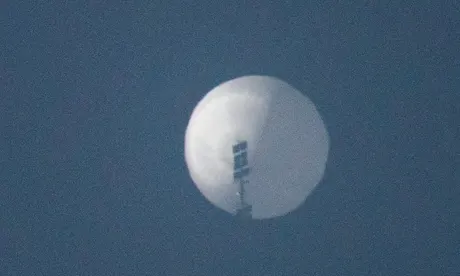 A year back, if someone told you that they spotted a "mysterious looking, white, balloon-shaped object" in the sky…you would have probably rubbished it, right? But what about today…how would you react to a news of 'mysterious balloons in the sky'? With a lot of concern, I presume…and rightly so! In this article we have discussed the incident of Chinese Spy Balloon aka Unidentified Flying Object.
From January 28 to February 4 this year, a giant white balloon was sighted across various parts of the North American airspace. This balloon, that was said to have traveled across South Korea, Japan, Alaska, Canada, and the contiguous United States, was later accepted by the Chinese government to be one of theirs – a Chinese 'Meteorological' Balloon that had drifted off-course due to the westerlies.
"The airship is from China. It is a civilian airship used for research, mainly meteorological, purposes. Affected by the Westerlies and with limited self-steering capability, the airship deviated far from its planned course."

– Chinese Foreign Ministry Spokesperson's Remarks on the Spy Balloon on 03 Feb 2023
But the American and Canadian intelligence services had different opinions – they claimed that the balloon was an instrument of surveillance which were endangering peace and security of these nations. On February 3, USA's Department of Defense reported that a second Chinese balloon was flying over Latin America, which China also claimed as its own. Following orders from U.S. President Joe Biden, the US Air Force shot down the balloon on February 4 in the Atlantic Ocean off the coast of South Carolina. 
But peace was not restored. The spy balloon incident has opened the pandora's box and the intelligence agencies now find themselves thinking on many fronts.
Before we dive into this, let's talk about China's "Civil-Military Fusion" program, under with such emerging technology is being developed.
China's National Strategy of Civil-Military Fusion (CMF)
"China encourages joint building and utilization of military and civilian infrastructure, joint exploration of the sea, outer space and air, and shared use of such resources as surveying and mapping, navigation, meteorology and frequency spectra. Accordingly, military and civilian resources can be more compatible, complementary and mutually accessible."

– China's Military Strategy, May 2015
To fulfill the Chinese goal of becoming a "world class military" by 2049, the Chinese government accelerated its program of CMF in 2015. Under this program, advanced technologies like Quantum Computing, AI, Big Data, nuclear, space and near-space technologies would be developed by exploiting both civilian and military capabilities. The importance of this Military Civilian Development Program can be identified by the fact that the President of the country, Xi Jinping, himself controls and oversees its progress. 
But why has the CCP government opted for this civilian-owned militarily empowered program? The reason is quite simple – 
If Caught – The government has the option to claim innocence by citing civilian–error and proving that there is no relation to the government or military. 
If Successful – The government successfully has access to the sensitive data of adversary and may weaponize this information as and when required for their benefit.
Now let's take another look at the Chinese Foreign Ministry Spokesperson's Remarks on the Spy Balloon –
"The airship is from China. It is a civilian airship used for research, mainly meteorological, purposes."
There should be no doubt that China's recent 'meteorological' balloons are a by-product of it's Civilian-Military Fusion program. The claim that the balloon's purpose was to spy on military installations in the Pacific region, cannot and should not be swiftly rejected. 
In the past few weeks, the North American Aerospace Defense Command has shot down four objects, and there are rumors of another balloon floating over the Middle East. What was once claimed to be a "civilian airship used for research, mainly meteorological, purposes", is now recognized as a component of a vast surveillance program.
Regardless of the quantity or caliber of the balloon's data gathered while flying over the United States, the controversy surrounding it has grown into an international incident, with multiple claims of similar "UFO" sightings all over the world – Japan, India, Taiwan, Colombia and list goes on.
What damage could the China's Spy Balloon inflict on the countries? Should we be bothered?
Let's answer the 2nd question first, should the spying balloon matter to us? 
YES, it definitely should. 
 It is no surprise that most members of Generation Z are unconcerned about data privacy, since they are so accustomed to being watched. In fact, a prevailing thought during a discussion about the balloon was, "Oh, the U.S. probably has comparable programs in China." The idea of a foreign competitor power gathering surveillance data on them therefore doesn't seem that terrifying to young people since. 
But, let's not forget this balloon was flying over the country's military areas, significant bases and important sites. 
Now let's come to the first question, what is the extent of damage that this balloon could cause? – Well, for this we leave you with two opinions to deliberate and make your own judgement.
Opinion 1
First, the chances of electronic surveillance to identify and possibly disrupt sensitive military communications cannot be ruled out at all. Second, is the possibility of cyber espionage or sabotage. With the cyber-skills and hacker army available with China's People's Liberation Army (PLA), it is a possible that this 'balloon-voyage' was a mere precursor to a full-fledged hybrid war. Third, the spy balloon could be a test, aimed to establish the reaction ability and potential of intelligence agencies worldwide. 
Opinion 2
Human brain is wired in a way to look at a shocking event with fear and assume that worst has happened. Therefore, had the Chinese diplomat in USA immediately met POTUS to explain China's position and taken strict (and public) against the civilian owners of this balloon, the matter would have been resolved peacefully without USAF interference. Diplomatic dialogue, should have been China's response, and not escalating the situation with threats – let's be clear 'cold-war' scenario, does more damage than good.
What's Next For China & USA Relations?
Chinese spy balloon illegal intrusion into USA's airspace has further deteriorated relations between the two countries. With Secretary of State Antony Blinken indefinitely postponing his trip to China, all prospects for a detente between the two superpowers seems to be eliminated. 
The incident has also heightened tensions and has accelerated alliance formation, not very different from the pre-Cold war era of USA and USSR!
"I believe in evidence. I believe in observation, measurement, and reasoning, confirmed by independent observers. I'll believe anything, no matter how wild and ridiculous, if there is evidence for it. The wilder and more ridiculous something is, however, the firmer and more solid the evidence will have to be."

-Isaac Asimov