The widespread common belief about the world war and how it was executed and carried out remains focused on the air bombings at Hiroshima and Nagasaki causing unparalleled casualties and chaos. As a result, several other chapters of the war remain aloof from common and accessible history. For instance, the Battle of Leyte Gulf remains a solitary chapter in the course of world-war battles despite being the largest naval battle of World War II and by some criteria, the largest naval battle in history with over 200,000 naval personnel involved. The war may have been a minute affair lasting between 23-26th October 1944 but involved a great many armies of soldiers from many countries. The War was fought in waters near the Philippine islands of Leyte, Samar, and Luzon between combined American and Australian forces and the Imperial Japanese Navy.
The war aimed to invade Leyte Island which furthered was anticipated to isolate Japan from other countries of Southeast Asia which were a vital source of industrial and oil supplies. The war proved to be a great story showcasing the sheer grit and determination of the Imperial Japanese Navy as at the onset of battle, Japan had fewer capital ships and even lesser naval vessels as compared to the Allied Forces. The IJN however managed to mobilize all of its remaining major naval vessels rather than giving up to the Allied invasion which was inevitable.
The Battle of Leyte Gulf consisted of four main but separate engagements. One of them was the Battle of Surigao Strait.
Battle of Surigao Strait (25th October 1944)
The battle of Surigao Strait is the last battleship-vs-battleship action in history and was one of the only two battleship-versus-battleship naval battles in the entire Pacific campaign of World War II, the other being the Guadalcanal Campaign where Japan also tasted sour defeat when Washington sank the Japanese battleship, Kirishima. The war was also the last battle where one of the forces was not even able to 'cross the T" (a classic naval war tactic used from the late 19th to mid-20th centuries, in which a line of warships crosses in front of a line of enemy ships, allowing the crossing line to bring all their guns to bear while receiving fire from only the forward guns of the enemy.) In the Battle of Surigao Strait, the Imperial Japanese Navy, despite foreseeing an inevitable loss, assembled its only left battleship (Yamashiro), one heavy cruiser and one destroyer, aiming to not repeat the debacles of the Guadalcanal Campaign.
The Japanese forces in the initial stages of the war had old battleships Yamashiro and Fuso, the heavy cruiser Mogami and four destroyers, Shigure, Michishio, Asagumo, and Yamagumo. However, as the Japanese Forces ascended towards the Leyte Gulf, it was attacked by the U.S. Navy bombers on 24 October however sailed through by incurring minimal damage although one of the destroyer ships from the fleet sunk during this action. While the physical damage was minor but the psychological damage however was immense and as a result, the forces were unable to synchronize their movements with the rest of the fleet. Furthermore, the radio obstructions and regular hindrances also ached the forces manifold.
Engagement between the Forces
Upon approaching the Surigao strait, the Japanese Southern Forces met with a deadly trap set by the US's Seventh Flee. The latter fleet's Rear Admiral Jesse Oldendorf had a substantial setting comprising six battleships, four heavy crushers, four light cruisers accompanied by 28 destroyers, and 39 motor torpedo boats hinged with smaller guns. The Japanese Force entered the Strait during the early hours of 25th October and was immediately annihilated by the Seventh Fleet from all directions. The Japanese force was surrounded from all corners. While the forces tried to shield themselves and sail through the narrow strait, the US fleet unleashed torpedo attacks resulting in the sinking of the Fuso battleship. The continuous gruesome attacks further resulted in the sinking of other destroyers as well. However, the Japanese, despite losing most of its fleet, continued to march through. As the Japanese fleet reached the end of the strait, the Olderndorf's met with his battleships and was able to 'cross the T's' on the formation of the Japanese force. This resulted in a full broadsides attack with all the big arms and arsenal, while Japan, on the other hand, could only employ its forward weapons which were insignificant in size, effect, and causality. At the same time, the U.S. Navy and Royal Australian Navy also opened fire on the Japanese Navy. The consequences were devastating.
Conclusion
The Japanese Naval Force went down with its flag. However, as some ships of the fleet were seriously damaged but not completely sunk, Shima (a rescuer ship from the force) evacuated the devastated ships but it had already withdrawn from entering the Surigao Strait and reversed its course. While the battle was merely an overnight open-and-shut battle episode, the action at Surigao Strait went down as one of the few prominent naval wars in history where aircraft did not play a significant role.
Kamikaze Drones – Latest from Russia Ukraine War Front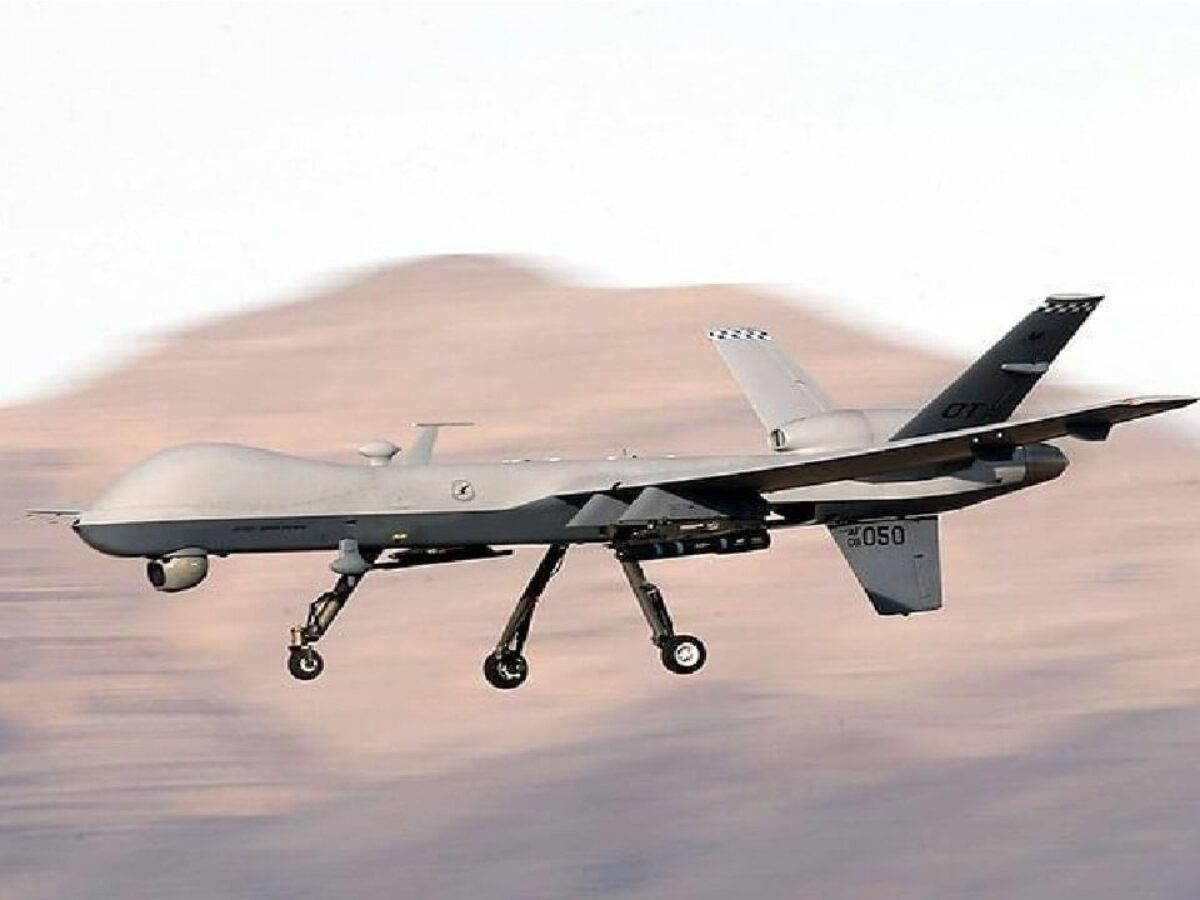 Drones or unmanned aerial vehicles (UAVs) are aircraft that do not require a human pilot onboard. They can perform various functions such as reconnaissance, surveillance, communication, or combat support. However, there is a special type of drone that is designed to be used as a weapon itself. These are called Kamikaze drones or loitering munitions. 
Kamikaze drones are aerial weapon systems that can loiter around the target area passively for a while before striking once a target is found. They explode when they contact the target and are loaded with explosives. Because their wings fold out as they are launched, they are also known as switchblades or suicide drones.
Various nations and actors have utilised kamikaze drones in an array of wars and crises. They have benefits like stealth, accuracy, cost-effectiveness, and drawbacks including vulnerability, moral dilemmas, and a finite range. They differ from UAVs in their use, functionality, and design. We shall examine the development, characteristics, uses, and implications of kamikaze drones in contemporary warfare in this article. 
Evolution of Kamikaze Drones
The concept of kamikaze drones is not new. It dates back to World War II when Japan used manned aircraft loaded with explosives to conduct suicide attacks against Allied ships. These were called kamikaze (divine wind) missions, and they caused significant damage and casualties to the enemy. However, the modern version of kamikaze drones emerged in the late 20th century, with the advancement of technology and miniaturization. 
The US was one of the first countries to develop and deploy loitering munitions, such as the Harpy anti-radar drone developed by Israel Aerospace Industries (IAI) in the 1980s. The Harpy could detect and destroy enemy radar emitters autonomously. Since then, several countries have developed and acquired their versions of kamikaze drones, such as Israel's Harop and Hero series, Turkey's Kargu and Alpagu series, China's CH-901 and WS-43 series, Iran's Raad-85 and Ababil-3 series, etc. Some of these drones can be launched from ground vehicles, aircraft, ships, or even soldiers' backpacks.
Kamikazes in the Russia-Ukraine War
In the Russia-Ukraine war, both sides have been using various types of drones and UAVs for surveillance, reconnaissance, communication, and combat support. However, since autumn 2022, Russia has been using a new type of drone that has caused significant damage and casualties to the Ukrainian forces. These are the Iranian-made Shahed-136 kamikaze drones.
What are Shahed-136 Kamikaze Drones?
The Shahed-136 kamikaze drones are loitering weapons that could fly independently or remotely to a target location and then detonate upon collision, destroying both the target and themselves. Russia refers to them as Geranium-2. They contain explosives in a warhead on their nose and are programmed to hover over a target until told to attack. The Shahed-136 has a wingspan of around 2.5m (8.2ft) and is difficult to detect on radar. It has a range of about 2,000 kilometres (1,240 miles) and an endurance of up to ten hours. It has a cargo capacity of up to 50kg (110lb) and a top speed of 250km/h (155mph). It can direct itself to its target using GPS or inertial navigation technologies.
How are Shahed-136 Kamikaze Drones Used by Russia?
Since October 2022, Russia has started utilising Shahed-136 kamikaze drones to target Ukrainian forces along the Donbas front line. Since then, Russia has launched over 300 drone strikes, killing over 200 soldiers and wounding over 500 more, according to Ukrainian sources. Russia has also targeted civilian infrastructure, including power plants, bridges, railroads, and factories. Russia frequently employs swarms of drones to overpower Ukrainian air defences and cause confusion and panic among troops. Drones are also used by Russia to offer real-time intelligence and guidance for artillery and missile attacks. Russia maintains that the drone operations are in response to provocations and violations of ceasefire agreements by Ukraine.
How is Ukraine Trying to Combat Shahed-136 Kamikaze Drones?
Ukraine has been trying to counter the drone threat by using various means such as small arms fire, heavy machine guns, portable anti-air missiles, electronic jamming devices, and counter-drones. However, these methods have proven to be ineffective or insufficient when faced with large numbers or high speeds of drones. Ukraine has also sought international assistance and support to enhance its air defence capabilities and acquire more advanced drones and UAVs. The US has said it is supplying Ukraine with 700 of its Switchblade kamikaze drones, but it is unknown whether any have been used. The US has also provided Ukraine with Javelin anti-tank missiles, radars, communications equipment, and training. Ukraine has also used its kamikaze drones to attack Russian targets in Crimea and inside Russian territory. In autumn 2022, Ukraine used kamikaze drones of some sort to attack a Russian military base in western Crimea, an airbase near Sevastopol, and ships in Sevastopol harbour. In December 2022, Ukraine used kamikaze drones for three separate attacks on airbases at Saratov and Ryazan – both hundreds of miles inside Russian territory.
Development of UAVs and Drones in the India-Pakistan Equation
India and Pakistan are two rival neighbours in South Asia who have been engaged in several wars and conflicts over the years. Both countries have been developing and acquiring UAVs and drone technologies for military and civilian purposes. However, there are some differences in their approaches and achievements in this domain. The following table summarizes the comparison of India and Pakistan in UAV and drone technology:
| Aspect | Pakistan | India |
| --- | --- | --- |
| Market size | Smaller and more focused on military applications | Larger and more diverse with potential use cases in various sectors |
| Talent pool | Smaller and more dependent on foreign partners | Larger and more independent with domestic innovation and development |
| Policy framework | Supportive but less transparent and consistent | Supportive and more liberal and progressive |
| Ecosystem | Vibrant but less mature and competitive | Vibrant and more mature and competitive |
| Strategic advantage | Higher due to geopolitical location and security interests | Lower due to geopolitical location and security interests |
| Import dependence | Higher for high-endurance and combat-capable platforms | Lower for high-endurance and combat-capable platforms |
| Cybersecurity threats | Higher due to hostile actors and weak systems | Lower due to hostile actors and strong systems |
| Ethical and legal issues | Higher due to autonomous targeting and accountability concerns | Lower due to autonomous targeting and accountability concerns |
India has a growing UAV and drone technology industry that is diverse and innovative in various domains and a supportive policy framework and a vibrant ecosystem of drone startups and companies. But with rapidly failing nations as neighbours, India must ensure all border security organizations are adept and capable of utilising these drones to maximum capability.