The Islamic Republic of Pakistan has five major ethno-regional communities in viz. Baloch, Muhajir, Punjabis, Pushtuns and Sindhis, and other smaller groups. Several other religious and sectarian groups include Ahmadis, Christians, Hindus, Kalasha, Parsis and Sikhs, and Shia Muslim sects including Ismailis and Bohras.
Pakistan's longest-serving head of state, Muhammad Zia-ul-Haq was a Pakistani four-star general who became the sixth President of Pakistan after declaring martial law in 1977.
Zia redirected the ideological direction of Pakistan. While laying down the foundation of the Islamic courts, he introduced Chapter 3A on Sharia courts. Article 203 (D), states:
'The court may, [either of its own accord or] on the petition of a citizen of Pakistan or the Federal Government or a Provincial Government, examine and decide the question whether or not any law or provision of law is repugnant to the Injunctions of Islam, as laid down in the Holy Quran and Sunnah of the Holy Prophet, hereinafter referred to as the Injunctions of Islam.'
The Zia-led amendment in Article 260 of the Constitution declares Ahmadis to be a non-Muslim minority. Its clause C observes:
'In the Constitution and all enactments and other legal instruments, unless there is anything repugnant in the subject or context, [a] "Muslim" means a person who believes in the unity and oneness of Almighty Allah, in the absolute and unqualified finality of the Prophethood of Muhammad (peace be upon him), the last of the prophets, and does not believe in, or recognize as a prophet, or religious reformer, any person who claimed or claims to be a prophet, in any sense of the word or of any description whatsoever, after Muhammad (peace be upon him) and;
"non-Muslim" means a person who is not a Muslim and includes a person belonging to the Christian, Hindu, Sikh, Buddhist or Parsi community, a person of the Qadiani group or Lahori group (who will call themselves "Ahmadis" or by any other name), or a Baha'i, and a person belonging to any of the scheduled castes.'
Conversion of Sikh shrine to Mosque
July 2020: Reports of alleged attempts made by Pakistan to convert a Sikh shrine into a mosque have fuelled up debates on pseudo secularism in Pakistan. India lodged a protest with Pakistan when reports of the Gurudwara Shahidi Asthan Bhai Taru Ji at the Naulakha bazaar in Lahore being converted into a mosque.
"A strong protest was lodged with the Pakistan High Commission today on the reported incident whereby Gurdwara Shahidi Asthan, site of martyrdom of Bhai Taru Singh ji at Naulakha Bazaar in Lahore, Pakistan has been claimed as the place of Masjid Shahid Ganj and attempts are being made to convert it to a mosque," Foreign Ministry spokesperson Anurag Srivastava said in a statement.
New Delhi added, Gurudwara Shahidi Asthan Bhai Taru Ji is a historical gurudwara where Bhai Taru Ji made supreme sacrifice in 1745. The Gurdwara is a place of reverence and considered sacred by the Sikh community. This incident has been viewed with grave concern in India. There have been calls for justice for the minority Sikh community in Pakistan."
"India expressed its concerns, in strongest terms on this incident and called upon Pakistan to investigate the matter and take immediate remedial measures. Pakistan was also called upon to look after the safety, security, well-being of its minority communities including protection of their religious rights and cultural heritage," the MEA further said,
Pseudo Secularism In Pakistan is Threats To Sikh Pilgrimage 
In January 2020, the Sikh religion's major holy shrine- Gurudwara Shri Nankana Sahib came under threat. Nankana Sahib is the birthplace of the first Sikh guru- Guru Nanak Dev Ji. It was attacked by stone pelters who staged a protest against alleged police atrocities on Mohammed Hassan, accused of forcing a Sikh girl to convert to Islam before marrying her. The angry mob and protest were led by the accused's brother.
In a video that surfaced, he can be heard saying that if the authorities did not stop the brutality he will not let any Sikh live in the city. He threatened to destroy the Nankana Sahib Gurdwara and build the mosque in that place. "We will ensure that there is not a single Sikh left in Nankana. And the name of this place will soon be changed from Nankana to Ghulam-e-Mustafa," said Hassan's brother.
According to a report by India Today, Jagjit Kaur, daughter of a granthi at Gurdwara Nankana Sahib, was allegedly kidnapped by Mohammed Hassan, who reportedly forced her to convert her to Islam and marry him. After diplomatic pressure from India, Pakistani authorities brokered a deal between families and they consented that the girl will be returned to the parents, but the girl, now known as Ayesha, has refused to comply with the deal and has said that she loves her husband and would not leave him.
A statement from the Centre came after Punjab CM Capt Amarinder Singh and SAD chief Sukhbir Singh Badal called out for action against the ongoing mob violence in Nankana Sahib.
Sikh community on Kartarpur corridor
The rights campaigners say its size has drastically come down within the past two decades — from around 40,000 in 2002 to 8,000 now.
India Today reported: "This is a fact that the Sikh population in Pakistan has been consistently declining," said Professor Kalyan Singh, a minority rights activist and a teacher at Lahore's GC College University. "One of the reasons behind this decline is of course forced conversion."
In November last year, Pakistan Prime Minister Imran Khan laid the foundation of a new project — the Katarpur Sahib corridor linking the historical site with the Indian border.
On the face of it, the move looked noble. But reports of forced conversions and dwindling Sikh population in Pakistan have alarmed the Sikh community within and outside the country.
"There is no concept of conversions in the Sikh religion," remarked Harinder Pal Singh, a senior executive member of the Badal-controlled Delhi Sikh Gurdwara Management Committee. "It has brought the duality of Imran Khan to the fore. On the one hand, he's making tall claims about Sikh initiatives, on the other hand, Sikh women in his country are being subject to this kind of treatment. His claims are under suspicion now," said the Akali leader.
G20 Summit & All That You Need To Know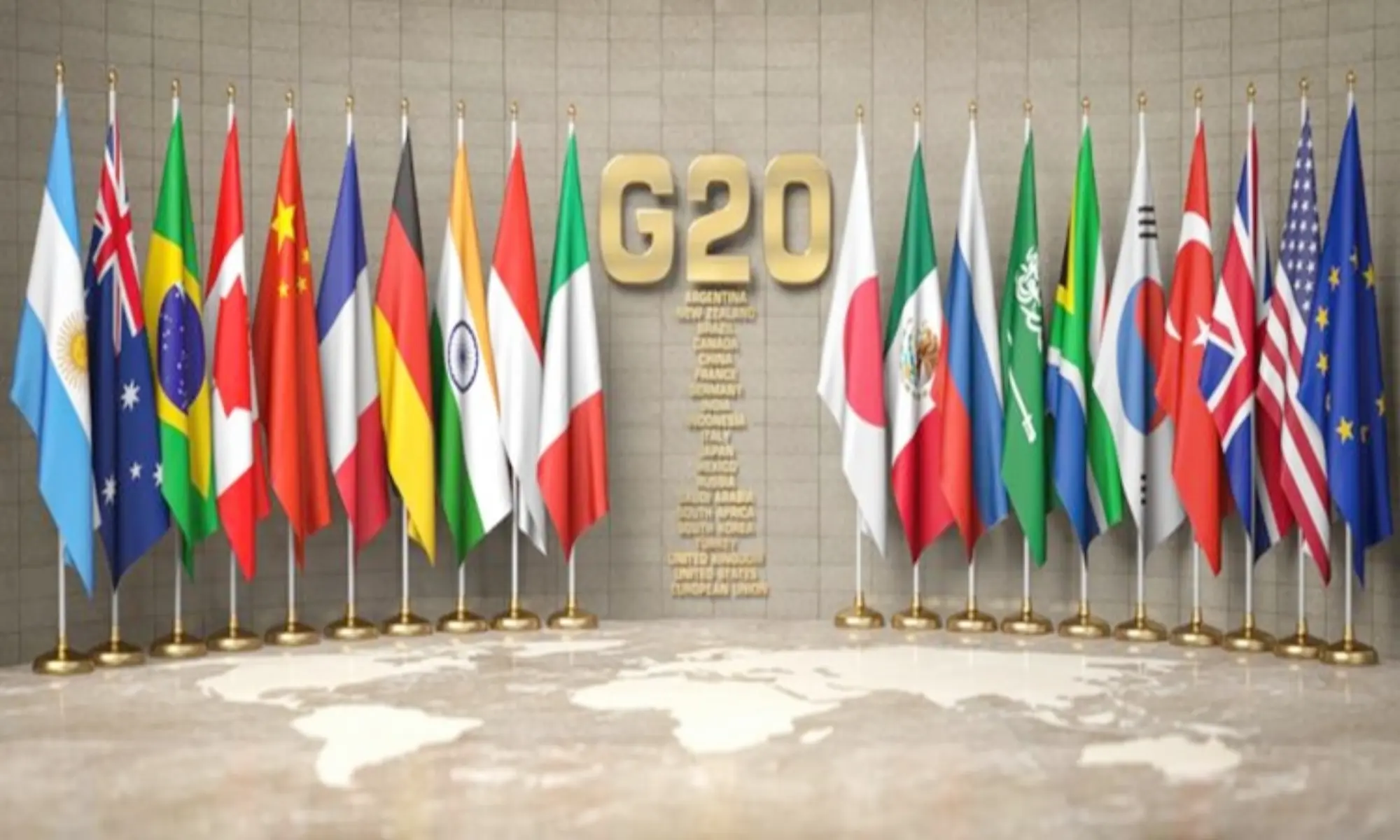 The G20 summit represents a significant portion of the global economy, accounting for around 85% of global gross domestic product (GDP), 80% of global trade, and two-thirds of the world's population. As a result, decisions made within the G20 can have far-reaching impacts on global economic policies and international relations.
What is the G-20?
Found in 1999, the Group of Twenty, or G20, is a global organization with 20 member nations. It was established in response to the financial crisis of the late 1990s and to bring together significant economies to discuss policy coordination and collaboration. It offers a stage for talks on problems related to the financial system's stability, sustainable development, and global economic issues. But over the years it has become a significant platform for leaders to discuss and act on critical global issues like poverty, inequality and climate change.
Which countries form the G-20?
Argentina, Australia, Brazil, Canada, China, France, Germany, India, Indonesia, Italy, Japan, Mexico, Russia, Saudi Arabia, South Africa, South Korea, Turkey, the United Kingdom, and the United States comprise the G20. The European Union is also a member and is represented by the European Commission and the European Central Bank.
Heads of state or government, finance ministers, and central bank governors gather at the G20's yearly meetings to conduct business. Discussions and negotiations aimed at promoting investment, international trade, financial regulation, and economic growth are the main topics of the sessions. Meetings of the finance ministers and central bank governors are held throughout the year in addition to the official summits to discuss ongoing economic challenges.
What is the Significance of G20 organisation and the G20 Summit?
Globally speaking, the G20 is essential in promoting cooperation among its members and tackling global economic and financial issues. It acts as a forum for discussion, collaboration, and coordination to support global economic stability and sustainable development. The G20 represents a significant portion of the global economy, accounting for around 85% of global gross domestic product (GDP), 80% of global trade, and two-thirds of the world's population. As a result, decisions made within the G20 can have far-reaching impacts on global economic policies and international relations.
The G20 summit brings together leaders from the G20 member countries to discuss and decide on various global economic concerns. However, it is the meaningful conversations between the sherpas of these nations that is vital for policy and decision making. 
Who are the G20 Sherpas?
During the G20 process, the senior officials and diplomats who attend/represent the G20 meetings on behalf of their nation's head of state or government are called as Sherpas. G20 Sherpas set the agenda, negotiate positions, and promote dialogue among the members.
Before the summit, sherpas frequently hold many rounds of discussions. These conversations touch on various issues, including financial stability, trade, investment, development, climate change, and other urgent global issues. The primary goal of these meetings is to identify areas of agreement, create consensus, and create cooperative strategies to deal with global economic difficulties. Sherpas hold in-depth discussions with their counterparts, examining various policy choices, sharing information, and attempting to reach a consensus on important topics.
Since each nation brings unique interests, priorities, and views, the conversations between the sherpas are intricate. To make sure that the outcomes of the G20 summit represent a broad consensus among the member countries, these discussions may require reaching concessions, settling disputes, and negotiating delicate problems. Sherpas bring together the priorities and viewpoints of the participating nations through these meetings, identify areas requiring group effort, and lay out potential solutions or policy suggestions for the summit's leaders to consider.
Sherpas are crucial in determining the G20 summit's agenda and results. As a result of their work, joint declarations, action plans, and pledges are created and approved by the leaders at the summit.
The conversations between the sherpas are a vital forum for communication, collaboration, and consensus-building among the G20 member nations. They are crucial in determining the summit's course and results, helping to make sure that the G20 addresses the world's economic concerns and promotes equitable and sustainable growth on a global scale.
India's G-20 Presidency
From December 1, 2022, through November 30, 2023, India will be the G20's president. In September of this year, the final New Delhi Summit will have 43 heads of delegation, the most ever to attend a G20 summit.
The slogan of this year's G20 Summit under the Indian Presidency is "Vasudhaiva Kutumbakam," which translates to "One Earth, One Family."
What is on agenda in the 2023 G-20 Summit?
Climate Finance, Life, and Green Development

Fast, Inclusive, and Resilient Growth 

Increasing SDGs progress

Digital Public Infrastructure and Technological Change

21st century's multilateral institutions

Women driving development
Behind the Scenes at G20
Before the summit in Kashmir (from 22 – 24 May), China raised a protest against the conduct of the G20 tourism working group conference being conducted in the Indian State. 
China's decision is most likely the result of Pakistan's concerns, a close ally who stated that the G20 summits were intended to support India's "illegal occupation" of Jammu and Kashmir. Meanwhile dismissing such ill-founded concerns of the Chinese side, India reiterated that all her states and union territories were hosting the G20 Summit 2023 in India.
However, as India continues to garner more goodwill and support from the G20 leaders, and China continues to lose standing in international global forums, it become a permanent absentee from such global summits soon.