Education has always been a cornerstone of Islamic tradition, with the Quran emphasizing the importance of seeking knowledge for both men and women. Yet, despite these teachings, there are still significant challenges facing women's education in many Muslim-majority countries. Cultural norms, economic barriers, and limited access to resources are just some of the factors that have hindered women's educational opportunities. In this article, we'll explore the relationship between Islam and women's education, and look at some of the key issues and debates surrounding this complex topic."
Education is a fundamental human right that should be available to all, regardless of gender or ethnicity. Napoleon Bonaparte once famously said, "Give me an educated mother, and I shall promise you the birth of a civilized, educated nation". Unfortunately, Islamic extremism has severely hampered the access and quality of education for millions of girls in many parts of the world. These extremist regimes fear a civilised and educated nation as it threatens their power.
Barbaric Use of Toxic Gases Against Schoolgirls in Iran
In late November 2022, 50 students of an all-girl school in the city of Qom, Tehran fell ill and were rushed to hospitals. Most of them were released a short time later, but several of them were kept for observation. Since then, hundreds of cases of respiratory distress have been reported among Iranian schoolgirls, mainly in the city of Qom, Tehran, the city of Borujerd in the western province of Lorestan and the north-western city of Ardabil, with some needing hospital treatment. Though no official figures were released, some speculate that the number of directly affected students was up to many hundred, as these incidents have occurred for several months. Before being sick, students frequently complain of unusual odours that they describe as smelling like strong perfume or rotten tangerines. They also claimed that they saw weird objects being tossed into schoolyards before the poisoning. Local media reported that some of the symptoms include nausea and headache, however, in some cases, temporary paralysis is also being seen. A quite inhuman example of Islam and women's education.
Authorities in schools, the governor's office, and the health department had downplayed this incident for months, saying the schoolgirls had "panicked" or experienced only "minor" symptoms. However, recently in an open session of parliament, a lawmaker stated that girls in up to 15 cities were affected. Iran's deputy education minister says the serial poisoning of female students in the religious city of Qom and other cities has been "intentional". He told state-linked media that "some people" wish to stop girls from going to school. 
These developments come days after the students and teenagers joined the protest that started after the brutal killing of Mahsa Amini by the Guidance Patrol, the religious morality police of Iran's government. Some Iranians, including well-known activists, have accused the regime of carrying out the poisonings as retaliation against girls for taking part in protests. Since the protests started in September, Iran's most prominent Sunni cleric, Molavi Abdolhamid, has been harshly critical of the government. He also said that the poisonings were a tactic for the government to punish those who took part in the protests. "The poisonings of schoolgirls in Qom and Boroujerd is an inhuman and anti-Islamic act … it is revenge for their recent uprising," Abdolhamid wrote on Twitter. Though a judicial investigation was launched, no arrests were made.
Atrocities of Boko Haram in Sub-Saharan Africa
Boko Haram is an Islamist militant organization based in north-eastern Nigeria and is the world's deadliest terror group during part of the mid-2010s according to the Global Terrorism Index. Boko Haram, whose literal meaning is 'Western education is forbidden', responsible for killing an estimated 20,000 and displacing over 2.2 million people.
Boko Haram has earned notoriety for its numerous attacks on schools and colleges, as well as teachers, administrators, and students, causing havoc on an already vulnerable education system. Hostility towards secular education is a crucial element of Boko Haram's ideology. A total of over 19,000 teachers have been displaced by the fighting and an estimated 2,295 teachers have been murdered by Boko Haram. According to estimates from the UN, over 1,400 schools have been damaged, destroyed, or looted, mostly in the northeast, and more than 600,000 kids no longer have access to education. 
In 2014, it kidnapped 276 girls from a school in Chibok town. Some of these women and girls claimed that Boko Haram had subjected them to forced "marriage," forced conversion to Islam, and other types of sexual assault. Some claimed they were kept in prison-like settings and repeatedly raped. Victims, particularly those who refused to "marry" a fighter or convert to Islam, also recounted being made to work long hours for the insurgents' wives and families and being threatened or physically assaulted when they became too worn out to continue. More evidence suggests that Boko Haram has exploited kidnapped girls as suicide bombers. The United Nations reported that in 2017, "115 children – 38 boys and 77 girls – had been used as human bombs. It also used schools for various military purposes, including to hold and execute captives, and as barracks for insurgents.
Many of the female students said that the attacks had led them to drop out of school permanently or to be forced to put their education on hold. Female students' parents had been too afraid for them to go back to school. Several survivors claim that the abuse they have experienced has adversely affected their mental and physical health. As a result of the rape, some people recounted continuing to experience bleeding and other severe gynaecological issues. Many of the students and some of the teachers spoke of having frequent nightmares, anxiety, being easily alarmed, having trouble concentrating, and other symptoms frequently connected to trauma. Their traumatic experiences often have an impact on their ability to pursue their education.
Poisoning of School Water Supply by Afghan Taliban
After taking control of the nation, the Taliban restricted women's school education in 1996. But after the regime is uprooted by the U.S., women in Afghanistan returned to school in 2001. However, the Taliban survived the assault and started regrouping and regaining their strength whilst propagating their extremist views in the years of 2000s and 2010s. In the year of 2010, 100 schoolgirls were hospitalized for drinking school water, which was poisoned by the Taliban. In a similar incident, 140 girls and 14 female teachers were poisoned by drinking water from their school, which was poisoned by Taliban militants. This can be considered a cruel example of Islam and Women's education.
Even after taking control of Afghanistan in 2021, the Taliban is still putting roadblocks in women's education. Segregating female students from males, and ordering mandatory uniforms by Sharia law were some of the mild steps taken in this direction. In December 2022, it completely banned university education for women. Due to extreme international pressure, the universities are reopened for women, but with strict rules on study schedules, socialising with the opposite gender and separate classrooms.
Pakistani Taliban has also been targeting girls for pursuing education, both directly and indirectly through its several radical organisations. In 2012, 14-year-old Malala Yusufzai got shot in her left eye, because she was vocal about the oppression she was facing from the Taliban and other radical organisations, in pursuing higher education. 
Islam and Women's Education – The Grave Consequence
Apart from the immediate physical harm, these incidents cause long-term irreversible damage, along with overturning years of progress in societies. Parents, fearing for the safety and well-being of their children, pull girls out of their school, discontinuing their education. According to a report in 2021, only 42.59 % of women are literate in Afghanistan. Nigeria stands at 68.26%, whereas Pakistan stands at 65% in women's literacy. Several other countries like Somalia, Niger and Yemen also stand very low in this regard. If not checked Iran's women's literacy rate could also go down in near future.
Discontinuation in education leads to early marriage for many girls in some of these countries. This leads to early pregnancy, making them vulnerable to both physical and mental health problems. Incomplete education also makes it more difficult for them to attain personal autonomy, employment and economical independence.
Governments, civil society organizations, and the international community must come together to address this issue and provide protection for girls who are seeking an education. It is only through collective efforts that we can prevent the poisonous tactics of extremism and ensure that all girls have the opportunity to realize their full potential through education. By doing so, we not only promote gender equality but also build more peaceful, just and prosperous societies for everyone. Once again when we hear Islam and Women's education together, it should not create any horrific scenes of attacks on school girls, poisoning school water.
The Brilliant Landing at Inchon – Retaking Seoul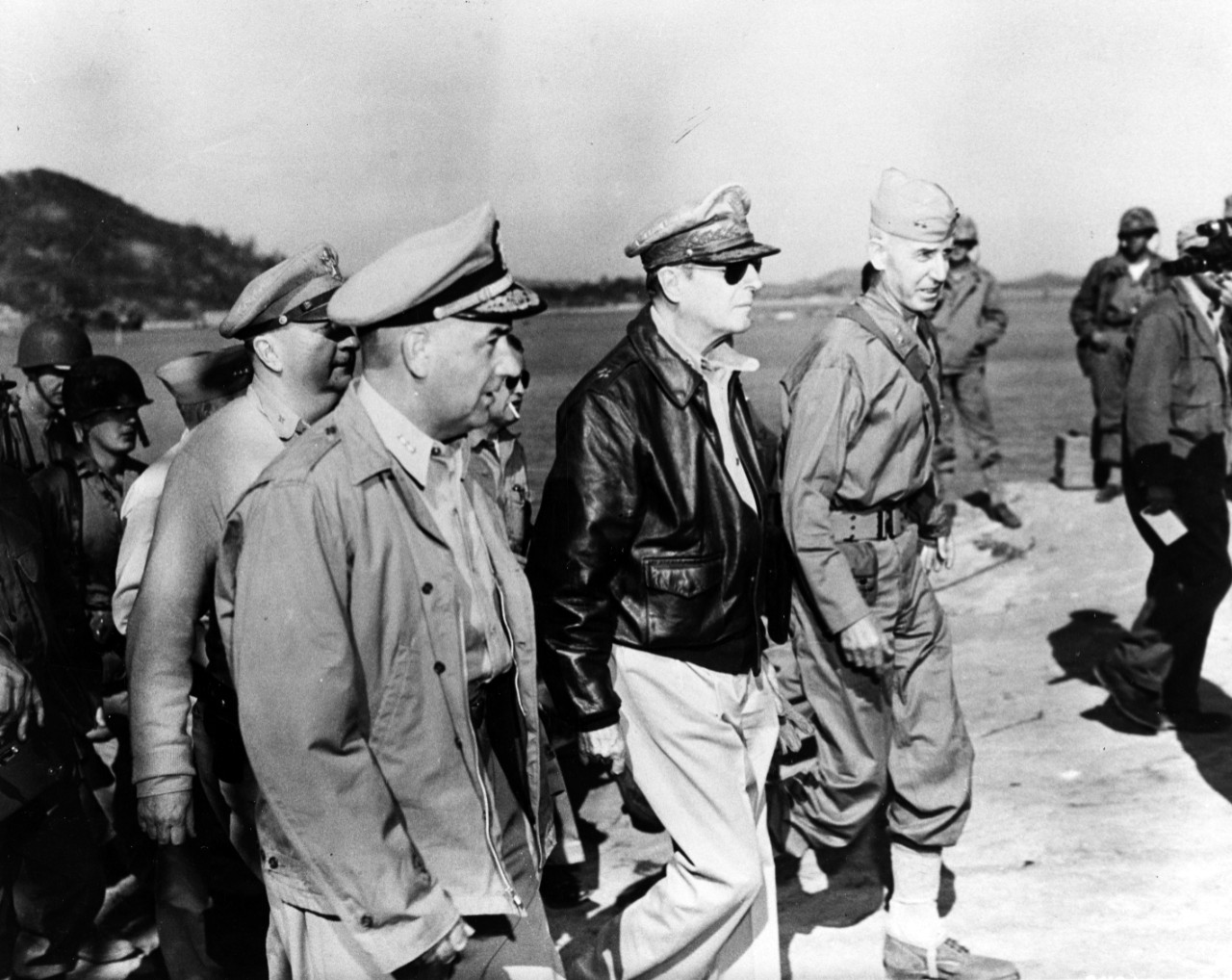 A crucial occasion during the Korean War was the 1950 landing at Inchon. To retake Seoul which had been lost to North Korean forces earlier in the conflict, the United Nations (UN) forces that were principally headed by the US, carried out the Brilliant Landing at Inchon or Operation Chromite.
Operation Chromite or 'Inchon Landing' was a massive amphibious attack on Korea's western coast, close to the port city of Inchon. 
Why was Inchon selected for the military operation? 
Because the port city of Inchon was strategically significant on the Korean Peninsula's western coast and it also offered easy access to Seoul.
A brief glimpse into the September 15, 1950 Landings
The landing at Inchon took place on September 15, 1950. 
The Korean War, which started on June 25, 1950, when North Korean forces invaded South Korea, was at a crucial point during this time. The North Koreans had made significant territorial gains in South Korea, and the UN forces aimed to change the course of the conflict.
The main goal of the Inchon landing was to retake Seoul, which had been lost to North Korean forces earlier in the conflict. The landing was purposefully timed to catch the North Koreans off guard and cut off their supply lines to drive them out of South Korea. The goal of the UN forces in retaking Seoul was to change the tide of the conflict and undermine the North Korean regime's control over the nation.
A combination of military and political considerations led to the landing at Inchon. Regaining Seoul would have a profound psychological impact, raising South Koreans' spirits and eroding the legitimacy of the North Korean government. Controlling Inchon's harbour would also give the UN forces a logistical advantage and make resupply and reinforcement more straightforward.
How was the Event planned and executed?
General Douglas MacArthur, the head of the UN troops was in charge of planning operations. MacArthur's brilliant and daring plan included an unexpected amphibious assault at Inchon. 
As the operation was to be coordinated between the Navy, Army and Airforce, the planning stage was the most crucial. General MacArthur and his team had to evaluate the topography, currents, tides, intelligence-gathering efforts, and the most suitable landing areas.
Naval and Air Support – To provide naval gunfire support and air cover, a maritime task force comprised of aircraft carriers, cruisers, destroyers, and other support vessels was organized. The naval troops were essential in weakening enemy defences and offering assistance during the landing.
Amphibious Assault – A combined force of US, South Korean, and other UN troops made the landing. The US 7th Infantry Division and other units assisted the US 1st Marine Division as it led the amphibious assault. Landing craft, amphibious vehicles, and helicopters were all used during the landing.
Reason for the Massive Success of the Inchon Landing Operation
The landing at Inchon was seen as being extremely effective for several reasons. Its strategic brilliance, use of surprise, careful planning, efficient deployment of combined arms, and quick seizure of Seoul all played a part in its victory. The operation significantly weakened North Korea's position while turning the tide of the Korean War in favour of the UN forces and boosting their morale. In terms of successful amphibious assaults in military history, the Inchon landing stands out.
Overcoming Obstacles – The Inchon landing encountered many obstacles, including dangerous tidal currents and shallow waters. But with careful planning and preparation, the UN forces were able to get over these challenges and establish a beachhead at Inchon.
Speed and cooperation – After securing the beachhead, the UN forces moved quickly ashore while exhibiting superb collaboration between ground, naval, and air elements. Their speed and momentum dislodged the North Korean defences, allowing Seoul to be retaken soon.
Psychological Impact – The success of the Inchon landing had a profound psychological effect on the North Korean government and the UN forces. The North Koreans were caught off guard and forced into retreating, lowering their confidence and raising the UN troops' confidence.
The 1950 landing at Inchon had major significance and considerably influenced how the Korean War developed. 
Inchon Landing's most crucial aspects and effects
Turning Point in Korean War – The Inchon landing was a significant turning point in the conflict. The UN forces were pushed to the Pusan Perimeter in the southeast of the Korean Peninsula by North Korean forces who had made significant progress before the landing, taking Seoul. These gains were undone by the success of the Inchon landing, which also altered the tide of the conflict in the UN forces' favour.
Recapture Seoul –  One of the main goals of the Inchon landing was to retake Seoul, the capital of South Korea. The operation was a success, as it not only inflicted a crushing blow to the North Korean soldiers but also raised the spirits of the people of South Korea and called into question the legitimacy of the North Korean government.
Strategic Disruption – The unexpected invasion at Inchon cut off North Korea's communication and supply routes. It effectively cut off the southward-moving North Korean forces from their sources of reinforcement and assistance, weakening their position.
Coalition Warfare – The Inchon landing demonstrated the value of coalition warfare and international cooperation. It involved a multinational force, principally led by the United States, consisting of South Korean and other UN soldiers. The operation's success illustrated the power of integrated processes and the capacity to manage different forces in a way that advances a single goal.
Psychological Victory – The success of the Inchon landing had a profound psychological effect on both sides of the fight. The UN forces' confidence and morale increased because they viewed the operation as a significant triumph. On the other hand, it demoralized the North Korean soldiers, who were surprised and suffered a severe blow.
Geographical Consequences – The success of the Inchon landing had wider geopolitical consequences. It highlighted the tenacity and strength of the UN forces, mainly the US, in halting the expansion of communism in the early Cold War. Additionally, the operation garnered global attention and altered public impressions of the UN soldiers' might and will.
Fighting the Chinese Aggression – Repercussions of Landing at Inchon
The Inchon landing was a tactical victory but had unexpected repercussions. As a result of the UN's subsequent move towards China's border, the war in China was heavily intervened in, sharply increasing and lengthening its duration.
Despite being generally viewed as successful, the Inchon landing has drawn some criticism. The UN forces were placed in difficult situations and well-reinforced enemy positions, according to critics, who claim that the manoeuvre was high-risk and foolhardy. It has been noted that a lack of coordination and communication among military units and intelligence breakdowns resulted in an underestimation of the North Korean forces' power. Concerns have been voiced regarding the operation's overconfidence and arrogance and its neglect of other fighting fronts. Critics have also pointed out the civilian deaths and destruction brought on by the attack and the accompanying combat. Despite these criticisms, the Inchon landing remains among the pivotal moments in the Korean War since it succeeded in retaking Seoul and changed the tide of the war.