At the Reliance AGM 2020, Jio TV+, a new content curtation platform for Jio set-top box customers, was announced. The new platform will offer a single sign-in for 12 global OTT platforms easing the discovery of content on OTT platforms. Jio will add a new voice search option on the platform. It will search for content based on movie actors, directors, producers, even mood.
The biggest feature on the JioTV+ is the sign-in support for 12 OTT apps Lionsgate Play, JioCinema, Shemaroo, Netflix, Prime Video, JioCinema, Shemaroo, JioSaavn, Lionsgate Play, J, YouTube, and Eros Now, Disney+ Hotstar, Voot, Sony LIV, Zee5.
Jio TV+ will offer a majority of Live TV Channels along with host interactive features for users to participate. Users can participate in a live poll to vote for their favorite contestant of TV shows
Later results will display on the screen in real-time with a comparison of all votes in percentage. "We believe that interactivity on the TV or two-way communication is the future of consumption," said Akash Ambani.
Mukhesh Ambani announced during the Reliance AGM 2020 event that Jio was developing a complete homegrown5G solution that is ready to test as soon as the spectrum is available. He said that this 5G will be readily available for trails once the spectrum is made available and ready for deployment in 2021.
Jio 5G solution is made from scratch in India. This will enable the Jio platform to launch a "world-class 5G service in India" completely developed under made in India.
He further added in the Reliance AGM 2020 that Jio 5g was developed by Indian engineers and is dedicated to Prime Minister Narendra Modi's "Atmanirbhar Bharat" vision.
During the, shared a roadmap for deployment of Jio 5G, at first, the company will test service once the 5G spectrum is available in the country. The company is in plans to export the 5G technology to other telecom operators abroad.
"Using these technologies, we can create compelling solutions across multiple industry verticals like media, financial services, new commerce, education, healthcare, agriculture, smart cities, smart manufacturing & smart mobility," Ambani noted.
The main Reliance AGM 2020 highlight of the event is Jio's new deal of Rs 33,737 crores with Google for a stake of 7.7 percent. This new development comes days after the company signed its 13th deal with 5G giant Qualcomm for Rs 730 crores.
This new investment by Google is the part of its recently announced India Digitisation Fund worth Rs. 75,000 crores.
Now Jio has raised a total of Rs 1,52,056 crores by selling a stake of 32.94 percent to 14 foreign investment giants from Saudi to prominent private equity companies in the USA.
Jio and Google together will now develop an Android-based operating system along with an entry-level Android smartphone with Google Play store on it.
"Getting technology into the hands of more people, it's a big part of Google's mission to organize the world's information and make it universally accessible and usable," Google CEO Sundar Pichai said in a guest appearance on Reliance AGM 2020.
Mukesh Ambani during the Reliance AGM 2020 event said that India's first cloud-based video conferencing app launch by Reliance Jio platforms 'JioMeet' has crossed 5 million downloads since the launch.
Mukesh Ambani during the AGM 2020 event said that India's first cloud-based video conferencing app launch by Reliance 'JioMeet' has crossed 5 million downloads since the launch.
JioMeet which is available on Android, Windows, web faced criticism due to the interface look similar to that of Zoom. The company claims that JioMeet supports HD audio and video calling and have a capacity of 100 participants along with features like screen sharing, meeting schedule, and many more.
G20 Summit & All That You Need To Know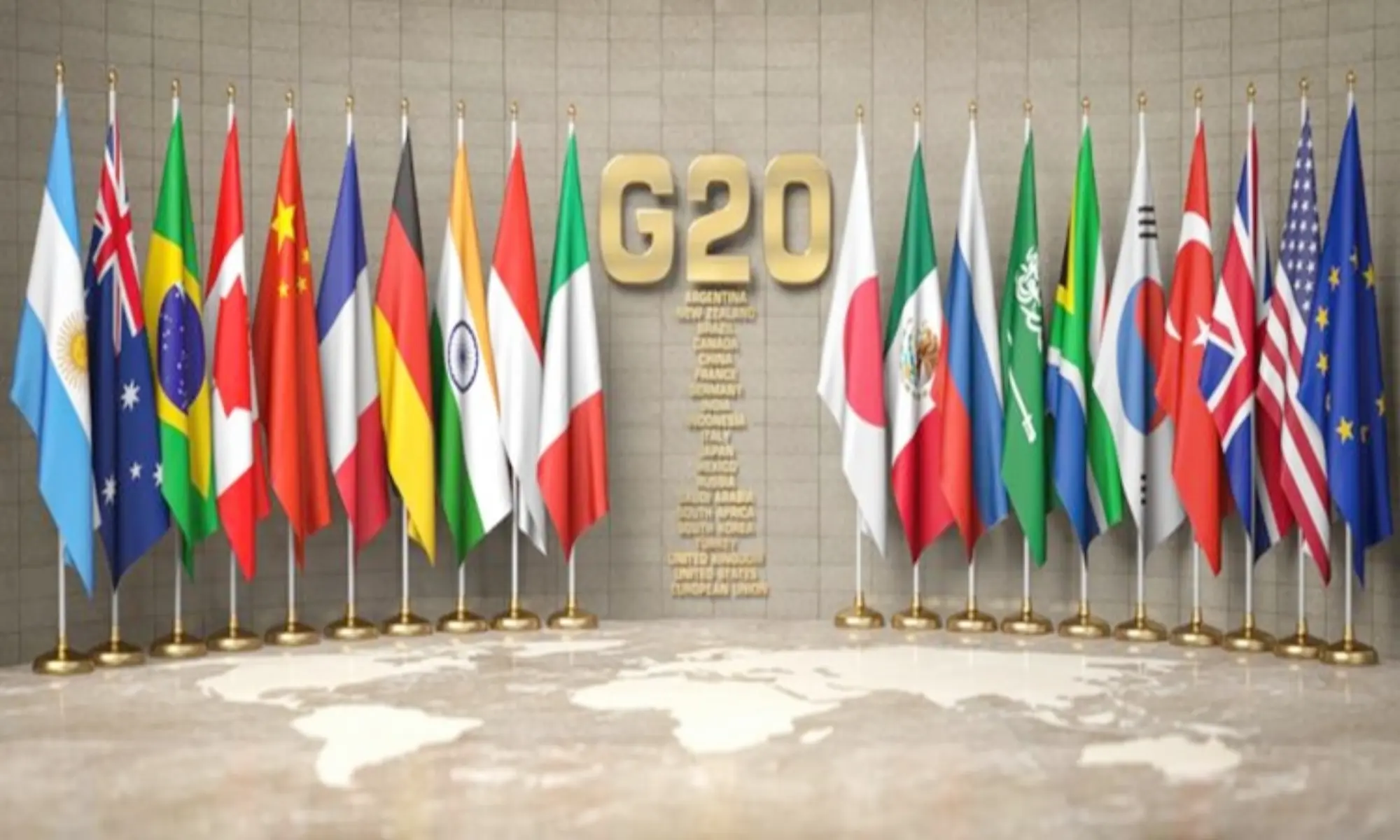 The G20 summit represents a significant portion of the global economy, accounting for around 85% of global gross domestic product (GDP), 80% of global trade, and two-thirds of the world's population. As a result, decisions made within the G20 can have far-reaching impacts on global economic policies and international relations.
What is the G-20?
Found in 1999, the Group of Twenty, or G20, is a global organization with 20 member nations. It was established in response to the financial crisis of the late 1990s and to bring together significant economies to discuss policy coordination and collaboration. It offers a stage for talks on problems related to the financial system's stability, sustainable development, and global economic issues. But over the years it has become a significant platform for leaders to discuss and act on critical global issues like poverty, inequality and climate change.
Which countries form the G-20?
Argentina, Australia, Brazil, Canada, China, France, Germany, India, Indonesia, Italy, Japan, Mexico, Russia, Saudi Arabia, South Africa, South Korea, Turkey, the United Kingdom, and the United States comprise the G20. The European Union is also a member and is represented by the European Commission and the European Central Bank.
Heads of state or government, finance ministers, and central bank governors gather at the G20's yearly meetings to conduct business. Discussions and negotiations aimed at promoting investment, international trade, financial regulation, and economic growth are the main topics of the sessions. Meetings of the finance ministers and central bank governors are held throughout the year in addition to the official summits to discuss ongoing economic challenges.
What is the Significance of G20 organisation and the G20 Summit?
Globally speaking, the G20 is essential in promoting cooperation among its members and tackling global economic and financial issues. It acts as a forum for discussion, collaboration, and coordination to support global economic stability and sustainable development. The G20 represents a significant portion of the global economy, accounting for around 85% of global gross domestic product (GDP), 80% of global trade, and two-thirds of the world's population. As a result, decisions made within the G20 can have far-reaching impacts on global economic policies and international relations.
The G20 summit brings together leaders from the G20 member countries to discuss and decide on various global economic concerns. However, it is the meaningful conversations between the sherpas of these nations that is vital for policy and decision making. 
Who are the G20 Sherpas?
During the G20 process, the senior officials and diplomats who attend/represent the G20 meetings on behalf of their nation's head of state or government are called as Sherpas. G20 Sherpas set the agenda, negotiate positions, and promote dialogue among the members.
Before the summit, sherpas frequently hold many rounds of discussions. These conversations touch on various issues, including financial stability, trade, investment, development, climate change, and other urgent global issues. The primary goal of these meetings is to identify areas of agreement, create consensus, and create cooperative strategies to deal with global economic difficulties. Sherpas hold in-depth discussions with their counterparts, examining various policy choices, sharing information, and attempting to reach a consensus on important topics.
Since each nation brings unique interests, priorities, and views, the conversations between the sherpas are intricate. To make sure that the outcomes of the G20 summit represent a broad consensus among the member countries, these discussions may require reaching concessions, settling disputes, and negotiating delicate problems. Sherpas bring together the priorities and viewpoints of the participating nations through these meetings, identify areas requiring group effort, and lay out potential solutions or policy suggestions for the summit's leaders to consider.
Sherpas are crucial in determining the G20 summit's agenda and results. As a result of their work, joint declarations, action plans, and pledges are created and approved by the leaders at the summit.
The conversations between the sherpas are a vital forum for communication, collaboration, and consensus-building among the G20 member nations. They are crucial in determining the summit's course and results, helping to make sure that the G20 addresses the world's economic concerns and promotes equitable and sustainable growth on a global scale.
India's G-20 Presidency
From December 1, 2022, through November 30, 2023, India will be the G20's president. In September of this year, the final New Delhi Summit will have 43 heads of delegation, the most ever to attend a G20 summit.
The slogan of this year's G20 Summit under the Indian Presidency is "Vasudhaiva Kutumbakam," which translates to "One Earth, One Family."
What is on agenda in the 2023 G-20 Summit?
Climate Finance, Life, and Green Development

Fast, Inclusive, and Resilient Growth 

Increasing SDGs progress

Digital Public Infrastructure and Technological Change

21st century's multilateral institutions

Women driving development
Behind the Scenes at G20
Before the summit in Kashmir (from 22 – 24 May), China raised a protest against the conduct of the G20 tourism working group conference being conducted in the Indian State. 
China's decision is most likely the result of Pakistan's concerns, a close ally who stated that the G20 summits were intended to support India's "illegal occupation" of Jammu and Kashmir. Meanwhile dismissing such ill-founded concerns of the Chinese side, India reiterated that all her states and union territories were hosting the G20 Summit 2023 in India.
However, as India continues to garner more goodwill and support from the G20 leaders, and China continues to lose standing in international global forums, it become a permanent absentee from such global summits soon.