The catastrophic Assam flood 2020 has caused immense damage and destruction all over the region. From the loss of life and property to the erosion of natural resources, the floods in Assam have affected more than 36 Lakh people so far. In addition to this, in the wee hours of July 16, an earthquake with a magnitude of 4.1 on the Richter scale hit Assam's Karimganj, informed the National Center for Seismology (NCS).
Rescue Operation
The data on the official website of the National Disaster Response Force (NDRF) confirms that the NDRF teams have carried out rescue operations in flood-affected areas of Barpeta District.
"NDRF teams reached the site and evacuated 487 marooned villagers and transported them to safer places. Teams are also assisting district administration in the distribution of masks, screening inundated areas, and maintained proper social distancing due to the COVID-19 emergency. More than 950 marooned villagers evacuated this year's monsoon season by first Battalion NDRF Guwahati," NDRF said in a statement.
"A total of 11 search and rescue teams of NDRF are pre-positioned deployed during the Assam floods regions i.e. Jorhat, Bongaigaon, Kamrup Metro, Kamrup Rural, Baksa, Barpeta, Cachar, Sivasagar, Sonitpur, Dhemaji, and Tinsukia. NDRF control room keeping a close watch in other (Assam) flood-affected areas," it said.
Worst-hit Districts
The worst-hit districts in 2020 Assam floods are Dhemaji, Lakhimpur, Biswanath, Sonitpur, Darrang, Baksa, Nalbari, Barpeta, Chirang, Bongaigaon, Kokrajhar, Dhubri, South Salmara, Goalpara, Kamrup, Kamrup Metropolitan, Morigaon, Nagaon, Hojai, Golaghat, Jorhat, Majuli, Sivasagar, Dibrugarh, Tinsukia and Karbi Anglong.
It is pivotal to recognize the distress that has fallen upon the Tea estates of Assam. The tea industry in Assam is about 172 years old. It occupies an important place and plays a very useful part of the national economy.
According to a recently conducted door to door survey by the Industries & Commerce Department, some of the facts given below:
(1) No and growth:
Total numbers of small growers in 14 surveyed districts of Brahmaputra Valley is 68,465.
Maximum growth occurs from 1996 to 2005.
Growth in five upper Assam district is 64,519 (94%).
Apart from upper Assam, the districts of Udalguri, Sonitpur and Nagaon have seen remarkable growth.
(2) Land under Tea Cultivation by Small Tea Growers
Total area of land under tea cultivation of small growers is 117 thousand acres.
(3) Production of Green Leaf
400 million Kg of the green leaf was produced by the Small growers.
Huge losses incurred by Assam Tea estates during the Assam flood 2020
While the Distribution of Small Growers in Dibrugarh and Tinsukia districts of upper Assam have remarkable numbers of small growers and their number is 37,755 (55%). The Udalguri, Sonitpur, Nagaon and Karbi Anglong districts have seen a rising trend. It is disheartening to see that the catastrophe has engulfed the Tea estates of Darrang district, Budlapara, Corramore, and Attareekhat gardens in Udalguri district and Ananda, Silonibari and Dejoo tea estates in Lakhimpur district.
A report by Telegraph India highlights the anguish Assam flood 2020 have brought, adding to the already existing COVID-19 woes. has added to the woes of the Assam tea industry, which is already passing through an extremely bleak phase. A statement issued by the Assam Branch Indian Tea Association (Abita) said if the present situation prevails, the prospects of production in its tea estates may suffer a severe setback, which would have an impact on the overall annual production.
Abita has 275 member gardens, whose total production in 2018 was 246 million. "High temperature, high-intensity rainfall, and less sunshine due to the frequent overcast sky has affected tea bush productivity with multiple cumulative short, medium, and long-term effects on the tea bushes," it said. "The need of the hour is support from the government towards formulating a plan of action to prevent the recurring floods in the tea estates to ensure the survival of the estates and employment of workers," it added.
Incessant rain in Arunachal Pradesh and Assam has led to the Brahmaputra and almost all its tributaries being in spate affecting many Abita member tea gardens.
Speaking to The Wonk, on Assam flood 2020 a civilian said: "It happens every year and we don't know who we should question, the authorities or the media. The media, which hardly ever covers stories from here or nature itself. Is it the wrath of nature or simply negligence and lack of planning by the authorities? I guess we should let our extravagant Tea estates answer that!"
Let's all hope and pray for the region to recover and go back to being prosperous again.
Assassination of Shinzo Abe & Salman Rushdie – Know Real Facts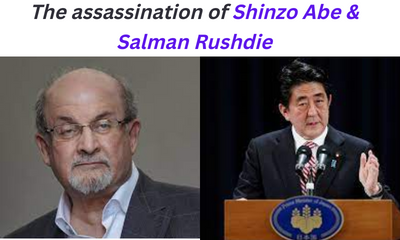 The months July and August of 2022 saw two cases of extermination to promote the fear of terrorism. One of the assassination of Shinzo Abe former Japanese Prime Minister, and another of the famous Novelist Salman Rushdie.
Shinzo Abe succumbed to a gunshot wound, whereas Rushdie's health conditions are improving and he is under medical supervision after the knife attack. However, various assassination attempt of Salman Rushdie has been made during the year.
These two terror acts force us to think about the impact of terrorism on society, the main objective of which is to create an atmosphere of fear so that citizens of the country cannot rely on their government.
This ultimately disturbs the law and order of the society, and serves the terrorists' purpose of creating a chaos.
Here we will see how these two attacks had different reasons but the objective remained the same – to stop someone from propagating his/her opinions independently, and also the factors that make attackers indulge in such acts.
Assassination Attempt of Salman Rushdie – Satanic Controversy
On 12 August 2022, Rushdie was attacked several times by a 24-year-old man Hadi Matar. The attacker's intentions can be linked to Rushdie's fourth novel, The Satanic Verses, published in 1988. Some Muslims considered the novel disrespectful towards Prophet Mohammed.
Soon after its publication, the novel sparked a 'fatwa' or a religious decree. The Iranian revolutionary leader Ayatollah Ruhollah Khomeini called for Rushdie's death in 1989. After, this various assassination attempt of Salman Rushdie has been made.
Complete conversation for Salman Rushdie Assassination:
When asked about the attack Hadi Matar said, "I don't like the person. I don't think he's a very good person. I don't like him very much". He further criticised Rushdie's work by saying, "He's someone who attacked Islam, he attacked their beliefs, the belief systems". Mr. Matar also told New York Post that he had only read 'a couple of pages' of the book and did not tell about whether the fatwa had inspired him or not.
While praising the Iranian religious leader, he stated, "I respect the Ayatollah. I think he's a great person. That's as far as I will say about that".
One can observe that the psychology of the attacker was that he simply disliked the novelist because of his work; although he read only two pages of the novel, but was rather influenced by the religious leaders and their sayings. Just, like this the assassination of Shinzo Abe has been made during this year, which we will discuss on next section.
Perceptions like these can have a long-lasting impact on future generations which can further deteriorate the situation. Violent acts like this demand proper scrutiny of the dissemination of information.
Extremists take advantage of such incidents and brainwash the young minds so that they can be used by them for their selfish purposes.
Assassination of Shinzo Abe – Complete Truth
On 8 July 2022, it was just another day of Abe's political campaign for the upcoming parliamentary elections. He was delivering a speech in Nara City, but no one is the aware about the assassination of Shinzo Abe that day. When a 41-year-old Tetsuya Yamagami shot him twice from behind from a distance of about 10 meters.
During the investigation, he confessed his intentions of killing and it was found that his motives had more to do with religious backing instead of a political reason.
It so happened that Yamagami's mother was a member of a religious group which she joined after her husband's death in 1998. She used to donate huge amounts of money as charity to the group, after the assassination of Shinzo Abe and Yamagami blames the sect for bankrupting his mother.
Confession Statement on Abe Case
The report reveal that Abe was closely associated with the sect, and wanted to take revenge against him for promoting it. "The suspect stated that he held a grudge against a particular organisation and that he committed the crime because he believed former Prime Minister Abe had a connection to it", a senior police officer in Japan's Nara region told reporters.
While the police hasn't given any clarification regarding the unidentified organization, social media in Japan has it that it could be the Unification Church.
Yamagami was unemployed, felt isolated in society, was against religious preaching and blind faith, and wanted to kill the leader of the religious organization but couldn't. One can see the psychological aspects of it that, the killer was anguished with the organisation and blamed them for his conditions and economic turmoil.
Ultimately his grudge converted into a motive of taking revenge for his loss and he did that by killing the perpetrator of the religious group, to give a message to the society and the world that one should avoid themselves from joining or contributing to such groups.
Japan has the strictest gun laws after the assassination of Shinzo Abe , so to bypass such stringent laws the killer used a handmade gun. The occurrence of such incidents in the island nation shows how much resentment the killer has and how strongly he was motivated to commit the murder.
Such incidents are eye-openers for the society that someone's freedom of belief can become others' pain, and teaches that as a society we should try to maintain a balance between them.
Two Paths to Crime
The above two accidents of assassination of Shinzo Abe, and the assassination attempt of Salman Rushdie has been terrifying for the country. First, being a part of a religious group the killer face hardship in his life, which forced him to commit the crime. In the second instance, the attacker got the impression that his religion is being targeted and that it is his responsibility to take revenge so that next time no one dares to do anything like that again.
Interpretation of things based on pre-assumed thoughts can lead to revenge, and revenge based on half-baked knowledge causes harm to the whole humanity, and not just the particular group concerned.