The catastrophic Assam flood 2020 has caused immense damage and destruction all over the region. From the loss of life and property to the erosion of natural resources, the floods in Assam have affected more than 36 Lakh people so far. In addition to this, in the wee hours of July 16, an earthquake with a magnitude of 4.1 on the Richter scale hit Assam's Karimganj, informed the National Center for Seismology (NCS).
Rescue Operation
The data on the official website of the National Disaster Response Force (NDRF) confirms that the NDRF teams have carried out rescue operations in flood-affected areas of Barpeta District.
"NDRF teams reached the site and evacuated 487 marooned villagers and transported them to safer places. Teams are also assisting district administration in the distribution of masks, screening inundated areas, and maintained proper social distancing due to the COVID-19 emergency. More than 950 marooned villagers evacuated this year's monsoon season by first Battalion NDRF Guwahati," NDRF said in a statement.
"A total of 11 search and rescue teams of NDRF are pre-positioned deployed during the Assam floods regions i.e. Jorhat, Bongaigaon, Kamrup Metro, Kamrup Rural, Baksa, Barpeta, Cachar, Sivasagar, Sonitpur, Dhemaji, and Tinsukia. NDRF control room keeping a close watch in other (Assam) flood-affected areas," it said.
Worst-hit Districts
The worst-hit districts in 2020 Assam floods are Dhemaji, Lakhimpur, Biswanath, Sonitpur, Darrang, Baksa, Nalbari, Barpeta, Chirang, Bongaigaon, Kokrajhar, Dhubri, South Salmara, Goalpara, Kamrup, Kamrup Metropolitan, Morigaon, Nagaon, Hojai, Golaghat, Jorhat, Majuli, Sivasagar, Dibrugarh, Tinsukia and Karbi Anglong.
It is pivotal to recognize the distress that has fallen upon the Tea estates of Assam. The tea industry in Assam is about 172 years old. It occupies an important place and plays a very useful part of the national economy.
According to a recently conducted door to door survey by the Industries & Commerce Department, some of the facts given below:
(1) No and growth:
Total numbers of small growers in 14 surveyed districts of Brahmaputra Valley is 68,465.
Maximum growth occurs from 1996 to 2005.
Growth in five upper Assam district is 64,519 (94%).
Apart from upper Assam, the districts of Udalguri, Sonitpur and Nagaon have seen remarkable growth.
(2) Land under Tea Cultivation by Small Tea Growers
Total area of land under tea cultivation of small growers is 117 thousand acres.
(3) Production of Green Leaf
400 million Kg of the green leaf was produced by the Small growers.
Huge losses incurred by Assam Tea estates during the Assam flood 2020
While the Distribution of Small Growers in Dibrugarh and Tinsukia districts of upper Assam have remarkable numbers of small growers and their number is 37,755 (55%). The Udalguri, Sonitpur, Nagaon and Karbi Anglong districts have seen a rising trend. It is disheartening to see that the catastrophe has engulfed the Tea estates of Darrang district, Budlapara, Corramore, and Attareekhat gardens in Udalguri district and Ananda, Silonibari and Dejoo tea estates in Lakhimpur district.
A report by Telegraph India highlights the anguish Assam flood 2020 have brought, adding to the already existing COVID-19 woes. has added to the woes of the Assam tea industry, which is already passing through an extremely bleak phase. A statement issued by the Assam Branch Indian Tea Association (Abita) said if the present situation prevails, the prospects of production in its tea estates may suffer a severe setback, which would have an impact on the overall annual production.
Abita has 275 member gardens, whose total production in 2018 was 246 million. "High temperature, high-intensity rainfall, and less sunshine due to the frequent overcast sky has affected tea bush productivity with multiple cumulative short, medium, and long-term effects on the tea bushes," it said. "The need of the hour is support from the government towards formulating a plan of action to prevent the recurring floods in the tea estates to ensure the survival of the estates and employment of workers," it added.
Incessant rain in Arunachal Pradesh and Assam has led to the Brahmaputra and almost all its tributaries being in spate affecting many Abita member tea gardens.
Speaking to The Wonk, on Assam flood 2020 a civilian said: "It happens every year and we don't know who we should question, the authorities or the media. The media, which hardly ever covers stories from here or nature itself. Is it the wrath of nature or simply negligence and lack of planning by the authorities? I guess we should let our extravagant Tea estates answer that!"
Let's all hope and pray for the region to recover and go back to being prosperous again.
May Fourth Movement at Tiananmen Square- China's Awakening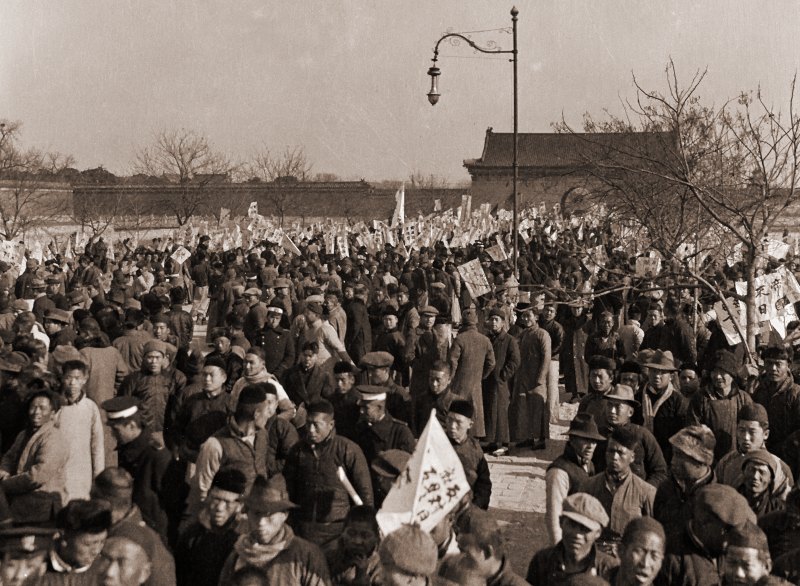 Early in the 20th century, China had a significant socio-political and intellectual movement known as the May 4th Movement, often called the New Culture Movement. It gained support from a wide range of intellectuals, laborers, and business people as it migrated from Beijing to other significant Chinese cities with demands to abandon ancient Confucian principles and to adopt the Western ideals of democracy, freedom, and equality instead. 
While aiming to imbibe the modern thought, these protesters demanded that foreign imperialism be ceased and control be given back to the Chinese. By challenging long-standing conventions and paving the way for a more progressive and open society, this Movement had a significant impact on Chinese intellectual and cultural history.
What Happened on May 4th 1919? 
On May 4, 1919 Chinese students started a series of demonstrations in Beijing, notably in Tiananmen Square. They took to the streets to protest and express their dissatisfaction with the government. Gradually this movement spread to parts of Shanghai and Guangzhou, making it a large-scale student protest. 
What was the Reason of the Student Protest on May 4, 1919?  
First, The Treaty of Versailles & Shandong Problem – The discussion of the Treaty caused much resentment over how China was being treated during the post-World War I by Western powers, especially with regards to Shandong. The German concessions in Shandong were not returned to China but instead were given to Japan. Intellectuals and students in China therefore could not help but be patriotic and anti-imperialist.
Second, existing sociocultural problems in the Chinese society – Disillusionment with traditional Chinese culture and values were growing among Chinese intellectuals and students. Discontentment with existing and belief on the new concepts and philosophies, especially those acquired from the West, were sought to replace these established principles. Thus, fostering science, democracy, and individuality became very important.
What Made May Fourth Movement so Successful?
The Movement's ability to win widespread support from various facets of society was one of the main factors in its success.

Unlike any previous protests in China, the

May 4

Movement

was organised and led by students and intellectuals. They planned gatherings, marches, demonstrations, printed newspapers, and pamphlets to disseminate their views and unite participants. It was this initiative that attracted more people to join, including workers, business people and warlords. This increased the movement's power, and the government was pressured to respond to its demands thanks to this wide-ranging support.
Utilizing new media and communication channels effectively was another key.

Students published their ideas through newspapers, journals, and speeches to get support from the public. They also built relationships with activists and intellectuals who shared their views in other places, which helped the cause extend outside of Beijing. The Movement was able to unite thanks to these communication tactics and develop a sense of a common goal.
The next reason of the movement's success can be traced to its appealing and distinct goals

. The Movement had a clearly stated mission, which included calls for democracy, the democratization of China, and the nation's revitalization. A sizeable segment of the populace, demanding modernization and reform in the face of foreign dominance, identified with these goals.
The Movement also capitalized on a potent anti-imperialist and sense of national pride.

The 'Shandong Problem' that was viewed as a violation of Chinese interests in the Treaty of Versailles sparked a strong sense of fury and served as the Movement's unifying cause. The participants shared rage against foreign imperialism, and the need for national self-determination was a potent unifying force.
What was the May Fourth Movement Significance & Impact on Post World War 1 China?
The success of the May 4th Movement left a long-lasting influence on Chinese politics and society. The movement produced an intellectual and cultural awakening that significantly changed Chinese values and thought. Some major political and social reforms in China that are still cherished and recognised as attributes to the May 4 movement are-
Anti-Imperialist and anti-Warlord Feelings: The Movement stoked a genuine anti-imperialist feeling among the Chinese. It stepped up the fight against foreign meddling and prepared the way for the eventual downfall of imperial control. The Movement also helped reduce the influence of warlords by exposing their corruption and incompetence, further damaging their reputation among the populace.
Founding of Communist Party in 1921: The Chinese Communist Party (CCP) was established mainly due to the May 4th Movement. Many academics and students identified with the Movement's emphasis on social justice, anti-imperialism, and the empowerment of the working class. Therefore, this Movement offered a favourable environment for the propagation of communist doctrine, resulting in the CCP's founding in 1921. The party would later be crucial in determining the course of China's development.
Anti-Japanese Sentiments: The Movement also stoked prejudice towards the Japanese, which is still present today. The Movement's hostility to the Treaty of Versailles's unfair treatment of China, particularly the transfer of German concessions in Shandong to Japan, strengthened a sense of national outrage towards that country. This attitude was the impetus for later resistance to Japanese aggression, culminating in the Sino-Japanese War (1937–1945), and the present that hate that since liberation was kept alive by CCP leaders especially Mao Zedong and Xi Jinping. 
Large-scale but not widely supported – Controversies & Criticisms of May 4th Movement
Despite its enormous support and influence, the May 4th Movement came under fire from 
several groups, notably Chinese Muslim Community and Kuomintang (KMT) – affiliated nationalists. 
The Chinese Muslims & ethnic groups were concerned about the Movement's emphasis on Westernisation and rejection of traditional values, most notably by people in Northwest China. They felt that the calls for a secular society and the adoption of modern ideas were in opposition to Islamic doctrine and cultural norms. Chinese Muslims saw the Movement as a potential danger to their identity and way of life since they connected so closely with their religious and cultural history. They were concerned that the emphasis on Westernisation might undermine their Islamic principles and push their communities to the margins.
The KMT Nationalists under the leadership of Chiang Kai-shek criticized the Movement's extremism and connection to communist philosophy. Chiang and other KMT members thought the Movement's focus on the class struggle and worker emancipation would erode social stability and impede national unity. They said that the Movement's emphasis on urban intellectuals ignored the requirements and ambitions of the rural masses, who comprised most Chinese citizens. As a danger to Chinese culture and social order, the KMT also criticized the Movement's rejection of traditional Confucian principles.
A revolution is not a dinner party, or writing an essay, or painting a picture, or doing embroidery; it cannot be so refined, so leisurely and gentle, so temperate, kind, courteous, restrained and magnanimous. A revolution is an insurrection, an act of violence by which one class overthrows another.

– Mao Zedong
Despite the criticism, it is essential to note that the May 4th Movement it must be accepted that the Chinese history underwent significant change during this Movement. It brought about substantial political, social, and cultural transformations that influenced the development of contemporary China. The Movement's legacy still impacts Chinese society today and represents youth activism, pride in one's country, and the desire for social change.