A study by Council on Energy, Environment and Water (CEEW) found that the frequency, intensity, and unpredictability of extreme events have risen in recent decades in India. 
India is highly exposed to natural disaster risks. According to a study released on Thursday by the Council on Energy, Environment and Water (CEEW), over 75 percent of districts in India are claimed to be hotspots of extreme climate events such as cyclones, floods, droughts, heat, and cold waves. It is also believed that the frequency, intensity, and unpredictability of these extreme events have also risen in recent decades.
These 75 percent of districts which are the hotspots of extreme climate events, holds a population of more than 63.8 crore people. This recent study comes out to be interesting and important because it is the first time that extreme weather event hotspots in the country have been mapped.
Since 2005, there has been an unusual spike in the number of occurrences of natural disasters, and these districts are bearing the effects of changing microclimate with loss of property, livelihoods, and lives. Hinting at the degrading environmental conditions, the study pointed out that India witnessed 250 extreme climate events in 35 years between 1970 and 2005, and recorded 310 extreme weather events after 2005.
Just after the United Nations Environment Programme's Emissions Gap Report 2020 released on Wednesday warned that the world was heading for a temperature rise of over 3 degree C this century, the Council on Energy, Environment and Water (CEEW) released its study that highlighted that even with a 0.6 degree C rise in temperature over the past century, India is facing devastating consequences.
Frequency of floods in India:
In the last 50 years, the frequency of flood events increased almost eight times. While, events associated with floods such as landslides, heavy rainfall, hailstorms, thunderstorms, and cloudbursts increased by over 20 times. This clearly indicated that the frequency of floods surged significantly over the last two decades.
The study also revealed that there has been a seven-fold increase in the frequency of extreme floods in Maharashtra in the last 50 years. The study also stated that Mumbai alone has witnessed a three-fold increase in the frequency of extreme flood events over the span of the last 50 years.
In 2019, India witnessed 16 extreme flood events, which affected 151 districts. It is believed that over 9.7 crore people are currently exposed to extreme floods in India. After 2000, there has also been a rise in urban floods due to flawed urban planning, encroachments on wetlands, and deforestation.
Drought-affected areas in India:
The study pointed out that the yearly average of drought-affected districts increased 13 times after 2005 in India. There are around 68 percent of the districts that have faced droughts and drought-like situations. It is also estimated that until 2005, the number of districts affected by drought was six, but after 2005 this figure rose to 79.
Interesting trends:
An interesting trend that the study has highlighted is swapping of the nature of extreme events in some districts. Several traditionally flood-prone districts such as Cuttack, Guntur, Kurnool, Mahbubnagar, Nalgonda, Paschim Champaran, and Srikakulum are becoming drought-prone in recent years. Coastal southern Indian states such as Andhra Pradesh, Tamil Nadu, and Karnataka are increasingly witnessing more droughts. Further, floods and droughts coincide during the same season in several districts of Bihar, Uttar Pradesh, Odisha, and Tamil Nadu.
The study also found a shift in the pattern of extreme climate events such as flood-prone areas becoming drought-prone and vice-versa in over 40 percent of Indian districts.
Microclimatic changes across the Indian subcontinent are triggered by local climate change catalysts such as land-use-surface change, deforestation, encroachments upon mangroves, and wetlands have been cited as the primary reasons for occurrences of natural disasters.
Witnessing all these climate changes, the study recommended certain key points to tackle the climate change menace in India. The recommendations involved developing a climate risk atlas to map vulnerable areas, designing an integrated system to facilitate systematic response to emergencies, and investing in ideas promoting climate-proof lives and livelihoods.
President Joe Biden's Conversation with the Cambodian Prime Minister Hun Sen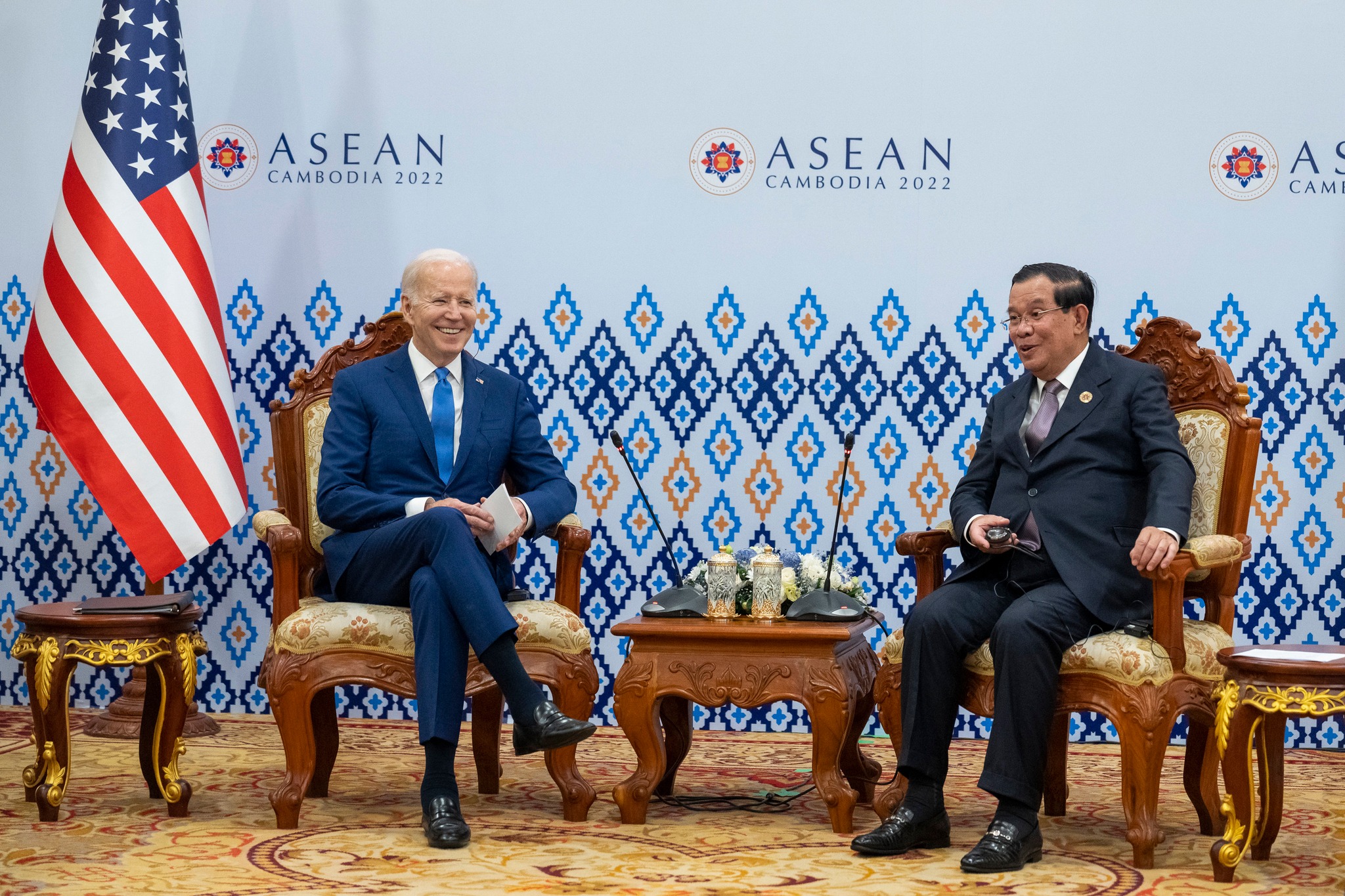 President Joe Biden landed in Cambodia on Saturday and supported the ASEAN nations. Before the eagerly anticipated Group of 20 summits next week in Indonesia, where Biden will meet with Xi for the first time in person since he took office, there will be a weekend of meetings in Cambodia. Before meeting with Xi, the president can engage with US allies at the ASEAN summits and the East Asia Summit on Sunday, both in Phnom Penh.
The US-ASEAN Comprehensive Strategic Partnership, which, according to Biden, "will tackle the biggest issues of our time, from climate to health security, defend against the significant threats to rule-based order and threats to the rule of law, and build an Indo-Pacific that's free and open, stable and prosperous, resilient and secure," was announced as "another critical step" toward building on the group's progress during his remarks at the summit. He cited a budget proposal for $850 million in support for Southeast Asia while praising the US's current financial commitments to ASEAN.
"This is my third journey and third summit, my second in person." The value reflects the United States' commitment to our relationship with ASEAN and our dedication to the region's centrality. The core of the Indo-Pacific strategy of my administration is ASEAN. In his opening remarks to the meeting, Biden said, "And we continue to reinforce our resolve to work in lockstep with an empowered, united ASEAN."
To build on the ASEAN leaders' conference in Washington earlier this year, the president's first meeting in Cambodia was with Prime Minister Hun Sen of Cambodia.
From the beginning of his presidency, Biden "was intent on elevating our engagement in the Indo-Pacific," according to national security adviser Jake Sullivan, and his attendance at the ASEAN and East Asia summits this weekend will highlight his accomplishments to date, including the Indo-Pacific Economic Framework unveiled earlier this year and security partnership initiatives.
"He's coming into this series of summits with that track record of success and purpose behind him, and he wants to be able to use the next 36 hours to build on that foundation to move American engagement forward, as well as to deliver several actual, practical initiatives," Sullivan said.
New initiatives on maritime cooperation, internet connectivity, and economic investment are some of these valuable measures, according to Sullivan. He added that Biden will soon begin a new maritime initiative that will "focus on using radio frequencies from commercial satellites to be able to track dark shipping, illegal and unregulated fishing, and also to improve the capacity of the countries of the region to respond to disasters and humanitarian crises."
Further, he added, Biden will also emphasize a "forward-deployed posture" toward regional defense to demonstrate that the US is actively pursuing security cooperation.
Biden also mentioned a brand-new US-ASEAN electric car infrastructure program during his speech.
He described the project as "a collaborative effort to build an integrated electric car ecosystem in Southeast Asia, enabling the region to achieve sustainable energy, economic growth, and ambitious emissions reduction targets."
Discussions on coordination "to continue to impose costs and build pressure on the junta" will also be centered on Myanmar, which was the subject of a February 2021 coup that ousted the country's democratically elected government.
Key Highlights
Concerns raised by Biden regarding Chinese activity at the Cambodian Ream Naval Base. The president expressed concern over the circumstances at Ream Naval Base and emphasized the value of complete transparency regarding the PRC (China's) military activities there.
The US President congratulated Cambodia's Prime Minister for backing Ukraine at the UN and spoke about the turmoil in military-ruled Myanmar.
President Biden also conveyed his gratitude to Cambodia for supporting resolutions at the UN to defend Ukraine from the brutal assault of Russia.
He thanked Cambodia for holding the ASEAN helm through a trying year.
The leaders "reflection on the historic US-ASEAN Special Summit's success in Washington, DC and applauded plans to establish a US-ASEAN Comprehensive Strategic Partnership at the annual US-ASEAN Summit later that day."
Along with the ASEAN Five Point Consensus, they also discussed the crisis in Burma and ASEAN's reaction, highlighting the international community's crucial role in restoring of democracy and stability in Burma.
In addition, Biden urged releasing activists like Seng Theory and a dual US-Cambodia citizen arrested on politically motivated allegations. The commitment of the United States to the Cambodian people and their goals for a more wealthy, democratic, and independent nation was reaffirmed by President Biden.