Inspired by the Global seed vault, Oreo decided that it does not want to take any chance when it comes to their cookies.
Did Oreo just get itself a doomsday bunker? I am sorry but doomsday does not have to be boring or scary. Especially if you have oreo cookies to dunk in milk.
Have you heard about the Svalbard Global Seed Vault? It is a secure seed bank, 1300 kilometers beyond the Arctic Circle. It is the world's largest secure seed storage, opened by the Norwegian Government in February 2008. It acts as the last line in food security against the extermination of plant life on earth. It is a backup for the million species of grains stored inside. The UN Food and Agriculture Organization (FAO) provides important international backing to it.
All this is fine but what about cookies? Oreo took it upon itself to save humanity from oatmeal cookies.
Where did it all begin?
Roughly around April, there was a lot of chitter-chatter around the asteroid that would be heading towards Earth a day before the election day in the USA. People started hyping 2018VP1, the asteroid even more in recent days.
The threat is absolutely real but has a very slight and thin chance of harming anyone. NASA announced that the asteroid only has a 0.41 percent (1 in 240) chance of entering Earth's atmosphere at all. It certainly will pass.
NASA pointed out that this asteroid wouldn't cause any threat since "it would disintegrate due to its extremely small size."
While there were a lot of speculations, rumours, and buzz around this asteroid, some people decided to ask the right questions.
Same Olivia, same. We feel you. Olivia tweeted this on October 3rd and Oreo came up with a response I am sure no one would have thought of.
The Oreo Vault
The brand and its parent companies made an asteroid proof bunker for these sandwich cookies. Located on a completely frozen ground at cordinates 78°08'58.1″N, 16°01'59.7″E, it is quite near to the infamous seed vault.
The company and the creators went a step ahead. The vault consists of Oreos, the oreo recipe, and milk powder (you can add snow into it).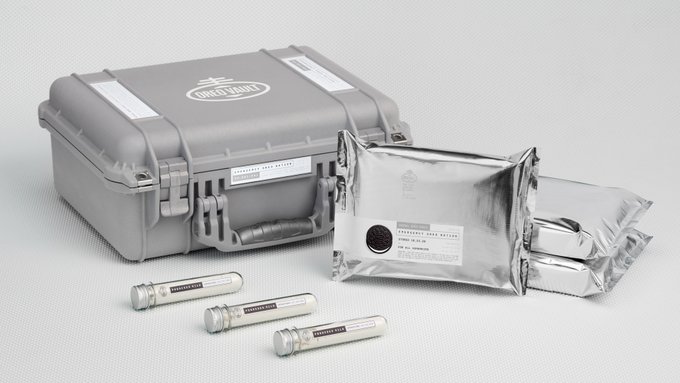 As an added measure as announced by Oreo, the Oreo packs are wrapped in mylar, which can withstand temperatures from -80 degrees to 300 degrees Fahrenheit and is impenetrable to chemical reactions, moisture, and air, keeping the cookies fresh and protected for years to come.
You can watch more about the vault here.
Media
Conversations on and around brands are quite helpful on twitter. They help the brand in longer term, twitter reports suggest.
If oreo was going to be prepared for the apocalypse, it sure was suggesting others to join in too. Some of the brand interactions were with, Sunny delight, Chips Ahoy, Flex Seal, Dunkin Donuts, and more.
The campaign was done by Advertising agency: The Community
Social: 360i
PR: Weber Shadwick
Twitter verdict:
A lot of people enjoyed and were mind-blown by this PR stunt and there were only a few that utterly bashed Oreo for doing it.