The recent comments made by French President Emmanuel Macron in connection with the murder of a French history teacher has now caused a global debate, accusing Macron of Islamophobia.
It all started on October 16, when French history teacher Samuel Paty was beheaded by an 18-year-old for showing cartoons of the Prophet Mohammed in class. Since then, French President Emmanuel Macron has commenced a war against radical Islam in his country. Macron's statement for waging a determined battle against Islamic terrorism following the assassination of a school teacher has irked criticisms from many countries who consider themselves to be the leader of the Islamic bloc.
Comments made by the French President after the murder of Samuel Paty by a radicalised teen has sparked a massive global debate. Macron's statement against Islamic radicalisation has been intensified after Turkey's President, Recep Tayyip Erdogan questioned the French President's mental health. Also, hashtags like #BoycottFrenchProducts and #BoycottFrance started surfing through the internet, escalating the tensions between France and Muslim countries like Turkey and Pakistan.
French school teacher beheading:
The 18-year old assailant was shot by police as they tried to arrest him. Later, he succumbed to injuries. French teacher Samuel Paty was beheaded on October 16 outside his school for showing students the cartoons of the Prophet Mohammed. The killing was later named as an Islamist terrorist attack by French President Emmanuel Macron. According to the reports, the killer who beheaded the French history teacher was also in contact with a jihadist in Syria.
According to the reports, the French anti-terror prosecutors said that they treated the assault as "a murder linked to a terrorist organisation." Soon the incident gained momentum against Islamic violence in France. Earlier also, with the 2015 terror attack on the satirical magazine Charlie Hebdo and the terrorist attack on the Bastille Day in Nice in 2016, the wave of radical Islam was quite visible in France. In the past five years, more than 250 people lost their lives in terrorist attacks in France.
French President Emmanuel Macron also called the incident an Islamist terror attack and clearly stated that there is no longer a place for radical Islam in France. The statement that came from the President gained a lot of criticism from Islamic countries, but Macron adhered to his words and is targeting "radical Islam" with a proposed bill in the parliament of France.
President Macron to fight Islamist separation via law:
Even before the incident of the beheading of the school teacher happened, seeing the wave of radical Islam in France, Emmanuel Macron early during the month, announced his plans to outlaw "Islamic separatism" among communities because he believes that religious laws are taking over the civil laws in the country.
As per the reports, if the bill gets passed, it will empower the authorities to shut down schools and associations that propagate indoctrination among children. The bill is aimed to improve public services in poor suburbs and will also monitor foreign investment in religious organisations in France.
It has been viewed that France's working-class suburbs in the past few years are becoming a fertile recruiting ground for Islamist groups, and therefore President Macron once said, "There are few groups present in the country that practice radical forms of Islam and are trying to create a parallel society in France governed by different rules." He, therefore, believed that it has now become very important to take out this Islamic separatism from their land in order to protect it.
After the bill was introduced, Macron even cleared that the bill isn't going to target the entire Muslim community of France. He also claimed that the French government since the past few years was trying to tackle the issues relating to radical Islam. It was also reported that the Government of France will also closely work with the French Council of Muslim Faith, which is an elected body intended to provide national representation for the Muslim community.
France trying to build its own brand of Islam:
Islam is the second-widely professed religion in France after Christianity. France has the largest number of Muslim populations in the western world. The French government is widely popular to introduce new laws for Muslims in the country. In 2010, France introduced bans on wearing a veil in public areas.
It is considered that since then, the social and economic alienation of French Muslims has only deepened. And with the passage of the Islamic separatism bill in France, there is a risk of escalating tensions between the Muslim groups in the country and the authorities. Therefore, France will have to move very carefully in order to prevent any such backlash.
Some experts through these laws and regulations believe that France is trying to build its own brand of Islam. This has been done by Saudi Arabia, Turkey, in the past and now China is also trying to bring its own version of Islam through sinicising Islam through concentration camps in Xinjiang. Although, France is the first country to bring a law to build its own version of Islam.
Muslim world condemns Macron over his treatment of Islam:
France considers religious satire to be permissible under the freedom of expression, but many Muslims perceive it as an attack on their prophet and consider it as a grave offense. The French President believes in the fact that the beheaded teacher was the victim of stupidity and hate.
Numerous countries in middle-east, which are dominantly Islamic states, calls its citizens to boycott French products and demonstrate against France via social media. Many countries, especially Turkey and Pakistan have now gone into hateful terms with France.
Turkey's President Tayyip Erdogan on Emmanuel Macron's take on radical Islam in the country commented that the French President had "lost his mind", and has questioned his mental health. In response to all the statements that the President of Turkey made against Emmanuel Macron, the French government recalled their ambassador to Turkey.
Adding fuel to the fire, Pakistan's parliament also passed a resolution urging the Pakistani government to recall its envoy from Paris over the publication of images of the Prophet Mohammad in France, accusing President Macron of "hate-mongering" against Muslims.
Prime Minister of Pakistan, later tweeted, "It is unfortunate that he has chosen to encourage Islamophobia by attacking Islam rather than the terrorists who carry out violence, be it Muslims, White Supremacists or Nazi ideologists. Sadly, President Macron has chosen to deliberately provoke Muslims, including his own citizens."
At the same time, Imran Khan also wrote to Facebook CEO Mark Zuckerberg seeking a ban on Islamophobic content similar to the prohibition put for the Holocaust on the social networking site.
Iran's Foreign Minister Javad Zarif also wrote on Twitter, "Muslims are the primary victims of the 'cult of hatred' – empowered by colonial regimes & exported by their own clients. Insulting 1.9 billion Muslims and their sanctities – for the abhorrent crimes of such extremists is an opportunistic abuse of freedom of speech. It only fuels extremism."
In Deir al-Balah in the Gaza Strip, Palestinians burned portraits of Macron, calling his remarks "an attack and an insult against Islam". While Jordan's Islamic Affairs Minister Mohammed al-Khalayleh said that insulting prophets was "not an issue of personal freedom but a crime that encourages violence."
Assassination of Shinzo Abe & Salman Rushdie – Know Real Facts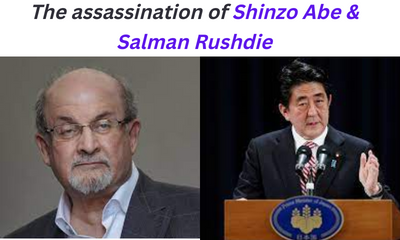 The months July and August of 2022 saw two cases of extermination to promote the fear of terrorism. One of the assassination of Shinzo Abe former Japanese Prime Minister, and another of the famous Novelist Salman Rushdie.
Shinzo Abe succumbed to a gunshot wound, whereas Rushdie's health conditions are improving and he is under medical supervision after the knife attack. However, various assassination attempt of Salman Rushdie has been made during the year.
These two terror acts force us to think about the impact of terrorism on society, the main objective of which is to create an atmosphere of fear so that citizens of the country cannot rely on their government.
This ultimately disturbs the law and order of the society, and serves the terrorists' purpose of creating a chaos.
Here we will see how these two attacks had different reasons but the objective remained the same – to stop someone from propagating his/her opinions independently, and also the factors that make attackers indulge in such acts.
Assassination Attempt of Salman Rushdie – Satanic Controversy
On 12 August 2022, Rushdie was attacked several times by a 24-year-old man Hadi Matar. The attacker's intentions can be linked to Rushdie's fourth novel, The Satanic Verses, published in 1988. Some Muslims considered the novel disrespectful towards Prophet Mohammed.
Soon after its publication, the novel sparked a 'fatwa' or a religious decree. The Iranian revolutionary leader Ayatollah Ruhollah Khomeini called for Rushdie's death in 1989. After, this various assassination attempt of Salman Rushdie has been made.
Complete conversation for Salman Rushdie Assassination:
When asked about the attack Hadi Matar said, "I don't like the person. I don't think he's a very good person. I don't like him very much". He further criticised Rushdie's work by saying, "He's someone who attacked Islam, he attacked their beliefs, the belief systems". Mr. Matar also told New York Post that he had only read 'a couple of pages' of the book and did not tell about whether the fatwa had inspired him or not.
While praising the Iranian religious leader, he stated, "I respect the Ayatollah. I think he's a great person. That's as far as I will say about that".
One can observe that the psychology of the attacker was that he simply disliked the novelist because of his work; although he read only two pages of the novel, but was rather influenced by the religious leaders and their sayings. Just, like this the assassination of Shinzo Abe has been made during this year, which we will discuss on next section.
Perceptions like these can have a long-lasting impact on future generations which can further deteriorate the situation. Violent acts like this demand proper scrutiny of the dissemination of information.
Extremists take advantage of such incidents and brainwash the young minds so that they can be used by them for their selfish purposes.
Assassination of Shinzo Abe – Complete Truth
On 8 July 2022, it was just another day of Abe's political campaign for the upcoming parliamentary elections. He was delivering a speech in Nara City, but no one is the aware about the assassination of Shinzo Abe that day. When a 41-year-old Tetsuya Yamagami shot him twice from behind from a distance of about 10 meters.
During the investigation, he confessed his intentions of killing and it was found that his motives had more to do with religious backing instead of a political reason.
It so happened that Yamagami's mother was a member of a religious group which she joined after her husband's death in 1998. She used to donate huge amounts of money as charity to the group, after the assassination of Shinzo Abe and Yamagami blames the sect for bankrupting his mother.
Confession Statement on Abe Case
The report reveal that Abe was closely associated with the sect, and wanted to take revenge against him for promoting it. "The suspect stated that he held a grudge against a particular organisation and that he committed the crime because he believed former Prime Minister Abe had a connection to it", a senior police officer in Japan's Nara region told reporters.
While the police hasn't given any clarification regarding the unidentified organization, social media in Japan has it that it could be the Unification Church.
Yamagami was unemployed, felt isolated in society, was against religious preaching and blind faith, and wanted to kill the leader of the religious organization but couldn't. One can see the psychological aspects of it that, the killer was anguished with the organisation and blamed them for his conditions and economic turmoil.
Ultimately his grudge converted into a motive of taking revenge for his loss and he did that by killing the perpetrator of the religious group, to give a message to the society and the world that one should avoid themselves from joining or contributing to such groups.
Japan has the strictest gun laws after the assassination of Shinzo Abe , so to bypass such stringent laws the killer used a handmade gun. The occurrence of such incidents in the island nation shows how much resentment the killer has and how strongly he was motivated to commit the murder.
Such incidents are eye-openers for the society that someone's freedom of belief can become others' pain, and teaches that as a society we should try to maintain a balance between them.
Two Paths to Crime
The above two accidents of assassination of Shinzo Abe, and the assassination attempt of Salman Rushdie has been terrifying for the country. First, being a part of a religious group the killer face hardship in his life, which forced him to commit the crime. In the second instance, the attacker got the impression that his religion is being targeted and that it is his responsibility to take revenge so that next time no one dares to do anything like that again.
Interpretation of things based on pre-assumed thoughts can lead to revenge, and revenge based on half-baked knowledge causes harm to the whole humanity, and not just the particular group concerned.