A brand-new field of transdisciplinary research known as virtual reality (VR) is quickly taking shape. Its application has expanded beyond academic study in recent years, and the industry is now making large expenditures in this area for research and producing numerous VR-based goods. Many different industrial sectors, including information technology, biomedical  engineering, structural design, and training aids technology, are investing in this technology. The military industry, constantly searching for innovative ideas, is slowly but surely becoming one of the most prominent investors in VR. Read more to know the advantages of VR in military training.  
The Concept of Virtual Reality 
Virtual reality (VR) has its roots in science fiction books and essays, just like many other  scientific discoveries. With the development of a device called Sensorama, which essentially was  a game providing the player a sense of riding a motorcycle on the streets, the first VR experience  occurred in 1962. Morton Heilig, a professional cameraman, devised this. He wanted to create a  virtual experience that would include all five senses. Since then, VR has primarily established  itself in the entertainment industry, especially for creating video games and films. The virtual  reality field is expanding significantly outside the entertainment sector and encompasses a wide  range of concepts in the general technology realm. It may take more work to explain VR in  precise words because of how involved this technology is. 
Also Read: The Rise of the Metaverse
Effectiveness of Virtual Reality in Military  
It is common knowledge that technology is crucial to any nation's military effectiveness. The  adoption of new and emerging technology promises to create a military force that is qualitatively  superior and capable of combating both conventional and asymmetrical threats. The main uses of VR in defense and security are to enhance officer and soldier training and to simulate military missions and operations 
Advantages of Using VR in Military Training 
1. Despite reductions in the national defense budget, it is a workable, affordable alternative.  Indeed, unlike live training, virtual training doesn't call for using actual weapons and supplies.  The introduction of technological and doctrinal changes in the armed forces is addressed by  military concepts like the revolution in military affairs (RMA), which are dynamic. Numerous  new RMA technologies have been introduced in the armies due to a recent transformation in the  information and communication technology (ITC) industry. Incorporating the byproducts of  various technological advances like nanotechnology, biotechnology, robotics, cognitive sciences,  and a few others into military strategy is a practice of modern militaries. Military technologies  use various computer simulations of systems to perform operations on the simulated system and  demonstrate the impacts in real-time. 
2. Military personnel can engage in various simulations with VR without incurring related  costs, drastically cutting training budgets. Virtual reality (VR) may immerse a learner in multiple  settings, circumstances, or scenarios. It can impart knowledge, develop skills, and offer a  priceless experience that will be helpful in the real world. Without incurring the related real world flight fees, trainees might use virtual reality to simulate a parachute drop and become more  conscious of the sensation and disorientation of jumping from an airplane. They can be put in  fighter jets, submarines, tanks, or armored vehicles to feel confined spaces. To learn how to recognise enemy soldiers or search for IEDs, they can be thrown into the middle of a real battle zone or taken on a patrol through a risky area.  
3. It is helpful to gain context and locational awareness of scenarios that are challenging to  duplicate without incurring a considerable cost when engaging in novel places and activities for  the first time, such as a jungle boat invasion or an ice expedition. Additionally, VR can be used more passively to treat PTSD or provide  recruits with a virtual "boot camp" experience to help them settle into military life more swiftly  and with less fear. 
4. Military educators can tailor the information presented to learners by using VR headsets to create a variety of training scenarios. Using straightforward web browser controls, trainers  may build unique content from real-world footage and offer it to individuals or groups using the VR portal, which allows the upload and transmission of any 360-degree image or video. The  technology enables headsets to be standalone devices that don't need to be physically connected  to PCs, allowing the wearer to walk around without restriction negating the need for a network or wireless  connection. 
5. VR can be used in the recovery process for post-traumatic stress disorder. It is feasible  to create the traumatizing incident while maintaining the subject's utmost safety, allowing him to  relive the event in virtual reality and conquer his phobias (ibid). Virtual reality simulation is a  crucial component of military training applied across many military domains. For instance, it  may replicate any vehicle, simulating modern ground vehicles to give soldiers a sense of how they move and look. Additionally, it allows soldiers to practice playing any position they would  have on that vehicle, such as a driver or gunner. 
Conclusion
Although VR won't replace live training, virtual training will play a more significant part in the  military training industry. It can aid warriors in developing experience and situational awareness  while decreasing training costs and raising training safety.
When a Chinese Spy Balloon Made UFOs, a Matter of Grave Concern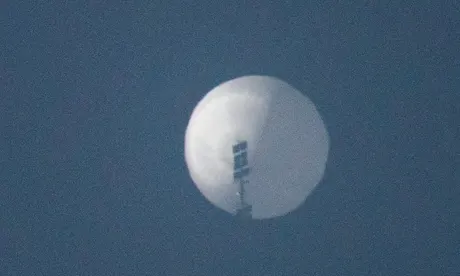 A year back, if someone told you that they spotted a "mysterious looking, white, balloon-shaped object" in the sky…you would have probably rubbished it, right? But what about today…how would you react to a news of 'mysterious balloons in the sky'? With a lot of concern, I presume…and rightly so! In this article we have discussed the incident of Chinese Spy Balloon aka Unidentified Flying Object.
From January 28 to February 4 this year, a giant white balloon was sighted across various parts of the North American airspace. This balloon, that was said to have traveled across South Korea, Japan, Alaska, Canada, and the contiguous United States, was later accepted by the Chinese government to be one of theirs – a Chinese 'Meteorological' Balloon that had drifted off-course due to the westerlies.
"The airship is from China. It is a civilian airship used for research, mainly meteorological, purposes. Affected by the Westerlies and with limited self-steering capability, the airship deviated far from its planned course."

– Chinese Foreign Ministry Spokesperson's Remarks on the Spy Balloon on 03 Feb 2023
But the American and Canadian intelligence services had different opinions – they claimed that the balloon was an instrument of surveillance which were endangering peace and security of these nations. On February 3, USA's Department of Defense reported that a second Chinese balloon was flying over Latin America, which China also claimed as its own. Following orders from U.S. President Joe Biden, the US Air Force shot down the balloon on February 4 in the Atlantic Ocean off the coast of South Carolina. 
But peace was not restored. The spy balloon incident has opened the pandora's box and the intelligence agencies now find themselves thinking on many fronts.
Before we dive into this, let's talk about China's "Civil-Military Fusion" program, under with such emerging technology is being developed.
China's National Strategy of Civil-Military Fusion (CMF)
"China encourages joint building and utilization of military and civilian infrastructure, joint exploration of the sea, outer space and air, and shared use of such resources as surveying and mapping, navigation, meteorology and frequency spectra. Accordingly, military and civilian resources can be more compatible, complementary and mutually accessible."

– China's Military Strategy, May 2015
To fulfill the Chinese goal of becoming a "world class military" by 2049, the Chinese government accelerated its program of CMF in 2015. Under this program, advanced technologies like Quantum Computing, AI, Big Data, nuclear, space and near-space technologies would be developed by exploiting both civilian and military capabilities. The importance of this Military Civilian Development Program can be identified by the fact that the President of the country, Xi Jinping, himself controls and oversees its progress. 
But why has the CCP government opted for this civilian-owned militarily empowered program? The reason is quite simple – 
If Caught – The government has the option to claim innocence by citing civilian–error and proving that there is no relation to the government or military. 
If Successful – The government successfully has access to the sensitive data of adversary and may weaponize this information as and when required for their benefit.
Now let's take another look at the Chinese Foreign Ministry Spokesperson's Remarks on the Spy Balloon –
"The airship is from China. It is a civilian airship used for research, mainly meteorological, purposes."
There should be no doubt that China's recent 'meteorological' balloons are a by-product of it's Civilian-Military Fusion program. The claim that the balloon's purpose was to spy on military installations in the Pacific region, cannot and should not be swiftly rejected. 
In the past few weeks, the North American Aerospace Defense Command has shot down four objects, and there are rumors of another balloon floating over the Middle East. What was once claimed to be a "civilian airship used for research, mainly meteorological, purposes", is now recognized as a component of a vast surveillance program.
Regardless of the quantity or caliber of the balloon's data gathered while flying over the United States, the controversy surrounding it has grown into an international incident, with multiple claims of similar "UFO" sightings all over the world – Japan, India, Taiwan, Colombia and list goes on.
What damage could the China's Spy Balloon inflict on the countries? Should we be bothered?
Let's answer the 2nd question first, should the spying balloon matter to us? 
YES, it definitely should. 
 It is no surprise that most members of Generation Z are unconcerned about data privacy, since they are so accustomed to being watched. In fact, a prevailing thought during a discussion about the balloon was, "Oh, the U.S. probably has comparable programs in China." The idea of a foreign competitor power gathering surveillance data on them therefore doesn't seem that terrifying to young people since. 
But, let's not forget this balloon was flying over the country's military areas, significant bases and important sites. 
Now let's come to the first question, what is the extent of damage that this balloon could cause? – Well, for this we leave you with two opinions to deliberate and make your own judgement.
Opinion 1
First, the chances of electronic surveillance to identify and possibly disrupt sensitive military communications cannot be ruled out at all. Second, is the possibility of cyber espionage or sabotage. With the cyber-skills and hacker army available with China's People's Liberation Army (PLA), it is a possible that this 'balloon-voyage' was a mere precursor to a full-fledged hybrid war. Third, the spy balloon could be a test, aimed to establish the reaction ability and potential of intelligence agencies worldwide. 
Opinion 2
Human brain is wired in a way to look at a shocking event with fear and assume that worst has happened. Therefore, had the Chinese diplomat in USA immediately met POTUS to explain China's position and taken strict (and public) against the civilian owners of this balloon, the matter would have been resolved peacefully without USAF interference. Diplomatic dialogue, should have been China's response, and not escalating the situation with threats – let's be clear 'cold-war' scenario, does more damage than good.
What's Next For China & USA Relations?
Chinese spy balloon illegal intrusion into USA's airspace has further deteriorated relations between the two countries. With Secretary of State Antony Blinken indefinitely postponing his trip to China, all prospects for a detente between the two superpowers seems to be eliminated. 
The incident has also heightened tensions and has accelerated alliance formation, not very different from the pre-Cold war era of USA and USSR!
"I believe in evidence. I believe in observation, measurement, and reasoning, confirmed by independent observers. I'll believe anything, no matter how wild and ridiculous, if there is evidence for it. The wilder and more ridiculous something is, however, the firmer and more solid the evidence will have to be."

-Isaac Asimov