Drones or unmanned aerial vehicles (UAVs) are aircraft that do not require a human pilot onboard. They can perform various functions such as reconnaissance, surveillance, communication, or combat support. However, there is a special type of drone that is designed to be used as a weapon itself. These are called Kamikaze drones or loitering munitions. 
Kamikaze drones are aerial weapon systems that can loiter around the target area passively for a while before striking once a target is found. They explode when they contact the target and are loaded with explosives. Because their wings fold out as they are launched, they are also known as switchblades or suicide drones.
Various nations and actors have utilised kamikaze drones in an array of wars and crises. They have benefits like stealth, accuracy, cost-effectiveness, and drawbacks including vulnerability, moral dilemmas, and a finite range. They differ from UAVs in their use, functionality, and design. We shall examine the development, characteristics, uses, and implications of kamikaze drones in contemporary warfare in this article. 
Evolution of Kamikaze Drones
The concept of kamikaze drones is not new. It dates back to World War II when Japan used manned aircraft loaded with explosives to conduct suicide attacks against Allied ships. These were called kamikaze (divine wind) missions, and they caused significant damage and casualties to the enemy. However, the modern version of kamikaze drones emerged in the late 20th century, with the advancement of technology and miniaturization. 
The US was one of the first countries to develop and deploy loitering munitions, such as the Harpy anti-radar drone developed by Israel Aerospace Industries (IAI) in the 1980s. The Harpy could detect and destroy enemy radar emitters autonomously. Since then, several countries have developed and acquired their versions of kamikaze drones, such as Israel's Harop and Hero series, Turkey's Kargu and Alpagu series, China's CH-901 and WS-43 series, Iran's Raad-85 and Ababil-3 series, etc. Some of these drones can be launched from ground vehicles, aircraft, ships, or even soldiers' backpacks.
Kamikazes in the Russia-Ukraine War
In the Russia-Ukraine war, both sides have been using various types of drones and UAVs for surveillance, reconnaissance, communication, and combat support. However, since autumn 2022, Russia has been using a new type of drone that has caused significant damage and casualties to the Ukrainian forces. These are the Iranian-made Shahed-136 kamikaze drones.
What are Shahed-136 Kamikaze Drones?
The Shahed-136 kamikaze drones are loitering weapons that could fly independently or remotely to a target location and then detonate upon collision, destroying both the target and themselves. Russia refers to them as Geranium-2. They contain explosives in a warhead on their nose and are programmed to hover over a target until told to attack. The Shahed-136 has a wingspan of around 2.5m (8.2ft) and is difficult to detect on radar. It has a range of about 2,000 kilometres (1,240 miles) and an endurance of up to ten hours. It has a cargo capacity of up to 50kg (110lb) and a top speed of 250km/h (155mph). It can direct itself to its target using GPS or inertial navigation technologies.
How are Shahed-136 Kamikaze Drones Used by Russia?
Since October 2022, Russia has started utilising Shahed-136 kamikaze drones to target Ukrainian forces along the Donbas front line. Since then, Russia has launched over 300 drone strikes, killing over 200 soldiers and wounding over 500 more, according to Ukrainian sources. Russia has also targeted civilian infrastructure, including power plants, bridges, railroads, and factories. Russia frequently employs swarms of drones to overpower Ukrainian air defences and cause confusion and panic among troops. Drones are also used by Russia to offer real-time intelligence and guidance for artillery and missile attacks. Russia maintains that the drone operations are in response to provocations and violations of ceasefire agreements by Ukraine.
How is Ukraine Trying to Combat Shahed-136 Kamikaze Drones?
Ukraine has been trying to counter the drone threat by using various means such as small arms fire, heavy machine guns, portable anti-air missiles, electronic jamming devices, and counter-drones. However, these methods have proven to be ineffective or insufficient when faced with large numbers or high speeds of drones. Ukraine has also sought international assistance and support to enhance its air defence capabilities and acquire more advanced drones and UAVs. The US has said it is supplying Ukraine with 700 of its Switchblade kamikaze drones, but it is unknown whether any have been used. The US has also provided Ukraine with Javelin anti-tank missiles, radars, communications equipment, and training. Ukraine has also used its kamikaze drones to attack Russian targets in Crimea and inside Russian territory. In autumn 2022, Ukraine used kamikaze drones of some sort to attack a Russian military base in western Crimea, an airbase near Sevastopol, and ships in Sevastopol harbour. In December 2022, Ukraine used kamikaze drones for three separate attacks on airbases at Saratov and Ryazan – both hundreds of miles inside Russian territory.
Development of UAVs and Drones in the India-Pakistan Equation
India and Pakistan are two rival neighbours in South Asia who have been engaged in several wars and conflicts over the years. Both countries have been developing and acquiring UAVs and drone technologies for military and civilian purposes. However, there are some differences in their approaches and achievements in this domain. The following table summarizes the comparison of India and Pakistan in UAV and drone technology:
| Aspect | Pakistan | India |
| --- | --- | --- |
| Market size | Smaller and more focused on military applications | Larger and more diverse with potential use cases in various sectors |
| Talent pool | Smaller and more dependent on foreign partners | Larger and more independent with domestic innovation and development |
| Policy framework | Supportive but less transparent and consistent | Supportive and more liberal and progressive |
| Ecosystem | Vibrant but less mature and competitive | Vibrant and more mature and competitive |
| Strategic advantage | Higher due to geopolitical location and security interests | Lower due to geopolitical location and security interests |
| Import dependence | Higher for high-endurance and combat-capable platforms | Lower for high-endurance and combat-capable platforms |
| Cybersecurity threats | Higher due to hostile actors and weak systems | Lower due to hostile actors and strong systems |
| Ethical and legal issues | Higher due to autonomous targeting and accountability concerns | Lower due to autonomous targeting and accountability concerns |
India has a growing UAV and drone technology industry that is diverse and innovative in various domains and a supportive policy framework and a vibrant ecosystem of drone startups and companies. But with rapidly failing nations as neighbours, India must ensure all border security organizations are adept and capable of utilising these drones to maximum capability. 
The Few & The Fearless – Meet India's Marine Commandos aka MARCOS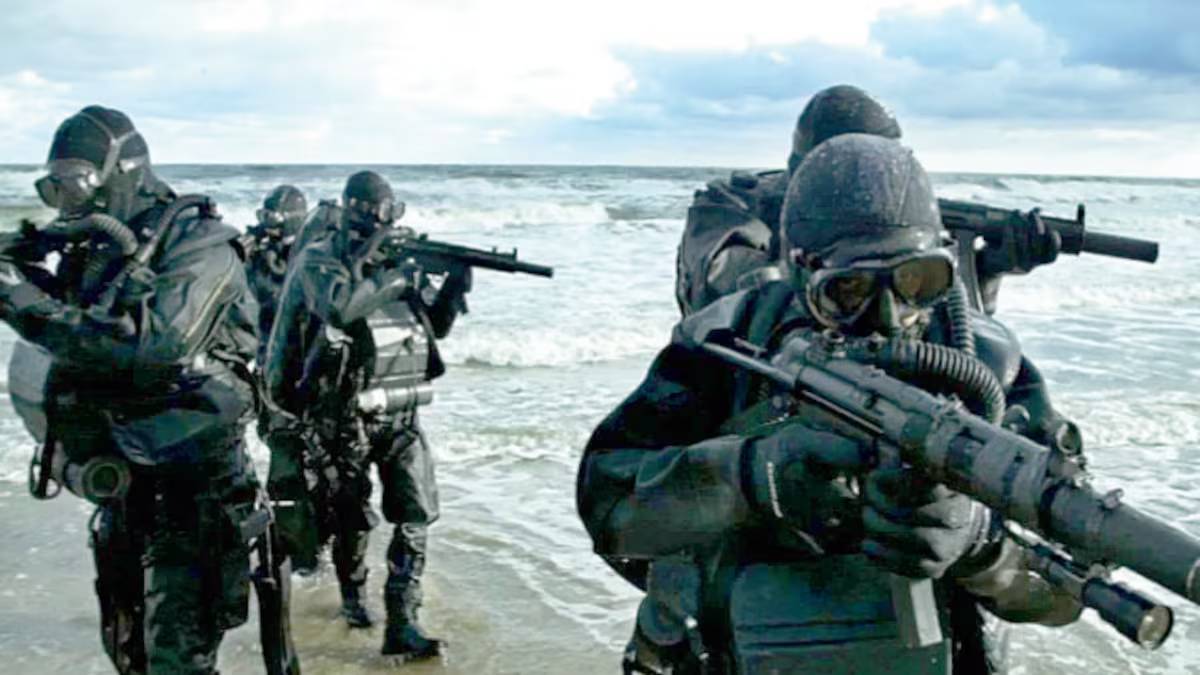 It is believed that if there is a ghost in the water, it must be a MARCOS.
Regarded as the crocodile of the Indian Navy, the Marcos or the Marine Corps of the Indian Navy is a naval infantry force that is tasked with amphibious warfare, coastal defence, and maritime security. 
The member of these corps can operate in all types of environments; at sea, in the air and on land, undertaking a wide range of missions, such as counter-terrorism, special reconnaissance, direct action, hostage rescue and unconventional warfare. 
They have earned a reputation for being one of the world's most elite and highly skilled special forces units, gaining names such as the 'Magarmach' (The Crocodiles), the 'Dadhiwala Fauj' (The Bearded Army) and the 'Tigers of Drass'.
India's Elite Naval Commando Unit – Who are the Marine Commandos aka Marcos?
Established in February 1987, the MARCOS was originally named Indian Marine Special Force, which was later changed to Marine Commando Force to impart "an element of individuality" to it. This corps came into existence after the Indian Navy realized the need for a special forces unit that could conduct maritime special operations and protect the country's vast coastline and strategic maritime assets. The Marcos were inspired by the US Navy SEALs and received training from them in the initial years. They also trained with other foreign special forces units such as the Russian Spetsnaz and the Israeli Sheeted 13. The MARCOS gradually developed their doctrine, tactics and equipment, and became an independent and formidable force.
In times of crisis, these troops achieved many feet which were deemed impossible. 
Here are some of the missions executed by Marcos.
Operation Cactus
A military intervention to foil a coup attempt by mercenaries on the Maldives in 1988.
In 1988, Marcos we're called on to intervene in the Maldivian crisis and prevent a military coup that was taking place. 
This operation was launched within hours of receiving the request from President Gaydom, who was under siege by a group of Maldivians led by businessman Abdullah Luthufi and aided by armed mercenaries of the People's Liberation Organisation of Tamil Eelam (PLOTE), a Tamil secessionist organisation from Sri Lanka. About 500 Indian paratroopers were airlifted from Agra to Malé, where they controlled the airport, crossed across to the capital in boats, and engaged the mercenaries in a heavy firefight. Off the coast of Sri Lanka, they also intercepted the hijacked cargo that was carried in the mercenary army.
The Marcos were not only successful in rescuing the Maldives' President but they also restored the country's rightful administration. 
Operation Leech
In 1998, a clandestine operation was carried out in the Andaman and Nicobar Islands to kill a group of Burmese insurgents involved in arms smuggling and drug trafficking.
Six rebel leaders were murdered and several others were captured by the MARCOS. A team of 12 MARCOS led by Lieutenant Commander Praveen Kumar invaded the island of Landfall, where the rebels had established a base. They pretended to be arms dealers and duped the insurgents into a trap. They then opened fire, killing six rebel leaders, including Wasanti, their leader. They also took several guns and explosives from the insurgents. 
The operation dealt significant damage to the rebel network and hindered their operations in the region.
Operation Pawan
In 1987-1990, a peacekeeping mission was launched in Sri Lanka to disarm Tamil insurgents and implement a cease-fire agreement.
Against the LTTE, the MARCOS performed amphibious raids, surveillance, and sabotage missions. This operation was part of India's engagement in the Sri Lankan Civil War, to resolve the ethnic conflict between the Sinhalese majority and the Tamil minority. The MARCOS and the Indian Peace Keeping Force (IPKF) were deployed to help the Sri Lankan government execute the Indo-Sri Lanka Accord, giving autonomy to the Tamil provinces. The MARCOS conducted many daring missions against the LTTE, who were hostile to the agreement, and continued its military battle for an independent Tamil state. 
The operation was difficult and controversial, resulting in heavy casualties for both India and Sri Lanka.
Kargil War
The MARCOS provided naval support and intelligence to the Indian Army and Air Force during the Kargil War of 1999.
They also played a vital role in providing naval blockade, surveillance and reconnaissance to prevent any Pakistani naval intrusion or assistance to their ground forces. They conducted a covert operation codenamed Operation Talwar, which involved landing on an unguarded beach near Gultari, where they destroyed a Pakistani supply base that was supporting their troops on Tiger Hill. 
The operation was a success and inflicted heavy damage on the Pakistani logistics. The war ended with India regaining control of all its territory and Pakistan withdrawing its forces under international pressure.
Operation Black Tornado
The most sophisticated and crucial mission in the history of the Indian military, was a counter-terrorism operation in Mumbai in 2008 to neutralize the attacks of 26/11.
The MARCOS stormed the Taj Mahal Hotel and engaged the terrorists in a fierce gun battle. The terrorist attack killed 166 people and injured over 300 others. The MARCOS were among the first responders to reach the Taj Mahal Hotel, where four terrorists had taken several guests and staff as hostages. The MARCOS entered the hotel from different directions and engaged the terrorists in close combat for over 60 hours. They faced several challenges such as a lack of communication, coordination and intelligence, as well as booby traps, grenades and fire set by the terrorists. They also faced criticism from some media outlets for their perceived delay and inefficiency. Despite these difficulties, they managed to kill all four terrorists inside the hotel and rescue most of the hostages alive. They also prevented any further damage or loss of life at other locations such as Nariman House and Oberoi Trident Hotel, where other security forces were involved in similar operations.
This operation was one of the longest and most complex urban counter-terrorism operations in India's history. 
Operation Cyclone
This operation was carried out after Cyclone Phailin, one of the strongest tropical cyclones ever recorded in India, made landfall near Gopalpur in Odisha on 12 October 2013.
The cyclone caused widespread damage to infrastructure, crops and livelihoods, affecting over 13 million people across Odisha and Andhra Pradesh states. The MARCOS were deployed along with other naval assets to provide relief and rescue operations to the affected areas. They used their boats, helicopters and amphibious vehicles to evacuate people from flooded villages, distribute food packets, water bottles and medicines, clear roads and debris, restore power lines and communication networks, repair damaged buildings and bridges, conduct medical camps and sanitation drives, etc. They also coordinated with other agencies such as NDRF, NDMA, state governments, NGOs, etc., for effective relief work. The operation was a success and helped mitigate the impact of Cyclone Phailin on millions of people.
Awards & Achievements of Marcos
While most of the work of these commandos is done in the shadows, some members of this troop have time to time given their life for the nation. 
Major Sandeep Unnikrishnan, Awarded the Ashoka Chakra, India's highest peacetime gallantry award, posthumously for his valour during Operation Black Tornado. He led his team in the Taj Mahal Hotel and fought terrorists in close combat, ultimately losing his life while trying to rescue an injured fellow commando. 
– Photo Unavailable
Lieutenant Commander Praveen Kumar, Awarded the Shaurya Chakra, India's third-highest peacetime gallantry award, for his leadership during Operation Leech. He and his team successfully infiltrated the island of Landfall, posing as arms dealers, and eliminated six rebel leaders.
Lieutenant Commander Abhinav Nagori, Awarded the Nao Sena Medal (Gallantry), India's fourth highest peacetime gallantry award, for his bravery during Operation Cyclone. He and his team used amphibious vehicles to rescue people from flooded villages in Odisha, distributing relief materials and restoring essential services.
The MARCOS are some of India's finest soldiers who have made significant contributions to their country's security and saved lives in various challenging situations. They are a force to reckon with in the Indian Navy and the Indian Armed Forces. They have proved their mettle in various operations and missions across the globe and have earned the respect and admiration from their counterparts and adversaries alike. 
These few and fearless marine commandos of the Indian Navy, are a source of pride and inspiration for the nation and its people.