Introduction
Upon tremendous triumph and success of Pakistan's military campaign "Operation Searchlight" (March-May 1971), the Mukti Bahini (Bengali local troops hailing from eastern Pakistan), resistance and protest against forceful accession crumbled to bits. The military campaign, driven under the able leadership of Pakistan's military dictator General Yahya campaign and his Junta, came out as victors in the said operation. The Bengalis in the eastern Pakistan province suffered an exponential loss of lives. Many leaders, intellectuals and students were captured and even massacred. Several soldiers, as well as officers which identified with the Bengali ethnicity, were murdered in broad daylight. The Mukti Bahini's defence and resistance was overpowered and outfought by the mammoth unquantifiable number of Pakistani troops. Running away and seeking refuge on Indian soil seemed to be the only option to save lives. As a result, with over a month of ensuing extreme chaos and catastrophe, East Bengal or East Pakistan was deemed to be "pacified" via Islamabad.
The resurrection of Bengali Fighters under the Umbrella of Indian Navy          
Many influential leaders of resistance groups along with local left-over fighters managed to escape the Searchlight. The influential leaders went ahead and set up a government-in-exile under the Indian Government aegis and planned to strike back at the invaders. The Bengalis were determined to wreak even more destruction and act in pursuance of strict vengeance. But since the government and the people were working under the enveloped Umbrella of the Indian republic, they were on a short leash. India did not want to enter into military combat with the then, America's closest ally without proper preparation as it did not want to revisit and relive the horrors of 1962 and 1965. Furthermore, the Pakistani Troops were no minnow. And to climb the eastern side of Bengal or Bangladesh was difficult. Evaluating these circumstances, it was a better thought decision from the Indian government to not make decisions reeling from vengeance and despair. Howbeit, India was keen on implanting surgical strikes as the neighbours' increased belligerence would not go unnoticed and unpunished.
Naval fourses join hands
Following the arrest of the former prime minister Sheikh Mujib Rahman, Bangladesh was declared as an independent state on March 26, 1971, by Major Ziaur Rahman. At the same time, Pakistani Navy officers were travelling to France to pick up freshly made submarines (PNS Mangro) for the country. It is imperative to note the voyage of sailors including 13 Bengalis. After the news of Bangladesh proclaiming independence, eight of the sailor comrades escaped before the sailors of Bengali ethnicity turned on them, as the air around the subject has been quite tense and the Bengali sailors have been extremely disturbed. As a result, the sailors left after the escape of eight comrades were inclined towards the Bengali's struggle and the quest for vengeance, and therefore after a harrowing journey of backstabbing and crisscrossing, the sailors reached India and joined the Mukti Bahini. While the new regiment of sailors was getting accustomed and acclimatized to the Mukti Bahini paradigm, the Indian Navy along with Mukti Bharti have already decided to command a naval operation to target Pakistani assets.
The Attack
Owing to the RAW's intel, India blocked the air route from West Pakistan to Bangladesh. As a result, only the sea route was open for Pakistan to exploit. Pakistan had to sever the sea route as it had to ferry thousands of soldiers and militia across Bangladesh. In pursuit of transportation, Pakistan also deployed its own special forces to intercept commandos of Mukti Bharti who came back to Bangladesh but gained minimal success. While Pakistani troops were busy in transportation and ferrying their soldiers, the Indian Navy in the early hours of 15th August, executed "Operation Jackpot". Nine ships in Chittagong were blown up to ash by limpet mines. The operation crippled the whole transportation program of Pakistan and strongly delivered the message that Bangladesh has not been "pacified" and the storm of resistance, defiance and vengeance is grilling.
The war under the land lasted for more than 3 months. By the end of November, the Indian Navy along with Mukti Bahini sunk over 100,000 tons of shipping and assets with minimal casualties caused to themselves. The Indian Navy further provided the commandos with gunboats and other arsenal resources to fuel up their artillery. Gradually, as the war paced up, Pakistani forces in Bangladesh were throttled, in a state of panic. The control of Pakistan shrunk to urban areas and consequently surrendered on December 16 after the last big blow of resistance forces on 3rd December. In conclusion, the nation of Bangladesh was born. 
When a Chinese Spy Balloon Made UFOs, a Matter of Grave Concern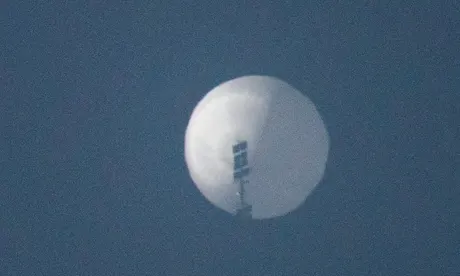 A year back, if someone told you that they spotted a "mysterious looking, white, balloon-shaped object" in the sky…you would have probably rubbished it, right? But what about today…how would you react to a news of 'mysterious balloons in the sky'? With a lot of concern, I presume…and rightly so! In this article we have discussed the incident of Chinese Spy Balloon aka Unidentified Flying Object.
From January 28 to February 4 this year, a giant white balloon was sighted across various parts of the North American airspace. This balloon, that was said to have traveled across South Korea, Japan, Alaska, Canada, and the contiguous United States, was later accepted by the Chinese government to be one of theirs – a Chinese 'Meteorological' Balloon that had drifted off-course due to the westerlies.
"The airship is from China. It is a civilian airship used for research, mainly meteorological, purposes. Affected by the Westerlies and with limited self-steering capability, the airship deviated far from its planned course."

– Chinese Foreign Ministry Spokesperson's Remarks on the Spy Balloon on 03 Feb 2023
But the American and Canadian intelligence services had different opinions – they claimed that the balloon was an instrument of surveillance which were endangering peace and security of these nations. On February 3, USA's Department of Defense reported that a second Chinese balloon was flying over Latin America, which China also claimed as its own. Following orders from U.S. President Joe Biden, the US Air Force shot down the balloon on February 4 in the Atlantic Ocean off the coast of South Carolina. 
But peace was not restored. The spy balloon incident has opened the pandora's box and the intelligence agencies now find themselves thinking on many fronts.
Before we dive into this, let's talk about China's "Civil-Military Fusion" program, under with such emerging technology is being developed.
China's National Strategy of Civil-Military Fusion (CMF)
"China encourages joint building and utilization of military and civilian infrastructure, joint exploration of the sea, outer space and air, and shared use of such resources as surveying and mapping, navigation, meteorology and frequency spectra. Accordingly, military and civilian resources can be more compatible, complementary and mutually accessible."

– China's Military Strategy, May 2015
To fulfill the Chinese goal of becoming a "world class military" by 2049, the Chinese government accelerated its program of CMF in 2015. Under this program, advanced technologies like Quantum Computing, AI, Big Data, nuclear, space and near-space technologies would be developed by exploiting both civilian and military capabilities. The importance of this Military Civilian Development Program can be identified by the fact that the President of the country, Xi Jinping, himself controls and oversees its progress. 
But why has the CCP government opted for this civilian-owned militarily empowered program? The reason is quite simple – 
If Caught – The government has the option to claim innocence by citing civilian–error and proving that there is no relation to the government or military. 
If Successful – The government successfully has access to the sensitive data of adversary and may weaponize this information as and when required for their benefit.
Now let's take another look at the Chinese Foreign Ministry Spokesperson's Remarks on the Spy Balloon –
"The airship is from China. It is a civilian airship used for research, mainly meteorological, purposes."
There should be no doubt that China's recent 'meteorological' balloons are a by-product of it's Civilian-Military Fusion program. The claim that the balloon's purpose was to spy on military installations in the Pacific region, cannot and should not be swiftly rejected. 
In the past few weeks, the North American Aerospace Defense Command has shot down four objects, and there are rumors of another balloon floating over the Middle East. What was once claimed to be a "civilian airship used for research, mainly meteorological, purposes", is now recognized as a component of a vast surveillance program.
Regardless of the quantity or caliber of the balloon's data gathered while flying over the United States, the controversy surrounding it has grown into an international incident, with multiple claims of similar "UFO" sightings all over the world – Japan, India, Taiwan, Colombia and list goes on.
What damage could the China's Spy Balloon inflict on the countries? Should we be bothered?
Let's answer the 2nd question first, should the spying balloon matter to us? 
YES, it definitely should. 
 It is no surprise that most members of Generation Z are unconcerned about data privacy, since they are so accustomed to being watched. In fact, a prevailing thought during a discussion about the balloon was, "Oh, the U.S. probably has comparable programs in China." The idea of a foreign competitor power gathering surveillance data on them therefore doesn't seem that terrifying to young people since. 
But, let's not forget this balloon was flying over the country's military areas, significant bases and important sites. 
Now let's come to the first question, what is the extent of damage that this balloon could cause? – Well, for this we leave you with two opinions to deliberate and make your own judgement.
Opinion 1
First, the chances of electronic surveillance to identify and possibly disrupt sensitive military communications cannot be ruled out at all. Second, is the possibility of cyber espionage or sabotage. With the cyber-skills and hacker army available with China's People's Liberation Army (PLA), it is a possible that this 'balloon-voyage' was a mere precursor to a full-fledged hybrid war. Third, the spy balloon could be a test, aimed to establish the reaction ability and potential of intelligence agencies worldwide. 
Opinion 2
Human brain is wired in a way to look at a shocking event with fear and assume that worst has happened. Therefore, had the Chinese diplomat in USA immediately met POTUS to explain China's position and taken strict (and public) against the civilian owners of this balloon, the matter would have been resolved peacefully without USAF interference. Diplomatic dialogue, should have been China's response, and not escalating the situation with threats – let's be clear 'cold-war' scenario, does more damage than good.
What's Next For China & USA Relations?
Chinese spy balloon illegal intrusion into USA's airspace has further deteriorated relations between the two countries. With Secretary of State Antony Blinken indefinitely postponing his trip to China, all prospects for a detente between the two superpowers seems to be eliminated. 
The incident has also heightened tensions and has accelerated alliance formation, not very different from the pre-Cold war era of USA and USSR!
"I believe in evidence. I believe in observation, measurement, and reasoning, confirmed by independent observers. I'll believe anything, no matter how wild and ridiculous, if there is evidence for it. The wilder and more ridiculous something is, however, the firmer and more solid the evidence will have to be."

-Isaac Asimov