1. Germany launches Indo-Pacific strategy giving key importance to India
Germany launched its Indo-Pacific strategy with India. Berlin also announced that it will work to maintain rules-based order together with partners in the Indo-Pacific region. To this end, it will cooperate with India and Japan for UN Security
"As an internationally active trading nation and proponent of a rules-based international order, Germany – embedded in the European Union – has a great interest in participating in Asia's growth dynamics and in being involved in shaping the Indo-Pacific region, as well as in upholding global norms in regional structures," suggested the strategy outlining Germany's key principle for the region. (Source: Economic Times)
2. Moscow: Indian defence minister meets Chinese counterpart
Indian Defence minister Rajnath Singh held talks with his Chinese counterpart Wei Fenghe in Moscow. The talks are said to have hit a deadlock as observers suggest no common ground for a conclusion between the two.
Rajnath Singh "emphasised that the actions of the Chinese troops, including amassing in large numbers their aggressive behaviour and attempts to unilaterally alter the status quo, were in violation of bilateral agreements and not in keeping with the understandings reached between the special representatives of the two sides," the Indian statement said.
Wei Fenghe, state councillor and Chinese defence minister, said that "both sides should scrupulously implement the consensus reached between Prime Minister Narendra Modi and President Xi Jinping and continue to solve the issues through dialogue and consultation, strictly follow the various bilateral agreements, strengthen the regulation of frontline troops and not undertake any provocative actions that might escalate the situation," the Indian statement said.
Singh stated, "clearly that while the Indian troops had always taken a very responsible approach towards border management, at the same time there should be no doubt about our determination to protect India's sovereignty and territorial integrity."
3. China Says It Strongly Opposes India's Latest Ban On 118 Mobile Apps
The Chinese government on Thursday objected and expressed concerns over India's decision to ban 118 mobile applications.
Speaking at a press briefing, Gao Feng, the spokesperson of Chinese Commerce Ministry, said India had abused national security by imposing "discriminate restrictions" on Chinese companies, state-run Global Times reported.
Urging India to reconsider its move, Gao said, "China-India economic and trade cooperation yields mutual benefits." Source: New Indian Express
4. Can't lose an inch of territory: China after defence ministers meet
After the defence ministers of India and China concluded talks in Moscow, China made a statement blaming India for the Sino-Indian dispute. Beijing claimed that India is "entirely" responsible for the border stand-off in Ladakh and that China will not lose "an inch of its territory." India and China have been witnessing simmering tensions at the LAC (Line of Actual Control), which serves as the de factor border between the two neighbors.
5. Pakistan trying to politicise UNSC's terrorist listing process, says India
Five permanent and non-permanent members of the UN Security Council — the US, UK, France, Germany, and Belgium — blocked an attempt by Pakistan to list two Indians under a UN Security Council regime targeting international terrorism.
The 1267 UN list of terrorists is a global list, under the UNSC. The list has numerous Pakistani names featured on it. Pakistan has been trying to get Indian names on the list.
T S Tirumurti, India's Permanent Representative to the UN in New York tweeted:
6. India proposes G-20 principles on cross-border movement
India on Thursday proposed the development of voluntary 'G-20 Principles on Coordinated Cross-Border Movement of People'.
A Ministry of External Affairs statement said, "External Affairs Minister S Jaishankar proposed the development of voluntary 'G20 Principles on Coordinated Cross-Border Movement of People' with three elements: a) Standardisation of testing procedures and universal acceptability of test results; b) Standardisation of 'Quarantine procedures'; c) Standardisation of 'movement and transit' protocols."
He also called on governments around the world to ensure that the interests of foreign students are protected and the movement of stranded seafarers back to their home country is facilitated. Source: The Indian Express
7. India to host QUAD
The ministry of external affairs has confirmed that India will be hosting the Quad foreign ministers meet later this year. "We look forward to holding QUAD meet later this year and details are being worked out," Ministry of External Affairs (MEA) spokesperson Anurag Srivastava said on Thursday.
Australia, Japan and the United States. Apart from the Quad meeting, details are also being worked out for the India-US 2+2 dialogue
8. Thailand halts Kra canal project
Thailand has been delaying plans to conduct a $ 724 million purchase of two Chinese submarines and expressing interest to replace Chinese proposal to build a canal in the Bay of Bengal with its own project. The deal reportedly witnessed public outrage in Thailand.
China aimed at building a canal at Thailand's Isthmus of Kra to reduce Thai reach to the Indian Ocean Region (IOR). The Kra Canal was supposedly a part of China's String of Pearls.
Thai government spokesperson Anucha Burapachaisri announced Monday Prime Minister Prayut Chan-o-cha – also defence minister – had "requested the navy to consider a delay" in the purchase of the two additional submarines. Angry Thais took to social media to criticise the deal, and the hashtag "People don't want submarines" trended on Twitter.
9. U.S. announces accord between Serbia and Kosova
It seems likely that hostility between Kosova and Serbia will dilute as they have agreed to normalise economic relations. U.S. President Donald J. Trump on Friday announced the historic pact. "A truly historic day," Trump said, with Kosovo Prime Minister Avdullah Hoti and Serbian President Aleksandar Vucic sitting beside him in the Oval Office.
"Serbia and Kosovo have announced economic cooperation on a broad range of issues."
The United States of America urged Serbia to recognise Kosova as a full-fledged state.
10. Japan adds India, Bangladesh to relocation subsidiary
Japan has added India and Bangladesh to its relocation subsidiary, resulting in which Japanese manufacturers will now be eligible for subsidies if they shift production out of China to India or Bangladesh.
By Kunjan Ahluwalia
President Joe Biden's Conversation with the Cambodian Prime Minister Hun Sen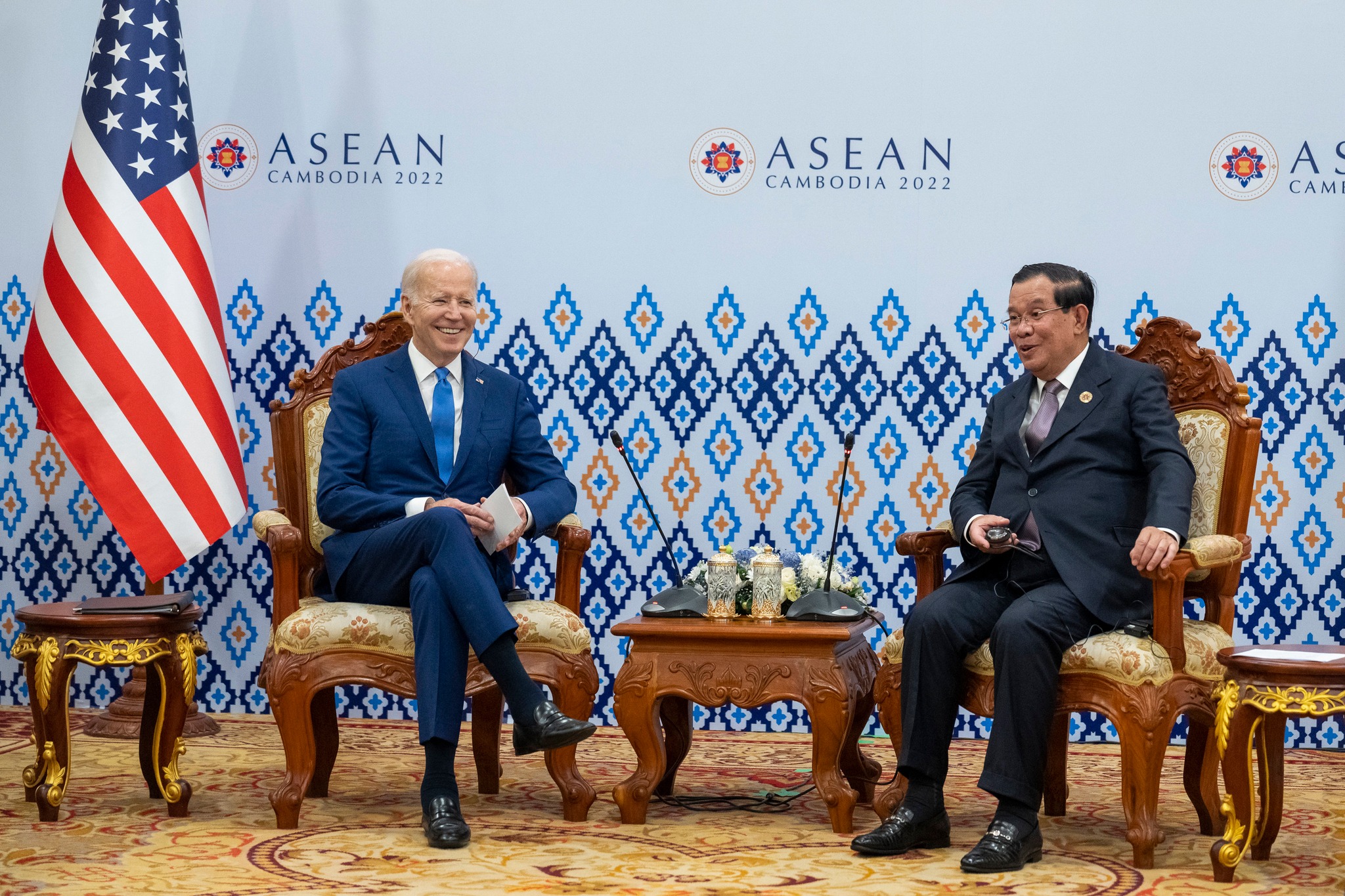 President Joe Biden landed in Cambodia on Saturday and supported the ASEAN nations. Before the eagerly anticipated Group of 20 summits next week in Indonesia, where Biden will meet with Xi for the first time in person since he took office, there will be a weekend of meetings in Cambodia. Before meeting with Xi, the president can engage with US allies at the ASEAN summits and the East Asia Summit on Sunday, both in Phnom Penh.
The US-ASEAN Comprehensive Strategic Partnership, which, according to Biden, "will tackle the biggest issues of our time, from climate to health security, defend against the significant threats to rule-based order and threats to the rule of law, and build an Indo-Pacific that's free and open, stable and prosperous, resilient and secure," was announced as "another critical step" toward building on the group's progress during his remarks at the summit. He cited a budget proposal for $850 million in support for Southeast Asia while praising the US's current financial commitments to ASEAN.
"This is my third journey and third summit, my second in person." The value reflects the United States' commitment to our relationship with ASEAN and our dedication to the region's centrality. The core of the Indo-Pacific strategy of my administration is ASEAN. In his opening remarks to the meeting, Biden said, "And we continue to reinforce our resolve to work in lockstep with an empowered, united ASEAN."
To build on the ASEAN leaders' conference in Washington earlier this year, the president's first meeting in Cambodia was with Prime Minister Hun Sen of Cambodia.
From the beginning of his presidency, Biden "was intent on elevating our engagement in the Indo-Pacific," according to national security adviser Jake Sullivan, and his attendance at the ASEAN and East Asia summits this weekend will highlight his accomplishments to date, including the Indo-Pacific Economic Framework unveiled earlier this year and security partnership initiatives.
"He's coming into this series of summits with that track record of success and purpose behind him, and he wants to be able to use the next 36 hours to build on that foundation to move American engagement forward, as well as to deliver several actual, practical initiatives," Sullivan said.
New initiatives on maritime cooperation, internet connectivity, and economic investment are some of these valuable measures, according to Sullivan. He added that Biden will soon begin a new maritime initiative that will "focus on using radio frequencies from commercial satellites to be able to track dark shipping, illegal and unregulated fishing, and also to improve the capacity of the countries of the region to respond to disasters and humanitarian crises."
Further, he added, Biden will also emphasize a "forward-deployed posture" toward regional defense to demonstrate that the US is actively pursuing security cooperation.
Biden also mentioned a brand-new US-ASEAN electric car infrastructure program during his speech.
He described the project as "a collaborative effort to build an integrated electric car ecosystem in Southeast Asia, enabling the region to achieve sustainable energy, economic growth, and ambitious emissions reduction targets."
Discussions on coordination "to continue to impose costs and build pressure on the junta" will also be centered on Myanmar, which was the subject of a February 2021 coup that ousted the country's democratically elected government.
Key Highlights
Concerns raised by Biden regarding Chinese activity at the Cambodian Ream Naval Base. The president expressed concern over the circumstances at Ream Naval Base and emphasized the value of complete transparency regarding the PRC (China's) military activities there.
The US President congratulated Cambodia's Prime Minister for backing Ukraine at the UN and spoke about the turmoil in military-ruled Myanmar.
President Biden also conveyed his gratitude to Cambodia for supporting resolutions at the UN to defend Ukraine from the brutal assault of Russia.
He thanked Cambodia for holding the ASEAN helm through a trying year.
The leaders "reflection on the historic US-ASEAN Special Summit's success in Washington, DC and applauded plans to establish a US-ASEAN Comprehensive Strategic Partnership at the annual US-ASEAN Summit later that day."
Along with the ASEAN Five Point Consensus, they also discussed the crisis in Burma and ASEAN's reaction, highlighting the international community's crucial role in restoring of democracy and stability in Burma.
In addition, Biden urged releasing activists like Seng Theory and a dual US-Cambodia citizen arrested on politically motivated allegations. The commitment of the United States to the Cambodian people and their goals for a more wealthy, democratic, and independent nation was reaffirmed by President Biden.