By Shree Pandey
"Keep the enemy in the dark about where and when our forces will attack."

Mao Zedong
            While the world is still submerged in the aftereffects of the COVID-19 pandemic, India's northern neighbour seems to be working on a discreet agenda. After a series of mis-hits in various regions along the Line of Actual Control (LAC) and the Chinese Maritime Militia (CCP) facing mistrust issues on governance and policies, China now seems to have resorted to its time-tested deceptive game plans. CMM happens to be the foremost asymmetric mode of evolution in that respect.
Understanding the CMM
The CMM can be understood as a deceptive force operating in the grey zone. This fleet comprises of modern fishing boats trained by the People's Liberation Army (Navy) of China PLA(N). It performs a variety of roles; from logistic management, to search and rescue. However, their primary task is to conduct surveillance, reconnaissance and intelligence gathering, while operating at sea under the cover of innocent fishing traffic.
Over the years, the CMM has evolved from being a small and 'near the sea' force to a robust and critical element of China's national maritime strategy, and has played a pivotal role in establishing a de facto Chinese operating presence in disputed areas—in effect challenging counter-claimants' ability to maintain control over disputed features. Incidents like the harassment of USS Impeccable in 2009 and confrontations with Vietnam over an oil drilling platform in 2014 formed part of CMM's mandate.
China's economic seduction
While initially focussed on the South and East China seas, in the past few years, China has been diverting its attention and increasing its presence in all the oceans under the ruse of Belt and Road Initiative (BRI) and various other business opportunities. Such projects were affiliated with countries who have succumbed to China's economic seduction. In the Indian Ocean Region (IOR) too, capitalising on the strained relations with India's neighbour- Pakistan, China has strengthened its coordination between the PLA/CMM and Pakistani Forces, all under the pretext of CPEC.
China seems to have camouflaged its intentions and presented Pakistan with 12 modern fishing trawlers earlier this month. A senior Karachi port official has stated under anonymity that the training onboard these advanced trawlers is being conducted by PLA(N) representatives jointly with the Pakistani Marines.
State-of-the-art equipment
The fishing trawlers are equipped with state-of-the-art equipment and latest technologies. They have the capability to undertake limited asymmetric warfare as a tool for surveillance and intervention, as and when the need arises. With prolonged endurance and capabilities to serve as mobile platforms in IOR, the vessels can be used to provide complete information on the deployment of multi-national forces in the region.
Additionally, any harm to these trawlers will invite a direct conflict with both Pakistan and China and will disturb the homogenous maritime environment of IOR which has been preserved by the Indian Navy (IN) till date. While these boats serve the military agenda of Pakistan, local fishermen and their livelihoods would be endangered. India needs to be concerned and alert about the likelihood of these boats being used for interfering and impeding India's Naval and Coast Guard operations.
Threat to India's marine resources
The increased presence of Chinese fishing trawlers in IOR, aside from being a security concern for India, also threatens to deplete India's marine resources. Over the years, largely benefitted by Chinese government's subsidies, these fishing vessels have travelled far off into foreign seas to satiate China's large appetite for seafood. China has been successful in ensuring that CMM becomes an active part of Pakistan's fishing fleet.
Now, with 'back-door' negotiations, China has efficiently coerced Pakistan into issuing the deep-sea fishing license exclusively to Chinese companies. These state-of-the-art fishing vessels are equipped with latest technologies and gadgets which enable them to sweep a larger area and mine even the smallest fish of the region. The deep-sea fishing techniques and use of high-voltage LED lights to attract fish by these Chinese vessels, is a severe threat to the marine ecosystem. They not only capture a huge quantity but, in the process, also cause irreparable damage to all aquatic life. This should be a cause of concern for the Indian government.
While these reasons are enough for India to raise flags, there is yet another concern which arises in crowded seas – increased chances of accidental collisions, which risks man, material, money and marine ecosystem equally. Such collisions could be planned operations by the CMM.
"All warfare is based on deception. Hence, when we are able to attack, we must seem unable; when using our forces, we must appear inactive; when we are near, we must make the enemy believe we are far away; when far away, we must make him believe we are near."

Sun Tzu, Art of War
About the author
The author is a freelance journalist and a research scholar of International Humanitarian Law
Assassination of Shinzo Abe & Salman Rushdie – Know Real Facts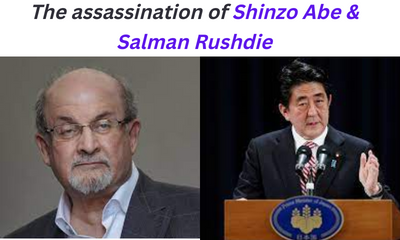 The months July and August of 2022 saw two cases of extermination to promote the fear of terrorism. One of the assassination of Shinzo Abe former Japanese Prime Minister, and another of the famous Novelist Salman Rushdie.
Shinzo Abe succumbed to a gunshot wound, whereas Rushdie's health conditions are improving and he is under medical supervision after the knife attack. However, various assassination attempt of Salman Rushdie has been made during the year.
These two terror acts force us to think about the impact of terrorism on society, the main objective of which is to create an atmosphere of fear so that citizens of the country cannot rely on their government.
This ultimately disturbs the law and order of the society, and serves the terrorists' purpose of creating a chaos.
Here we will see how these two attacks had different reasons but the objective remained the same – to stop someone from propagating his/her opinions independently, and also the factors that make attackers indulge in such acts.
Assassination Attempt of Salman Rushdie – Satanic Controversy
On 12 August 2022, Rushdie was attacked several times by a 24-year-old man Hadi Matar. The attacker's intentions can be linked to Rushdie's fourth novel, The Satanic Verses, published in 1988. Some Muslims considered the novel disrespectful towards Prophet Mohammed.
Soon after its publication, the novel sparked a 'fatwa' or a religious decree. The Iranian revolutionary leader Ayatollah Ruhollah Khomeini called for Rushdie's death in 1989. After, this various assassination attempt of Salman Rushdie has been made.
Complete conversation for Salman Rushdie Assassination:
When asked about the attack Hadi Matar said, "I don't like the person. I don't think he's a very good person. I don't like him very much". He further criticised Rushdie's work by saying, "He's someone who attacked Islam, he attacked their beliefs, the belief systems". Mr. Matar also told New York Post that he had only read 'a couple of pages' of the book and did not tell about whether the fatwa had inspired him or not.
While praising the Iranian religious leader, he stated, "I respect the Ayatollah. I think he's a great person. That's as far as I will say about that".
One can observe that the psychology of the attacker was that he simply disliked the novelist because of his work; although he read only two pages of the novel, but was rather influenced by the religious leaders and their sayings. Just, like this the assassination of Shinzo Abe has been made during this year, which we will discuss on next section.
Perceptions like these can have a long-lasting impact on future generations which can further deteriorate the situation. Violent acts like this demand proper scrutiny of the dissemination of information.
Extremists take advantage of such incidents and brainwash the young minds so that they can be used by them for their selfish purposes.
Assassination of Shinzo Abe – Complete Truth
On 8 July 2022, it was just another day of Abe's political campaign for the upcoming parliamentary elections. He was delivering a speech in Nara City, but no one is the aware about the assassination of Shinzo Abe that day. When a 41-year-old Tetsuya Yamagami shot him twice from behind from a distance of about 10 meters.
During the investigation, he confessed his intentions of killing and it was found that his motives had more to do with religious backing instead of a political reason.
It so happened that Yamagami's mother was a member of a religious group which she joined after her husband's death in 1998. She used to donate huge amounts of money as charity to the group, after the assassination of Shinzo Abe and Yamagami blames the sect for bankrupting his mother.
Confession Statement on Abe Case
The report reveal that Abe was closely associated with the sect, and wanted to take revenge against him for promoting it. "The suspect stated that he held a grudge against a particular organisation and that he committed the crime because he believed former Prime Minister Abe had a connection to it", a senior police officer in Japan's Nara region told reporters.
While the police hasn't given any clarification regarding the unidentified organization, social media in Japan has it that it could be the Unification Church.
Yamagami was unemployed, felt isolated in society, was against religious preaching and blind faith, and wanted to kill the leader of the religious organization but couldn't. One can see the psychological aspects of it that, the killer was anguished with the organisation and blamed them for his conditions and economic turmoil.
Ultimately his grudge converted into a motive of taking revenge for his loss and he did that by killing the perpetrator of the religious group, to give a message to the society and the world that one should avoid themselves from joining or contributing to such groups.
Japan has the strictest gun laws after the assassination of Shinzo Abe , so to bypass such stringent laws the killer used a handmade gun. The occurrence of such incidents in the island nation shows how much resentment the killer has and how strongly he was motivated to commit the murder.
Such incidents are eye-openers for the society that someone's freedom of belief can become others' pain, and teaches that as a society we should try to maintain a balance between them.
Two Paths to Crime
The above two accidents of assassination of Shinzo Abe, and the assassination attempt of Salman Rushdie has been terrifying for the country. First, being a part of a religious group the killer face hardship in his life, which forced him to commit the crime. In the second instance, the attacker got the impression that his religion is being targeted and that it is his responsibility to take revenge so that next time no one dares to do anything like that again.
Interpretation of things based on pre-assumed thoughts can lead to revenge, and revenge based on half-baked knowledge causes harm to the whole humanity, and not just the particular group concerned.