By Shree Pandey
"Keep the enemy in the dark about where and when our forces will attack."

Mao Zedong
            While the world is still submerged in the aftereffects of the COVID-19 pandemic, India's northern neighbour seems to be working on a discreet agenda. After a series of mis-hits in various regions along the Line of Actual Control (LAC) and the Chinese Maritime Militia (CCP) facing mistrust issues on governance and policies, China now seems to have resorted to its time-tested deceptive game plans. CMM happens to be the foremost asymmetric mode of evolution in that respect.
Understanding the CMM
The CMM can be understood as a deceptive force operating in the grey zone. This fleet comprises of modern fishing boats trained by the People's Liberation Army (Navy) of China PLA(N). It performs a variety of roles; from logistic management, to search and rescue. However, their primary task is to conduct surveillance, reconnaissance and intelligence gathering, while operating at sea under the cover of innocent fishing traffic.
Over the years, the CMM has evolved from being a small and 'near the sea' force to a robust and critical element of China's national maritime strategy, and has played a pivotal role in establishing a de facto Chinese operating presence in disputed areas—in effect challenging counter-claimants' ability to maintain control over disputed features. Incidents like the harassment of USS Impeccable in 2009 and confrontations with Vietnam over an oil drilling platform in 2014 formed part of CMM's mandate.
China's economic seduction
While initially focussed on the South and East China seas, in the past few years, China has been diverting its attention and increasing its presence in all the oceans under the ruse of Belt and Road Initiative (BRI) and various other business opportunities. Such projects were affiliated with countries who have succumbed to China's economic seduction. In the Indian Ocean Region (IOR) too, capitalising on the strained relations with India's neighbour- Pakistan, China has strengthened its coordination between the PLA/CMM and Pakistani Forces, all under the pretext of CPEC.
China seems to have camouflaged its intentions and presented Pakistan with 12 modern fishing trawlers earlier this month. A senior Karachi port official has stated under anonymity that the training onboard these advanced trawlers is being conducted by PLA(N) representatives jointly with the Pakistani Marines.
State-of-the-art equipment
The fishing trawlers are equipped with state-of-the-art equipment and latest technologies. They have the capability to undertake limited asymmetric warfare as a tool for surveillance and intervention, as and when the need arises. With prolonged endurance and capabilities to serve as mobile platforms in IOR, the vessels can be used to provide complete information on the deployment of multi-national forces in the region.
Additionally, any harm to these trawlers will invite a direct conflict with both Pakistan and China and will disturb the homogenous maritime environment of IOR which has been preserved by the Indian Navy (IN) till date. While these boats serve the military agenda of Pakistan, local fishermen and their livelihoods would be endangered. India needs to be concerned and alert about the likelihood of these boats being used for interfering and impeding India's Naval and Coast Guard operations.
Threat to India's marine resources
The increased presence of Chinese fishing trawlers in IOR, aside from being a security concern for India, also threatens to deplete India's marine resources. Over the years, largely benefitted by Chinese government's subsidies, these fishing vessels have travelled far off into foreign seas to satiate China's large appetite for seafood. China has been successful in ensuring that CMM becomes an active part of Pakistan's fishing fleet.
Now, with 'back-door' negotiations, China has efficiently coerced Pakistan into issuing the deep-sea fishing license exclusively to Chinese companies. These state-of-the-art fishing vessels are equipped with latest technologies and gadgets which enable them to sweep a larger area and mine even the smallest fish of the region. The deep-sea fishing techniques and use of high-voltage LED lights to attract fish by these Chinese vessels, is a severe threat to the marine ecosystem. They not only capture a huge quantity but, in the process, also cause irreparable damage to all aquatic life. This should be a cause of concern for the Indian government.
While these reasons are enough for India to raise flags, there is yet another concern which arises in crowded seas – increased chances of accidental collisions, which risks man, material, money and marine ecosystem equally. Such collisions could be planned operations by the CMM.
"All warfare is based on deception. Hence, when we are able to attack, we must seem unable; when using our forces, we must appear inactive; when we are near, we must make the enemy believe we are far away; when far away, we must make him believe we are near."

Sun Tzu, Art of War
About the author
The author is a freelance journalist and a research scholar of International Humanitarian Law
G20 Summit & All That You Need To Know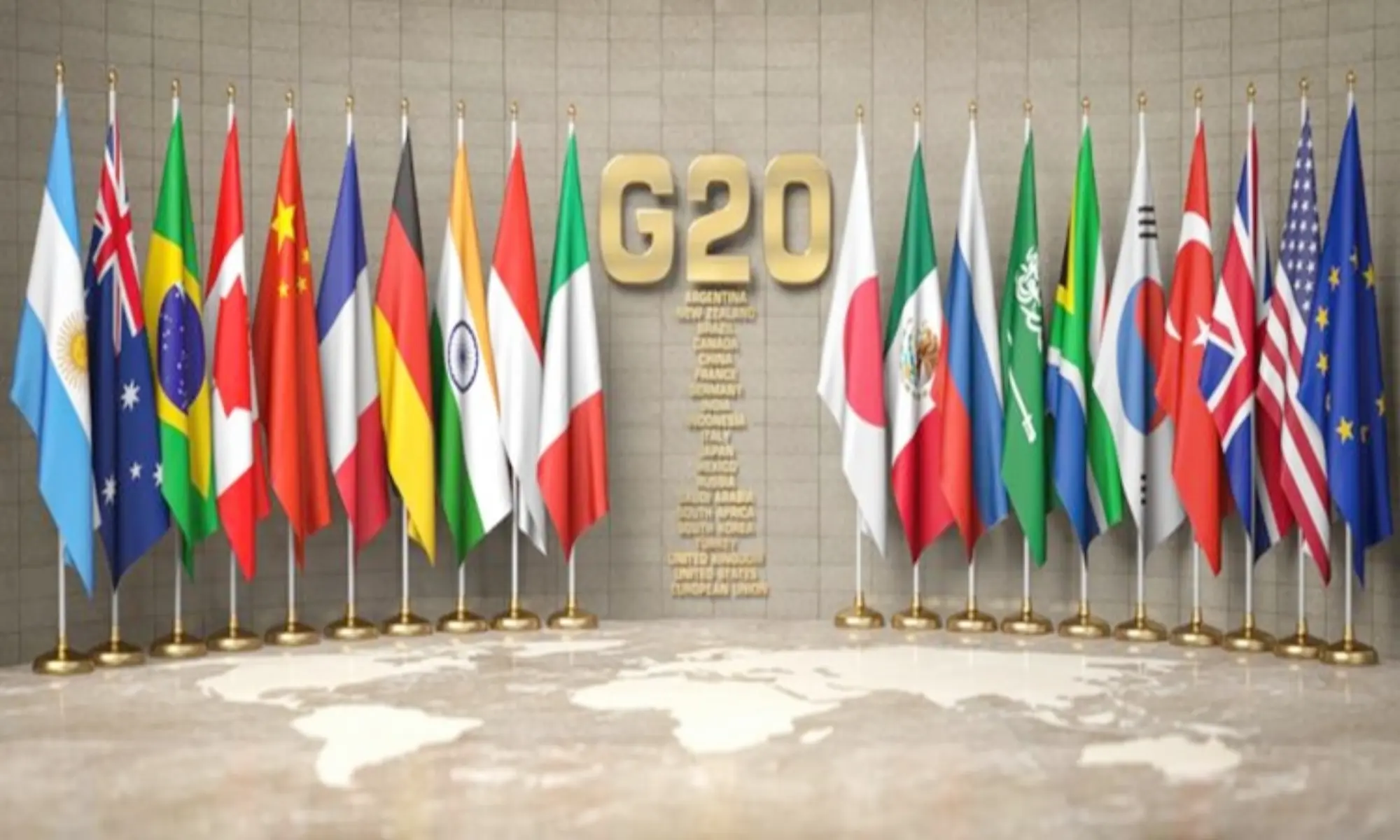 The G20 summit represents a significant portion of the global economy, accounting for around 85% of global gross domestic product (GDP), 80% of global trade, and two-thirds of the world's population. As a result, decisions made within the G20 can have far-reaching impacts on global economic policies and international relations.
What is the G-20?
Found in 1999, the Group of Twenty, or G20, is a global organization with 20 member nations. It was established in response to the financial crisis of the late 1990s and to bring together significant economies to discuss policy coordination and collaboration. It offers a stage for talks on problems related to the financial system's stability, sustainable development, and global economic issues. But over the years it has become a significant platform for leaders to discuss and act on critical global issues like poverty, inequality and climate change.
Which countries form the G-20?
Argentina, Australia, Brazil, Canada, China, France, Germany, India, Indonesia, Italy, Japan, Mexico, Russia, Saudi Arabia, South Africa, South Korea, Turkey, the United Kingdom, and the United States comprise the G20. The European Union is also a member and is represented by the European Commission and the European Central Bank.
Heads of state or government, finance ministers, and central bank governors gather at the G20's yearly meetings to conduct business. Discussions and negotiations aimed at promoting investment, international trade, financial regulation, and economic growth are the main topics of the sessions. Meetings of the finance ministers and central bank governors are held throughout the year in addition to the official summits to discuss ongoing economic challenges.
What is the Significance of G20 organisation and the G20 Summit?
Globally speaking, the G20 is essential in promoting cooperation among its members and tackling global economic and financial issues. It acts as a forum for discussion, collaboration, and coordination to support global economic stability and sustainable development. The G20 represents a significant portion of the global economy, accounting for around 85% of global gross domestic product (GDP), 80% of global trade, and two-thirds of the world's population. As a result, decisions made within the G20 can have far-reaching impacts on global economic policies and international relations.
The G20 summit brings together leaders from the G20 member countries to discuss and decide on various global economic concerns. However, it is the meaningful conversations between the sherpas of these nations that is vital for policy and decision making. 
Who are the G20 Sherpas?
During the G20 process, the senior officials and diplomats who attend/represent the G20 meetings on behalf of their nation's head of state or government are called as Sherpas. G20 Sherpas set the agenda, negotiate positions, and promote dialogue among the members.
Before the summit, sherpas frequently hold many rounds of discussions. These conversations touch on various issues, including financial stability, trade, investment, development, climate change, and other urgent global issues. The primary goal of these meetings is to identify areas of agreement, create consensus, and create cooperative strategies to deal with global economic difficulties. Sherpas hold in-depth discussions with their counterparts, examining various policy choices, sharing information, and attempting to reach a consensus on important topics.
Since each nation brings unique interests, priorities, and views, the conversations between the sherpas are intricate. To make sure that the outcomes of the G20 summit represent a broad consensus among the member countries, these discussions may require reaching concessions, settling disputes, and negotiating delicate problems. Sherpas bring together the priorities and viewpoints of the participating nations through these meetings, identify areas requiring group effort, and lay out potential solutions or policy suggestions for the summit's leaders to consider.
Sherpas are crucial in determining the G20 summit's agenda and results. As a result of their work, joint declarations, action plans, and pledges are created and approved by the leaders at the summit.
The conversations between the sherpas are a vital forum for communication, collaboration, and consensus-building among the G20 member nations. They are crucial in determining the summit's course and results, helping to make sure that the G20 addresses the world's economic concerns and promotes equitable and sustainable growth on a global scale.
India's G-20 Presidency
From December 1, 2022, through November 30, 2023, India will be the G20's president. In September of this year, the final New Delhi Summit will have 43 heads of delegation, the most ever to attend a G20 summit.
The slogan of this year's G20 Summit under the Indian Presidency is "Vasudhaiva Kutumbakam," which translates to "One Earth, One Family."
What is on agenda in the 2023 G-20 Summit?
Climate Finance, Life, and Green Development

Fast, Inclusive, and Resilient Growth 

Increasing SDGs progress

Digital Public Infrastructure and Technological Change

21st century's multilateral institutions

Women driving development
Behind the Scenes at G20
Before the summit in Kashmir (from 22 – 24 May), China raised a protest against the conduct of the G20 tourism working group conference being conducted in the Indian State. 
China's decision is most likely the result of Pakistan's concerns, a close ally who stated that the G20 summits were intended to support India's "illegal occupation" of Jammu and Kashmir. Meanwhile dismissing such ill-founded concerns of the Chinese side, India reiterated that all her states and union territories were hosting the G20 Summit 2023 in India.
However, as India continues to garner more goodwill and support from the G20 leaders, and China continues to lose standing in international global forums, it become a permanent absentee from such global summits soon.