INDIAN OCEAN REGION WATCH
In 2009, Robert D Kaplan noted that geography dictates and determines the "critical trend in world politics". Anyone looking at the map of the Indian Ocean would not miss the geostrategic location of peninsular India whose three shores are lapped by the waves from the seas in the Indian Ocean. A keen politico-economic observer would also notice that India and many of the region's other littorals are home to some of the largest consumer societies in the world. 
For long, China has felt contained and boxed within the limited sea room in West Pacific inside the series of island chains to China's east. To a large extent, this 'centuries of containment' has fueled Beijing's strong desire to gain access to the wide and open expanse that is offered by the Indian Ocean. It has manifested into her two-ocean strategy which has been in play for nearly two decades. Thus, with a long-term business and colonial interest in mind, when Chinese naval vessels arrived in the Gulf of Aden in 2009, they ruffled the largely peaceful waters of the Indian Ocean, sans piracy in the western seas. Their arrival added fuel to fire as they sold missiles systems to competing littoral states, who until then had been balancing well between peace and turmoil. Looking out for 'friends with benefits', China found a natural ally in Pakistan whose relationships with the United States were rapidly souring at that stage. Business relationships were consolidated quickly into strategic ties, with Beijing's 'Belt and Road Initiative' (BRI) touted as a jewel in China's 'string of pearls' strategy in the Indian Ocean. Even after being in play for five years and not accruing any economic benefit, Pakistan continues to dream that its subscription to BRI provides it strategic depth against India. 
China remained fully cognizant that in comparison to India or United States, it is in a weaker position in the Indian Ocean. Its official dismissal of any plans for creating military bases overseas has been a ploy to buy time. Many Chinese scholars have argued that use of port services and ad hoc logistic support facilities in ports, such as Gwadar, is only a step towards establishing permanent naval base(s). Given their economic benefits, scholars in Beijing are now advocating that establishment of overseas naval bases is China's right. Under guise of China-Pakistan Economic Corridor (CPEC), China is today deeply entrenched in Pakistan's affairs and has entangled the host nation in its economic fishnet. Blinded by its relationship with China and its deep-seated hatred towards India, Pakistan is under completely misplaced impression that the sales of warships, aircraft and submarines from its 'all weather friend' is for Pakistan's good and for bringing peace to Indian Ocean!
As recent as June 25 this year, the Financial Action Task Force (FATF) yet again denied removal of Pakistan from its 'grey list' because of 'deficiencies' observed in Pakistan's mechanism to pluck terrorism financing. With Pakistan's continuation in the 'grey list', Islamabad is unable to receive any substantial financial aid from the International Monetary Fund (IMF), World Bank, Asian Development Bank (ADB) or the European Union. This has further aggravated problems for the debt-ridden nation, whose already precarious financial situation is nose-diving into Beijing's debt trap. Islamabad is finding itself in a perilous state in dealing with China. Pakistan's debt-ridden diplomacy has jeopardised even its territorial integrity as land and infrastructure has been doled out freely to multiple Chinese State Managed Enterprises. It is unfortunate that the country is now also becoming devoid of strategic autonomy in thoughts and action.
Earlier this year in January, one of Pakistan's Naval Ship Nasr had set sail from Karachi to visit Djibouti and Sudan, both along north western coast of Africa. Media in Islamabad was prompt to tout this deployment as an initiative to explore new options for engagement. Presumably the deployment was a part of a previously unheard foreign policy initiative called 'Engage Africa Policy'! Most surprising was the media's statement that the deployment was tailored to assist the vulnerable population affected by natural disasters in the host countries! For a country whose economy is unable to make ends meet without grants and capital investments from Beijing, and where at least 10 million people have been added each year in below poverty line status for the last three years, to deliver provisions to countries presumed to be in destitute, didn't stand to any logic unless Islamabad's hands were tied and their lips sealed. Perhaps the deployment of Nasr to the two African nations was dictated by Pakistan's 'all weather friend'. Given the exponentially high degree of economic debt that Islamabad has today from China, the likelihood of Beijing directing Islamabad to act in its subjugation remains high!
China is well entrenched in Pakistan's affairs and is leaving no option aside to enhance its footprint in Indian Ocean. After making a windfall in politics, business, infrastructure and even agriculture inside Pakistan, Beijing is now persuading, directing and dictating tunes for Islamabad to dance too. So blinded is Pakistan in pursuing its single point anti-India agenda, that it is unable to see that the Chinese ships, submarines and aircrafts which it is (will be) receiving at 'friendly prices' are coming at a huge price of losing its own independence of thought and actions. The comments of the Chief of Naval Staff of the Pakistan Navy, Admiral M Amjad Khan Niazi, published in the Chinese daily, Global Times, in early February this year prior hosting a multi-lateral exercise, Aman-21, were seminal in this context. The Admiral was all praise for the Chinese Navy and championed the presence of this extra-regional naval force in the Indian Ocean to meet region's maritime security requirements. He elaborated on series of weapons, sensors, combat systems and platforms which are being doled out to Islamabad. He, however, remained blaringly silent on the cost of these expensive toys and how his country's debt-ridden economy would pay for them. The Admiral surely couldn't be so naïve to not realise the cost of autonomy to his navy for such deals!!
Beijing's model for investing in projects using own overcapacity, establishing port facilities, and doling out military hardware is now a well know colonialism ploy through economic debt. And the polity in Islamabad is simply choosing to ignore the consequences of Beijing's 'friendship actions' to Pakistan's sovereignty. Perhaps, we are witnessing the first stage of Pakistan's Navy being re-established as "China's Flotilla of Pakistan"!!
This article has been sent to the editor by Shree Pandey, who is political analyst and a keen observer of South Asian region.
"Let people eat cake" says Pakistan Navy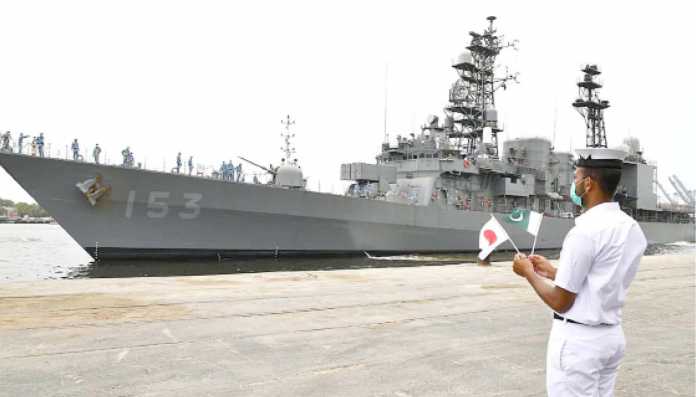 In 1789 during yet another famine in France, the princess Marie Antoinette upon being told that the peasants had no bread, is said to have replied with frivolous disregard for the starving peasants with the words "Let them eat cake". Today, the condition of the Pakistani citizens is quite similar to the French peasants of 1789.
The desperate economic conditions in Pakistan and the impact of floods has led the Finance Ministry to issue directives for implementing strict austerity measures for year 2022 – 2023. These measures aim to curtail operating expenditure and reduce the economic burden of the people.
However, it seems that these directives never reached their Navy.
Very recently, Pakistan Navy Ships Shamsheer and Nasr visited Yokosuka Port in Japan with an aim to participate in the International Fleet Review. In much contrast to the government verdict of "no unnecessary expenditure", the visit was neither mandatory nor of importance. However much to the citizen's dismay, neither the empty coffers nor the grave economic situation of the people seemed to deter the Navy from going on a tourism cum shopping spree.
Pakistan Navy Ships visit Yokosuka Port in Japan
In economically stable conditions, a Naval ship's visit to a foreign port would have been welcomed by the citizens. However the economic burden posed by  these activities have quadrupled the fear of a complete breakdown of society. While the cost of fuel for such a long voyage is in itself a huge deterrent, the fact that the ships will be stopping at almost five to seven countries during the futile passage, has made matters worse.
Monetary Implications of this cruise
Let's look at the basic requirement of a naval voyage. The mandatory requirements include buying stores, fuel/lubricants, undertaking necessary repairs, paying the crew in international currency etc. But is this all? Definitely not. Each stop at a foreign port will require a mandatory interaction with the diplomats, exchange of gifts, parties with great pomp and show to announce the naval ships' arrival, preparation of native cuisines etc.…The expenditure is definitely mind boggling.
Who is paying for this?
All this is paid through already depleting foreign reserves. Therefore understandably, if news of such frivolous expenditure, especially in these trying times were to reach the general public there would be a furore, and a well justified one. But Pakistan's Navy has been clever, or at least it thinks it has been.
Where normally, all port visits are turned to a media circus by the Navy, this time not a single press release is available on the open media. Why? Because of a stringent gag order on issuing media bites by the government. The Navy has warned cruising ships to conduct events without the presence of press. The aim apparently is to prevent citizens from becoming aware of this trip to Japan. Pakistan's naval commanders seem to be relying on their belief (definitely flawed and misguided) that – ordinary Pakistani citizen are like the proverbial ostrich with its head buried in the sand – what it cannot see, does not exist!
In today's world where information travels faster than light – there are enough people who monitor everything. Which is why hiding the journey of two huge warships was definitely worthless. As soon as a local net-hawker identified the movement of the naval ships – the world and entire Pakistan was made aware of the secret journey.  The Maverick could not outfox these people.
Frivolous Spending in Desperate Times
While one may still be able to find an excuse for Navy's foreign visits, but what about the inflating expenditure on the procurement and projects, which are of no immediate importance? As pointed out by social media users a few days earlier, the Pakistan navy has been planning to procure four Frigates (each from Turkey and China), four to eight Corvettes (from the Netherlands), eight submarines (from China) and almost ten new aircraft for its maritime fleet.
Which brings a very interesting scenario to light – the huge lack of communication between the Pakistan's government and its navy. On one hand the government has been insisting on cutting down operating costs and even travel/fuel usage by every ministry and service, but on the other, the Armed Forces are on a shopping spree. And whose money are these forces using?  The question that the citizens of Pakistan need to ask is despite the mushrooming economic crisis, why is there a need to undertake such frivolous expenditure/cruises? And if they are really necessary, why the extra effort to hide it?
Many Pakistanis have already started asking such questions, a mass outcry is not far. And while the Pak armed forces especially its navy may pretend to be blissfully unaware of their countrymen's plight, they must realize that secret voyages will not help the deplorable situation of their country and their fellow countrymen.
This article has been contributed by Commander Abhishek Rathi (Retd), Indian Naval Officer
Commander Abhishek Rathi (Retd) is a retired executive officer and holds an experience of commanding two naval warships. He has a keen interest in maritime history and technology. The officer is also an avid nature photographer and likes traveling all across India for it.