INDIAN OCEAN REGION WATCH
In 2009, Robert D Kaplan noted that geography dictates and determines the "critical trend in world politics". Anyone looking at the map of the Indian Ocean would not miss the geostrategic location of peninsular India whose three shores are lapped by the waves from the seas in the Indian Ocean. A keen politico-economic observer would also notice that India and many of the region's other littorals are home to some of the largest consumer societies in the world. 
For long, China has felt contained and boxed within the limited sea room in West Pacific inside the series of island chains to China's east. To a large extent, this 'centuries of containment' has fueled Beijing's strong desire to gain access to the wide and open expanse that is offered by the Indian Ocean. It has manifested into her two-ocean strategy which has been in play for nearly two decades. Thus, with a long-term business and colonial interest in mind, when Chinese naval vessels arrived in the Gulf of Aden in 2009, they ruffled the largely peaceful waters of the Indian Ocean, sans piracy in the western seas. Their arrival added fuel to fire as they sold missiles systems to competing littoral states, who until then had been balancing well between peace and turmoil. Looking out for 'friends with benefits', China found a natural ally in Pakistan whose relationships with the United States were rapidly souring at that stage. Business relationships were consolidated quickly into strategic ties, with Beijing's 'Belt and Road Initiative' (BRI) touted as a jewel in China's 'string of pearls' strategy in the Indian Ocean. Even after being in play for five years and not accruing any economic benefit, Pakistan continues to dream that its subscription to BRI provides it strategic depth against India. 
China remained fully cognizant that in comparison to India or United States, it is in a weaker position in the Indian Ocean. Its official dismissal of any plans for creating military bases overseas has been a ploy to buy time. Many Chinese scholars have argued that use of port services and ad hoc logistic support facilities in ports, such as Gwadar, is only a step towards establishing permanent naval base(s). Given their economic benefits, scholars in Beijing are now advocating that establishment of overseas naval bases is China's right. Under guise of China-Pakistan Economic Corridor (CPEC), China is today deeply entrenched in Pakistan's affairs and has entangled the host nation in its economic fishnet. Blinded by its relationship with China and its deep-seated hatred towards India, Pakistan is under completely misplaced impression that the sales of warships, aircraft and submarines from its 'all weather friend' is for Pakistan's good and for bringing peace to Indian Ocean!
As recent as June 25 this year, the Financial Action Task Force (FATF) yet again denied removal of Pakistan from its 'grey list' because of 'deficiencies' observed in Pakistan's mechanism to pluck terrorism financing. With Pakistan's continuation in the 'grey list', Islamabad is unable to receive any substantial financial aid from the International Monetary Fund (IMF), World Bank, Asian Development Bank (ADB) or the European Union. This has further aggravated problems for the debt-ridden nation, whose already precarious financial situation is nose-diving into Beijing's debt trap. Islamabad is finding itself in a perilous state in dealing with China. Pakistan's debt-ridden diplomacy has jeopardised even its territorial integrity as land and infrastructure has been doled out freely to multiple Chinese State Managed Enterprises. It is unfortunate that the country is now also becoming devoid of strategic autonomy in thoughts and action.
Earlier this year in January, one of Pakistan's Naval Ship Nasr had set sail from Karachi to visit Djibouti and Sudan, both along north western coast of Africa. Media in Islamabad was prompt to tout this deployment as an initiative to explore new options for engagement. Presumably the deployment was a part of a previously unheard foreign policy initiative called 'Engage Africa Policy'! Most surprising was the media's statement that the deployment was tailored to assist the vulnerable population affected by natural disasters in the host countries! For a country whose economy is unable to make ends meet without grants and capital investments from Beijing, and where at least 10 million people have been added each year in below poverty line status for the last three years, to deliver provisions to countries presumed to be in destitute, didn't stand to any logic unless Islamabad's hands were tied and their lips sealed. Perhaps the deployment of Nasr to the two African nations was dictated by Pakistan's 'all weather friend'. Given the exponentially high degree of economic debt that Islamabad has today from China, the likelihood of Beijing directing Islamabad to act in its subjugation remains high!
China is well entrenched in Pakistan's affairs and is leaving no option aside to enhance its footprint in Indian Ocean. After making a windfall in politics, business, infrastructure and even agriculture inside Pakistan, Beijing is now persuading, directing and dictating tunes for Islamabad to dance too. So blinded is Pakistan in pursuing its single point anti-India agenda, that it is unable to see that the Chinese ships, submarines and aircrafts which it is (will be) receiving at 'friendly prices' are coming at a huge price of losing its own independence of thought and actions. The comments of the Chief of Naval Staff of the Pakistan Navy, Admiral M Amjad Khan Niazi, published in the Chinese daily, Global Times, in early February this year prior hosting a multi-lateral exercise, Aman-21, were seminal in this context. The Admiral was all praise for the Chinese Navy and championed the presence of this extra-regional naval force in the Indian Ocean to meet region's maritime security requirements. He elaborated on series of weapons, sensors, combat systems and platforms which are being doled out to Islamabad. He, however, remained blaringly silent on the cost of these expensive toys and how his country's debt-ridden economy would pay for them. The Admiral surely couldn't be so naïve to not realise the cost of autonomy to his navy for such deals!!
Beijing's model for investing in projects using own overcapacity, establishing port facilities, and doling out military hardware is now a well know colonialism ploy through economic debt. And the polity in Islamabad is simply choosing to ignore the consequences of Beijing's 'friendship actions' to Pakistan's sovereignty. Perhaps, we are witnessing the first stage of Pakistan's Navy being re-established as "China's Flotilla of Pakistan"!!
This article has been sent to the editor by Shree Pandey, who is political analyst and a keen observer of South Asian region.
India US Military Exercise Amidst China's Taiwan Conflict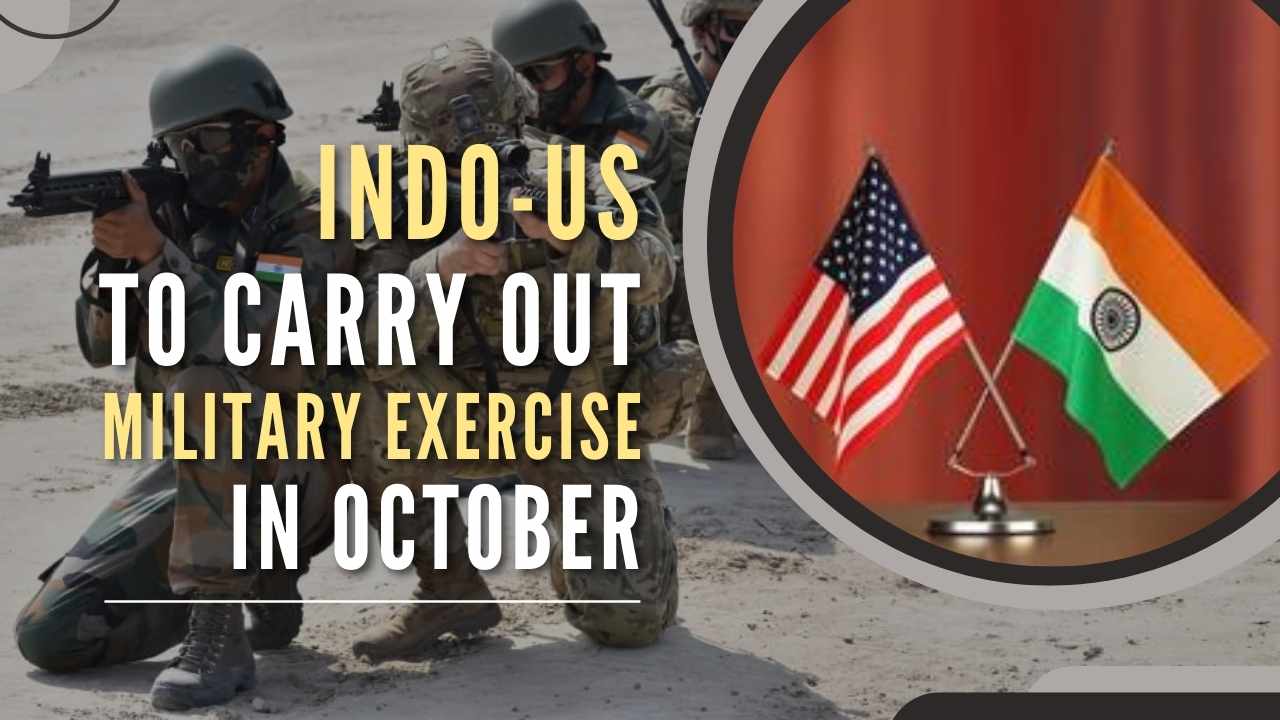 Indian and American military forces will conduct the periodic 'Yudh Abhyas' or 'War Practice' from October 14 to 31, 2022 at Auli in Uttarakhand, which is 95 km away from the Line of Actual Control. The India US military exercise is undertaken to enhance the interoperability between the two armies, and the joint exercise will carry out maneuvers to exploit the full scope of high-altitude warfare.
The occurrence of 18th edition is happening at a very crucial moment as both countries have strife relations with China. The Indian side will showcase its high-altitude warfare strategies and US forces will complement them by exposing various technologies that can be used in challenging scenarios.
This edition will witness the participation of the Indian Air Force in the effective utilization of aerial and ground assets. Also, the India America Military Exercise develops the social relationship with country.
More About India America Yudh Abhyas in Uttarakhand
Yudh Abhyas is the largest running joint India US military exercise and defence cooperation between the countries. The program was started in 2004 under the US Army Pacific Partnership Program.
It is hosted alternately between both countries. The 17th edition was held in Alaska in October 2021. The exercise aims at enhancing understanding, cooperation, and interoperability between the two armies.
Also, the moto of India America military exercise is successfully achieved in Auli Uttarakhand. Also, the impact of this social training is shown on different countries, and various controversies has been made.
Why India-China Standoff? Facts & Statements
In the last two years, there has been a constant rise in tensions between India and China, as the Chinese People's Liberation Army (PLA) made an effort to unilaterally change the status of LAC. Also, the good relationship of India with powerful countries, terrify the China government, and such social activities such as joint India US military exercise, helps to more strong relations.
The Indian army struck back and thwarted the Chinese attempts. The External Affairs Minister while describing New Delhi's efforts had said, "We've been resolute when challenged in border areas. 2 years ago, in the middle of COVID, we had China move forces in violation of an agreement. But we stood our ground and have been working it out without making concessions. The world recognizes that a country is capable of defending its interests".
As per the latest news reported on 13 September 2022, the armies of both countries have confirmed their return from PP-15 (Patrolling Point) in the Gogra-Hot Springs area of eastern Ladakh, and Indian officials are hopeful for further negotiations on more crucial face-offs of Depsang Plains and Demchok.
US-China Tussle
Following the controversial Taiwan visit of the Speaker of the United States' House of Representatives Ms. Nancy Pelosi, and the support extended by China to Russia in the ongoing Russia-Ukraine war, the US-China relationship has also deteriorated further. The two economic superpowers are generally also involved in a cold war in the
China's Reaction on India US Military Exercise
Chinese officials strongly opposed the military exercise, referring to it as a violation of past agreements between New Delhi and Beijing, and following conversation has been made:
"We firmly oppose any third party to meddle in the China-India border issue in any form", Senior Colonel Tan Kefei, spokesperson for the Chinese defence ministry said. "In light of the relevant agreements signed by China and India in 1993 and 1996, neither side is allowed to conduct military exercise against the other in areas near the LAC", Tan said.
He further added, "It is hoped that the Indian side will strictly abide by the important consensus reached by the leaders of the two countries and the relevant agreements, uphold its commitment to resolving border issues through bilateral channels, and maintain peace and tranquillity in the border area with practical actions".
New Delhi's Reply to China's Allegations
In response to China's allegations, "I do not understand the reference to third party interference. The India US military exercise is something completely different and I do not know what color has been given that it is targeted there or it is violating any existing agreement", External Affairs Ministry spokesperson Arindam Bagchi said.
"The two sides should stick to the agreements (signed) in the past and obviously that did not happen", Bagchi said, referring to China violating the agreements which led to the face-off in eastern Ladakh.
After the coming together of like-minded countries for informal dialogue, namely Quad (Quadrilateral Security Dialogue), China's apprehension has increased and it has levelled the grouping as an 'Indo-Pacific NATO'.
"The Indo-Pacific strategy cooked up by the United States, in the name of 'freedom and openness,' is keen on forming cliques", Foreign minister of China, Wang Yi had said. He further criticized the grouping as 'it claims that it intends to change China's surrounding environment, but its purpose is to contain China and make Asia-Pacific countries serve as pawns of US hegemony'.
All the members of Quad had cleared their agenda and said they are committed to cooperation with partners in the region who share the vision of a free and open Indo-Pacific region. India being an essential part of the grouping has always put its best efforts to maintain peace and stability in the region.
India's Prospective with All Countries
India has always called for peace and co-operation in the region, that's why the concept for India US military exercise has been conducted. Being a member of SCO, the two Asian giants have resolved their misunderstandings.
New Delhi has always asked countries to respect each other's sovereignty, territorial integrity, and international agreements. In the coming years, one can hope for a free and open Indo-Pacific region which will be beneficial for all the countries situated in this region.