Everyone needs closure and if it is 2020, it better be quick. No, please don't say 2021 is going to be your year. You probably remember what happened last time you said it, right?
Okay, Anukriti, stop with your cynicism! 2020 was not that bad too.
Agreed.
Maybe, let's do a quick roundup?
What were the overall things that happened in the digital world? I promise I will try not to make it a forced positivity game. I acknowledge that the experience was very subjective. It is a conscious choice that I am making to highlight the positive aspect for a lot of points coming forward.
A year of dissent
Dissent was like never before. People stood up for what they thought was right. Digital platforms were actively used to raise their voices globally. Whether it be Black Lives Matter or the Kisaan protest in India, people were together and connected through the digital space. Even multiple dating apps recorded this factor that youth talked more and more about civil movements in their country and areas and stood up actively for the same. Brands too actively participated in this and showed their support in whatever way possible. For instance, most social media platforms changed their logo to black in order to show support to BLM, celebrities came forward and gave their accounts to black creators to showcase their work, and more. 
Netflix and chill?
OTT platforms like Netflix, Amazon Prime, Hotstar, and the likes, came to our rescue this lockdown. To be honest, in most cases one of the few forms of entertainment remaining while we were stranded and confined to our spaces. It was crying and shouting "For Nairobi" to excitedly waiting for Guddu Bhaiya's entry to end it with "Ew David". Honestly, the year was a golden timeline for quality online binge content. The audience was hungry for content and good shows hit the mark really well. I do not understand those remakes exactly and I want to rant a lot about them but Sima aunty has asked me to be 'flexible', so I will take a pass on that.
FOOD!
With our favourite restaurants shut, we found an alternative to probably anything and everything. From pizzas to making paneer, guess we did good. Thanks, YouTube. Do you guys remember your dalgona coffee and banana bread phase? Well, we moved on the way past them and actually survived on home food! Shocking right? Food was not only limited to extravagant dishes but inculcating immunity boosters in one's food was the trick too. Turmeric milk to kadha, we tried that too. While the world resorted to immunity pills and panic, Indian grandmothers told us to take a 'chill-pill' and took out their age-old immunity recipes and told us to embrace them instead. However, the claim is still very debated. But, guess what we did try them out.
Love in the time of corona
Oops, I said the forbidden word! We actually explored a lot about relationships and love during corona. With nothing else to rely on, except our near and dear ones. We held onto them a little longer than usual. This year came with a lot of personal loss too and honestly, no amount of words or messages can replace that. We are glad that you stood strong. Relationships changed a lot and it is fine. Change is the only constant, I guess? Thanks to all the unlimited video calling apps that helped us stay connected and for a change we all became a little better at technology over the months. However, the disheartening picture of the reality of digital India and the reality of the digital divide across the globe was a bummer and came as a shock.
It's Digital Baby!
Everything moved digital, suddenly for many. Education, communication, business, and more! While the future might seem very luring, it is to be noted that this is a privilege. The digital inaccessibility is staring blank at our faces and by what I can figure out, it is a bitchy one! All shows, concerts, announcements, ceremonies, moved online! Raise your hand, if you attended at least one event online. As much as digital inaccessibility exists, there have been interventions both at the personal and organisational level to help curb this issue out because this phase is here to stay, post-pandemic too. Digital accessibility is a necessity now!
Content! Content! Content!
The surge in content creation and creators have been talked about and will be in the coming years too. People picked up those old paint brushes, brushed off the dust from their ukuleles and decided to click on upload this time. Trust me, still tripping on 'kya karu mein itni sundar hu toh aap hi batao, kya karu?' The amount of challenges, the amount of random Binod conversation, the endless vlogs, and the likes. Content creators flourished. 
2021, it is then?
Assassination of Shinzo Abe & Salman Rushdie – Know Real Facts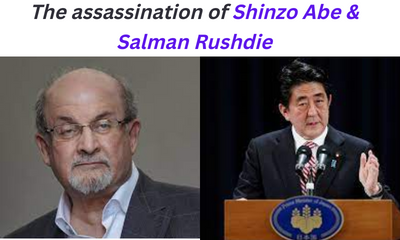 The months July and August of 2022 saw two cases of extermination to promote the fear of terrorism. One of the assassination of Shinzo Abe former Japanese Prime Minister, and another of the famous Novelist Salman Rushdie.
Shinzo Abe succumbed to a gunshot wound, whereas Rushdie's health conditions are improving and he is under medical supervision after the knife attack. However, various assassination attempt of Salman Rushdie has been made during the year.
These two terror acts force us to think about the impact of terrorism on society, the main objective of which is to create an atmosphere of fear so that citizens of the country cannot rely on their government.
This ultimately disturbs the law and order of the society, and serves the terrorists' purpose of creating a chaos.
Here we will see how these two attacks had different reasons but the objective remained the same – to stop someone from propagating his/her opinions independently, and also the factors that make attackers indulge in such acts.
Assassination Attempt of Salman Rushdie – Satanic Controversy
On 12 August 2022, Rushdie was attacked several times by a 24-year-old man Hadi Matar. The attacker's intentions can be linked to Rushdie's fourth novel, The Satanic Verses, published in 1988. Some Muslims considered the novel disrespectful towards Prophet Mohammed.
Soon after its publication, the novel sparked a 'fatwa' or a religious decree. The Iranian revolutionary leader Ayatollah Ruhollah Khomeini called for Rushdie's death in 1989. After, this various assassination attempt of Salman Rushdie has been made.
Complete conversation for Salman Rushdie Assassination:
When asked about the attack Hadi Matar said, "I don't like the person. I don't think he's a very good person. I don't like him very much". He further criticised Rushdie's work by saying, "He's someone who attacked Islam, he attacked their beliefs, the belief systems". Mr. Matar also told New York Post that he had only read 'a couple of pages' of the book and did not tell about whether the fatwa had inspired him or not.
While praising the Iranian religious leader, he stated, "I respect the Ayatollah. I think he's a great person. That's as far as I will say about that".
One can observe that the psychology of the attacker was that he simply disliked the novelist because of his work; although he read only two pages of the novel, but was rather influenced by the religious leaders and their sayings. Just, like this the assassination of Shinzo Abe has been made during this year, which we will discuss on next section.
Perceptions like these can have a long-lasting impact on future generations which can further deteriorate the situation. Violent acts like this demand proper scrutiny of the dissemination of information.
Extremists take advantage of such incidents and brainwash the young minds so that they can be used by them for their selfish purposes.
Assassination of Shinzo Abe – Complete Truth
On 8 July 2022, it was just another day of Abe's political campaign for the upcoming parliamentary elections. He was delivering a speech in Nara City, but no one is the aware about the assassination of Shinzo Abe that day. When a 41-year-old Tetsuya Yamagami shot him twice from behind from a distance of about 10 meters.
During the investigation, he confessed his intentions of killing and it was found that his motives had more to do with religious backing instead of a political reason.
It so happened that Yamagami's mother was a member of a religious group which she joined after her husband's death in 1998. She used to donate huge amounts of money as charity to the group, after the assassination of Shinzo Abe and Yamagami blames the sect for bankrupting his mother.
Confession Statement on Abe Case
The report reveal that Abe was closely associated with the sect, and wanted to take revenge against him for promoting it. "The suspect stated that he held a grudge against a particular organisation and that he committed the crime because he believed former Prime Minister Abe had a connection to it", a senior police officer in Japan's Nara region told reporters.
While the police hasn't given any clarification regarding the unidentified organization, social media in Japan has it that it could be the Unification Church.
Yamagami was unemployed, felt isolated in society, was against religious preaching and blind faith, and wanted to kill the leader of the religious organization but couldn't. One can see the psychological aspects of it that, the killer was anguished with the organisation and blamed them for his conditions and economic turmoil.
Ultimately his grudge converted into a motive of taking revenge for his loss and he did that by killing the perpetrator of the religious group, to give a message to the society and the world that one should avoid themselves from joining or contributing to such groups.
Japan has the strictest gun laws after the assassination of Shinzo Abe , so to bypass such stringent laws the killer used a handmade gun. The occurrence of such incidents in the island nation shows how much resentment the killer has and how strongly he was motivated to commit the murder.
Such incidents are eye-openers for the society that someone's freedom of belief can become others' pain, and teaches that as a society we should try to maintain a balance between them.
Two Paths to Crime
The above two accidents of assassination of Shinzo Abe, and the assassination attempt of Salman Rushdie has been terrifying for the country. First, being a part of a religious group the killer face hardship in his life, which forced him to commit the crime. In the second instance, the attacker got the impression that his religion is being targeted and that it is his responsibility to take revenge so that next time no one dares to do anything like that again.
Interpretation of things based on pre-assumed thoughts can lead to revenge, and revenge based on half-baked knowledge causes harm to the whole humanity, and not just the particular group concerned.