Twitter will make Joe Biden's @POTUS account as well as @WhiteHouse account to start afresh with zero followers once he has sworn in as America's next president on January 20.
The US 2020 Presidential elections in recent times garnered massive interest from Indians with viewers hooked onto the Trump vs Biden campaign in the United States that went on for months. Twitter, no doubt, has played a very important role in the US elections. President Donald Trump often used Twitter to announce policies, move markets, attack the press, dispute reports, insult enemies, and energise his base.
Trump during his presidential term often used his @POTUS account on Twitter to vocalise his thoughts and opinions. Twitter has been a primary means by which Trump used to set his agenda. This lands us on a question: How many followers does the US president's official Twitter account have?
Right now, the @POTUS account has over 33.2 million followers.  When President Donald Trump was sworn in the office in 2017, he inherited almost 14 million followers from President Barack Obama. And, that count of followers quickly increased after Inauguration Day. But the situation is quite different in 2020. Obviously, 2020 is a different year.
Twitter has told President-elect Joe Biden's team that it would be "wiping followers" from the official POTUS (President of the United States) and White House Twitter accounts before transferring them to the new administration. The number of followers will be dropped to zero after Biden takes over the official @POTUS account on Inauguration Day.
Biden's team was informed that President Donald Trump's followers will not carry over to the official accounts assigned to the new president and White House in January, a reversal from the last transition. This means that the Biden administration's accounts will start with zero followers on Twitter, cutting off a way for Biden to instantly reach millions of people who currently follow the official accounts used by Trump.
Biden team's reaction:
Biden's team is pushing back against Twitter's decision of starting the @POTUS account for Biden with zero followers, which is a reversal from the last presidential transition. While Biden's digital director Rob Flaherty also tweeted that Former President Barack Obama's 13 million followers were moved to the new @POTUS account after President Trump took over.
The micro-blogging platform will not be transferring existing @POTUS and @WhiteHouse followers to the new administration. Also, the Twitter accounts of @VP, @FLOTUS, @PressSec, @Cabinet, and @LaCasaBlanca will also have their followers gone and will have to start afresh.
But there's a catch:
The transition of the @POTUS Twitter account from Donald Trump to Joe Biden next month will definitely be a complicated one, but not as hard-hearted as many people are believing it to be. It is absolutely true that Biden is going to inherit new versions of the @POTUS and @WhiteHouse accounts with zero followers, but there's a catch!
A Twitter spokesperson outlined the fact that on January 20, when Biden will officially enter the office, Twitter users who follow the @POTUS account under Trump will be sent a notification, asking if they'd like to follow Biden's accounts moving forward.
The spokesperson in his statement also revealed that this time during the process of transition, the accounts will not automatically retain their existing followers. The previous content on the platform will be archived and followers of the account will now be notified and will be provided with the choice of whether they want to follow the Biden administration's new accounts or not.
Trump to lose his Twitter privileges:
In less than a month away, Donald Trump is set to lose all his executive privileges and special treatment that he has enjoyed over the past four years. When Biden will be sworn in as the President of the United States on January 20, as the 46th president of the United States, Donald Trump and his administration will lose access to Twitter's official White House accounts, including @POTUS and @WhiteHouse.
But there's one thing that Trump might be relieved of: The Biden's team will have to rebuild the followers of its administration's accounts from the scratch. The existing posts from the Trump administration will be archived on new accounts (e.g., @POTUS45 and @WhiteHouse45) and will be maintained by the National Archives and Records Administration (NARA).
It is also reported that in the past two months, Twitter has flagged hundreds of Trump's tweets and retweets related to the election as disputed or misleading. This was done after December 14, when the Electoral College's votes confirmed that Biden will be the next US president.
President Joe Biden's Conversation with the Cambodian Prime Minister Hun Sen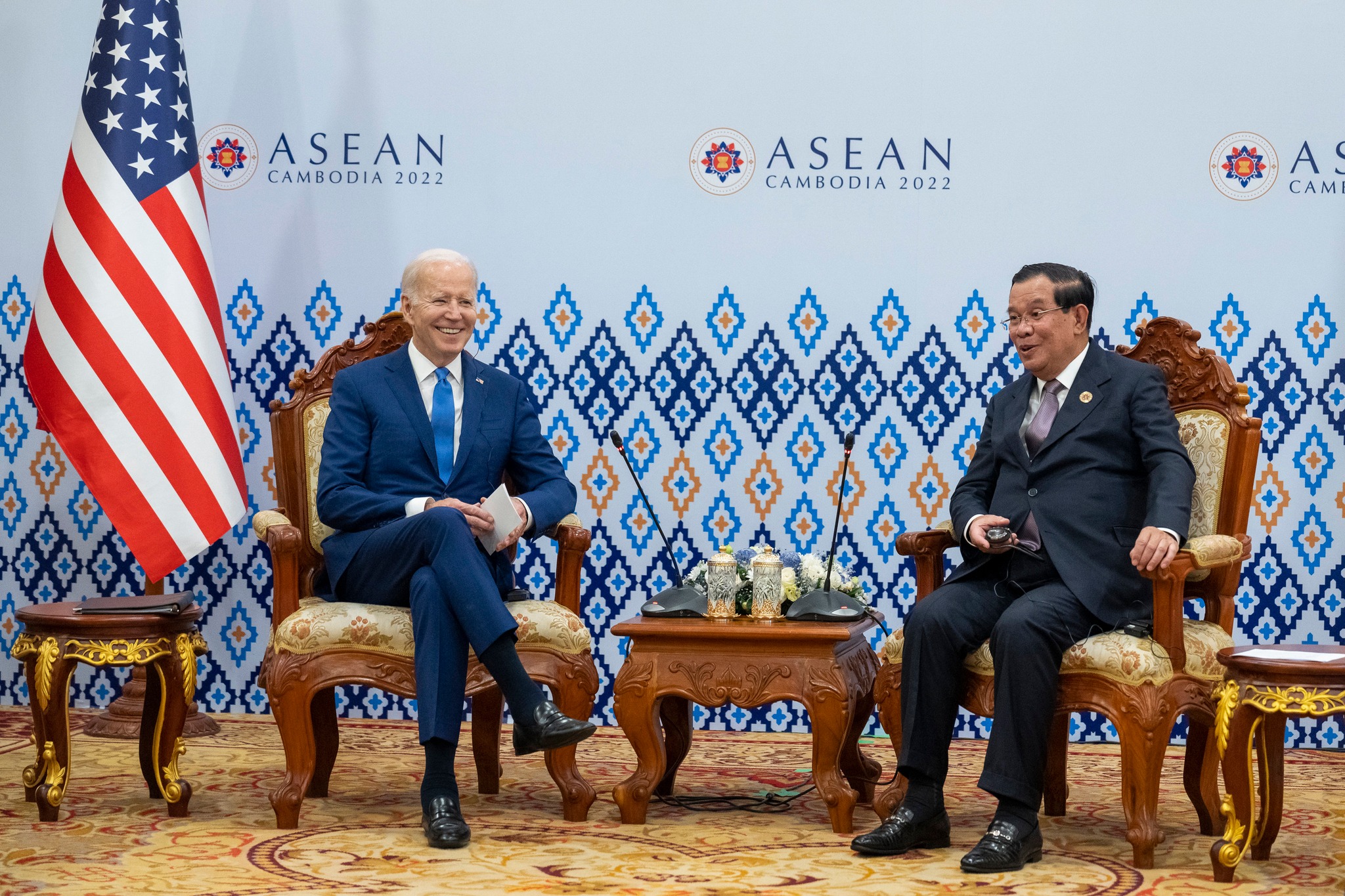 President Joe Biden landed in Cambodia on Saturday and supported the ASEAN nations. Before the eagerly anticipated Group of 20 summits next week in Indonesia, where Biden will meet with Xi for the first time in person since he took office, there will be a weekend of meetings in Cambodia. Before meeting with Xi, the president can engage with US allies at the ASEAN summits and the East Asia Summit on Sunday, both in Phnom Penh.
The US-ASEAN Comprehensive Strategic Partnership, which, according to Biden, "will tackle the biggest issues of our time, from climate to health security, defend against the significant threats to rule-based order and threats to the rule of law, and build an Indo-Pacific that's free and open, stable and prosperous, resilient and secure," was announced as "another critical step" toward building on the group's progress during his remarks at the summit. He cited a budget proposal for $850 million in support for Southeast Asia while praising the US's current financial commitments to ASEAN.
"This is my third journey and third summit, my second in person." The value reflects the United States' commitment to our relationship with ASEAN and our dedication to the region's centrality. The core of the Indo-Pacific strategy of my administration is ASEAN. In his opening remarks to the meeting, Biden said, "And we continue to reinforce our resolve to work in lockstep with an empowered, united ASEAN."
To build on the ASEAN leaders' conference in Washington earlier this year, the president's first meeting in Cambodia was with Prime Minister Hun Sen of Cambodia.
From the beginning of his presidency, Biden "was intent on elevating our engagement in the Indo-Pacific," according to national security adviser Jake Sullivan, and his attendance at the ASEAN and East Asia summits this weekend will highlight his accomplishments to date, including the Indo-Pacific Economic Framework unveiled earlier this year and security partnership initiatives.
"He's coming into this series of summits with that track record of success and purpose behind him, and he wants to be able to use the next 36 hours to build on that foundation to move American engagement forward, as well as to deliver several actual, practical initiatives," Sullivan said.
New initiatives on maritime cooperation, internet connectivity, and economic investment are some of these valuable measures, according to Sullivan. He added that Biden will soon begin a new maritime initiative that will "focus on using radio frequencies from commercial satellites to be able to track dark shipping, illegal and unregulated fishing, and also to improve the capacity of the countries of the region to respond to disasters and humanitarian crises."
Further, he added, Biden will also emphasize a "forward-deployed posture" toward regional defense to demonstrate that the US is actively pursuing security cooperation.
Biden also mentioned a brand-new US-ASEAN electric car infrastructure program during his speech.
He described the project as "a collaborative effort to build an integrated electric car ecosystem in Southeast Asia, enabling the region to achieve sustainable energy, economic growth, and ambitious emissions reduction targets."
Discussions on coordination "to continue to impose costs and build pressure on the junta" will also be centered on Myanmar, which was the subject of a February 2021 coup that ousted the country's democratically elected government.
Key Highlights
Concerns raised by Biden regarding Chinese activity at the Cambodian Ream Naval Base. The president expressed concern over the circumstances at Ream Naval Base and emphasized the value of complete transparency regarding the PRC (China's) military activities there.
The US President congratulated Cambodia's Prime Minister for backing Ukraine at the UN and spoke about the turmoil in military-ruled Myanmar.
President Biden also conveyed his gratitude to Cambodia for supporting resolutions at the UN to defend Ukraine from the brutal assault of Russia.
He thanked Cambodia for holding the ASEAN helm through a trying year.
The leaders "reflection on the historic US-ASEAN Special Summit's success in Washington, DC and applauded plans to establish a US-ASEAN Comprehensive Strategic Partnership at the annual US-ASEAN Summit later that day."
Along with the ASEAN Five Point Consensus, they also discussed the crisis in Burma and ASEAN's reaction, highlighting the international community's crucial role in restoring of democracy and stability in Burma.
In addition, Biden urged releasing activists like Seng Theory and a dual US-Cambodia citizen arrested on politically motivated allegations. The commitment of the United States to the Cambodian people and their goals for a more wealthy, democratic, and independent nation was reaffirmed by President Biden.