WHO IS GEN Z?
Generation Z or what other generations like to call "the least caring" generation. Well, the statistics say something else. We will find out about that as we proceed. Gen Z or Net Gen or Digital Natives or Internet Generation, they come by different names (catch up!). Net Gen loosely compromises the people that are born from 1995 to 2010.
Would you like some quick facts around Gen Z?
It is one of the most diverse generations that history has witnessed.
By 2025, these digital natives will constitute the same share of Asia's population as that of millennials will. (McKinsey)
Gen Z understand change, they (59%) know that the job they hold now will not be same in the coming 20 years (LinkedIn)
Over half (55%) of Gen Z use their smartphones five or more hours a day, and over a quarter (26%) use their phones 10 or more hours a day.(CGK)
More Gen Zers are pursuing college than previous generations
What is up with Gen Z? How are they any different?
Gen Z is a hypercognitive and digitally advanced generation. They have a knack for the internet which is easily deduced by their screen time. Gen Z has a way to turn around people of all ages and incomes. It can potentially be a generation that connects without socioeconomic boundaries. These digital natives are drawn towards truth like no one else. They understand and accept the concept of complete picture and narration gaps. The millennials are less accepting of various angles or views to a story. Gen Z accepts the same as something innate. Check out the below given table by McKinsey and company to understand the difference in the context, behaviour and the consumption pattern of the different generations.
Core Behavioural Values or Gen Z:
Identity: This generation believes in expressing themselves to the fullest. No one title, label or identity can fully capture the people from this generation. Individual truth and self expression through the same is given more important. They understand their intersectional identity. These digital natives don't define themselves to one stereotype. For them the self is a place to understand, experiment and change. Seven out of ten Gen Z says it is important to defend causes related to identity, so they are more interested than previous generations have been in human rights. They are interested in topics and causes fighting for gender equality and against racism, colourism, casteism and more. They tend to navigate towards the cause rather than the person more.
Inclusive and connectivity: This generation due to the high exposure to social media platforms, acknowledges the various realities and truth of the world. They continually flow between communities that promote their causes. There has been a surge in the online communities that promote a cause. You might have surely seen an Instagram page that promotes a cause or been part of a Facebook chat that talks about fighting against injustice in any way. With a lot of communities that are driven by the Sustainable Development Goals by the UN inclusivity has seen a rise.
Confrontation & Dialogue: Not talking about the extrovert or the introvert side of anyone. Gen Zers believe in the importance of dialogue and accept differences of opinion with the institutions in which they participate and with their own families. Change must derive from conversations. Fuelling conversations, engaging in opposite views and trying to see the various faces is the kind of dialogue Net Gen engages in. Gen Z is also more willing to accommodate the failings of companies. Thirty-nine percent of the people in this generation, for example, expect companies to answer customer complaints in the same day; for the three earlier generations, the percentage is much higher—52 percent.
Realistic: They do away with the idealistic approach. With handy information, this generation is analytical and has a better hand at calculating risks. Sixty-five percent of the Gen Zers in our survey said that they particularly value knowing what is going on around them and being in control. As reported by LinkedIn, Gen Z has a more realistic approach towards jobs and the nature of their jobs. Gen Zers start their work early in terms of age. 17 to 23 years old are already gainfully employed in either full- or part-time jobs or as freelance workers.
Why should you market to Gen Z?
Gen Z has tremendous buying power. As reported by Forbes, Gen Z is already on track to become the largest generation of consumers by the year 2020, and they account for $29 to $143 billion in direct spending. As already stated they are great at influencing. Family consuming patterns are largely attributed to their choices. They are on their way to become the largest consuming generation. Their enormous spending power tends to go towards eating out, electronics, beauty products, and clothing/accessories.
What can marketers do for Gen Z?
With the traits discussed above, here are some things that the marketers can do to cater to this internet born generation:
Cut the clutter: This generation is able to navigate away from the institutional messages. They are less likely to click on ads as compared to millennials. They filter out excessive noise to actually hear the voices they can trust. You can tell a lot about a person by what/who they follow through their social media handles. With the fast lives that they live, grabbing the attention is difficult and sustaining it is even more. Attention is scarce and what is scarce becomes expensive. No wonder, short form videos are doing exceptionally well in the market.
Accessibility: I strongly believe in this concept. The economy is moving from possession to access very quickly. For instance, an average Gen Z is more likely to get an Uber than buying a car. The meaning of consumption has changed from owning to access. The Gig economy is striving. A lot of people believe in it for extra income. They access their hobbies or passion while maintaining their full time jobs. People are shifting to a subscription model which comes handy.
Identity: Their consumption is a handy way for them to express their identity. They manifest the idea of individual identity. Self expression takes centre. Consumers are willing to pay more for personalised goods. Flexibility is a key aspect. Grouping products according to typical gender norms is not only quite outdated but also so offensive. We are in 2020, why do we still have only women advertising lipsticks in mainstream ads?
Ethics: If you have not checked your various grounds of ethics before going live, I am sorry but bye! The younger consumers don't distinguish between the ethics of a brand, the company that owns it, and its network of partners and suppliers. Gen Z is well educated about brands and their realities and there are high chances that they would abandon a brand that does not take their ethical attributes seriously. Brands need to take a clear stand on various topics to grow with this generation. From company rules to the Instagram model they collaborate with, accountability and ethical functioning is priority.
The influence of this generation is quite much. Keeping up with them will not be hard but constantly understanding them will be. Stay on your toes if your target audience belongs to this generation. Technological trends will be luring, difficult and interesting. Stay on the lookout for these digital natives.
Assassination of Shinzo Abe & Salman Rushdie – Know Real Facts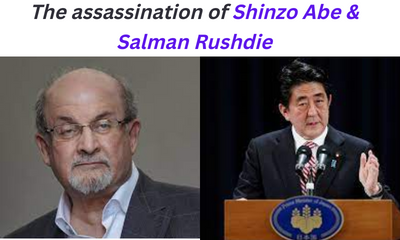 The months July and August of 2022 saw two cases of extermination to promote the fear of terrorism. One of the assassination of Shinzo Abe former Japanese Prime Minister, and another of the famous Novelist Salman Rushdie.
Shinzo Abe succumbed to a gunshot wound, whereas Rushdie's health conditions are improving and he is under medical supervision after the knife attack. However, various assassination attempt of Salman Rushdie has been made during the year.
These two terror acts force us to think about the impact of terrorism on society, the main objective of which is to create an atmosphere of fear so that citizens of the country cannot rely on their government.
This ultimately disturbs the law and order of the society, and serves the terrorists' purpose of creating a chaos.
Here we will see how these two attacks had different reasons but the objective remained the same – to stop someone from propagating his/her opinions independently, and also the factors that make attackers indulge in such acts.
Assassination Attempt of Salman Rushdie – Satanic Controversy
On 12 August 2022, Rushdie was attacked several times by a 24-year-old man Hadi Matar. The attacker's intentions can be linked to Rushdie's fourth novel, The Satanic Verses, published in 1988. Some Muslims considered the novel disrespectful towards Prophet Mohammed.
Soon after its publication, the novel sparked a 'fatwa' or a religious decree. The Iranian revolutionary leader Ayatollah Ruhollah Khomeini called for Rushdie's death in 1989. After, this various assassination attempt of Salman Rushdie has been made.
Complete conversation for Salman Rushdie Assassination:
When asked about the attack Hadi Matar said, "I don't like the person. I don't think he's a very good person. I don't like him very much". He further criticised Rushdie's work by saying, "He's someone who attacked Islam, he attacked their beliefs, the belief systems". Mr. Matar also told New York Post that he had only read 'a couple of pages' of the book and did not tell about whether the fatwa had inspired him or not.
While praising the Iranian religious leader, he stated, "I respect the Ayatollah. I think he's a great person. That's as far as I will say about that".
One can observe that the psychology of the attacker was that he simply disliked the novelist because of his work; although he read only two pages of the novel, but was rather influenced by the religious leaders and their sayings. Just, like this the assassination of Shinzo Abe has been made during this year, which we will discuss on next section.
Perceptions like these can have a long-lasting impact on future generations which can further deteriorate the situation. Violent acts like this demand proper scrutiny of the dissemination of information.
Extremists take advantage of such incidents and brainwash the young minds so that they can be used by them for their selfish purposes.
Assassination of Shinzo Abe – Complete Truth
On 8 July 2022, it was just another day of Abe's political campaign for the upcoming parliamentary elections. He was delivering a speech in Nara City, but no one is the aware about the assassination of Shinzo Abe that day. When a 41-year-old Tetsuya Yamagami shot him twice from behind from a distance of about 10 meters.
During the investigation, he confessed his intentions of killing and it was found that his motives had more to do with religious backing instead of a political reason.
It so happened that Yamagami's mother was a member of a religious group which she joined after her husband's death in 1998. She used to donate huge amounts of money as charity to the group, after the assassination of Shinzo Abe and Yamagami blames the sect for bankrupting his mother.
Confession Statement on Abe Case
The report reveal that Abe was closely associated with the sect, and wanted to take revenge against him for promoting it. "The suspect stated that he held a grudge against a particular organisation and that he committed the crime because he believed former Prime Minister Abe had a connection to it", a senior police officer in Japan's Nara region told reporters.
While the police hasn't given any clarification regarding the unidentified organization, social media in Japan has it that it could be the Unification Church.
Yamagami was unemployed, felt isolated in society, was against religious preaching and blind faith, and wanted to kill the leader of the religious organization but couldn't. One can see the psychological aspects of it that, the killer was anguished with the organisation and blamed them for his conditions and economic turmoil.
Ultimately his grudge converted into a motive of taking revenge for his loss and he did that by killing the perpetrator of the religious group, to give a message to the society and the world that one should avoid themselves from joining or contributing to such groups.
Japan has the strictest gun laws after the assassination of Shinzo Abe , so to bypass such stringent laws the killer used a handmade gun. The occurrence of such incidents in the island nation shows how much resentment the killer has and how strongly he was motivated to commit the murder.
Such incidents are eye-openers for the society that someone's freedom of belief can become others' pain, and teaches that as a society we should try to maintain a balance between them.
Two Paths to Crime
The above two accidents of assassination of Shinzo Abe, and the assassination attempt of Salman Rushdie has been terrifying for the country. First, being a part of a religious group the killer face hardship in his life, which forced him to commit the crime. In the second instance, the attacker got the impression that his religion is being targeted and that it is his responsibility to take revenge so that next time no one dares to do anything like that again.
Interpretation of things based on pre-assumed thoughts can lead to revenge, and revenge based on half-baked knowledge causes harm to the whole humanity, and not just the particular group concerned.