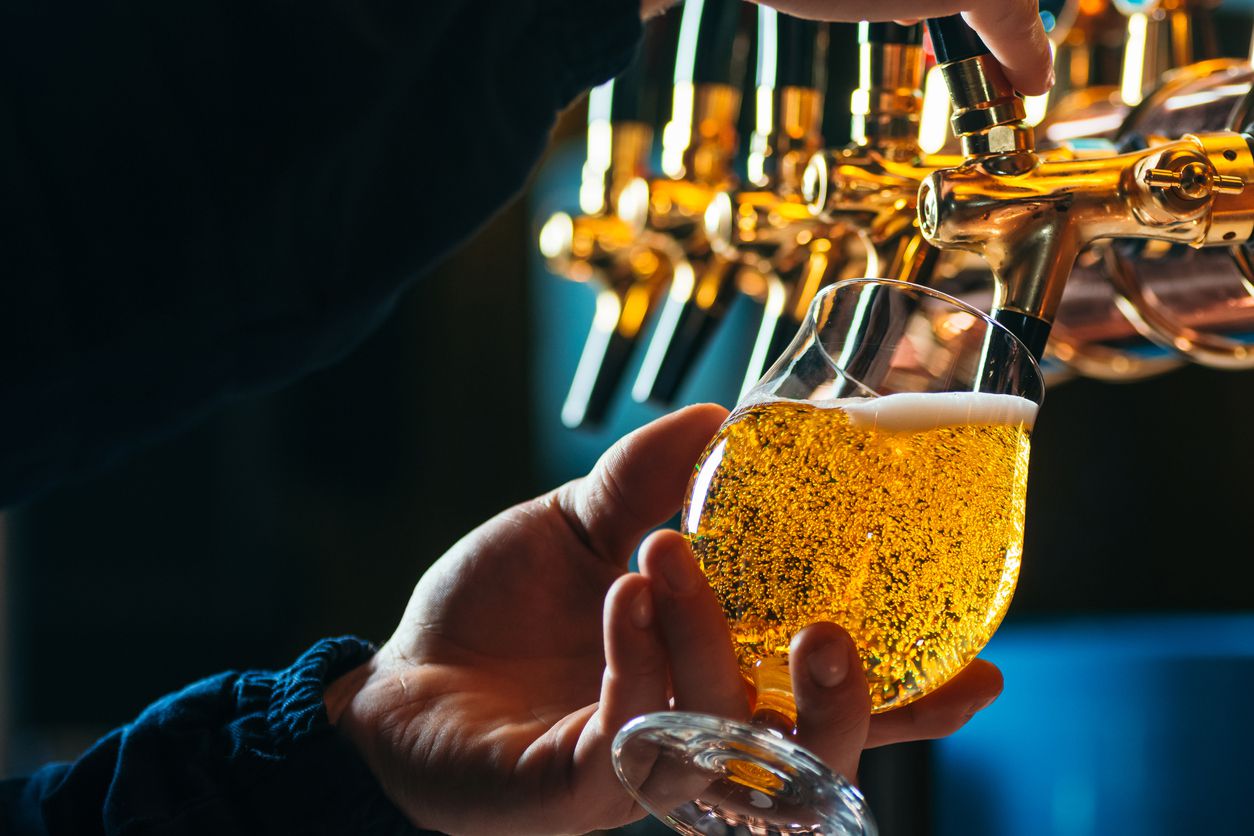 How did beer help in shaping civilisation? Can it be associated with breaking major taboos in India?
Someone said that nothing ever tasted better than a cold beer on a beautiful afternoon with nothing to look forward to than more of the same. That, someone, was right.
Over time, beer has become the most beloved beverage of all time, globally. But beer has not only been around from a few years or a few decades, it has been here since the Late Epipaleolithic era.
According to an article published in the Journal of Archeological Methods and Theory, examining potential beer-brewing tools in archaeological remains from the Natufian culture in the Eastern Mediterranean, it is concluded that brewing of beer was an important aspect of feasting and society in the Late Epipaleolithic era, between 12,500 and 9500 BCE.
Beer was thought to be so important in many bygone civilisations that the Code of Urukagina, often cited as the first legal code, even prescribed it as a central unit of payment and penance.
In India, alcohol was culturally seen as unethical but in the recent times, beer has been able to include itself in the list of daily consumed beverages in the country.
So does this mean beer helped in shaping the civilisation and breaking taboos? Let's find out.
The First Keg Party
Jefferey P. Kahn, a clinical Professor of Psychiatry at Weill-Cornell Medical College have argued oftentimes, that five core social instincts gave structure and strength to our primaeval herds. They kept humanity safely codependent with our fellow clan members, assigned us a rank in the pecking order, made sure we all did our chores, discouraged us from offending others, and removed us from this social coil when we became a drag on shared resources.
Therefore, it can be concluded that our ancient forebears cooperate, multiply, prosper and grow in terms of generations.
Kahn also says that these same lifesaving social instincts didn't readily lend themselves to exploration, artistic expression, romance, inventiveness and experimentation — the other human drives that make for a vibrant civilisation.
To loosen up from the daily intervention of these dilemmas, we needed something that could soothe the problems away from time to time. Something that provided our ancestors with a little break from everyday chores. That something came out to be beer.
Just like other animals, our ancestors would run across fermented fruit or grain and sample it. This unexpected and accidental discovery evolved into the first keg party. How? its still unknown. But it evolved vehemently, possibly, 10,000 years ago.
According to the current theory, grain was first domesticated for food. But scholars have found circumstantial evidence that supports that some early humans grew and stored grain for beer, even before they used it for bread.
Beer: A Communal Brew
When archeologists traced the origins of human civilisation, they found out that the communities centered on alcohol. The Göbekli Tepe site in southeastern Turkey, dated to more than 10,000 years ago, shows evidence of beer brewing at ancient feasting sites.
When people gather to make a toast or feast, they come together and form a community. Community and friendship are major factors in well-being and health. Not only that, these are matters of nessicity for almost all human beings.
With far less alcohol percentage than other drinks, beer is often said to be a drink of moderation. A 2017 study published in the British Medical Journal's BMJ Open found that while beer drinkers more often felt less energised and less amazing than people drinking liquor and wine, beer brings fewer of the downsides associated with excessive consumption.
In recent times, many people drink too much to curb above average social anxiety or panic anxiety. But excessive drinking only increases the problem. It leads to decivilising behaviours and encounters. It also slowly harms the body over time.
A part of beer's worthiness in ancient times was that its alcohol content would have been sharply limited. As far as the research goes, refinement of alcohol to higher concentrations begun only about 2,000 years ago.
There has been a long debate about the pros and cons of beer consumption. While on one hand, it is good for the heart, may improve blood sugar control. It is also known to contribute to weight gain, liver disease and alcohol dependence.
Normalising Beer consumption and breaking taboos in India
In India, beer hit the ground for the first time at the beginning of the eighteenth century. When the country was under British rule, the famous Indian Pale Ale was introduced for the employees of the East India Company.
Traditionally, in a culturally diverse country like India, alcohol consumption had different meanings. But all the cultures had one thing in common, alcohol consumption was considered unethical for women.
While on one hand, there are deities like Shiva, who glorify the intake of intoxicating drinks in Hindu mythology. Tribal folklore of the Rathwa Bhils of Gujarat considers alcohol a gift from God, meant to ease the inevitable pain of sorrows on the path to death. Adding the prescriptions of herbal wines for the treatment of specific diseases in Ayurvedic medicine.
On the other hand, there have been strong anti-alcoholism movements in India. Firstly, like Muslims, the upper-caste Hindus like Brahmins, traditionally stand against the consumption of alcohol. Secondly, throughout the Indian struggle for independence from the British, alcohol was been put forward as one of the major evils of the society. In the early twentieth century, the anti-alcoholism ideology gained a prominent momentum.
The perception of alcohol in the Indian society led to strict regulations on alcohol distribution and consumption and consumer's preferences for stronger drinks. In comparison to the international standards, beer consumption in India is very low.
But the beer sector has experienced strong growth in recent years. Over the time, the youth of India has almost shed the cultural taboos concerning alcohol and sided with the western culture of drinking.
With beer now being normalised in India and being considered as a regular beverage, the consumption of beer has increased drastically and broken major taboos in India.
According to the World Health Organisation (WHO), about 30 percent of India's population consumes beer regularly.
From a long time, women who consume alcohol have been portrayed in a bad light in both the reel and real life. But with the growing economic independence of women, they now represent one of the biggest growth sectors of India in the drinks section.
This not only concluded in alcohol acceptance, but it also contributes to breaking gender stereotypes and cultural taboos in the country.
Ultimately, beer's place in the development of civilisation and its contribution to breaking taboos deserves a hearty toast. As Benjamin Franklin allegedly said, "Beer is living proof that God loves us and wants us to be happy."
Assassination of Shinzo Abe & Salman Rushdie – Know Real Facts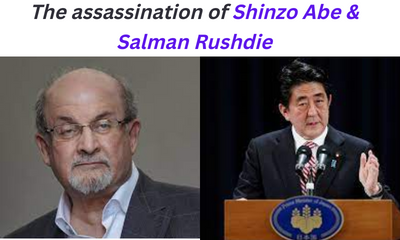 The months July and August of 2022 saw two cases of extermination to promote the fear of terrorism. One of the assassination of Shinzo Abe former Japanese Prime Minister, and another of the famous Novelist Salman Rushdie.
Shinzo Abe succumbed to a gunshot wound, whereas Rushdie's health conditions are improving and he is under medical supervision after the knife attack. However, various assassination attempt of Salman Rushdie has been made during the year.
These two terror acts force us to think about the impact of terrorism on society, the main objective of which is to create an atmosphere of fear so that citizens of the country cannot rely on their government.
This ultimately disturbs the law and order of the society, and serves the terrorists' purpose of creating a chaos.
Here we will see how these two attacks had different reasons but the objective remained the same – to stop someone from propagating his/her opinions independently, and also the factors that make attackers indulge in such acts.
Assassination Attempt of Salman Rushdie – Satanic Controversy
On 12 August 2022, Rushdie was attacked several times by a 24-year-old man Hadi Matar. The attacker's intentions can be linked to Rushdie's fourth novel, The Satanic Verses, published in 1988. Some Muslims considered the novel disrespectful towards Prophet Mohammed.
Soon after its publication, the novel sparked a 'fatwa' or a religious decree. The Iranian revolutionary leader Ayatollah Ruhollah Khomeini called for Rushdie's death in 1989. After, this various assassination attempt of Salman Rushdie has been made.
Complete conversation for Salman Rushdie Assassination:
When asked about the attack Hadi Matar said, "I don't like the person. I don't think he's a very good person. I don't like him very much". He further criticised Rushdie's work by saying, "He's someone who attacked Islam, he attacked their beliefs, the belief systems". Mr. Matar also told New York Post that he had only read 'a couple of pages' of the book and did not tell about whether the fatwa had inspired him or not.
While praising the Iranian religious leader, he stated, "I respect the Ayatollah. I think he's a great person. That's as far as I will say about that".
One can observe that the psychology of the attacker was that he simply disliked the novelist because of his work; although he read only two pages of the novel, but was rather influenced by the religious leaders and their sayings. Just, like this the assassination of Shinzo Abe has been made during this year, which we will discuss on next section.
Perceptions like these can have a long-lasting impact on future generations which can further deteriorate the situation. Violent acts like this demand proper scrutiny of the dissemination of information.
Extremists take advantage of such incidents and brainwash the young minds so that they can be used by them for their selfish purposes.
Assassination of Shinzo Abe – Complete Truth
On 8 July 2022, it was just another day of Abe's political campaign for the upcoming parliamentary elections. He was delivering a speech in Nara City, but no one is the aware about the assassination of Shinzo Abe that day. When a 41-year-old Tetsuya Yamagami shot him twice from behind from a distance of about 10 meters.
During the investigation, he confessed his intentions of killing and it was found that his motives had more to do with religious backing instead of a political reason.
It so happened that Yamagami's mother was a member of a religious group which she joined after her husband's death in 1998. She used to donate huge amounts of money as charity to the group, after the assassination of Shinzo Abe and Yamagami blames the sect for bankrupting his mother.
Confession Statement on Abe Case
The report reveal that Abe was closely associated with the sect, and wanted to take revenge against him for promoting it. "The suspect stated that he held a grudge against a particular organisation and that he committed the crime because he believed former Prime Minister Abe had a connection to it", a senior police officer in Japan's Nara region told reporters.
While the police hasn't given any clarification regarding the unidentified organization, social media in Japan has it that it could be the Unification Church.
Yamagami was unemployed, felt isolated in society, was against religious preaching and blind faith, and wanted to kill the leader of the religious organization but couldn't. One can see the psychological aspects of it that, the killer was anguished with the organisation and blamed them for his conditions and economic turmoil.
Ultimately his grudge converted into a motive of taking revenge for his loss and he did that by killing the perpetrator of the religious group, to give a message to the society and the world that one should avoid themselves from joining or contributing to such groups.
Japan has the strictest gun laws after the assassination of Shinzo Abe , so to bypass such stringent laws the killer used a handmade gun. The occurrence of such incidents in the island nation shows how much resentment the killer has and how strongly he was motivated to commit the murder.
Such incidents are eye-openers for the society that someone's freedom of belief can become others' pain, and teaches that as a society we should try to maintain a balance between them.
Two Paths to Crime
The above two accidents of assassination of Shinzo Abe, and the assassination attempt of Salman Rushdie has been terrifying for the country. First, being a part of a religious group the killer face hardship in his life, which forced him to commit the crime. In the second instance, the attacker got the impression that his religion is being targeted and that it is his responsibility to take revenge so that next time no one dares to do anything like that again.
Interpretation of things based on pre-assumed thoughts can lead to revenge, and revenge based on half-baked knowledge causes harm to the whole humanity, and not just the particular group concerned.