"Would love to be there this year. If not, definitely next!" Tesla's Chief said in a Twitter post. The race to launch electric cars in India is now on. Local and international manufacturers are releasing new cars studded with batteries such as lithium-ion.
India aspires to see all three-wheeler vehicles run on batteries by 2023. Over the next two years, the government wants to see all two-wheeler vehicles use batteries. For this to happen, the government is offering incentives for car manufacturers to develop new EV models and release them in the market.
The current government has set a path for electric vehicles in the country through the National Electric Mobility Mission Plan (NEMMP) 2020. The centre set a target to achieve 6-7 million sales of electric vehicles in the country by 2020.
Why does India need electric cars ?
Ranked as the 5th most polluted country in the world, India needs urgent action to tackle the loss caused by growing pollution. Electric cars can help in the fight against fossil fuels and the increasing use of coal in the country.
With the initial push to deploy two-wheelers and three-wheelers on the roads, it is to initiate sales in the sector. The real change is possible when public transportation and cars come with batteries to make these possible manufactures are now developing and coming out with new models.
Available electric models
Car Models in the electric sector have launched in recent times. These cars are mainly developed by Tata, Mahindra, and Hyundai, but to fight the challenge posed by traditional petrol or diesel-based models and make India an EV nation, we need many more.
Current electrical models available in the markets are built by Hyundai, like the Hyundai Kona Electric. Mahindra e-Verito and Mahindra e2o by Mahindra Group, Tata Tigor EV and Tata Nexon EV by Tata Motors.
With CEO Elon Musk saying Tesla will launch its products by this year or definitely next year. Many Indian and international automakers understood how EV cars would revamp the market structure. Now all these manufacturers have started testing their Electric models to understand the Indian market.
On-road challenges
India being a middle-income country, citizens often attract low-cost cars unlike those in developed countries. The average on-road price for an electric vehicle is huge and not attractive enough for customers.
Hyundai Kona electric costs Rs 24 lakh on-road, this price tag is hefty for a normal customer who can buy an economical car with a budget around 6 lakh. Other electric models such as Tata Nexo EV and Tata Tigor EC also cost more than 10 lakh.
As of 2018, India has just over 650 charging stations. Meanwhile, China had more than 456k charging points all over the country. Additionally, we lack the private parking space that is seen as a hurdle in adopting electric vehicles.
According to research by Maruti Suzuki, nearly 60 percent of Indian auto customers don't own parking space for their vehicles. This is a huge challenge as these customers have no option but to charge their vehicles and end up opting for a traditional fuel-based car.
The government's support
The Indian government has a goal of making 30 percent of Indian vehicles on the road electric by 2030. To achieve this, the government has taken steps starting from 2019 to promote the sale and development of electric vehicles in the country.
By introducing special policy measures GST has been slashed to 5 percent from 28 percent for combustion vehicles. Through FAME II, the government allocated Rs 10k crore to push electric mobility in the country.
The union cabinet proposed customs duty exemption measures on EV parts such as onboard charger, e-compressor, electric drive assembly, and a charging gun focusing on costs cut down. More than a dozen states have proposed electric vehicle policies and recently Delhi also proposed a new policy.
The reality of switching to electric cars
According to various media reports, the current EV vehicle sales are only 1 percent of the total vehicle sales in India. Of the total EV vehicle sales, 95 percent of sales are electric two-wheelers. Just over 1500 electric vehicles were sold between April and December 2019.
The pandemic has further collapsed the sale of Two-Wheeler vehicles completely. People's interest in buying two-wheeler electric but not cars shows that India is a price-sensitive market where people fear taking a risk.
With the market facing new challenges like the reducing sale of traditional fuel vehicles. The demand for electric vehicles is not yet clear in the market. Thus switching to electric cars will take more time than anticipated. But industry experts are optimistic and hoping the shift will happen soon, citing reasons such as growing start-ups and advancements in the EV segment.
President Joe Biden's Conversation with the Cambodian Prime Minister Hun Sen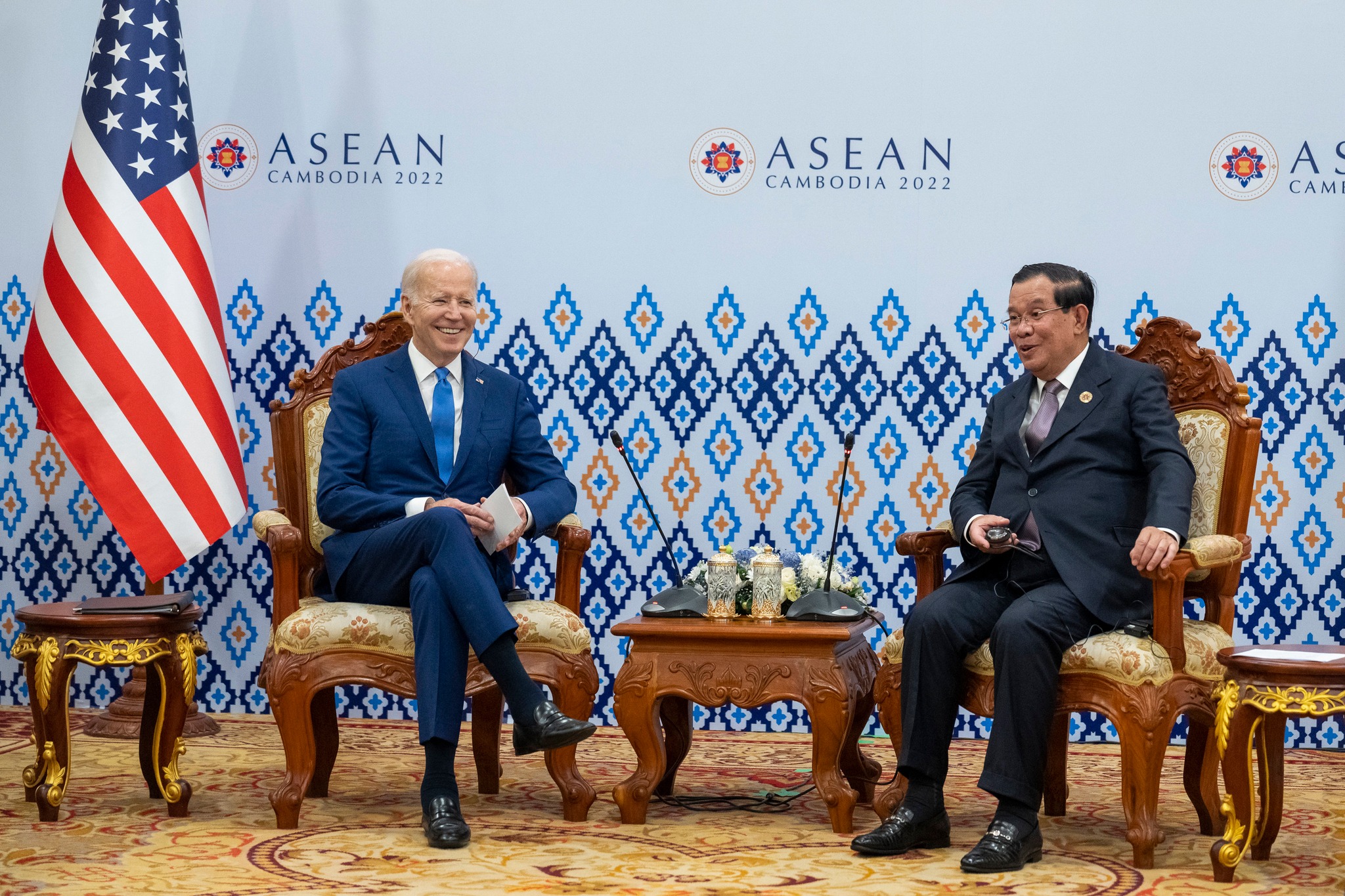 President Joe Biden landed in Cambodia on Saturday and supported the ASEAN nations. Before the eagerly anticipated Group of 20 summits next week in Indonesia, where Biden will meet with Xi for the first time in person since he took office, there will be a weekend of meetings in Cambodia. Before meeting with Xi, the president can engage with US allies at the ASEAN summits and the East Asia Summit on Sunday, both in Phnom Penh.
The US-ASEAN Comprehensive Strategic Partnership, which, according to Biden, "will tackle the biggest issues of our time, from climate to health security, defend against the significant threats to rule-based order and threats to the rule of law, and build an Indo-Pacific that's free and open, stable and prosperous, resilient and secure," was announced as "another critical step" toward building on the group's progress during his remarks at the summit. He cited a budget proposal for $850 million in support for Southeast Asia while praising the US's current financial commitments to ASEAN.
"This is my third journey and third summit, my second in person." The value reflects the United States' commitment to our relationship with ASEAN and our dedication to the region's centrality. The core of the Indo-Pacific strategy of my administration is ASEAN. In his opening remarks to the meeting, Biden said, "And we continue to reinforce our resolve to work in lockstep with an empowered, united ASEAN."
To build on the ASEAN leaders' conference in Washington earlier this year, the president's first meeting in Cambodia was with Prime Minister Hun Sen of Cambodia.
From the beginning of his presidency, Biden "was intent on elevating our engagement in the Indo-Pacific," according to national security adviser Jake Sullivan, and his attendance at the ASEAN and East Asia summits this weekend will highlight his accomplishments to date, including the Indo-Pacific Economic Framework unveiled earlier this year and security partnership initiatives.
"He's coming into this series of summits with that track record of success and purpose behind him, and he wants to be able to use the next 36 hours to build on that foundation to move American engagement forward, as well as to deliver several actual, practical initiatives," Sullivan said.
New initiatives on maritime cooperation, internet connectivity, and economic investment are some of these valuable measures, according to Sullivan. He added that Biden will soon begin a new maritime initiative that will "focus on using radio frequencies from commercial satellites to be able to track dark shipping, illegal and unregulated fishing, and also to improve the capacity of the countries of the region to respond to disasters and humanitarian crises."
Further, he added, Biden will also emphasize a "forward-deployed posture" toward regional defense to demonstrate that the US is actively pursuing security cooperation.
Biden also mentioned a brand-new US-ASEAN electric car infrastructure program during his speech.
He described the project as "a collaborative effort to build an integrated electric car ecosystem in Southeast Asia, enabling the region to achieve sustainable energy, economic growth, and ambitious emissions reduction targets."
Discussions on coordination "to continue to impose costs and build pressure on the junta" will also be centered on Myanmar, which was the subject of a February 2021 coup that ousted the country's democratically elected government.
Key Highlights
Concerns raised by Biden regarding Chinese activity at the Cambodian Ream Naval Base. The president expressed concern over the circumstances at Ream Naval Base and emphasized the value of complete transparency regarding the PRC (China's) military activities there.
The US President congratulated Cambodia's Prime Minister for backing Ukraine at the UN and spoke about the turmoil in military-ruled Myanmar.
President Biden also conveyed his gratitude to Cambodia for supporting resolutions at the UN to defend Ukraine from the brutal assault of Russia.
He thanked Cambodia for holding the ASEAN helm through a trying year.
The leaders "reflection on the historic US-ASEAN Special Summit's success in Washington, DC and applauded plans to establish a US-ASEAN Comprehensive Strategic Partnership at the annual US-ASEAN Summit later that day."
Along with the ASEAN Five Point Consensus, they also discussed the crisis in Burma and ASEAN's reaction, highlighting the international community's crucial role in restoring of democracy and stability in Burma.
In addition, Biden urged releasing activists like Seng Theory and a dual US-Cambodia citizen arrested on politically motivated allegations. The commitment of the United States to the Cambodian people and their goals for a more wealthy, democratic, and independent nation was reaffirmed by President Biden.