The year 1971 will go down in Indian subcontinent history as a watershed moment. Between March and December, the world watched Pakistan's first election under a military dictatorship, the rejection of the public result, genocide, mass exodus, civil war, a fortnight-long battle between two hostile neighbours, and finally, the tragic birth of a new country, Bangladesh.
We learned of the brave but perilous stand taken by many foreigners, international media, and Christian missionaries in the face of Pakistani military threats soon after Bangladesh was established. They backed the Bengali people in their quest for independence from the occupying troops and provided whatever assistance they could to people and liberation fighters in need of shelter, food, and medicine. They loved Bangladesh with all of their hearts and souls, so they had legitimate reasons to support the people's independence battle. Some missionaries have lived here since the 1950s and consider this place to be their home. But what about an American diplomat who has never met a Bengali or had the opportunity to get to know them well enough to say more than a perfunctory hello? Would a distinguished gentleman from Washington's exclusive pool of professional diplomats risk everything — including his next assignment as an American Ambassador in a faraway place — for the love of Bengalis? Would he give up everything he was looking forward to during the training period for individuals he barely knew? The most likely response is no. 
However, Mr. Archer Blood, the then-Consul General of the American Consulate in Dhaka, did just that, ruining his diplomatic career. He never received his ideal job as an Ambassador. He worked at a desk at the State Department until his retirement. Let us remember him during this month of December, the month in which we celebrated our long-awaited victory against our adversary.
To begin, in 1947, the Quaid-e-azam (or "great leader") Mohammad Ali Jinnah recognised Pakistan, a geographical oddity, after lengthy and arduous talks. The new country's two wings were divided by 1000 miles of territory, which was ruled by the unfriendly India. The muscular, violent Punjabis and suave Sindhis of the Western side always called the shots over the East's small and sensitive Bengali inhabitants. The two were as different as chalk and cheese in terms of culture and habits, and religion was the only thing that brought them together.
When the Awami League, East Pakistan's main political party, won 160 out of 162 seats in the election, Sheikh Mujib, the party's president, had a strong claim to become Prime Minister. The junta and the ambitious Zulfiqar Ali Bhutto, whose Pakistan People's Party finished second in the election, were both opposed to such a scenario. In March 1971, Mujib wanted autonomy for Bangladesh, and negotiators were dispatched to talk with him. When the talks fell through, the army took over. Soldiers stormed Dhaka University on the night of March 25, shooting indiscriminately and killing a huge number of students, academics, and intellectuals, all of whom were supporters of Mujib's Awami League.
The assassinations didn't end there; they got worse. Although statistics are unreliable, it is estimated that a few million people were slain. Around 10 million refugees were forced to seek refuge in neighbouring India, causing severe socioeconomic challenges for the unwilling host. Pakistan has 70,000 troops on the ground to govern 75 million people. They were led by Tikka Khan, the ruthless general known as the 'Butcher of East Pakistan.'
Archer Blood, the American Consul-General in Dhaka, commented on the devastation. This career diplomat wrote detailed reports to Washington every day, much like a reporter, updating his government about the current situation in East Pakistan. He believed that at this important, violent juncture, the world's most powerful democracy should not remain a mute spectator, but his dreams were dashed. Since President Nixon was a friend and lover of Pakistani President General Yahya Khan, nothing happened on Capitol Hill.
Henry Kissinger, Nixon's National Security Adviser, may have thought Khan was a moron, but he wasn't about to take up the cause of a "bunch of goddamned brown Moslems," as Nixon put the Bangladeshis. Also, Kissinger was fascinated with courting China in order to counter the Soviet power in global affairs, and Khan aided him much in this endeavour. He had arranged a covert meeting with China's top authorities and given Kissinger with a cloak-and-dagger cover to fly into and out of China via Pakistan. Bass and his crew have listened to hundreds of tapes that contain talks between Nixon and Kissinger. This is how we obtain such tasty tidbits of information and the previous president's colourful jargon. (For example, Indians are referred to as "bastards," while Indira Gandhi is referred to as "a bitch" or "a witch," or both.)
Blood – whose name is chillingly poignant, given the events of the period – did something unusual when faced with silence. On April 6, Blood, along with twenty-odd consular personnel, submitted a cable expressing their "dissent from US policy in East Pakistan." "Our administration has failed to oppose the suppression of democracy," said the cable, from which Bass's book takes its title. Our administration has failed to condemn human rights violations." "We, as professional public servants, express our discontent with current policy and ardently hope that our genuine and long-term interests here can be established and our policies redirected…," the note said.
Blood had filed a 'no confidence motion' against his own government, which few bureaucrats can even contemplate in their darkest dreams.
Blood was the first to point out that there was "selective genocide," with Hindus being singled out and slaughtered in order to shift the demographic trend. Ethnic cleansing was carried out by Pakistani military in the green plains of East Pakistan long before Serbia and Bosnia.
Nixon was not a man who tolerated dissent. So, 18 months before his term was to finish, Blood was abruptly hauled away from Dhaka and deposited somewhere in Washington's State Department. His name was never mentioned again. When he died 33 years later, the news of his death was on the first page of every Bangladeshi daily, and his family was stunned by the outpouring of flowers, phone calls, and messages from that country.
In 1971, shortly after the country's freedom, the Bangladeshi media learned of his role and published brief reports on him. But it wasn't until much later, approximately three or four years ago, that we learned in detail about Archer Blood and his consular staff members' valiant, albeit perilous stand, thanks to Gary J. Bass's book Blood Telegram. Reading through the pages of Blood Telegram was like viewing a feature film-length flashback to the events of 1971. Indeed, it was as if the people of East Pakistan were reliving those terrifying days when the line separating life and death had shrunk dangerously.
The book chronicled political happenings in Dhaka, Rawalpindi, Delhi, and Washington at the same time, during pivotal stages in the history of Bangladesh's formation. Blood Telegram contains authentic accounts of classified telegrams between Dhaka, Rawalpindi, and Washington, including responses, high-level meetings, conversations, notes, comments, the White House-State Department squabble, Henry Kissinger's role, and President Nixon's imperceptive diplomacy, and much more, all based on recently declassified State Department documents, White House tapes, and commendable investigative reporting by some courageous correspondents.
Mr. Blood's career was irrevocably destroyed by the cable, which had no obvious effect on Washington's policy. According to Howard B. Schaffer, one of 29 diplomats who signed the dissent cable in 1971, by the time he earned another diplomatic posting, he had "lost career time" and never became an ambassador. He chose the risky path of defying a policy from within the system. Would it have been more effective for him to object if the cable had been released to The New York Times? Would it have been better for him to resign in protest, to make a scene, than to sit back and watch his bureaucratic punishment play out?
The curious relation between Art and Communism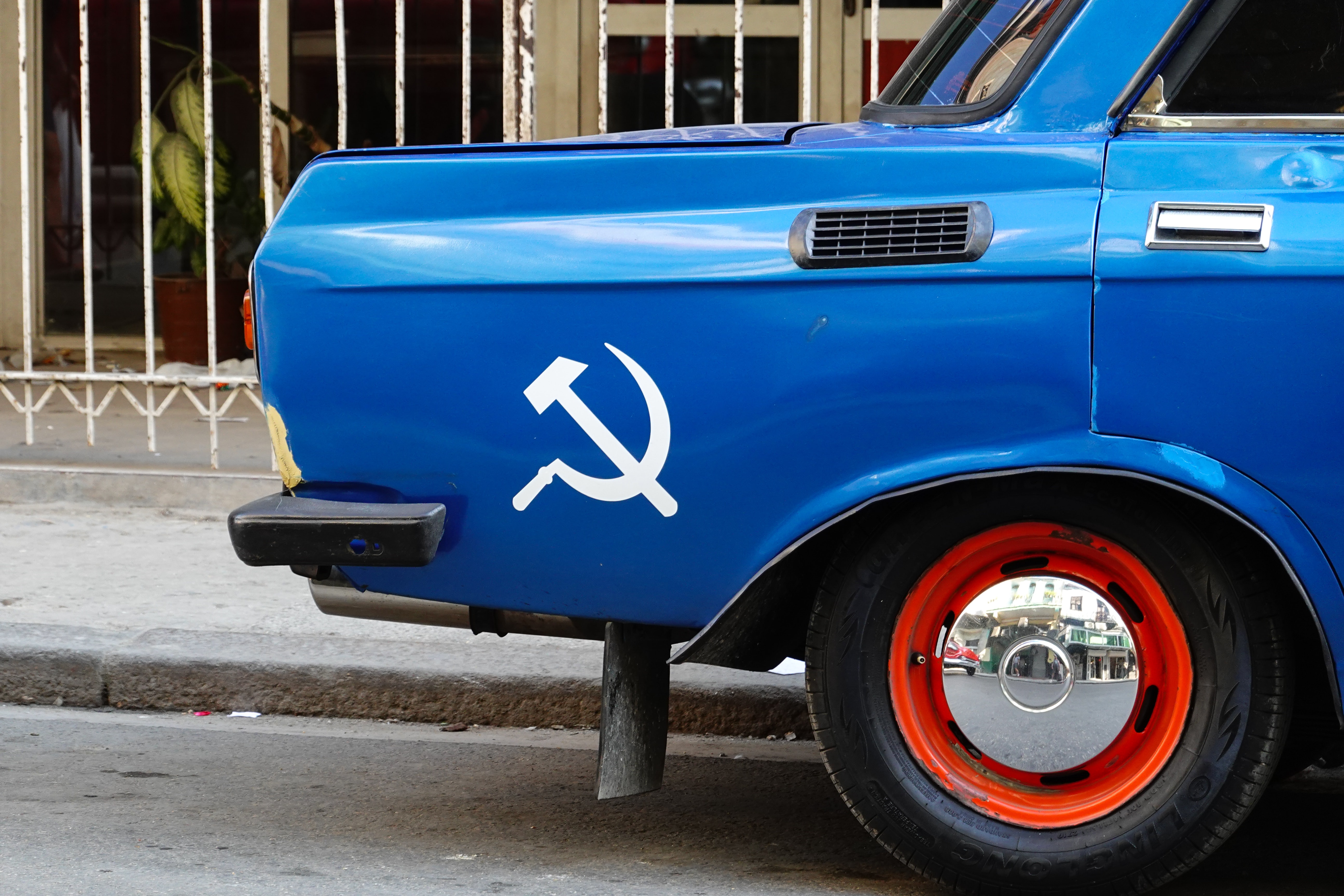 The philosophy of 'art for art's sake' is a relatively newer concept, introduced and later developed during the early 19th century. However, historically art was meant to drive a purpose or further an agenda, or just simply project a pre-conceived social notion or message to the viewers. Artists mostly relied on patrons and the art that was put out was often commissioned for a specific aim and objective. The 'historical museums and art displays where today's public can see and understand art are only a recent development. In the past, art remained an aristocratic gig and it was only at a public location, usually religious or political function where the masses could also enjoy 'high art'. Hence, shaping art to serve a political narrative is not a novel idea. The Communists however took this idea of serving art to another level by exerting more influence and control and keeping a more intrusive approach. However, it is imperative to establish that if it weren't for the communists and their active participation in the field of art, the world may not have had such a modernized concept of mass production of images and words as it proudly reflects today. The number of Communist-centric art and artifacts flourished post the regimes of Russia under Stalin (1922-1953) and China under Mao (1949-1956). Though there have been many pieces of literature on art and culture during the mentioned timeline, the comparison between the two regimes presents a very striking image of "Communist Art".
Rise of Communism
The foundations of socialism were already laid during the French Revolution although the Communist Manifesto by Marx and Engels was written much later in 1848. The Marx version of Communism is the solution to history's riddle and is the "positive transcendence of private property…it is the genuine resolution of the conflict between man and nature and between man and man –the true resolution of the strife between existence and essence, between objectification and self-confirmation, between freedom and necessity, between the individual and the species." While Marx and Engels rambled upon the fundamentals and their individual interpretations of Communism, none of them produced an official or informal theory on aesthetics, art, and literature being aligned to a particular ideology. No comments regarding art and its social implications were made in reference to the artist or the audience.
The ideas of Marx were adopted by Lenin and later passed on to Stalin and Mao. However, like any idea, theory, principle or even religion distorts in the realm of changing society and civilization, the named leader's implementation of Communism was contrastingly different from what Marx preached. Hence the ideology did not exactly translate into its natural form on the ground. The practice of the ideology never matched its theory as its implementation was entirely dependent on a multitude of human actions and decisions. So, when an ideology is handicapped and is presented without its physical manifestation, it inevitably falls in the hands of idiosyncratic personalities of the leaders who shaped Marxist Communism into mutated versions: Stalinism and Maoism.
Communism is a very seducing and enticing concept. So, when Joseph Stalin and Mao Zedong, in Russia and China respectively picked it and molded it into a tool to simply overthrow the traditional and imperialist regimes, the concept became even more exciting. Communism, therefore, emerged victorious post the fall of Imperial Regimes by the devastating wars, the people welcomed them and the ideas of 'communism' were appreciated. However, the ideas that people embraced were in fact masking the true nature of these communist dealers as it ultimately took an authoritarian outlook in no time. So while people anticipated a change in the basic system of governance from that of Imperial Regimes, they unwittingly fell into another authoritarian regime and have been under its control for decades.
It is shocking to see that while both the countries, Russia and China are presently the flag bearer of Communism, the concept is foreign to both. The concept emerged from Western Europe and was a tertiary concept or an alien ideology to both. The concept, therefore, was bound to have been amended, molded, and altered to suit the needs of Russian and Chinese regimes. The original idea only served the cause of blinding people by offering a lucrative concept so that it can later be shaped into a profitable deal for dictators like Mao and Stalin and fetch them unfettered powers. Therefore, much like any paradigm shift in the world, Communism also rose through invariable back-stabbing, misrepresentation and misappropriation of a great deal of information and news against the public.
Stalinism, Maoism and Art
It is important to see the diversity of art and artistic practices before the said named leaders came into being. The type of art that was not most associated with Communism, did not just completely align itself to the political narrative. It was a gradual process of shaping and controlling the artists and in extension, the art. However, even before the advent of Communism, the art worlds especially in China and Russia were anything but unanimous.
The beginning of the 20th century in Russia saw a bright sunrise to modern and Avant-grade art. Artists like Malevich and Kandinsky confidently rose and approached the Dias. They proposed radical new ideas concerning the aesthetics and the purpose of art. While some artists followed those ideas, some aspired to push forth the envelope even further. But, all of them shared a common view of rejecting realism. The artists unanimously saw the idea of communist ideas as the shaper of the Russian society and were equally excited to chip in their two cents through their literary and artistic work. The artists were so hyped that they even joined state-run organizations as they 'believed; that they must serve the regime as it facilitated artistic freedom. The then Minister of Culture, Anatolii Lunacharskii provided the required resources for the development of new museums and established art studios and schools. The regime was so hugely invested in the art and its effect on the society that academies that rejected the idea of Avant-grade art were shut down. While this appeared to be an uphill for the art and artists, no one noticed that the whole cultural system, including museums, schools, publications, and even public decoration were brought under the government control whilst everyone stood in awe of the glittering gold.
However, the aesthetics of government-sponsored lucrative deals could not overpower the authentic concerns and creative differences which were bound to bud up between the artists. Consequently, the privileged place of Avant-grade art began to lose its ground. It is however true that numerous wonderful and great artistic stances flourished concurrently during this short period, some of them even shaping to become mass movements drawn on traditional aesthetics. As modern grade art began to wane, the group of artists proposed the idea of Productionism to replace Constructivism. They opined that autonomous artists are reactionary and cannot be caged within the political sphere. Therefore, these arts should not be given a free canvas and must become the colleagues of scholars, engineers, and administrators as it would restrict to the social reality controlled by concrete political forces i.e., the Communist Party. The artists however remained adamant in aiming to project the 'What can be' rather than projecting the 'How affected they are' as they believed that the latter connotation was the one which would catapult them and their artifacts into fame and positive audience response. This idea was in strict contravention to Stalin's idea of art and aesthetic and therefore the Avant-grade movements were brought to a screeching halt.
Art in China also went through a similar trend. It also covered a similar journey from the muddle of styles and ideas, a large part of them being radical, to the art of prescribed aesthetics and purpose. Unlike Russia, China was influenced by Western art, both modern and traditional, in the 20th century. China switched to oil paint, leaving the traditional elite of art done mostly in ink. Numerous artists went to Europe and Japan and were exposed to new art practices such as painting still life and figure nudes. Artists were influenced by traditional European Art like that of the Renaissance and were equally perplexed by modern painters like Matisse or Picasso. As a result, many Chinese artists wanted to incorporate and integrate European practices into Chinese art, while some wanted to reform the whole Chinese-artistic discipline form within. This practice of incorporating and adapting newer paradigms with reference to art and literature continued into the 1930s as Chinese art transformed, reformed, pushed forward, and then explored itself in its whole entirety.
However, the same period saw a rise in a certain Modern Woodcut Movement led by Lu Xun. Hugely influenced by the Soviet Prophecy of Avant-grade art that leads to the destruction of the old, he inclined towards the realist school as well. Although he believed that art should not only be limited to a revolutionary message, he encouraged the idea of combining art with politics. In pursuance of combining art and politics together, he spread ideas in China by translating numerous Russian texts stressing realism art and the concept of Productionism. This eventually saw a rise of numerous woodcut groups creating rebellious art and organizing exhibitions exhibiting the same. Soon, the Sino-Chinese War happened and the relations with the outside world were significantly cut down, invariably giving rise to the realist school of art in China, running parallel with Russia.