The year 1971 will go down in Indian subcontinent history as a watershed moment. Between March and December, the world watched Pakistan's first election under a military dictatorship, the rejection of the public result, genocide, mass exodus, civil war, a fortnight-long battle between two hostile neighbours, and finally, the tragic birth of a new country, Bangladesh.
We learned of the brave but perilous stand taken by many foreigners, international media, and Christian missionaries in the face of Pakistani military threats soon after Bangladesh was established. They backed the Bengali people in their quest for independence from the occupying troops and provided whatever assistance they could to people and liberation fighters in need of shelter, food, and medicine. They loved Bangladesh with all of their hearts and souls, so they had legitimate reasons to support the people's independence battle. Some missionaries have lived here since the 1950s and consider this place to be their home. But what about an American diplomat who has never met a Bengali or had the opportunity to get to know them well enough to say more than a perfunctory hello? Would a distinguished gentleman from Washington's exclusive pool of professional diplomats risk everything — including his next assignment as an American Ambassador in a faraway place — for the love of Bengalis? Would he give up everything he was looking forward to during the training period for individuals he barely knew? The most likely response is no. 
However, Mr. Archer Blood, the then-Consul General of the American Consulate in Dhaka, did just that, ruining his diplomatic career. He never received his ideal job as an Ambassador. He worked at a desk at the State Department until his retirement. Let us remember him during this month of December, the month in which we celebrated our long-awaited victory against our adversary.
To begin, in 1947, the Quaid-e-azam (or "great leader") Mohammad Ali Jinnah recognised Pakistan, a geographical oddity, after lengthy and arduous talks. The new country's two wings were divided by 1000 miles of territory, which was ruled by the unfriendly India. The muscular, violent Punjabis and suave Sindhis of the Western side always called the shots over the East's small and sensitive Bengali inhabitants. The two were as different as chalk and cheese in terms of culture and habits, and religion was the only thing that brought them together.
When the Awami League, East Pakistan's main political party, won 160 out of 162 seats in the election, Sheikh Mujib, the party's president, had a strong claim to become Prime Minister. The junta and the ambitious Zulfiqar Ali Bhutto, whose Pakistan People's Party finished second in the election, were both opposed to such a scenario. In March 1971, Mujib wanted autonomy for Bangladesh, and negotiators were dispatched to talk with him. When the talks fell through, the army took over. Soldiers stormed Dhaka University on the night of March 25, shooting indiscriminately and killing a huge number of students, academics, and intellectuals, all of whom were supporters of Mujib's Awami League.
The assassinations didn't end there; they got worse. Although statistics are unreliable, it is estimated that a few million people were slain. Around 10 million refugees were forced to seek refuge in neighbouring India, causing severe socioeconomic challenges for the unwilling host. Pakistan has 70,000 troops on the ground to govern 75 million people. They were led by Tikka Khan, the ruthless general known as the 'Butcher of East Pakistan.'
Archer Blood, the American Consul-General in Dhaka, commented on the devastation. This career diplomat wrote detailed reports to Washington every day, much like a reporter, updating his government about the current situation in East Pakistan. He believed that at this important, violent juncture, the world's most powerful democracy should not remain a mute spectator, but his dreams were dashed. Since President Nixon was a friend and lover of Pakistani President General Yahya Khan, nothing happened on Capitol Hill.
Henry Kissinger, Nixon's National Security Adviser, may have thought Khan was a moron, but he wasn't about to take up the cause of a "bunch of goddamned brown Moslems," as Nixon put the Bangladeshis. Also, Kissinger was fascinated with courting China in order to counter the Soviet power in global affairs, and Khan aided him much in this endeavour. He had arranged a covert meeting with China's top authorities and given Kissinger with a cloak-and-dagger cover to fly into and out of China via Pakistan. Bass and his crew have listened to hundreds of tapes that contain talks between Nixon and Kissinger. This is how we obtain such tasty tidbits of information and the previous president's colourful jargon. (For example, Indians are referred to as "bastards," while Indira Gandhi is referred to as "a bitch" or "a witch," or both.)
Blood – whose name is chillingly poignant, given the events of the period – did something unusual when faced with silence. On April 6, Blood, along with twenty-odd consular personnel, submitted a cable expressing their "dissent from US policy in East Pakistan." "Our administration has failed to oppose the suppression of democracy," said the cable, from which Bass's book takes its title. Our administration has failed to condemn human rights violations." "We, as professional public servants, express our discontent with current policy and ardently hope that our genuine and long-term interests here can be established and our policies redirected…," the note said.
Blood had filed a 'no confidence motion' against his own government, which few bureaucrats can even contemplate in their darkest dreams.
Blood was the first to point out that there was "selective genocide," with Hindus being singled out and slaughtered in order to shift the demographic trend. Ethnic cleansing was carried out by Pakistani military in the green plains of East Pakistan long before Serbia and Bosnia.
Nixon was not a man who tolerated dissent. So, 18 months before his term was to finish, Blood was abruptly hauled away from Dhaka and deposited somewhere in Washington's State Department. His name was never mentioned again. When he died 33 years later, the news of his death was on the first page of every Bangladeshi daily, and his family was stunned by the outpouring of flowers, phone calls, and messages from that country.
In 1971, shortly after the country's freedom, the Bangladeshi media learned of his role and published brief reports on him. But it wasn't until much later, approximately three or four years ago, that we learned in detail about Archer Blood and his consular staff members' valiant, albeit perilous stand, thanks to Gary J. Bass's book Blood Telegram. Reading through the pages of Blood Telegram was like viewing a feature film-length flashback to the events of 1971. Indeed, it was as if the people of East Pakistan were reliving those terrifying days when the line separating life and death had shrunk dangerously.
The book chronicled political happenings in Dhaka, Rawalpindi, Delhi, and Washington at the same time, during pivotal stages in the history of Bangladesh's formation. Blood Telegram contains authentic accounts of classified telegrams between Dhaka, Rawalpindi, and Washington, including responses, high-level meetings, conversations, notes, comments, the White House-State Department squabble, Henry Kissinger's role, and President Nixon's imperceptive diplomacy, and much more, all based on recently declassified State Department documents, White House tapes, and commendable investigative reporting by some courageous correspondents.
Mr. Blood's career was irrevocably destroyed by the cable, which had no obvious effect on Washington's policy. According to Howard B. Schaffer, one of 29 diplomats who signed the dissent cable in 1971, by the time he earned another diplomatic posting, he had "lost career time" and never became an ambassador. He chose the risky path of defying a policy from within the system. Would it have been more effective for him to object if the cable had been released to The New York Times? Would it have been better for him to resign in protest, to make a scene, than to sit back and watch his bureaucratic punishment play out?
May Fourth Movement at Tiananmen Square- China's Awakening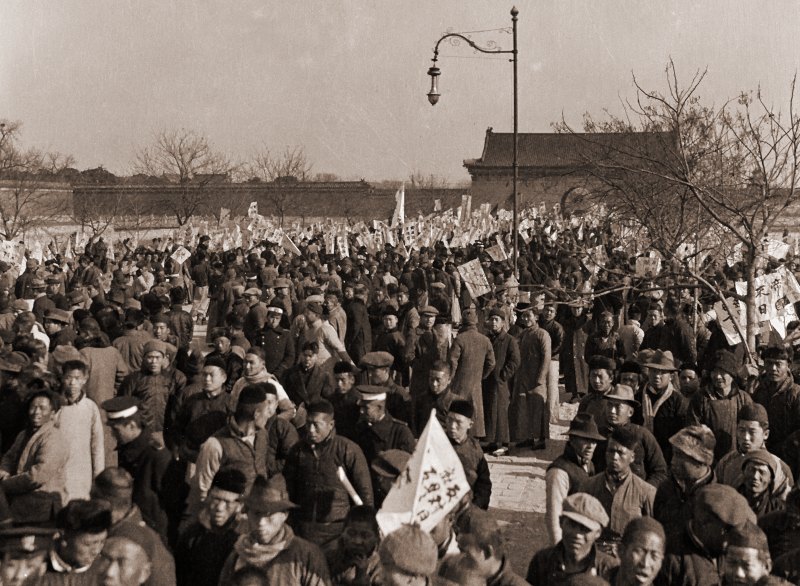 Early in the 20th century, China had a significant socio-political and intellectual movement known as the May 4th Movement, often called the New Culture Movement. It gained support from a wide range of intellectuals, laborers, and business people as it migrated from Beijing to other significant Chinese cities with demands to abandon ancient Confucian principles and to adopt the Western ideals of democracy, freedom, and equality instead. 
While aiming to imbibe the modern thought, these protesters demanded that foreign imperialism be ceased and control be given back to the Chinese. By challenging long-standing conventions and paving the way for a more progressive and open society, this Movement had a significant impact on Chinese intellectual and cultural history.
What Happened on May 4th 1919? 
On May 4, 1919 Chinese students started a series of demonstrations in Beijing, notably in Tiananmen Square. They took to the streets to protest and express their dissatisfaction with the government. Gradually this movement spread to parts of Shanghai and Guangzhou, making it a large-scale student protest. 
What was the Reason of the Student Protest on May 4, 1919?  
First, The Treaty of Versailles & Shandong Problem – The discussion of the Treaty caused much resentment over how China was being treated during the post-World War I by Western powers, especially with regards to Shandong. The German concessions in Shandong were not returned to China but instead were given to Japan. Intellectuals and students in China therefore could not help but be patriotic and anti-imperialist.
Second, existing sociocultural problems in the Chinese society – Disillusionment with traditional Chinese culture and values were growing among Chinese intellectuals and students. Discontentment with existing and belief on the new concepts and philosophies, especially those acquired from the West, were sought to replace these established principles. Thus, fostering science, democracy, and individuality became very important.
What Made May Fourth Movement so Successful?
The Movement's ability to win widespread support from various facets of society was one of the main factors in its success.

Unlike any previous protests in China, the

May 4

Movement

was organised and led by students and intellectuals. They planned gatherings, marches, demonstrations, printed newspapers, and pamphlets to disseminate their views and unite participants. It was this initiative that attracted more people to join, including workers, business people and warlords. This increased the movement's power, and the government was pressured to respond to its demands thanks to this wide-ranging support.
Utilizing new media and communication channels effectively was another key.

Students published their ideas through newspapers, journals, and speeches to get support from the public. They also built relationships with activists and intellectuals who shared their views in other places, which helped the cause extend outside of Beijing. The Movement was able to unite thanks to these communication tactics and develop a sense of a common goal.
The next reason of the movement's success can be traced to its appealing and distinct goals

. The Movement had a clearly stated mission, which included calls for democracy, the democratization of China, and the nation's revitalization. A sizeable segment of the populace, demanding modernization and reform in the face of foreign dominance, identified with these goals.
The Movement also capitalized on a potent anti-imperialist and sense of national pride.

The 'Shandong Problem' that was viewed as a violation of Chinese interests in the Treaty of Versailles sparked a strong sense of fury and served as the Movement's unifying cause. The participants shared rage against foreign imperialism, and the need for national self-determination was a potent unifying force.
What was the May Fourth Movement Significance & Impact on Post World War 1 China?
The success of the May 4th Movement left a long-lasting influence on Chinese politics and society. The movement produced an intellectual and cultural awakening that significantly changed Chinese values and thought. Some major political and social reforms in China that are still cherished and recognised as attributes to the May 4 movement are-
Anti-Imperialist and anti-Warlord Feelings: The Movement stoked a genuine anti-imperialist feeling among the Chinese. It stepped up the fight against foreign meddling and prepared the way for the eventual downfall of imperial control. The Movement also helped reduce the influence of warlords by exposing their corruption and incompetence, further damaging their reputation among the populace.
Founding of Communist Party in 1921: The Chinese Communist Party (CCP) was established mainly due to the May 4th Movement. Many academics and students identified with the Movement's emphasis on social justice, anti-imperialism, and the empowerment of the working class. Therefore, this Movement offered a favourable environment for the propagation of communist doctrine, resulting in the CCP's founding in 1921. The party would later be crucial in determining the course of China's development.
Anti-Japanese Sentiments: The Movement also stoked prejudice towards the Japanese, which is still present today. The Movement's hostility to the Treaty of Versailles's unfair treatment of China, particularly the transfer of German concessions in Shandong to Japan, strengthened a sense of national outrage towards that country. This attitude was the impetus for later resistance to Japanese aggression, culminating in the Sino-Japanese War (1937–1945), and the present that hate that since liberation was kept alive by CCP leaders especially Mao Zedong and Xi Jinping. 
Large-scale but not widely supported – Controversies & Criticisms of May 4th Movement
Despite its enormous support and influence, the May 4th Movement came under fire from 
several groups, notably Chinese Muslim Community and Kuomintang (KMT) – affiliated nationalists. 
The Chinese Muslims & ethnic groups were concerned about the Movement's emphasis on Westernisation and rejection of traditional values, most notably by people in Northwest China. They felt that the calls for a secular society and the adoption of modern ideas were in opposition to Islamic doctrine and cultural norms. Chinese Muslims saw the Movement as a potential danger to their identity and way of life since they connected so closely with their religious and cultural history. They were concerned that the emphasis on Westernisation might undermine their Islamic principles and push their communities to the margins.
The KMT Nationalists under the leadership of Chiang Kai-shek criticized the Movement's extremism and connection to communist philosophy. Chiang and other KMT members thought the Movement's focus on the class struggle and worker emancipation would erode social stability and impede national unity. They said that the Movement's emphasis on urban intellectuals ignored the requirements and ambitions of the rural masses, who comprised most Chinese citizens. As a danger to Chinese culture and social order, the KMT also criticized the Movement's rejection of traditional Confucian principles.
A revolution is not a dinner party, or writing an essay, or painting a picture, or doing embroidery; it cannot be so refined, so leisurely and gentle, so temperate, kind, courteous, restrained and magnanimous. A revolution is an insurrection, an act of violence by which one class overthrows another.

– Mao Zedong
Despite the criticism, it is essential to note that the May 4th Movement it must be accepted that the Chinese history underwent significant change during this Movement. It brought about substantial political, social, and cultural transformations that influenced the development of contemporary China. The Movement's legacy still impacts Chinese society today and represents youth activism, pride in one's country, and the desire for social change.