The year 1971 will go down in Indian subcontinent history as a watershed moment. Between March and December, the world watched Pakistan's first election under a military dictatorship, the rejection of the public result, genocide, mass exodus, civil war, a fortnight-long battle between two hostile neighbours, and finally, the tragic birth of a new country, Bangladesh.
We learned of the brave but perilous stand taken by many foreigners, international media, and Christian missionaries in the face of Pakistani military threats soon after Bangladesh was established. They backed the Bengali people in their quest for independence from the occupying troops and provided whatever assistance they could to people and liberation fighters in need of shelter, food, and medicine. They loved Bangladesh with all of their hearts and souls, so they had legitimate reasons to support the people's independence battle. Some missionaries have lived here since the 1950s and consider this place to be their home. But what about an American diplomat who has never met a Bengali or had the opportunity to get to know them well enough to say more than a perfunctory hello? Would a distinguished gentleman from Washington's exclusive pool of professional diplomats risk everything — including his next assignment as an American Ambassador in a faraway place — for the love of Bengalis? Would he give up everything he was looking forward to during the training period for individuals he barely knew? The most likely response is no. 
However, Mr. Archer Blood, the then-Consul General of the American Consulate in Dhaka, did just that, ruining his diplomatic career. He never received his ideal job as an Ambassador. He worked at a desk at the State Department until his retirement. Let us remember him during this month of December, the month in which we celebrated our long-awaited victory against our adversary.
To begin, in 1947, the Quaid-e-azam (or "great leader") Mohammad Ali Jinnah recognised Pakistan, a geographical oddity, after lengthy and arduous talks. The new country's two wings were divided by 1000 miles of territory, which was ruled by the unfriendly India. The muscular, violent Punjabis and suave Sindhis of the Western side always called the shots over the East's small and sensitive Bengali inhabitants. The two were as different as chalk and cheese in terms of culture and habits, and religion was the only thing that brought them together.
When the Awami League, East Pakistan's main political party, won 160 out of 162 seats in the election, Sheikh Mujib, the party's president, had a strong claim to become Prime Minister. The junta and the ambitious Zulfiqar Ali Bhutto, whose Pakistan People's Party finished second in the election, were both opposed to such a scenario. In March 1971, Mujib wanted autonomy for Bangladesh, and negotiators were dispatched to talk with him. When the talks fell through, the army took over. Soldiers stormed Dhaka University on the night of March 25, shooting indiscriminately and killing a huge number of students, academics, and intellectuals, all of whom were supporters of Mujib's Awami League.
The assassinations didn't end there; they got worse. Although statistics are unreliable, it is estimated that a few million people were slain. Around 10 million refugees were forced to seek refuge in neighbouring India, causing severe socioeconomic challenges for the unwilling host. Pakistan has 70,000 troops on the ground to govern 75 million people. They were led by Tikka Khan, the ruthless general known as the 'Butcher of East Pakistan.'
Archer Blood, the American Consul-General in Dhaka, commented on the devastation. This career diplomat wrote detailed reports to Washington every day, much like a reporter, updating his government about the current situation in East Pakistan. He believed that at this important, violent juncture, the world's most powerful democracy should not remain a mute spectator, but his dreams were dashed. Since President Nixon was a friend and lover of Pakistani President General Yahya Khan, nothing happened on Capitol Hill.
Henry Kissinger, Nixon's National Security Adviser, may have thought Khan was a moron, but he wasn't about to take up the cause of a "bunch of goddamned brown Moslems," as Nixon put the Bangladeshis. Also, Kissinger was fascinated with courting China in order to counter the Soviet power in global affairs, and Khan aided him much in this endeavour. He had arranged a covert meeting with China's top authorities and given Kissinger with a cloak-and-dagger cover to fly into and out of China via Pakistan. Bass and his crew have listened to hundreds of tapes that contain talks between Nixon and Kissinger. This is how we obtain such tasty tidbits of information and the previous president's colourful jargon. (For example, Indians are referred to as "bastards," while Indira Gandhi is referred to as "a bitch" or "a witch," or both.)
Blood – whose name is chillingly poignant, given the events of the period – did something unusual when faced with silence. On April 6, Blood, along with twenty-odd consular personnel, submitted a cable expressing their "dissent from US policy in East Pakistan." "Our administration has failed to oppose the suppression of democracy," said the cable, from which Bass's book takes its title. Our administration has failed to condemn human rights violations." "We, as professional public servants, express our discontent with current policy and ardently hope that our genuine and long-term interests here can be established and our policies redirected…," the note said.
Blood had filed a 'no confidence motion' against his own government, which few bureaucrats can even contemplate in their darkest dreams.
Blood was the first to point out that there was "selective genocide," with Hindus being singled out and slaughtered in order to shift the demographic trend. Ethnic cleansing was carried out by Pakistani military in the green plains of East Pakistan long before Serbia and Bosnia.
Nixon was not a man who tolerated dissent. So, 18 months before his term was to finish, Blood was abruptly hauled away from Dhaka and deposited somewhere in Washington's State Department. His name was never mentioned again. When he died 33 years later, the news of his death was on the first page of every Bangladeshi daily, and his family was stunned by the outpouring of flowers, phone calls, and messages from that country.
In 1971, shortly after the country's freedom, the Bangladeshi media learned of his role and published brief reports on him. But it wasn't until much later, approximately three or four years ago, that we learned in detail about Archer Blood and his consular staff members' valiant, albeit perilous stand, thanks to Gary J. Bass's book Blood Telegram. Reading through the pages of Blood Telegram was like viewing a feature film-length flashback to the events of 1971. Indeed, it was as if the people of East Pakistan were reliving those terrifying days when the line separating life and death had shrunk dangerously.
The book chronicled political happenings in Dhaka, Rawalpindi, Delhi, and Washington at the same time, during pivotal stages in the history of Bangladesh's formation. Blood Telegram contains authentic accounts of classified telegrams between Dhaka, Rawalpindi, and Washington, including responses, high-level meetings, conversations, notes, comments, the White House-State Department squabble, Henry Kissinger's role, and President Nixon's imperceptive diplomacy, and much more, all based on recently declassified State Department documents, White House tapes, and commendable investigative reporting by some courageous correspondents.
Mr. Blood's career was irrevocably destroyed by the cable, which had no obvious effect on Washington's policy. According to Howard B. Schaffer, one of 29 diplomats who signed the dissent cable in 1971, by the time he earned another diplomatic posting, he had "lost career time" and never became an ambassador. He chose the risky path of defying a policy from within the system. Would it have been more effective for him to object if the cable had been released to The New York Times? Would it have been better for him to resign in protest, to make a scene, than to sit back and watch his bureaucratic punishment play out?
Assassination of Shinzo Abe & Salman Rushdie – Know Real Facts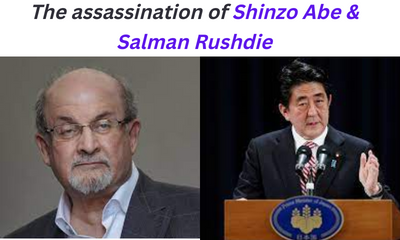 The months July and August of 2022 saw two cases of extermination to promote the fear of terrorism. One of the assassination of Shinzo Abe former Japanese Prime Minister, and another of the famous Novelist Salman Rushdie.
Shinzo Abe succumbed to a gunshot wound, whereas Rushdie's health conditions are improving and he is under medical supervision after the knife attack. However, various assassination attempt of Salman Rushdie has been made during the year.
These two terror acts force us to think about the impact of terrorism on society, the main objective of which is to create an atmosphere of fear so that citizens of the country cannot rely on their government.
This ultimately disturbs the law and order of the society, and serves the terrorists' purpose of creating a chaos.
Here we will see how these two attacks had different reasons but the objective remained the same – to stop someone from propagating his/her opinions independently, and also the factors that make attackers indulge in such acts.
Assassination Attempt of Salman Rushdie – Satanic Controversy
On 12 August 2022, Rushdie was attacked several times by a 24-year-old man Hadi Matar. The attacker's intentions can be linked to Rushdie's fourth novel, The Satanic Verses, published in 1988. Some Muslims considered the novel disrespectful towards Prophet Mohammed.
Soon after its publication, the novel sparked a 'fatwa' or a religious decree. The Iranian revolutionary leader Ayatollah Ruhollah Khomeini called for Rushdie's death in 1989. After, this various assassination attempt of Salman Rushdie has been made.
Complete conversation for Salman Rushdie Assassination:
When asked about the attack Hadi Matar said, "I don't like the person. I don't think he's a very good person. I don't like him very much". He further criticised Rushdie's work by saying, "He's someone who attacked Islam, he attacked their beliefs, the belief systems". Mr. Matar also told New York Post that he had only read 'a couple of pages' of the book and did not tell about whether the fatwa had inspired him or not.
While praising the Iranian religious leader, he stated, "I respect the Ayatollah. I think he's a great person. That's as far as I will say about that".
One can observe that the psychology of the attacker was that he simply disliked the novelist because of his work; although he read only two pages of the novel, but was rather influenced by the religious leaders and their sayings. Just, like this the assassination of Shinzo Abe has been made during this year, which we will discuss on next section.
Perceptions like these can have a long-lasting impact on future generations which can further deteriorate the situation. Violent acts like this demand proper scrutiny of the dissemination of information.
Extremists take advantage of such incidents and brainwash the young minds so that they can be used by them for their selfish purposes.
Assassination of Shinzo Abe – Complete Truth
On 8 July 2022, it was just another day of Abe's political campaign for the upcoming parliamentary elections. He was delivering a speech in Nara City, but no one is the aware about the assassination of Shinzo Abe that day. When a 41-year-old Tetsuya Yamagami shot him twice from behind from a distance of about 10 meters.
During the investigation, he confessed his intentions of killing and it was found that his motives had more to do with religious backing instead of a political reason.
It so happened that Yamagami's mother was a member of a religious group which she joined after her husband's death in 1998. She used to donate huge amounts of money as charity to the group, after the assassination of Shinzo Abe and Yamagami blames the sect for bankrupting his mother.
Confession Statement on Abe Case
The report reveal that Abe was closely associated with the sect, and wanted to take revenge against him for promoting it. "The suspect stated that he held a grudge against a particular organisation and that he committed the crime because he believed former Prime Minister Abe had a connection to it", a senior police officer in Japan's Nara region told reporters.
While the police hasn't given any clarification regarding the unidentified organization, social media in Japan has it that it could be the Unification Church.
Yamagami was unemployed, felt isolated in society, was against religious preaching and blind faith, and wanted to kill the leader of the religious organization but couldn't. One can see the psychological aspects of it that, the killer was anguished with the organisation and blamed them for his conditions and economic turmoil.
Ultimately his grudge converted into a motive of taking revenge for his loss and he did that by killing the perpetrator of the religious group, to give a message to the society and the world that one should avoid themselves from joining or contributing to such groups.
Japan has the strictest gun laws after the assassination of Shinzo Abe , so to bypass such stringent laws the killer used a handmade gun. The occurrence of such incidents in the island nation shows how much resentment the killer has and how strongly he was motivated to commit the murder.
Such incidents are eye-openers for the society that someone's freedom of belief can become others' pain, and teaches that as a society we should try to maintain a balance between them.
Two Paths to Crime
The above two accidents of assassination of Shinzo Abe, and the assassination attempt of Salman Rushdie has been terrifying for the country. First, being a part of a religious group the killer face hardship in his life, which forced him to commit the crime. In the second instance, the attacker got the impression that his religion is being targeted and that it is his responsibility to take revenge so that next time no one dares to do anything like that again.
Interpretation of things based on pre-assumed thoughts can lead to revenge, and revenge based on half-baked knowledge causes harm to the whole humanity, and not just the particular group concerned.