Upon the current Chief Executive Carrie Lam announcing her recantation from seeking the second term in office, John Lee has been chosen as the successor. A lone-horse race to the office has been widely expected for the 64-year-old after an uncontested leadership election next month. John Lee, the former top security officer is said to be China's ideal choice to be Hong Kong's next chief executive. China's affection towards the man has increased manifold for his first-hand involvement during the crackdown against pro-democracy protestors in 2019. He further facilitated the new security law and is expected for its smooth execution in a territory tightly controlled by Beijing. John Lee is so far, the single candidate approved by China to run for the office on May 8.
About John Lee
Born on 7th December 1957, John Lee was a former police officer who is now a seasoned politician and an influential character in China's political spectrum. Lee has previously served as Chief Secretary of Administration during the Carrie Lam regime. Lee joined the Royal Hong Kong Police Force at the age of 19 as a probationary inspector in 1977 and was later promoted to Chief Inspector in 1984 and further made a Chief Superintendent in 1997. He kept regular recognition and accolades in the police department and was even made the Deputy Commissioner of Hong Kong Police in 2010. During his tenure as a police officer, Lee also obtained a master's degree in Public Policy and Administration from Charles Sturt University in Australia.
Upon completing his stint at the police department, Lee was appointed as the Under Secretary for Security in 2012 under the Leung Chun-Ying and was later promoted to Secretary for Security in 2017 during Carrie Lam's administerial tenure. However, Lee rose to fame with his close and unmediated efforts in unveiling the 2019 Hong Kong extradition bill and the revised National Security Law in 2021. Lee was later a part of the Hong Kong Special Administrative Region. Lee was invariably the Chinese pawn on Hong Kong's soil who believed and further aimed to transpire the new PLA-style marching, upholding the nationalistic sentiments and strengthening awareness of national security.
The Hong Kong Special Administrative Region of the People's Republic of China in 2021 appointed Lee as Chief Secretary for Administration making him the third police officer to helm this position as the most senior minister in the government.
Recent developments concerning John Lee
Ever since Carrie Lam promoted Lee to Secretary for Security in 2017, he set out on furnishing China's ambition of curtailing the freedom of independent-minded Hong Kong. Lee, therefore, had numerous trips to China's northwestern Xinjiang region (infamous for human rights violations against the Uyghur minority) to study and document the counterterrorism measures taken by the authorities there. He observed that the precautionary and even hostile measures were extremely humane and considerate which were ultra vires to the Chinese construct. As a consequence, a controversial bill regarding extraditions from Hong Kong to mainland China was chalked out by Lam in close association with Lee. The legislation naturally prompted anti-government protests which brought millions of people on the road. The protest observed the gallant and brave efforts of the protesters repeatedly shouting and signaling hand gestures in furtherance of getting their demands fulfilled. The demands entailed the ever-usual Universal Suffrage, no limits on candidacy, greater police accountability, and amnesty for political prisoners. The protest marked the second-largest public outrage since the 1989 Tiananmen Square demonstrations 1989. Lee was handed the baton to oversee the crackdown. Needless to say, the crackdown observed numerous violations of internal rules on the use of force. However, no officer or government official was held liable for the abuse of power during the protest. Although, the US did impose numerous sanctions on Lee, Lam, and nine other Hong Kong and mainland officials regarding 'restricting the freedom of expression or assembly of the citizens of Hong Kong.
Public Perception of Lee
The pro-democracy population in Hong Kong is largely disappointed by mainland China since time immemorial. Time and again, the patience of freedom-embodying citizens has been tested. With revised national security laws, new extradition policies, and many other organized ways of human rights violations, the civil population is hugely disturbed and collectively distorted. Therefore, at such a time where peace and collective well-being is in short supply, China's 'ideal' choice of running John Lee, who is one of the unmediated personnel responsible for the crackdown, as the sole Chief Executive candidate sends out a clear unflinching message. By selecting Lee, Beijing has effectively invalidated Hong Kong's civil service discipline. A discipline that reaped two of Hong Kong's four chief executives including Lam and appealed to Western business and was solely responsible for granting Hong Kong the status of the financial center, has been compellingly sidelined.
Lam leaves the office and her whole legacy to a far more polarized society. The thinkers, critics, and officials opine that her failures in the political sphere are a product of arrogance, pride, and inability to listen to constituents. Kenneth Chan Ka-lok, a former pro-democracy lawmaker and an associate professor at Hong Kong Baptist University said that it does not matter whether Lee is a humble, down-to-earth guy. All it matters is that Lee is a pawn, a cadre appointed by Beijing, and therefore as long as he serves his master well, Hong Kong's pro-establishment voice would never get a locus to be heard.
Selecting a police officer instead of a civil servant sends down a clear message to the public that the civil service is just a mirage. Behind the facade of glorified civil services, Beijing believes candidates from disciplined services like police and military are more dependable and exhibit better and more efficient political loyalty.
Conclusion
Hong Kong sorrily suffers the same fate as that of Kashmir in India. Under the term of its handover to China in 1997, Hong Kong was promised autonomy with 'Hong Kong people ruling Hong Kong' just as how Kashmir was promised a referendum post-accession. However, neither of the two seems to have panned out for the better. Representative elections are the genus of any constitution that later branches to the allocation of administerial resources and organs of governance. Alas, the quest for representative elections also appears to be suffering the same fate as that of human rights as this race, has only one real candidate.
Traditionally, the chief executive was to be selected by a handpicked panel of about 1500 members of the political and business elite known as the election committee. However, last year, Beijing overhauled Hong Kong's electoral system and categorically specified that only 'patriots' – those loyal to the Communist Party – could run for the office. As a result, the changes reduced the number of elective seats in the legislature and also rigidified the rules as to who could qualify and change the representation of the committee that picks the chief executive.
Lee is apparently to be sworn on 1st July which marks the 25th anniversary of Hong Kong's handover by Britain. The 'one country, two systems' arrangement handed over by Great Britain is in clear contravention to the current system as Beijing's message to the world is clear that Hong Kong will never be able to deviate from China's tracks of governance.
Assassination of Shinzo Abe & Salman Rushdie – Know Real Facts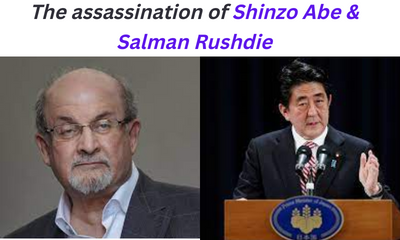 The months July and August of 2022 saw two cases of extermination to promote the fear of terrorism. One of the assassination of Shinzo Abe former Japanese Prime Minister, and another of the famous Novelist Salman Rushdie.
Shinzo Abe succumbed to a gunshot wound, whereas Rushdie's health conditions are improving and he is under medical supervision after the knife attack. However, various assassination attempt of Salman Rushdie has been made during the year.
These two terror acts force us to think about the impact of terrorism on society, the main objective of which is to create an atmosphere of fear so that citizens of the country cannot rely on their government.
This ultimately disturbs the law and order of the society, and serves the terrorists' purpose of creating a chaos.
Here we will see how these two attacks had different reasons but the objective remained the same – to stop someone from propagating his/her opinions independently, and also the factors that make attackers indulge in such acts.
Assassination Attempt of Salman Rushdie – Satanic Controversy
On 12 August 2022, Rushdie was attacked several times by a 24-year-old man Hadi Matar. The attacker's intentions can be linked to Rushdie's fourth novel, The Satanic Verses, published in 1988. Some Muslims considered the novel disrespectful towards Prophet Mohammed.
Soon after its publication, the novel sparked a 'fatwa' or a religious decree. The Iranian revolutionary leader Ayatollah Ruhollah Khomeini called for Rushdie's death in 1989. After, this various assassination attempt of Salman Rushdie has been made.
Complete conversation for Salman Rushdie Assassination:
When asked about the attack Hadi Matar said, "I don't like the person. I don't think he's a very good person. I don't like him very much". He further criticised Rushdie's work by saying, "He's someone who attacked Islam, he attacked their beliefs, the belief systems". Mr. Matar also told New York Post that he had only read 'a couple of pages' of the book and did not tell about whether the fatwa had inspired him or not.
While praising the Iranian religious leader, he stated, "I respect the Ayatollah. I think he's a great person. That's as far as I will say about that".
One can observe that the psychology of the attacker was that he simply disliked the novelist because of his work; although he read only two pages of the novel, but was rather influenced by the religious leaders and their sayings. Just, like this the assassination of Shinzo Abe has been made during this year, which we will discuss on next section.
Perceptions like these can have a long-lasting impact on future generations which can further deteriorate the situation. Violent acts like this demand proper scrutiny of the dissemination of information.
Extremists take advantage of such incidents and brainwash the young minds so that they can be used by them for their selfish purposes.
Assassination of Shinzo Abe – Complete Truth
On 8 July 2022, it was just another day of Abe's political campaign for the upcoming parliamentary elections. He was delivering a speech in Nara City, but no one is the aware about the assassination of Shinzo Abe that day. When a 41-year-old Tetsuya Yamagami shot him twice from behind from a distance of about 10 meters.
During the investigation, he confessed his intentions of killing and it was found that his motives had more to do with religious backing instead of a political reason.
It so happened that Yamagami's mother was a member of a religious group which she joined after her husband's death in 1998. She used to donate huge amounts of money as charity to the group, after the assassination of Shinzo Abe and Yamagami blames the sect for bankrupting his mother.
Confession Statement on Abe Case
The report reveal that Abe was closely associated with the sect, and wanted to take revenge against him for promoting it. "The suspect stated that he held a grudge against a particular organisation and that he committed the crime because he believed former Prime Minister Abe had a connection to it", a senior police officer in Japan's Nara region told reporters.
While the police hasn't given any clarification regarding the unidentified organization, social media in Japan has it that it could be the Unification Church.
Yamagami was unemployed, felt isolated in society, was against religious preaching and blind faith, and wanted to kill the leader of the religious organization but couldn't. One can see the psychological aspects of it that, the killer was anguished with the organisation and blamed them for his conditions and economic turmoil.
Ultimately his grudge converted into a motive of taking revenge for his loss and he did that by killing the perpetrator of the religious group, to give a message to the society and the world that one should avoid themselves from joining or contributing to such groups.
Japan has the strictest gun laws after the assassination of Shinzo Abe , so to bypass such stringent laws the killer used a handmade gun. The occurrence of such incidents in the island nation shows how much resentment the killer has and how strongly he was motivated to commit the murder.
Such incidents are eye-openers for the society that someone's freedom of belief can become others' pain, and teaches that as a society we should try to maintain a balance between them.
Two Paths to Crime
The above two accidents of assassination of Shinzo Abe, and the assassination attempt of Salman Rushdie has been terrifying for the country. First, being a part of a religious group the killer face hardship in his life, which forced him to commit the crime. In the second instance, the attacker got the impression that his religion is being targeted and that it is his responsibility to take revenge so that next time no one dares to do anything like that again.
Interpretation of things based on pre-assumed thoughts can lead to revenge, and revenge based on half-baked knowledge causes harm to the whole humanity, and not just the particular group concerned.