Pakistani military establishment has always been an issue concerning the State's democratic outlook. While most democracies in the world have a dedicated body of bureaucrats and auditors to handle projects regarding finance and development, Pakistan observes a tad different mechanism. For instance, new legislation was passed in the Pakistan National Assembly in 2020 to create a China Pakistan Economic Corridor Authority that would be controlled by the Pakistan Army rather than the civilian bureaucracy. This creation of an army-run supranational authority mining bilateral relations with that of a nation like China makes it increasingly difficult to ascertain whether the country conforms to an army rule or not. Nations like India that are accustomed to the way of Pakistani Military's operations in bureaucratic and diplomatic affairs have always shrugged their shoulders and hoped for the best. But now, since China and Pakistan share an exceedingly intimate relationship with the former pouring huge chunk of money and loaning resources to the latter, it would not be wrong to say that Pakistan is fueled by Chinese money which is certainly bad news for India. Since all of the basic operations are believed to be powered by China, needless to say, China just bought an army, with a State attached.
Military involvement in Governance and Bureaucracy
It is no longer a concealed fact that major administerial positions and offices are victims of continuous military dominance. The military dominion has led army men, both serving and retired to have comfortable posts in Pakistan's bureaucracy. Even democratically elected leaders like Zulfikar Ali Bhutto paved the way for appointing army men to some 83 posts at various levels. The former President Zia-ul-Haq went a step further and gave his assent to creating a Defense Services Selection Board to bring in-service officers into his government. Even under the tenure of General Pervez Musharraf brought in officers at every level, playing on the general presumption that the average military officer is better than his civilian counterpart. v
It was only the Imran Khan cabinet and tenure that dispraised the involvement of military officers in civilian posts. However, mere expressions of displeasure and disappointment lead to no substantial consequences. Excerpts of many government entities controlled by army men are still reported. Incidentally, Pakistan International Airlines is headed by an Air Marshall, heads of the Naya Pakistan Housing and Development Authority include a Major General and a Brigadier, five federal ministers are closely linked to the military including Interior Minister Brigadier Ejaz Shah, the chairman of Port Qasim Authority is a retired Rear Admiral, and the Water and Power Development Authority is led by a retired Lt. Gen. The army forces and their allocations in the bureaucratic and diplomatic circuit are undeterred as of now. Especially since the departments are oiled by the Chinese Funds.
Time and again new legislations have been introduced in Parliament facilitating the military to fill up bureaucratic positions leading to political power erosion. For instance, Pakistan Maritime Security Agency (PMSA) is no longer under the control of the Prime Minster's office as the government feels that the matter is too trivial for the chair's attention. Furthermore, the amendment of the Anti-Money Laundering Act 2010, ostensibly to satisfy the Financial Action Task Force enabling it to arrest without warrant empowering the investigating agencies manifold, with the sole intent to pressurize the opposition leaders into submission. The new internet censorship laws further elaborate on this narrative. Giving the State, unfettered powers to decide what construes as 'extremism' and 'objectionable' and later translating these brackets into arrests of major personalities such as Shakil ur Rehman, has ensured that the media stays silent during this power struggle. Ultimately, Parliament virtually caged, usually vocal and durable media tamed, and social media censored. Not much freedom is left in the state to channel the paper-inscribed 'democracy' on the ground, conditions akin to China.
Military Involvement in National Level Infrastructure
Dwelling deeper into the fine print, one would find that Pakistan owes almost its entire infrastructure to the Frontier Works Organization (FWO) again commanded and controlled by Major General. The organization is supposed to have an estimated annual income of $3.8 million with 56 companies attached to its name. The FWO is involved in building thermal and hydel power stations, airfields, and even major contributions to building and maintaining the Pakistan railways. Gold and copper mining further adds to the diversified portfolio. The revenues incurred by these are used to aid various corporate houses which are the outsourcers for these projects. Needless to say, these corporate houses are often run by politicians through their tertiary relatives and allies.
Along with infrastructural development, logistics and communications operations form another important parcel of the Army caravan. The National Logistics Cell managed by the Army has 6,500 civilians mostly retired servicemen managing more than 2000 heavy-duty vehicles. Furthermore, the Special Communications Organizations which recently completed the Pakistan-China Optical Fiber Cable project are also entirely run by the army.
Imran Khan's Sacking a Statement?
The recent ousting of Imran Khan as Prime Minister has also ruffled some feathers as to whether the power really lies at the center. Historically, when Zulfiqar Ali Bhutto was elected the PM in 1973 and launched a brutal army operation in Baluchistan in 1977 which led to major bloodshed in the country, he was deposed by General Zia-ul-Haq in a coup on the pretext of increased violence. Bhutto was later convicted for the murder of a political opponent and went to the gallows.
Zia assumed the office as a consequence of the coup and passed on some controversial provisions including dissolving the National Assembly and calling Pakistan a Sunni Islamist state. However, he had to call for elections under international pressure and selected Muhammad Khan Junejo as the next Prime Minister. However, the amendments made by Zia naturally weakened the powers of the ones in the cabinet and hence by virtue, the PM as well. Contrasting to what Zia expected from Junejo, the latter refused to accept the Army Chief's orders like signing the Geneva Accords which later translated to the conflict in Afghanistan.
As a result, Zia again dissolved the parliament and dismissed Junejo from his Prime Ministerial ship. Democracy returned to Pakistan with Benazir Bhutto assuming office but her tenure also saw a brief timeline. It was again in 1997 when Democracy started tracing its steps back to Army rule when Nawaz Sharif appointed General Parwez Musharraf as the Army Chief. Their unified alliance launched many army operations against India including the Kargil war. However, despite their good bond, Sharif executed a failed attempt to oust Musharraf while he was on a flight. The government attesting to Nawaz's intentions refused to let the Army Chief's plane land. As a result, the army moved in swiftly, dethroned Sharif's government and Musharraf assumed office and ruled Pakistan in 2007.
Imran Khan mirrors Nawaz Sharif as the former is also a political creature of the army. The then army chief Qamar Javed Bajwa and his close relation with Imran Khan-led to the latter's instatement as the Prime Minister. However, the bond between the two led to deterioration in 2021 because of Khan's shambolic governance, rampant inflation, and unemployment as the accusations undermined the army's own standing. Furthermore, Khan's visit to Russia during the Russia-Ukraine war was the final nail in the coffin which led to the opposition submitting the no-confidence motion, and Imran Khan was finally ousted on April 10. This, again affirms that Pakistan and its leaders in the Union are mere puppets at the hands of the army.
Conclusion
In addition to the aforementioned revenue sources and associated projects, the Pakistan Army has some 50 large businesses including sugar mills and stud farms, all forming a nice packet of money for the boys in uniform. With Pakistan slowly conforming to army rule, Beijing and even the US are delighted as firstly, it is easier to deal with one man in uniform rather than a squabbling mess of politicians. Secondly, China already has huge monetary investments in Pakistan and therefore, strong relations with the army would only mean more territorial nexus and manpower at the time of war. Thirdly, the US and its sharp sense of realism and a firm belief that the army is the guardian of national interest would make up for the better influence of Pakistan in the international circuit.
When a Chinese Spy Balloon Made UFOs, a Matter of Grave Concern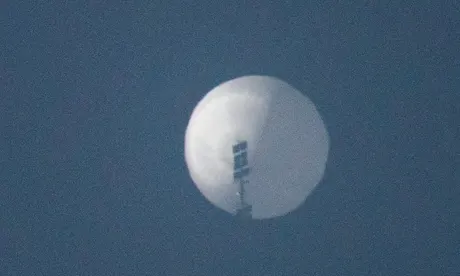 A year back, if someone told you that they spotted a "mysterious looking, white, balloon-shaped object" in the sky…you would have probably rubbished it, right? But what about today…how would you react to a news of 'mysterious balloons in the sky'? With a lot of concern, I presume…and rightly so! In this article we have discussed the incident of Chinese Spy Balloon aka Unidentified Flying Object.
From January 28 to February 4 this year, a giant white balloon was sighted across various parts of the North American airspace. This balloon, that was said to have traveled across South Korea, Japan, Alaska, Canada, and the contiguous United States, was later accepted by the Chinese government to be one of theirs – a Chinese 'Meteorological' Balloon that had drifted off-course due to the westerlies.
"The airship is from China. It is a civilian airship used for research, mainly meteorological, purposes. Affected by the Westerlies and with limited self-steering capability, the airship deviated far from its planned course."

– Chinese Foreign Ministry Spokesperson's Remarks on the Spy Balloon on 03 Feb 2023
But the American and Canadian intelligence services had different opinions – they claimed that the balloon was an instrument of surveillance which were endangering peace and security of these nations. On February 3, USA's Department of Defense reported that a second Chinese balloon was flying over Latin America, which China also claimed as its own. Following orders from U.S. President Joe Biden, the US Air Force shot down the balloon on February 4 in the Atlantic Ocean off the coast of South Carolina. 
But peace was not restored. The spy balloon incident has opened the pandora's box and the intelligence agencies now find themselves thinking on many fronts.
Before we dive into this, let's talk about China's "Civil-Military Fusion" program, under with such emerging technology is being developed.
China's National Strategy of Civil-Military Fusion (CMF)
"China encourages joint building and utilization of military and civilian infrastructure, joint exploration of the sea, outer space and air, and shared use of such resources as surveying and mapping, navigation, meteorology and frequency spectra. Accordingly, military and civilian resources can be more compatible, complementary and mutually accessible."

– China's Military Strategy, May 2015
To fulfill the Chinese goal of becoming a "world class military" by 2049, the Chinese government accelerated its program of CMF in 2015. Under this program, advanced technologies like Quantum Computing, AI, Big Data, nuclear, space and near-space technologies would be developed by exploiting both civilian and military capabilities. The importance of this Military Civilian Development Program can be identified by the fact that the President of the country, Xi Jinping, himself controls and oversees its progress. 
But why has the CCP government opted for this civilian-owned militarily empowered program? The reason is quite simple – 
If Caught – The government has the option to claim innocence by citing civilian–error and proving that there is no relation to the government or military. 
If Successful – The government successfully has access to the sensitive data of adversary and may weaponize this information as and when required for their benefit.
Now let's take another look at the Chinese Foreign Ministry Spokesperson's Remarks on the Spy Balloon –
"The airship is from China. It is a civilian airship used for research, mainly meteorological, purposes."
There should be no doubt that China's recent 'meteorological' balloons are a by-product of it's Civilian-Military Fusion program. The claim that the balloon's purpose was to spy on military installations in the Pacific region, cannot and should not be swiftly rejected. 
In the past few weeks, the North American Aerospace Defense Command has shot down four objects, and there are rumors of another balloon floating over the Middle East. What was once claimed to be a "civilian airship used for research, mainly meteorological, purposes", is now recognized as a component of a vast surveillance program.
Regardless of the quantity or caliber of the balloon's data gathered while flying over the United States, the controversy surrounding it has grown into an international incident, with multiple claims of similar "UFO" sightings all over the world – Japan, India, Taiwan, Colombia and list goes on.
What damage could the China's Spy Balloon inflict on the countries? Should we be bothered?
Let's answer the 2nd question first, should the spying balloon matter to us? 
YES, it definitely should. 
 It is no surprise that most members of Generation Z are unconcerned about data privacy, since they are so accustomed to being watched. In fact, a prevailing thought during a discussion about the balloon was, "Oh, the U.S. probably has comparable programs in China." The idea of a foreign competitor power gathering surveillance data on them therefore doesn't seem that terrifying to young people since. 
But, let's not forget this balloon was flying over the country's military areas, significant bases and important sites. 
Now let's come to the first question, what is the extent of damage that this balloon could cause? – Well, for this we leave you with two opinions to deliberate and make your own judgement.
Opinion 1
First, the chances of electronic surveillance to identify and possibly disrupt sensitive military communications cannot be ruled out at all. Second, is the possibility of cyber espionage or sabotage. With the cyber-skills and hacker army available with China's People's Liberation Army (PLA), it is a possible that this 'balloon-voyage' was a mere precursor to a full-fledged hybrid war. Third, the spy balloon could be a test, aimed to establish the reaction ability and potential of intelligence agencies worldwide. 
Opinion 2
Human brain is wired in a way to look at a shocking event with fear and assume that worst has happened. Therefore, had the Chinese diplomat in USA immediately met POTUS to explain China's position and taken strict (and public) against the civilian owners of this balloon, the matter would have been resolved peacefully without USAF interference. Diplomatic dialogue, should have been China's response, and not escalating the situation with threats – let's be clear 'cold-war' scenario, does more damage than good.
What's Next For China & USA Relations?
Chinese spy balloon illegal intrusion into USA's airspace has further deteriorated relations between the two countries. With Secretary of State Antony Blinken indefinitely postponing his trip to China, all prospects for a detente between the two superpowers seems to be eliminated. 
The incident has also heightened tensions and has accelerated alliance formation, not very different from the pre-Cold war era of USA and USSR!
"I believe in evidence. I believe in observation, measurement, and reasoning, confirmed by independent observers. I'll believe anything, no matter how wild and ridiculous, if there is evidence for it. The wilder and more ridiculous something is, however, the firmer and more solid the evidence will have to be."

-Isaac Asimov