When a feudal lord endangers the altars of the gods of earth and grain, he should be replaced. When the sacrificial animals are sleek, the offerings are clean and the sacrifices are observed at due times, and yet floods and droughts come [by the agency of heaven], then the altars should be replaced.— Mencius
What would you say if I told you that there was once a land where the success and continuation of the reign of a king depended on the well being of not just the people but also the earth, water, air, flora and fauna? Where a natural calamity, be it a drought, an earthquake, a pandemic, flood etc., would be considered as inexcusable evidence that Heaven had withdrawn its mandate from the ruler, and another 'just king' would/should replace him soon. 
This country was China, the very country which has now, unfortunately, risen to become one of the largest polluters of the environment. The superior importance that their ancestors once placed on nature has been unceremoniously compromised for mankind's needs and luxuries. 
But is it the only country who has willingly played with the environment? No.
"When the last tree has been cut down, the last fish caught, the last river poisoned, only then will we realize that one cannot eat money." – Alanis Obomsawin
The excitement of science, unsatisfiable curiosity, quest for more territory and the want for comfort, led mankind to callously experiment with nature. We may have started with innocent discoveries like wheel, ink, compass..but soon we found ourselves trapped in the temptation of more riskier ones like automobiles, oil rigs, plastic and nuclear power plants. We cut down our agricultural lands and built towers and industries instead. And then when we had no crops, we ravaged our oceans.
Plundering waters for food, digging rigs for oil and natural gas, accumulating marine debris including plastics, paper, wood, metal and other manufactured materials, mankind's misadventures are the very reason our agricultural land and forests are shrinking, our air is polluted and cancerous, our ocean is covered with layers of plastic and toxic chemicals…
Our Ocean, Our Environment, Our Climate, Our Well Being 
Tragically, the last few years have been quite detrimental to the world's ocean health. The cases of illegal unregulated and unreported (IUU) fishing, deep-sea fishing by trawlers, underwater equipment and weapon testing, trafficking of endangered underwater flora and fauna etc., have not just contributed to marine pollution but have also been considered a major contributor to climate change by various researchers and scientists. In fact, the recent trend of overfishing and IUU fishing by foreign trawlers has proved to be the worst manmade mayhem of our times, affecting not just our oceans but also the local fishing communities whose only source of livelihood are these oceans. As these trawlers use large, heavy nets, they don't just overfish but the process of dragging and laying these nets also tends to inflicts damage on other ocean life. 
Apart from illegal and excessive fishing, the increase in shipping traffic is yet another major polluter of oceans. An increase in traffic primarily means an increase in the carbon deposits, on ice and snow, and an increase in temperature and associated natural disasters. However, the most profound effect of increased maritime traffic is – increase in the risk of coastal accidents and fuel leakage/spills. If you are wondering, how much trouble can a small fishing boat cause…rewind to the 2019 incident in the South China Sea, when a Chinese fishing boat collided with a Philippine vessel, thereby causing an intense situation between the two countries and a heightened military state in the region. We got lucky that the countries were able to resolve the issue diplomatically. 
"Our planet's alarm is going off, and it is time to wake up and take action!" – Leonardo DiCaprio
Every year from June 7 to 13, is celebrated as World Ocean Week, with a new theme and a new pledge. This year, as some parts of the world start to reorganise life post-Covid-19 pandemic, the theme "The Ocean: Life and Livelihood" seems completely apt. While we start to rebuild the economy, this year our prime motive should be to ensure that our oceans and all water bodies are protected and integrated with our plans for development. 
"Sooner or later, we will have to recognise that the Earth has rights, too, to live without pollution. What mankind must know is that human beings cannot live without Mother Earth, but the planet can live without humans." – Evo Morales
G20 Summit & All That You Need To Know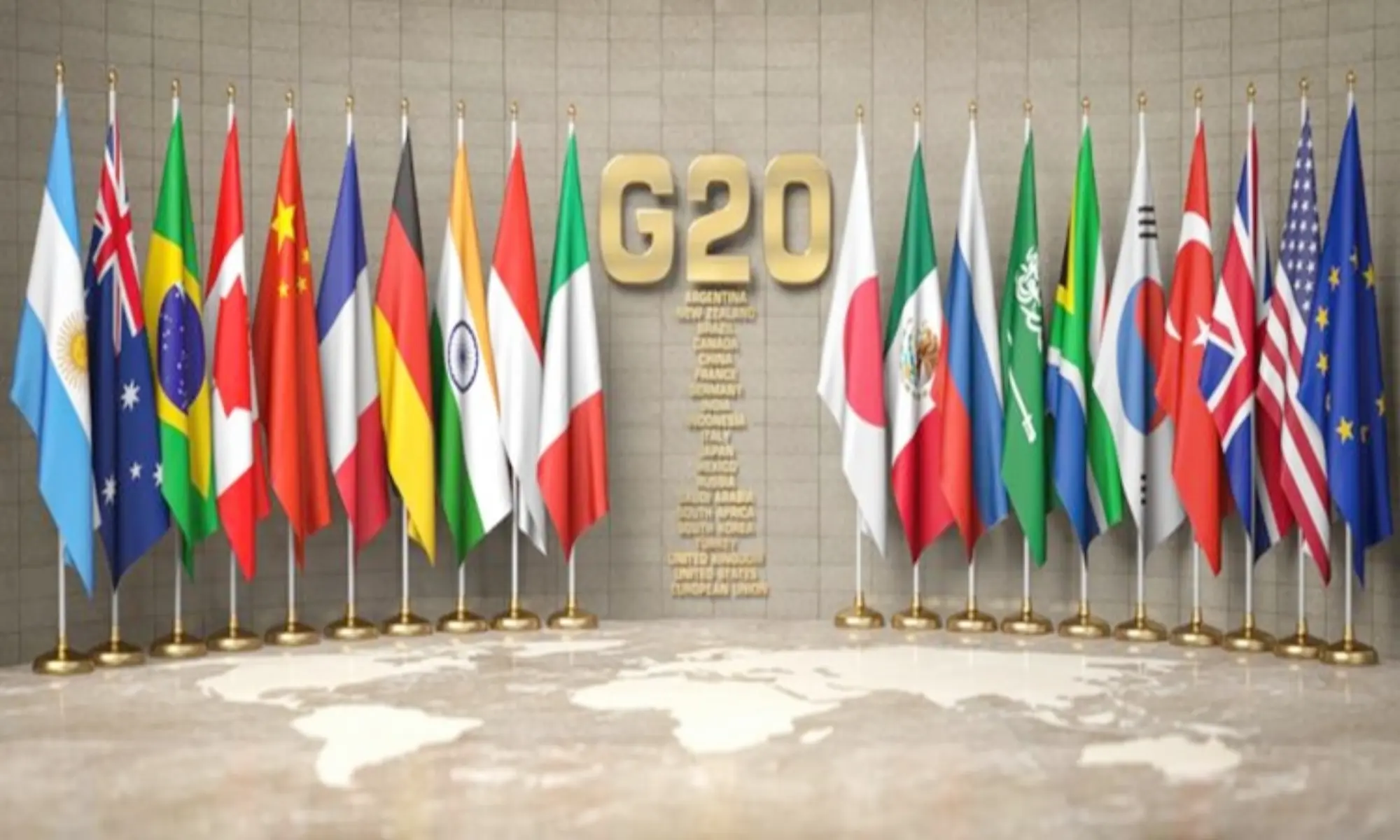 The G20 summit represents a significant portion of the global economy, accounting for around 85% of global gross domestic product (GDP), 80% of global trade, and two-thirds of the world's population. As a result, decisions made within the G20 can have far-reaching impacts on global economic policies and international relations.
What is the G-20?
Found in 1999, the Group of Twenty, or G20, is a global organization with 20 member nations. It was established in response to the financial crisis of the late 1990s and to bring together significant economies to discuss policy coordination and collaboration. It offers a stage for talks on problems related to the financial system's stability, sustainable development, and global economic issues. But over the years it has become a significant platform for leaders to discuss and act on critical global issues like poverty, inequality and climate change.
Which countries form the G-20?
Argentina, Australia, Brazil, Canada, China, France, Germany, India, Indonesia, Italy, Japan, Mexico, Russia, Saudi Arabia, South Africa, South Korea, Turkey, the United Kingdom, and the United States comprise the G20. The European Union is also a member and is represented by the European Commission and the European Central Bank.
Heads of state or government, finance ministers, and central bank governors gather at the G20's yearly meetings to conduct business. Discussions and negotiations aimed at promoting investment, international trade, financial regulation, and economic growth are the main topics of the sessions. Meetings of the finance ministers and central bank governors are held throughout the year in addition to the official summits to discuss ongoing economic challenges.
What is the Significance of G20 organisation and the G20 Summit?
Globally speaking, the G20 is essential in promoting cooperation among its members and tackling global economic and financial issues. It acts as a forum for discussion, collaboration, and coordination to support global economic stability and sustainable development. The G20 represents a significant portion of the global economy, accounting for around 85% of global gross domestic product (GDP), 80% of global trade, and two-thirds of the world's population. As a result, decisions made within the G20 can have far-reaching impacts on global economic policies and international relations.
The G20 summit brings together leaders from the G20 member countries to discuss and decide on various global economic concerns. However, it is the meaningful conversations between the sherpas of these nations that is vital for policy and decision making. 
Who are the G20 Sherpas?
During the G20 process, the senior officials and diplomats who attend/represent the G20 meetings on behalf of their nation's head of state or government are called as Sherpas. G20 Sherpas set the agenda, negotiate positions, and promote dialogue among the members.
Before the summit, sherpas frequently hold many rounds of discussions. These conversations touch on various issues, including financial stability, trade, investment, development, climate change, and other urgent global issues. The primary goal of these meetings is to identify areas of agreement, create consensus, and create cooperative strategies to deal with global economic difficulties. Sherpas hold in-depth discussions with their counterparts, examining various policy choices, sharing information, and attempting to reach a consensus on important topics.
Since each nation brings unique interests, priorities, and views, the conversations between the sherpas are intricate. To make sure that the outcomes of the G20 summit represent a broad consensus among the member countries, these discussions may require reaching concessions, settling disputes, and negotiating delicate problems. Sherpas bring together the priorities and viewpoints of the participating nations through these meetings, identify areas requiring group effort, and lay out potential solutions or policy suggestions for the summit's leaders to consider.
Sherpas are crucial in determining the G20 summit's agenda and results. As a result of their work, joint declarations, action plans, and pledges are created and approved by the leaders at the summit.
The conversations between the sherpas are a vital forum for communication, collaboration, and consensus-building among the G20 member nations. They are crucial in determining the summit's course and results, helping to make sure that the G20 addresses the world's economic concerns and promotes equitable and sustainable growth on a global scale.
India's G-20 Presidency
From December 1, 2022, through November 30, 2023, India will be the G20's president. In September of this year, the final New Delhi Summit will have 43 heads of delegation, the most ever to attend a G20 summit.
The slogan of this year's G20 Summit under the Indian Presidency is "Vasudhaiva Kutumbakam," which translates to "One Earth, One Family."
What is on agenda in the 2023 G-20 Summit?
Climate Finance, Life, and Green Development

Fast, Inclusive, and Resilient Growth 

Increasing SDGs progress

Digital Public Infrastructure and Technological Change

21st century's multilateral institutions

Women driving development
Behind the Scenes at G20
Before the summit in Kashmir (from 22 – 24 May), China raised a protest against the conduct of the G20 tourism working group conference being conducted in the Indian State. 
China's decision is most likely the result of Pakistan's concerns, a close ally who stated that the G20 summits were intended to support India's "illegal occupation" of Jammu and Kashmir. Meanwhile dismissing such ill-founded concerns of the Chinese side, India reiterated that all her states and union territories were hosting the G20 Summit 2023 in India.
However, as India continues to garner more goodwill and support from the G20 leaders, and China continues to lose standing in international global forums, it become a permanent absentee from such global summits soon.