Introduction
Women of today are the results of indefinable struggles of the past. They have strived and fought tooth and nail to mark their place in this ever-pungent patriarchal society and have risen to all sorts of fame, name and glory. Even in sectors such as defence, which is generally considered a male-oriented regime, significant growth of women has been witnessed. In the case of the Indian Army, women have had substantial attendance and have been commissioned at various crucial positions. However, the numbers are comparatively way lesser than that of men. According to the latest observation made through RTI, the Indian Army has 12,18,036 men against 6,807 women which comprises a mere 0.56 per cent of the total force. Similarly, the Indian Air Force constitutes 1,46,727 men against 1,607 women forming 1.08 per cent. And lastly, the Indian Navy has 10,108 men for just 704 women making up just 6.5 per cent.
Position of Women in Indian Armed Forces
Gender equality is a challenge of paramount importance. While Supreme Court has explicitly voiced its stance on women being ready and apt to serve as army commanders and enjoy permanent commission and pay equal to their counterparts, the ground reality is contrastingly different. Ministry of Defense with the blessings of the Union, still belongs to the school of thought that women officers and soldiers are not suitable for commanding posts. In addition, the Ministry of Defense has also opined that the male soldiers are not yet ready to accept orders from a female leader. This orthodox thinking is and always has been the sole responsibility of such small numbers of women demography in the Indian Army.
With only 85 permanent commissioned officers in the Indian Army, the Centre along with the Ministry of Defense has a lot to do to bridge this vast gap. While Prime Minister Narendra Modi on his visit to Nimoo in Laddakh expressed his pride and appreciation at the presence of women soldiers in forwarding areas and border, the volatile status of women officers in the Indian Army, especially in the branches of Armored Coups, Infantry, Mechanised Infantry, Artillery and Remount Veterinary Corps (RVC) was never mentioned.
The women officers of the Indian Army have a very clear point of view with respect to their commission at ranked positions. They are of the opinion that the performance of the individual candidate must take precedence over their gender. Similarly, with reference to the Centre's statement of men soldiers and officers not ready to accept orders from women officers, the female officers opined that the trained soldiers should focus on the rank of the officer and not on the gender.
History of Women officers in the Indian Army with reference to the World
Women have proved their worth and mettle and performed extremely well in peace as well as in hostile locations. The role of women began in 1888 in medical roles at the "Indian Military Nursing Service" during British Raj. It was after the year 1992 that the organization opened its doors and started inducting and commissioning women in non-medical roles. Moreover, India also opened new Air Combat roles for women fighter pilots in the year 2015. However, despite these crucial advancements, women in the Indian Army are still devoid and defied to be a part of active combat on the ground.
History dictates that women all across the world have been an active part and performed their bit in the armed forces. Global Catastrophes such as World Wars had huge influxes of women in wars and munitions. There were about a million women who worked in arsenal and ammunition factories during the First World War making guns, arranging and synthesizing explosives and shells, etc.
Coping up after World War, Norway became the first NATO country to allow women to join the forces in all combat capacities. In addition, numerous and eminent countries such as Canada, Denmark and Israel opened combat roles to women during the early 1980s. Countries such as Denmark and Israel, moreover, adapted total inclusion policy with respect to women in all combat forces in 1988 and 1985 respectively. India's ally Israel has been a torchbearer of women's inclusion in military services as it has always inducted both men and women ever since it was created in 1948.
While the Army Act of 1950 was amended and allowed women's participation from 1992 and was termed as a "Chequered History" by the Supreme Court, the absence of women at commanding positions is a crucial issue.
Conclusion
The real and pivotal question here arises is why is "war" a man's business. Frontline deployments of soldiers have always been seen as a task of brute strength, courage and bravery. However, the senior generals of the army have associated women with adjectives such as fragile and delicate and are apparently concerned over women's vulnerability and physical and mental ability to cope with the frontline deployments at a combat scene. While women are continuously fighting for equality and liberty, the conservationists outrightly reject the involvement of women at the war front.
However, a glimmer of hope brightly shines as the Centre allows the inclusion of Women in NDA and promises to give Permanent Commission. The Supreme Court has hoped that the defence forces shall value the inclusion of women and acknowledge their important roles in the upcoming years.
"Let people eat cake" says Pakistan Navy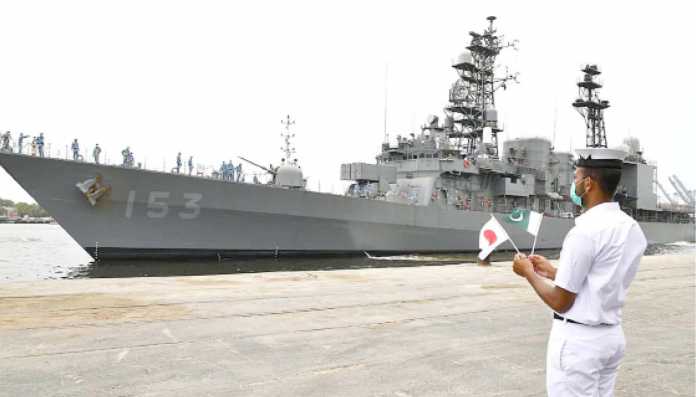 In 1789 during yet another famine in France, the princess Marie Antoinette upon being told that the peasants had no bread, is said to have replied with frivolous disregard for the starving peasants with the words "Let them eat cake". Today, the condition of the Pakistani citizens is quite similar to the French peasants of 1789.
The desperate economic conditions in Pakistan and the impact of floods has led the Finance Ministry to issue directives for implementing strict austerity measures for year 2022 – 2023. These measures aim to curtail operating expenditure and reduce the economic burden of the people.
However, it seems that these directives never reached their Navy.
Very recently, Pakistan Navy Ships Shamsheer and Nasr visited Yokosuka Port in Japan with an aim to participate in the International Fleet Review. In much contrast to the government verdict of "no unnecessary expenditure", the visit was neither mandatory nor of importance. However much to the citizen's dismay, neither the empty coffers nor the grave economic situation of the people seemed to deter the Navy from going on a tourism cum shopping spree.
Pakistan Navy Ships visit Yokosuka Port in Japan
In economically stable conditions, a Naval ship's visit to a foreign port would have been welcomed by the citizens. However the economic burden posed by  these activities have quadrupled the fear of a complete breakdown of society. While the cost of fuel for such a long voyage is in itself a huge deterrent, the fact that the ships will be stopping at almost five to seven countries during the futile passage, has made matters worse.
Monetary Implications of this cruise
Let's look at the basic requirement of a naval voyage. The mandatory requirements include buying stores, fuel/lubricants, undertaking necessary repairs, paying the crew in international currency etc. But is this all? Definitely not. Each stop at a foreign port will require a mandatory interaction with the diplomats, exchange of gifts, parties with great pomp and show to announce the naval ships' arrival, preparation of native cuisines etc.…The expenditure is definitely mind boggling.
Who is paying for this?
All this is paid through already depleting foreign reserves. Therefore understandably, if news of such frivolous expenditure, especially in these trying times were to reach the general public there would be a furore, and a well justified one. But Pakistan's Navy has been clever, or at least it thinks it has been.
Where normally, all port visits are turned to a media circus by the Navy, this time not a single press release is available on the open media. Why? Because of a stringent gag order on issuing media bites by the government. The Navy has warned cruising ships to conduct events without the presence of press. The aim apparently is to prevent citizens from becoming aware of this trip to Japan. Pakistan's naval commanders seem to be relying on their belief (definitely flawed and misguided) that – ordinary Pakistani citizen are like the proverbial ostrich with its head buried in the sand – what it cannot see, does not exist!
In today's world where information travels faster than light – there are enough people who monitor everything. Which is why hiding the journey of two huge warships was definitely worthless. As soon as a local net-hawker identified the movement of the naval ships – the world and entire Pakistan was made aware of the secret journey.  The Maverick could not outfox these people.
Frivolous Spending in Desperate Times
While one may still be able to find an excuse for Navy's foreign visits, but what about the inflating expenditure on the procurement and projects, which are of no immediate importance? As pointed out by social media users a few days earlier, the Pakistan navy has been planning to procure four Frigates (each from Turkey and China), four to eight Corvettes (from the Netherlands), eight submarines (from China) and almost ten new aircraft for its maritime fleet.
Which brings a very interesting scenario to light – the huge lack of communication between the Pakistan's government and its navy. On one hand the government has been insisting on cutting down operating costs and even travel/fuel usage by every ministry and service, but on the other, the Armed Forces are on a shopping spree. And whose money are these forces using?  The question that the citizens of Pakistan need to ask is despite the mushrooming economic crisis, why is there a need to undertake such frivolous expenditure/cruises? And if they are really necessary, why the extra effort to hide it?
Many Pakistanis have already started asking such questions, a mass outcry is not far. And while the Pak armed forces especially its navy may pretend to be blissfully unaware of their countrymen's plight, they must realize that secret voyages will not help the deplorable situation of their country and their fellow countrymen.
This article has been contributed by Commander Abhishek Rathi (Retd), Indian Naval Officer
Commander Abhishek Rathi (Retd) is a retired executive officer and holds an experience of commanding two naval warships. He has a keen interest in maritime history and technology. The officer is also an avid nature photographer and likes traveling all across India for it.