The 50th anniversary of India's triumph over Pakistan in the 1971 Indo-Pak war is being commemorated across the country. The conflict, which ended on December 16, 1971, resulted in the liberation of East Pakistan and the foundation of Bangladesh, a new country. It was one of the shortest conflicts in history, spanning only 13 days. The war was a total and demeaning failure for Pakistan, a psychological blow following a demise at the hands of rival India. A lot of documentation about the Indo-Pak war has been carried out over the years through various print and visual media focussing on various aspects of socio-political conflicts of the war and its warfare techniques. While a lot of these accounts largely focus on the political repercussions and ramifications of this war, hardly any light was shed on the warfare techniques and aspects.
In many respects, 'When Sparrows Flew Like Eagles' is quite remarkable because of its focus on Signal Communications during the Indo-Pak war. To begin with, this is likely the very first attempt to write about the importance of soldier-signallers in the eventual conclusion of a conflict, such as the IV Corps Operations in 1971 that led to Bangladesh's liberation. Published on November 30, 2020, 'When Sparrows Flew Like Eagles' is a memoir of the accounts of a Signal Officer by M.R. Narayan.
It focuses on the manifold human behaviour under stress, particularly the psychological aspects of leadership abilities needed at the intermediate and senior management levels during war or warlike events when the stakes are quite high.
He explains why signal communication is a huge force multiplier and game-changer in achieving victory in battles and, eventually, the war. He also illustrates how it can save unnecessary operational combat while simultaneously save human lives and military resources when used strategically and effectively.
Aside from being an efficient historical account, the book is immensely beneficial as a military instruction manual. This book highlights the Mantra for successful signal communication. There are two ends to every signal communication channel. It is critical that we never complain about the other end of the line and instead accept responsibility for it as well. It's best to stick to the chain of command and avoid circumventing your immediate superiors. Loyalty brings peace and harmony. In times of war, the nation always comes first, and the corporation or syndicate you serve comes second. Only if these two are not jeopardised can you be loyal to your superior.
The book is fascinating to read, particularly for signal personnel. Several officers who participated in the 1971 Bangladesh operations have written about their experiences, but this is likely the first testimony by a signal officer. Though the narrative covers a comparatively limited spectrum of engineering communications at the Corps level – operations and maintenance attributes such as signal centres, exchanges, and cyphers are not addressed – it provides insight into the challenges encountered by an intermediate officer during wartime and the industriousness shown in solving them.
The Corps of Signals use unique code words to carefully transmit messages so that when intercepted by the adversary party, the crux of the communication remains unclear to them. Sparrow is an alias for the Signal officer In the Radiotelephony (RT) procedure followed in the Indian Army. A Tiger is a code for Commander while Lion is for a General Staff Officer. These helped to hide the formation's level of command; for example, Tiger refers to a commander, whether he is the commander of a Corps, Division, or Brigade.
The signal officers believe there is no precedent in history for a Corps Headquarters moving within enemy artillery shells as they entered Comilla. They couldn't have moved there unless Brigadier Sidhu and his Corps of Signals had made sure of their communications. On the night of December 11-12, 1971, the entire Corps Headquarters moved, and the functioning would have been lost if they had not gone ahead and established communication within enemy firing range.
During warfare, communications take on a strange design. When things go wrong, everyone notices and they are frequently chastised for failures and shortcomings. When things go according to plan, it's unusual that they're mentioned. Signals were held responsible for a number of mishaps during the Sino-Indian conflict in 1962.
The Indian Army, on the other hand, breezed through the Goa operations in 1961 and the Bangladesh operations in 1971. As a result, communication issues were rarely acknowledged and largely overlooked during the course of the operations. This myth is debunked by Brigadier Narayanan's account in this memoir. His life experiences have taught him vital lessons, which he has underlined at the book's conclusion. These insights from Brigadier Narayan's personal anecdotes make this book fascinating and truly one of its kind.
When a Chinese Spy Balloon Made UFOs, a Matter of Grave Concern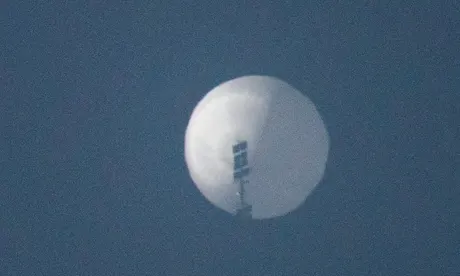 A year back, if someone told you that they spotted a "mysterious looking, white, balloon-shaped object" in the sky…you would have probably rubbished it, right? But what about today…how would you react to a news of 'mysterious balloons in the sky'? With a lot of concern, I presume…and rightly so! In this article we have discussed the incident of Chinese Spy Balloon aka Unidentified Flying Object.
From January 28 to February 4 this year, a giant white balloon was sighted across various parts of the North American airspace. This balloon, that was said to have traveled across South Korea, Japan, Alaska, Canada, and the contiguous United States, was later accepted by the Chinese government to be one of theirs – a Chinese 'Meteorological' Balloon that had drifted off-course due to the westerlies.
"The airship is from China. It is a civilian airship used for research, mainly meteorological, purposes. Affected by the Westerlies and with limited self-steering capability, the airship deviated far from its planned course."

– Chinese Foreign Ministry Spokesperson's Remarks on the Spy Balloon on 03 Feb 2023
But the American and Canadian intelligence services had different opinions – they claimed that the balloon was an instrument of surveillance which were endangering peace and security of these nations. On February 3, USA's Department of Defense reported that a second Chinese balloon was flying over Latin America, which China also claimed as its own. Following orders from U.S. President Joe Biden, the US Air Force shot down the balloon on February 4 in the Atlantic Ocean off the coast of South Carolina. 
But peace was not restored. The spy balloon incident has opened the pandora's box and the intelligence agencies now find themselves thinking on many fronts.
Before we dive into this, let's talk about China's "Civil-Military Fusion" program, under with such emerging technology is being developed.
China's National Strategy of Civil-Military Fusion (CMF)
"China encourages joint building and utilization of military and civilian infrastructure, joint exploration of the sea, outer space and air, and shared use of such resources as surveying and mapping, navigation, meteorology and frequency spectra. Accordingly, military and civilian resources can be more compatible, complementary and mutually accessible."

– China's Military Strategy, May 2015
To fulfill the Chinese goal of becoming a "world class military" by 2049, the Chinese government accelerated its program of CMF in 2015. Under this program, advanced technologies like Quantum Computing, AI, Big Data, nuclear, space and near-space technologies would be developed by exploiting both civilian and military capabilities. The importance of this Military Civilian Development Program can be identified by the fact that the President of the country, Xi Jinping, himself controls and oversees its progress. 
But why has the CCP government opted for this civilian-owned militarily empowered program? The reason is quite simple – 
If Caught – The government has the option to claim innocence by citing civilian–error and proving that there is no relation to the government or military. 
If Successful – The government successfully has access to the sensitive data of adversary and may weaponize this information as and when required for their benefit.
Now let's take another look at the Chinese Foreign Ministry Spokesperson's Remarks on the Spy Balloon –
"The airship is from China. It is a civilian airship used for research, mainly meteorological, purposes."
There should be no doubt that China's recent 'meteorological' balloons are a by-product of it's Civilian-Military Fusion program. The claim that the balloon's purpose was to spy on military installations in the Pacific region, cannot and should not be swiftly rejected. 
In the past few weeks, the North American Aerospace Defense Command has shot down four objects, and there are rumors of another balloon floating over the Middle East. What was once claimed to be a "civilian airship used for research, mainly meteorological, purposes", is now recognized as a component of a vast surveillance program.
Regardless of the quantity or caliber of the balloon's data gathered while flying over the United States, the controversy surrounding it has grown into an international incident, with multiple claims of similar "UFO" sightings all over the world – Japan, India, Taiwan, Colombia and list goes on.
What damage could the China's Spy Balloon inflict on the countries? Should we be bothered?
Let's answer the 2nd question first, should the spying balloon matter to us? 
YES, it definitely should. 
 It is no surprise that most members of Generation Z are unconcerned about data privacy, since they are so accustomed to being watched. In fact, a prevailing thought during a discussion about the balloon was, "Oh, the U.S. probably has comparable programs in China." The idea of a foreign competitor power gathering surveillance data on them therefore doesn't seem that terrifying to young people since. 
But, let's not forget this balloon was flying over the country's military areas, significant bases and important sites. 
Now let's come to the first question, what is the extent of damage that this balloon could cause? – Well, for this we leave you with two opinions to deliberate and make your own judgement.
Opinion 1
First, the chances of electronic surveillance to identify and possibly disrupt sensitive military communications cannot be ruled out at all. Second, is the possibility of cyber espionage or sabotage. With the cyber-skills and hacker army available with China's People's Liberation Army (PLA), it is a possible that this 'balloon-voyage' was a mere precursor to a full-fledged hybrid war. Third, the spy balloon could be a test, aimed to establish the reaction ability and potential of intelligence agencies worldwide. 
Opinion 2
Human brain is wired in a way to look at a shocking event with fear and assume that worst has happened. Therefore, had the Chinese diplomat in USA immediately met POTUS to explain China's position and taken strict (and public) against the civilian owners of this balloon, the matter would have been resolved peacefully without USAF interference. Diplomatic dialogue, should have been China's response, and not escalating the situation with threats – let's be clear 'cold-war' scenario, does more damage than good.
What's Next For China & USA Relations?
Chinese spy balloon illegal intrusion into USA's airspace has further deteriorated relations between the two countries. With Secretary of State Antony Blinken indefinitely postponing his trip to China, all prospects for a detente between the two superpowers seems to be eliminated. 
The incident has also heightened tensions and has accelerated alliance formation, not very different from the pre-Cold war era of USA and USSR!
"I believe in evidence. I believe in observation, measurement, and reasoning, confirmed by independent observers. I'll believe anything, no matter how wild and ridiculous, if there is evidence for it. The wilder and more ridiculous something is, however, the firmer and more solid the evidence will have to be."

-Isaac Asimov