The 50th anniversary of India's triumph over Pakistan in the 1971 Indo-Pak war is being commemorated across the country. The conflict, which ended on December 16, 1971, resulted in the liberation of East Pakistan and the foundation of Bangladesh, a new country. It was one of the shortest conflicts in history, spanning only 13 days. The war was a total and demeaning failure for Pakistan, a psychological blow following a demise at the hands of rival India. A lot of documentation about the Indo-Pak war has been carried out over the years through various print and visual media focussing on various aspects of socio-political conflicts of the war and its warfare techniques. While a lot of these accounts largely focus on the political repercussions and ramifications of this war, hardly any light was shed on the warfare techniques and aspects.
In many respects, 'When Sparrows Flew Like Eagles' is quite remarkable because of its focus on Signal Communications during the Indo-Pak war. To begin with, this is likely the very first attempt to write about the importance of soldier-signallers in the eventual conclusion of a conflict, such as the IV Corps Operations in 1971 that led to Bangladesh's liberation. Published on November 30, 2020, 'When Sparrows Flew Like Eagles' is a memoir of the accounts of a Signal Officer by M.R. Narayan.
It focuses on the manifold human behaviour under stress, particularly the psychological aspects of leadership abilities needed at the intermediate and senior management levels during war or warlike events when the stakes are quite high.
He explains why signal communication is a huge force multiplier and game-changer in achieving victory in battles and, eventually, the war. He also illustrates how it can save unnecessary operational combat while simultaneously save human lives and military resources when used strategically and effectively.
Aside from being an efficient historical account, the book is immensely beneficial as a military instruction manual. This book highlights the Mantra for successful signal communication. There are two ends to every signal communication channel. It is critical that we never complain about the other end of the line and instead accept responsibility for it as well. It's best to stick to the chain of command and avoid circumventing your immediate superiors. Loyalty brings peace and harmony. In times of war, the nation always comes first, and the corporation or syndicate you serve comes second. Only if these two are not jeopardised can you be loyal to your superior.
The book is fascinating to read, particularly for signal personnel. Several officers who participated in the 1971 Bangladesh operations have written about their experiences, but this is likely the first testimony by a signal officer. Though the narrative covers a comparatively limited spectrum of engineering communications at the Corps level – operations and maintenance attributes such as signal centres, exchanges, and cyphers are not addressed – it provides insight into the challenges encountered by an intermediate officer during wartime and the industriousness shown in solving them.
The Corps of Signals use unique code words to carefully transmit messages so that when intercepted by the adversary party, the crux of the communication remains unclear to them. Sparrow is an alias for the Signal officer In the Radiotelephony (RT) procedure followed in the Indian Army. A Tiger is a code for Commander while Lion is for a General Staff Officer. These helped to hide the formation's level of command; for example, Tiger refers to a commander, whether he is the commander of a Corps, Division, or Brigade.
The signal officers believe there is no precedent in history for a Corps Headquarters moving within enemy artillery shells as they entered Comilla. They couldn't have moved there unless Brigadier Sidhu and his Corps of Signals had made sure of their communications. On the night of December 11-12, 1971, the entire Corps Headquarters moved, and the functioning would have been lost if they had not gone ahead and established communication within enemy firing range.
During warfare, communications take on a strange design. When things go wrong, everyone notices and they are frequently chastised for failures and shortcomings. When things go according to plan, it's unusual that they're mentioned. Signals were held responsible for a number of mishaps during the Sino-Indian conflict in 1962.
The Indian Army, on the other hand, breezed through the Goa operations in 1961 and the Bangladesh operations in 1971. As a result, communication issues were rarely acknowledged and largely overlooked during the course of the operations. This myth is debunked by Brigadier Narayanan's account in this memoir. His life experiences have taught him vital lessons, which he has underlined at the book's conclusion. These insights from Brigadier Narayan's personal anecdotes make this book fascinating and truly one of its kind.
"Let people eat cake" says Pakistan Navy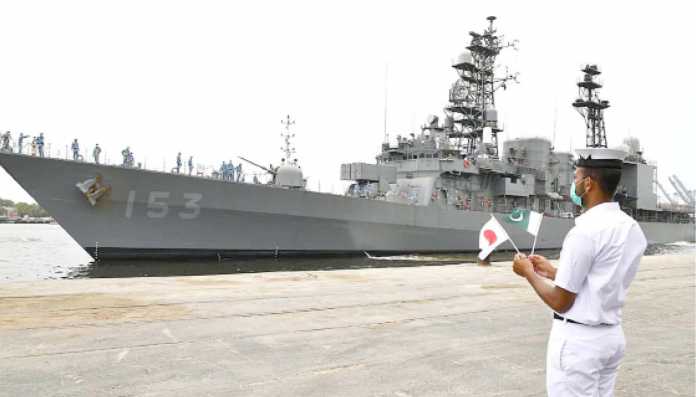 In 1789 during yet another famine in France, the princess Marie Antoinette upon being told that the peasants had no bread, is said to have replied with frivolous disregard for the starving peasants with the words "Let them eat cake". Today, the condition of the Pakistani citizens is quite similar to the French peasants of 1789.
The desperate economic conditions in Pakistan and the impact of floods has led the Finance Ministry to issue directives for implementing strict austerity measures for year 2022 – 2023. These measures aim to curtail operating expenditure and reduce the economic burden of the people.
However, it seems that these directives never reached their Navy.
Very recently, Pakistan Navy Ships Shamsheer and Nasr visited Yokosuka Port in Japan with an aim to participate in the International Fleet Review. In much contrast to the government verdict of "no unnecessary expenditure", the visit was neither mandatory nor of importance. However much to the citizen's dismay, neither the empty coffers nor the grave economic situation of the people seemed to deter the Navy from going on a tourism cum shopping spree.
Pakistan Navy Ships visit Yokosuka Port in Japan
In economically stable conditions, a Naval ship's visit to a foreign port would have been welcomed by the citizens. However the economic burden posed by  these activities have quadrupled the fear of a complete breakdown of society. While the cost of fuel for such a long voyage is in itself a huge deterrent, the fact that the ships will be stopping at almost five to seven countries during the futile passage, has made matters worse.
Monetary Implications of this cruise
Let's look at the basic requirement of a naval voyage. The mandatory requirements include buying stores, fuel/lubricants, undertaking necessary repairs, paying the crew in international currency etc. But is this all? Definitely not. Each stop at a foreign port will require a mandatory interaction with the diplomats, exchange of gifts, parties with great pomp and show to announce the naval ships' arrival, preparation of native cuisines etc.…The expenditure is definitely mind boggling.
Who is paying for this?
All this is paid through already depleting foreign reserves. Therefore understandably, if news of such frivolous expenditure, especially in these trying times were to reach the general public there would be a furore, and a well justified one. But Pakistan's Navy has been clever, or at least it thinks it has been.
Where normally, all port visits are turned to a media circus by the Navy, this time not a single press release is available on the open media. Why? Because of a stringent gag order on issuing media bites by the government. The Navy has warned cruising ships to conduct events without the presence of press. The aim apparently is to prevent citizens from becoming aware of this trip to Japan. Pakistan's naval commanders seem to be relying on their belief (definitely flawed and misguided) that – ordinary Pakistani citizen are like the proverbial ostrich with its head buried in the sand – what it cannot see, does not exist!
In today's world where information travels faster than light – there are enough people who monitor everything. Which is why hiding the journey of two huge warships was definitely worthless. As soon as a local net-hawker identified the movement of the naval ships – the world and entire Pakistan was made aware of the secret journey.  The Maverick could not outfox these people.
Frivolous Spending in Desperate Times
While one may still be able to find an excuse for Navy's foreign visits, but what about the inflating expenditure on the procurement and projects, which are of no immediate importance? As pointed out by social media users a few days earlier, the Pakistan navy has been planning to procure four Frigates (each from Turkey and China), four to eight Corvettes (from the Netherlands), eight submarines (from China) and almost ten new aircraft for its maritime fleet.
Which brings a very interesting scenario to light – the huge lack of communication between the Pakistan's government and its navy. On one hand the government has been insisting on cutting down operating costs and even travel/fuel usage by every ministry and service, but on the other, the Armed Forces are on a shopping spree. And whose money are these forces using?  The question that the citizens of Pakistan need to ask is despite the mushrooming economic crisis, why is there a need to undertake such frivolous expenditure/cruises? And if they are really necessary, why the extra effort to hide it?
Many Pakistanis have already started asking such questions, a mass outcry is not far. And while the Pak armed forces especially its navy may pretend to be blissfully unaware of their countrymen's plight, they must realize that secret voyages will not help the deplorable situation of their country and their fellow countrymen.
This article has been contributed by Commander Abhishek Rathi (Retd), Indian Naval Officer
Commander Abhishek Rathi (Retd) is a retired executive officer and holds an experience of commanding two naval warships. He has a keen interest in maritime history and technology. The officer is also an avid nature photographer and likes traveling all across India for it.