"We will also launch Belt and Road cooperation initiative on trade connectivity together with
some 60 countries and international organizations. Such policy connectivity will produce a multiplying effect on cooperation among the parties involved."
– Chairman Xi's in his speech at the opening ceremony of the Belt and Road Forum (BRF) for International Cooperation in Beijing, capital of China, May 14, 2017
The Chairman of the Communist Party of China (CCP), Xi Jinping, announced his grandiose plan of One Belt One Road (OBOR) in 2013. Two years down the line, the CCP had surreptitiously rechristened OBOR to the Belt and Road Initiative (BRI). The rationale for the supposed change in nomenclature was premised on the project involving more than one Road.
OBOR & the World's view
The World Bank flags the most relevant aspect of the OBOR – whilst the CCP has been trying to sell it as a project where countries are free to join, till date there is no official data on the number of countries 'onboard' the project. The World Bank further, based on numerous reports and studies commissioned on OBOR, clearly highlights the main
challenge with the OBOR – lack of transparency.
Our research presents data that enables policymakers in countries along BRI corridors to make evidence-based assessments of how to maximize the benefits and minimize the risks of participating in the BRI.
– World Bank Report on OBOR
In fact, it seems extremely interesting and coincidental that the CCP's Belt & Road has predominantly developing and economically fragile nations, as partners. And of these 'partners,' there are numerous examples of countries that have become (a) even more fragile and (b) politically unstable due to internal discontent, all courtesy of the OBOR.
Djibouti, Tajikistan, Kyrgyzstan, Laos, Maldives, Mongolia, Montenegro and Pakistan, have not only seen their public debt ballooning owing to OBOR loans, but also seen their governments losing public support as this project has no incentives for locals at all.
Money Matters
Most developing nations look at creating infrastructure that is contemporary and enabling for their citizens, in line with their aspirations of bridging the gap with developed nations. Funding, adequate and available when needed, is the foundation on which nations create
infrastructure…And who can help them with this? International financial bodies like the World Bank and International Monetary Fund amongst others assess the financial model and viability of the project, and also the ability of the nation seeking funds to pay back. But, their lending rates are tempered based on the economic realities of the nation seeking loans.
Therefore, there are many occasions when developing nations seeking loans have not got the same due to their not meeting the criteria.
And this is what causes angst amongst many! As Prof Chibuzo Nwoke from Oduduwa University, Nigeria pointed out, "African countries seem to increasingly prefer loans from China mainly to avoid the very constricting neoliberal conditionality that goes with loans from the IMF". Due to these terms and conditions, nations are queuing up to the CCP.
China: the new Imperial Power
The Centre for Global Development in a 2018 study of countries hosting OBOR projects found 23 'partners' of this China project were in a state of debt distress. The CCP is very clear in its intent in regard to the OBOR; it is a purely commercial venture. This was reiterated by the Chinese Deputy Finance Minister in IMF & World Bank forum in
2018-19.
The CCP is obliging countries seeking loans, on its own terms. This has been the reason Sri Lanka has taken loans from China, at lending rates in the range of 3% – 6% against the 1% – 3 % offered by the World Bank and IMF. As a result, Sri Lanka has had to request China for a debt-to-equity swap, selling their own equity to Chinese companies as they have not been able to pay back their loans. Laos has had to cede control of its national power grid, something that is a strategic asset for any nation, to China Southern Power Grid Company as it is unable to pay back almost $5.9 billion loans (almost half of the total public debt) taken from China. In Africa, Ethiopia has had to refinance its loan taken for a grandiose railways project that is not meeting the financial model whilst in neighbouring Kenya, the Sword of Emperor Xi is hanging on top of the Port of Mombasa with Kenya said to owe a whopping $9 billion to Beijing in infrastructure loans. Tajikistan, which shares a border with China's Xinjiang province, was forced to hand over the territory of 1,158 sq km of the Pamir mountains to China after defaulting on loans. The same is the case in the pristine coral atolls in the South Pacific, where countries like Tonga and Kiribati are getting overwhelmed by Chinese loans that they can never pay back, without surrendering their national assets. In Djibouti, China is funding a massive US$3.5 Bn Djibouti Free Trade
Zone. What will be traded is something yet to be seen. What all this has done is buy enough and more influence for China. This is at the very core of CCP's OBOR influence. The talk and commentary about commerce, trade and 'win-win' equations are mere pretences. This came out very clearly in an investigation by the Chinese Business Journal,
wherein in one extreme case, only one of 41 containers on a train headed to Europe on the OBOR had goods in them. The CCP is seeking influence in crucial parts of the globe. This
may have something to do with naval history. A cursory read of an American naval strategist who is considered one of the most profound thinkers of all time, Admiral Alfred Thayer Mahan, helps decipher this puzzle.
Admiral Mahan was a proponent of a strong navy and having a network of naval bases that could act as coaling stations to enhance the limited reach of steamships and their dependence on coal. The CCP Navy, for long, has been enamoured by Mahan. The CCP's OBOR is nothing but them establishing 'coaling stations' to ensure that their influence and heft can be maintained. This is the reason the CCP OBOR is 'investing' (read buying influence and taking over infrastructure) along crucial waterways around the globe, be it the South Pacific, South China Sea, Indian ocean, Africa or Europe including the Mediterranean.
It is time for nations around the world to realise the grand scheme behind the CCP OBOR and initiate corrective measures lest their economic subjugation forces them to unwittingly become embroiled in contestations, not of their making. And it's time nations realise, that BRI or OBOR is nothing but One Big Risk for the World!
"Let people eat cake" says Pakistan Navy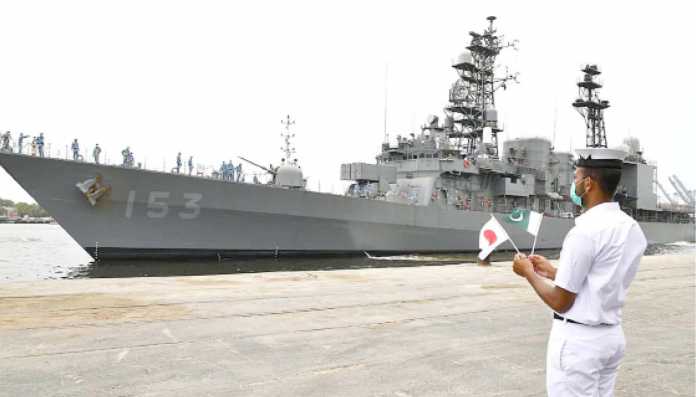 In 1789 during yet another famine in France, the princess Marie Antoinette upon being told that the peasants had no bread, is said to have replied with frivolous disregard for the starving peasants with the words "Let them eat cake". Today, the condition of the Pakistani citizens is quite similar to the French peasants of 1789.
The desperate economic conditions in Pakistan and the impact of floods has led the Finance Ministry to issue directives for implementing strict austerity measures for year 2022 – 2023. These measures aim to curtail operating expenditure and reduce the economic burden of the people.
However, it seems that these directives never reached their Navy.
Very recently, Pakistan Navy Ships Shamsheer and Nasr visited Yokosuka Port in Japan with an aim to participate in the International Fleet Review. In much contrast to the government verdict of "no unnecessary expenditure", the visit was neither mandatory nor of importance. However much to the citizen's dismay, neither the empty coffers nor the grave economic situation of the people seemed to deter the Navy from going on a tourism cum shopping spree.
Pakistan Navy Ships visit Yokosuka Port in Japan
In economically stable conditions, a Naval ship's visit to a foreign port would have been welcomed by the citizens. However the economic burden posed by  these activities have quadrupled the fear of a complete breakdown of society. While the cost of fuel for such a long voyage is in itself a huge deterrent, the fact that the ships will be stopping at almost five to seven countries during the futile passage, has made matters worse.
Monetary Implications of this cruise
Let's look at the basic requirement of a naval voyage. The mandatory requirements include buying stores, fuel/lubricants, undertaking necessary repairs, paying the crew in international currency etc. But is this all? Definitely not. Each stop at a foreign port will require a mandatory interaction with the diplomats, exchange of gifts, parties with great pomp and show to announce the naval ships' arrival, preparation of native cuisines etc.…The expenditure is definitely mind boggling.
Who is paying for this?
All this is paid through already depleting foreign reserves. Therefore understandably, if news of such frivolous expenditure, especially in these trying times were to reach the general public there would be a furore, and a well justified one. But Pakistan's Navy has been clever, or at least it thinks it has been.
Where normally, all port visits are turned to a media circus by the Navy, this time not a single press release is available on the open media. Why? Because of a stringent gag order on issuing media bites by the government. The Navy has warned cruising ships to conduct events without the presence of press. The aim apparently is to prevent citizens from becoming aware of this trip to Japan. Pakistan's naval commanders seem to be relying on their belief (definitely flawed and misguided) that – ordinary Pakistani citizen are like the proverbial ostrich with its head buried in the sand – what it cannot see, does not exist!
In today's world where information travels faster than light – there are enough people who monitor everything. Which is why hiding the journey of two huge warships was definitely worthless. As soon as a local net-hawker identified the movement of the naval ships – the world and entire Pakistan was made aware of the secret journey.  The Maverick could not outfox these people.
Frivolous Spending in Desperate Times
While one may still be able to find an excuse for Navy's foreign visits, but what about the inflating expenditure on the procurement and projects, which are of no immediate importance? As pointed out by social media users a few days earlier, the Pakistan navy has been planning to procure four Frigates (each from Turkey and China), four to eight Corvettes (from the Netherlands), eight submarines (from China) and almost ten new aircraft for its maritime fleet.
Which brings a very interesting scenario to light – the huge lack of communication between the Pakistan's government and its navy. On one hand the government has been insisting on cutting down operating costs and even travel/fuel usage by every ministry and service, but on the other, the Armed Forces are on a shopping spree. And whose money are these forces using?  The question that the citizens of Pakistan need to ask is despite the mushrooming economic crisis, why is there a need to undertake such frivolous expenditure/cruises? And if they are really necessary, why the extra effort to hide it?
Many Pakistanis have already started asking such questions, a mass outcry is not far. And while the Pak armed forces especially its navy may pretend to be blissfully unaware of their countrymen's plight, they must realize that secret voyages will not help the deplorable situation of their country and their fellow countrymen.
This article has been contributed by Commander Abhishek Rathi (Retd), Indian Naval Officer
Commander Abhishek Rathi (Retd) is a retired executive officer and holds an experience of commanding two naval warships. He has a keen interest in maritime history and technology. The officer is also an avid nature photographer and likes traveling all across India for it.