Elon Musk now formally owns Twitter, which may have been one of the most dramatic, turbulent, and complicated purchases in corporate history. The $44 billion acquisition appears to have been finalized, enabling Musk to avoid a legal dispute with the social media juggernaut and meet the deadline set by a Delaware court judge. Parag Agrawal, the CEO of Twitter, Ned Segal, the CFO, and VijayaGadde, a senior legal and policy officer, reportedly left on 22nd October2022. What comes next is the question at hand.
One thing stands out as certain:Twitter, as we know it, is set to undergo significant change. Musk, who prides himself on being an advocate for free speech, has publicly criticized the company's vetting of violent or bigoted content. As well as some prominent permanent bans being lifted, former President Donald Trump is expected to be allowed back if he decides to rejoin the platform.
Musk hasn't been very clear about his plans for the dominant social media platform in public, but on Thursday, he claimed that a lot of the rumors about the site's future were inaccurate.
According to media sources from the last week, Musk has threatened to slash the company's personnel to zero. According to The Washington Post, Musk wants to reduce the staff by about 75%, from 7,500 to 2,000 and has plans to do so. This might have a significant impact on the organization's capacity to watch out for child pornography, misinformation, and attempts by foreign operatives to influence free elections and public opinion.
Since taking over as CEO of Twitter a week ago, Elon Musk has implemented a number of changes, including layoffs, $8 for blue tick, content council, advertising, the home page, etc. at the microblogging platform.
Here are a few other changes that we may see:
Lay Offs: CEO ParagAgrawal, CFO Ned Segal, and head of policy and legal affairs VijayaGadde were among the senior executives ousted by Musk. According to internal plans examined by Reuters, layoffs are expected to affect 3,700 employees or almost half the total. Elon Musk, the CEO of Twitter, defended the company's big layoffs on Friday by claiming that a large number of advertisers withdrew as a result of the company's 50% staff layoffs. He also claimed that protestors are 'trying to kill free expression in America.
Dollars 8: Twitter will now charge $8 for tick Blue, which includes lengthier videos and audio posts as well as verification priority in responses, mentions, and search. He has tweeted several times in favor of the most recent initiative to sell blue ticks to those who can buy them. According to him, Twitter will no longer be dependent on advertising thanks to the subscription fee, which will provide it with "a revenue stream to reward content creators."
Advertisers: Corporate advertisers in large numbers paused their campaigns and separated themselves from Twitter. Among them are General Motors, General Mills, Audi of America, Mondelez International, the manufacturer of Oreos, Pfizer Inc., and Ford. Musk stated that he wanted Twitter to be "the most respected advertising platform" in a message to advertisers.A number of marketers have stopped using Twitter. Since Musk took over Twitter last week and implemented significant changes, including content control, businesses are under increased pressure to determine whether to continue investing in the platform.
Regulation of the content: Elon Musk stated that the organization would create a content monitoring council with "widely different perspectives." All decisions pertaining to the major material would be made by the council, he had stated, and accounts won't be reinstated prior to the council's meeting. According to a series of tweets from the company's head of safety and integrity, the social media platform's content moderation tools are still available. Following the billionaire Elon Musk purchase of the business, Yoel Roth, head of safety and integrity, tweeted to reassure customers and advertisers.
Pay Per View: It has been said that Elon Musk is looking at the possibility of letting users publish video content behind a paywall. In other words, Twitter was working on a feature that would allow anyone to submit films and charge others to view them, with the firm collecting a portion of the money. The introduction of edit button:Before he made his offer for the business, Musk was a vocal supporter of the edit button, asking his followers if they agreed. Musk hasn't talked much lately about the edit button, but it might be one of his first steps given that the firm already unveiled its version of the tool, but only for users who have a $4.99-per-month Twitter Blue subscription. (They did, with 73.6% of the 4.4 million people who voted saying yes.)
Homepage: The CEO of Tesla asked that users who visit Twitter's homepage while logged out be sent to the Explore page, which displays the most popular tweets and news stories.
Vine Relaunch: On Twitter, Musk posted a poll asking people if they thought Vine should be brought back. Seventy percent of the roughly five million participants replied "yes." He has given Twitter engineers instructions to begin work on a Vine relaunch that might be completed by year's end.
Although it is still too early to make a judgment, taking Twitter private might lessen the transparency and scrutiny that inevitably come with being a publicly traded corporation. The veil of secrecy that comes with being a privately held firm as well as the inherent irreplaceability of social media platforms call for a more extensive and complex system of checks and balances, as well as significantly greater openness and accountability.Especially if a conflict of interest is a possibility. Since Musk has referred to himself as an "absolutist" for free speech, the new owner does business with governments all around the world, including those that are hostile to his values. It has both excited and alarmed people about this. There will be close attention paid to his stance on the divisive topics of hate speech and misinformation. It is unarguable that the takeover, which occurs at a time of turbulence when the West is experiencing severe economic distress, a war is still raging in Europe, and an ambitious China is assertively charting its own course, will cause disruption. Nothing could be more at stake.
"Let people eat cake" says Pakistan Navy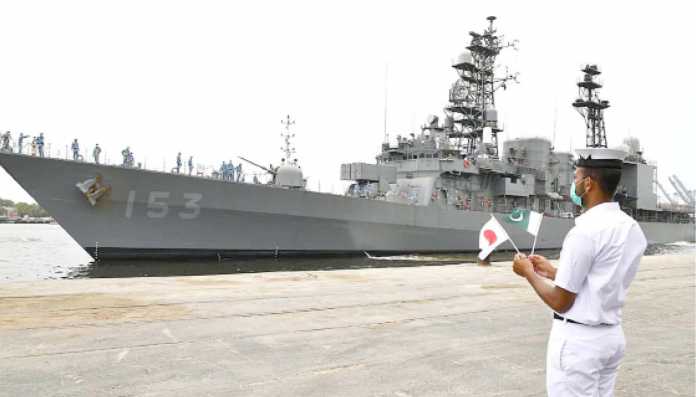 In 1789 during yet another famine in France, the princess Marie Antoinette upon being told that the peasants had no bread, is said to have replied with frivolous disregard for the starving peasants with the words "Let them eat cake". Today, the condition of the Pakistani citizens is quite similar to the French peasants of 1789.
The desperate economic conditions in Pakistan and the impact of floods has led the Finance Ministry to issue directives for implementing strict austerity measures for year 2022 – 2023. These measures aim to curtail operating expenditure and reduce the economic burden of the people.
However, it seems that these directives never reached their Navy.
Very recently, Pakistan Navy Ships Shamsheer and Nasr visited Yokosuka Port in Japan with an aim to participate in the International Fleet Review. In much contrast to the government verdict of "no unnecessary expenditure", the visit was neither mandatory nor of importance. However much to the citizen's dismay, neither the empty coffers nor the grave economic situation of the people seemed to deter the Navy from going on a tourism cum shopping spree.
Pakistan Navy Ships visit Yokosuka Port in Japan
In economically stable conditions, a Naval ship's visit to a foreign port would have been welcomed by the citizens. However the economic burden posed by  these activities have quadrupled the fear of a complete breakdown of society. While the cost of fuel for such a long voyage is in itself a huge deterrent, the fact that the ships will be stopping at almost five to seven countries during the futile passage, has made matters worse.
Monetary Implications of this cruise
Let's look at the basic requirement of a naval voyage. The mandatory requirements include buying stores, fuel/lubricants, undertaking necessary repairs, paying the crew in international currency etc. But is this all? Definitely not. Each stop at a foreign port will require a mandatory interaction with the diplomats, exchange of gifts, parties with great pomp and show to announce the naval ships' arrival, preparation of native cuisines etc.…The expenditure is definitely mind boggling.
Who is paying for this?
All this is paid through already depleting foreign reserves. Therefore understandably, if news of such frivolous expenditure, especially in these trying times were to reach the general public there would be a furore, and a well justified one. But Pakistan's Navy has been clever, or at least it thinks it has been.
Where normally, all port visits are turned to a media circus by the Navy, this time not a single press release is available on the open media. Why? Because of a stringent gag order on issuing media bites by the government. The Navy has warned cruising ships to conduct events without the presence of press. The aim apparently is to prevent citizens from becoming aware of this trip to Japan. Pakistan's naval commanders seem to be relying on their belief (definitely flawed and misguided) that – ordinary Pakistani citizen are like the proverbial ostrich with its head buried in the sand – what it cannot see, does not exist!
In today's world where information travels faster than light – there are enough people who monitor everything. Which is why hiding the journey of two huge warships was definitely worthless. As soon as a local net-hawker identified the movement of the naval ships – the world and entire Pakistan was made aware of the secret journey.  The Maverick could not outfox these people.
Frivolous Spending in Desperate Times
While one may still be able to find an excuse for Navy's foreign visits, but what about the inflating expenditure on the procurement and projects, which are of no immediate importance? As pointed out by social media users a few days earlier, the Pakistan navy has been planning to procure four Frigates (each from Turkey and China), four to eight Corvettes (from the Netherlands), eight submarines (from China) and almost ten new aircraft for its maritime fleet.
Which brings a very interesting scenario to light – the huge lack of communication between the Pakistan's government and its navy. On one hand the government has been insisting on cutting down operating costs and even travel/fuel usage by every ministry and service, but on the other, the Armed Forces are on a shopping spree. And whose money are these forces using?  The question that the citizens of Pakistan need to ask is despite the mushrooming economic crisis, why is there a need to undertake such frivolous expenditure/cruises? And if they are really necessary, why the extra effort to hide it?
Many Pakistanis have already started asking such questions, a mass outcry is not far. And while the Pak armed forces especially its navy may pretend to be blissfully unaware of their countrymen's plight, they must realize that secret voyages will not help the deplorable situation of their country and their fellow countrymen.
This article has been contributed by Commander Abhishek Rathi (Retd), Indian Naval Officer
Commander Abhishek Rathi (Retd) is a retired executive officer and holds an experience of commanding two naval warships. He has a keen interest in maritime history and technology. The officer is also an avid nature photographer and likes traveling all across India for it.