Working as an Allied spy undercover was demanding. They pretended to be ordinary citizens, creating false names, documents, and cover stories while establishing confidence within secretive networks created through shared sorrow and purpose. And they did it all while fearing being found by French double agents, Nazi sympathisers, or the Gestapo. Many were apprehended and killed by gunshot or hanging.
Members of the French Resistance, the Special Operations Executive (SOE), and the Office of Strategic Services (OSS) fought complicated and sophisticated fights that helped reverse the course of World War II. Virginia Hall Goillot was one of their most notorious operators. 
Hall worked with the SOE, OSS, and CIA for almost 20 years. Her French Resistance colleagues dubbed her La Dame Qui Boite or the woman who limps. The Gestapo eventually used the term in whispers about her victories against them. Fascination and intrigue were all she got – she was never arrested by the people who were after her. Even after her legendary career, she avoided discussing it.
Foray into the World of Spies
Hall attended Radcliffe and Barnard Colleges for a short time. She then moved to Paris to study and fell in love with the country. She opted to pursue a career as a diplomat.
She wanted to be an ambassador, but the State Department turned her down despite her repeated applications. It's worth noting that women made up only six out of 1,500 US ambassadors at the time. Hall was hired as a clerical assistant at a US consulate in Turkey. However, she shot herself in the foot while bird hunting. Her left leg was amputated below the knee due to gangrene. Her rehabilitation was arduous and painful, as she learnt to walk with a clumsy wooden limb. It was, however, a watershed moment. Her injury may have actually strengthened or reawakened her resilience, allowing her to do great things.
When Nazi Germany invaded France during World War II, Hall volunteered to drive an ambulance for the French. France was quickly surrounded and forced to evacuate to Britain. She was introduced to British intelligence after an accidental meeting with a spy. This one-legged American woman was among the first British spies dispatched into Nazi-occupied France in 1941 after receiving scant training. She pretended to be a New York Post reporter.
Cover tales are vital for any effective spy, not just to escape foreign foes but also to maintain secrets among peers in the case they are apprehended. People and families with legitimate names, real locations, and real occupations face huge reprisals from the Germans. The Gestapo's standard practice was interrogation and torture, and many people's spirits were broken. Because the United States was still a neutral nation in the war, Hall's cover as a French-American stringer for the New York Post allowed her dispatches to be published unfiltered. Brigitte LeContre became her public persona, and her SOE reports were sent under a variety of codenames throughout the war, including Marie Monin, Diane, Germaine, and Nicolas.
Encounters with the Gestapo
There were setbacks, particularly in the beginning, when members of her network were apprehended and killed. Hall, on the other hand, was a natural spy, always one step ahead of the Gestapo, the German secret police. Virginia Hall was, to some extent, unnoticed. She was able to exploit the Gestapo's chauvinism at the time. Neither the Germans nor the British believed that a woman could be a spy early in the war.
Hall was based in Lyon, a city in eastern France. She first sought refuge in a convent, where she persuaded nuns to assist her. She made friends with a female brothel owner and learned that French prostitutes had obtained intelligence from German troops. Hall arranged and provided safe shelters and intelligence to French resistance fighters. This was not overlooked. The Germans realised they were pursuing a hobbling lady.
Hall's look was continually changing. In the course of an afternoon, she might be four distinct ladies with four different code names. Klaus Barbie, the notorious Gestapo officer known as "the Butcher of Lyon" for the thousands of people tortured and slain by his men in France, was the guy she was after. "The Enemy's Most Dangerous Spy — We Must Find And Destroy Her!" Barbie ordered "wanted" posters of Hall, which featured a drawing of her above the words "The Enemy's Most Dangerous Spy — We Must Find And Destroy Her!
Around the end of 1942, the Nazis appeared to be closing in on Hall. She narrowly escaped to Spain after a difficult trek that entailed travelling 50 miles in heavy snow through the rugged Pyrenees Mountains for three days. Hall was detained when she arrived in Spain because her passport lacked an entry stamp. She was liberated after six weeks and returned to the United Kingdom.
Back to France
The United States, on the other hand, was beefing up its own intelligence arm, the Office of Strategic Services, or OSS, which had little presence in France. The Americans required Hall, but Nazis were everywhere, making her job much more difficult.
In 1944 and 1945, Hall's second tour in France was even more successful than the first. She ordered airdrops for the resistance fighters, who detonated bombs and destroyed railways. Villages were recaptured long before Allied forces marched deep into France. Hall's network grew to 1,500 people at its peak, including a French-American soldier named Paul Goillot, who would later become her husband.
She relocated frequently, took numerous aliases, and used techniques unique to her character while working with the OSS. Gestapo and Nazi sympathisers were on the lookout for suspected spies as D-Day approached, and she was the most wanted. Hall pretended to be a milkmaid, dressed in ancient, flimsy clothes and bleached her naturally brown hair grey. During the day, she worked as a farmer in secret, and at night, she ran resistance missions. During some of the contacts, German troop movements and information were exchanged, while others included airdrops to the Maquis. Hall put the parachutes in a donkey cart and handled the supplies to obscure the evidence of the drops from adjacent surveillance teams.
And what did Hall say about the war? She never talked about it.
Both the British and the French privately acknowledged Hall's assistance. President Harry Truman intended to honour Hall with a public ceremony at the White House. Hall declined, stating that she preferred to stay anonymous. The Distinguished Service Cross was awarded to Hall by William Donovan, the OSS chief, making her the only civilian woman to win one during WWII. The only outsider at the wedding was Hall's mother.
Hall subsequently went on to serve for the newly founded CIA, which succeeded the OSS, for 15 years, largely at the headquarters. These were not her most joyful days. She thrived on the adrenaline rush of acting on her own in the field during a battle. She was now mostly confined to a desk. Hall left the company in 1966 and never spoke publicly again. Her tale was kept hidden from the public until she died in Maryland in 1982. Much of her World War II work is still classified. Virginia's bag radio, British ID, and several personal files are on display at the International Spy Museum in Washington, DC.
She rarely spoke of her wartime work, saying, "Many of my friends were killed for talking too much."
The Few & The Fearless – Meet India's Marine Commandos aka MARCOS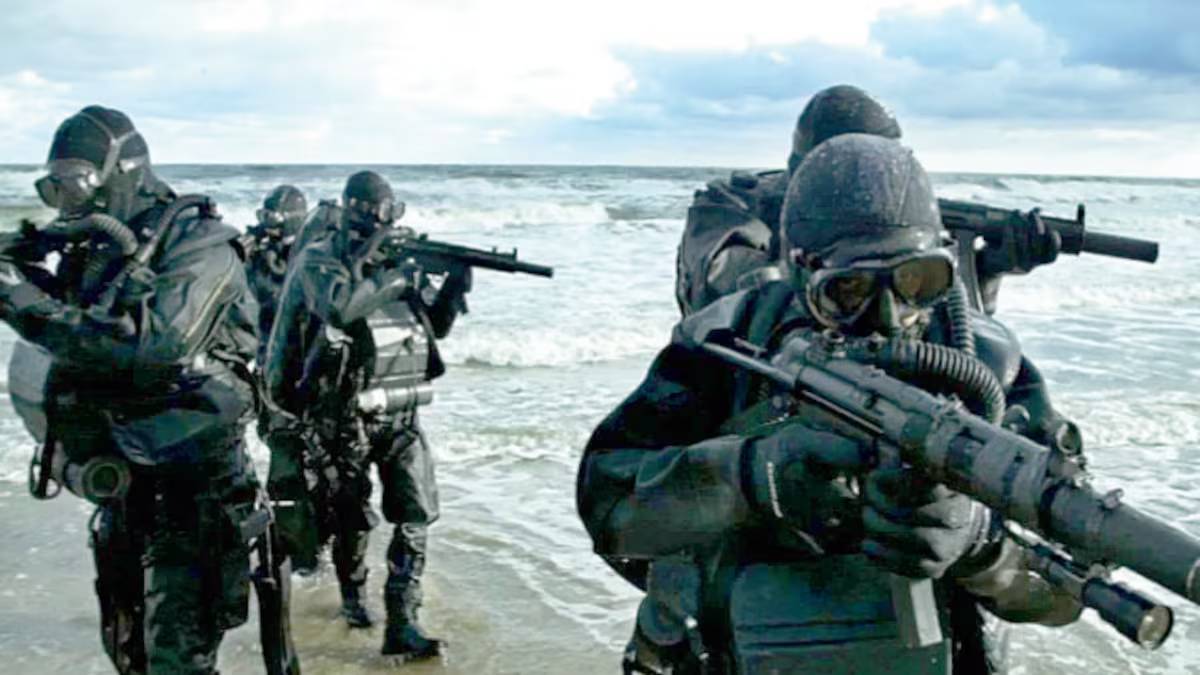 It is believed that if there is a ghost in the water, it must be a MARCOS.
Regarded as the crocodile of the Indian Navy, the Marcos or the Marine Corps of the Indian Navy is a naval infantry force that is tasked with amphibious warfare, coastal defence, and maritime security. 
The member of these corps can operate in all types of environments; at sea, in the air and on land, undertaking a wide range of missions, such as counter-terrorism, special reconnaissance, direct action, hostage rescue and unconventional warfare. 
They have earned a reputation for being one of the world's most elite and highly skilled special forces units, gaining names such as the 'Magarmach' (The Crocodiles), the 'Dadhiwala Fauj' (The Bearded Army) and the 'Tigers of Drass'.
India's Elite Naval Commando Unit – Who are the Marine Commandos aka Marcos?
Established in February 1987, the MARCOS was originally named Indian Marine Special Force, which was later changed to Marine Commando Force to impart "an element of individuality" to it. This corps came into existence after the Indian Navy realized the need for a special forces unit that could conduct maritime special operations and protect the country's vast coastline and strategic maritime assets. The Marcos were inspired by the US Navy SEALs and received training from them in the initial years. They also trained with other foreign special forces units such as the Russian Spetsnaz and the Israeli Sheeted 13. The MARCOS gradually developed their doctrine, tactics and equipment, and became an independent and formidable force.
In times of crisis, these troops achieved many feet which were deemed impossible. 
Here are some of the missions executed by Marcos.
Operation Cactus
A military intervention to foil a coup attempt by mercenaries on the Maldives in 1988.
In 1988, Marcos we're called on to intervene in the Maldivian crisis and prevent a military coup that was taking place. 
This operation was launched within hours of receiving the request from President Gaydom, who was under siege by a group of Maldivians led by businessman Abdullah Luthufi and aided by armed mercenaries of the People's Liberation Organisation of Tamil Eelam (PLOTE), a Tamil secessionist organisation from Sri Lanka. About 500 Indian paratroopers were airlifted from Agra to Malé, where they controlled the airport, crossed across to the capital in boats, and engaged the mercenaries in a heavy firefight. Off the coast of Sri Lanka, they also intercepted the hijacked cargo that was carried in the mercenary army.
The Marcos were not only successful in rescuing the Maldives' President but they also restored the country's rightful administration. 
Operation Leech
In 1998, a clandestine operation was carried out in the Andaman and Nicobar Islands to kill a group of Burmese insurgents involved in arms smuggling and drug trafficking.
Six rebel leaders were murdered and several others were captured by the MARCOS. A team of 12 MARCOS led by Lieutenant Commander Praveen Kumar invaded the island of Landfall, where the rebels had established a base. They pretended to be arms dealers and duped the insurgents into a trap. They then opened fire, killing six rebel leaders, including Wasanti, their leader. They also took several guns and explosives from the insurgents. 
The operation dealt significant damage to the rebel network and hindered their operations in the region.
Operation Pawan
In 1987-1990, a peacekeeping mission was launched in Sri Lanka to disarm Tamil insurgents and implement a cease-fire agreement.
Against the LTTE, the MARCOS performed amphibious raids, surveillance, and sabotage missions. This operation was part of India's engagement in the Sri Lankan Civil War, to resolve the ethnic conflict between the Sinhalese majority and the Tamil minority. The MARCOS and the Indian Peace Keeping Force (IPKF) were deployed to help the Sri Lankan government execute the Indo-Sri Lanka Accord, giving autonomy to the Tamil provinces. The MARCOS conducted many daring missions against the LTTE, who were hostile to the agreement, and continued its military battle for an independent Tamil state. 
The operation was difficult and controversial, resulting in heavy casualties for both India and Sri Lanka.
Kargil War
The MARCOS provided naval support and intelligence to the Indian Army and Air Force during the Kargil War of 1999.
They also played a vital role in providing naval blockade, surveillance and reconnaissance to prevent any Pakistani naval intrusion or assistance to their ground forces. They conducted a covert operation codenamed Operation Talwar, which involved landing on an unguarded beach near Gultari, where they destroyed a Pakistani supply base that was supporting their troops on Tiger Hill. 
The operation was a success and inflicted heavy damage on the Pakistani logistics. The war ended with India regaining control of all its territory and Pakistan withdrawing its forces under international pressure.
Operation Black Tornado
The most sophisticated and crucial mission in the history of the Indian military, was a counter-terrorism operation in Mumbai in 2008 to neutralize the attacks of 26/11.
The MARCOS stormed the Taj Mahal Hotel and engaged the terrorists in a fierce gun battle. The terrorist attack killed 166 people and injured over 300 others. The MARCOS were among the first responders to reach the Taj Mahal Hotel, where four terrorists had taken several guests and staff as hostages. The MARCOS entered the hotel from different directions and engaged the terrorists in close combat for over 60 hours. They faced several challenges such as a lack of communication, coordination and intelligence, as well as booby traps, grenades and fire set by the terrorists. They also faced criticism from some media outlets for their perceived delay and inefficiency. Despite these difficulties, they managed to kill all four terrorists inside the hotel and rescue most of the hostages alive. They also prevented any further damage or loss of life at other locations such as Nariman House and Oberoi Trident Hotel, where other security forces were involved in similar operations.
This operation was one of the longest and most complex urban counter-terrorism operations in India's history. 
Operation Cyclone
This operation was carried out after Cyclone Phailin, one of the strongest tropical cyclones ever recorded in India, made landfall near Gopalpur in Odisha on 12 October 2013.
The cyclone caused widespread damage to infrastructure, crops and livelihoods, affecting over 13 million people across Odisha and Andhra Pradesh states. The MARCOS were deployed along with other naval assets to provide relief and rescue operations to the affected areas. They used their boats, helicopters and amphibious vehicles to evacuate people from flooded villages, distribute food packets, water bottles and medicines, clear roads and debris, restore power lines and communication networks, repair damaged buildings and bridges, conduct medical camps and sanitation drives, etc. They also coordinated with other agencies such as NDRF, NDMA, state governments, NGOs, etc., for effective relief work. The operation was a success and helped mitigate the impact of Cyclone Phailin on millions of people.
Awards & Achievements of Marcos
While most of the work of these commandos is done in the shadows, some members of this troop have time to time given their life for the nation. 
Major Sandeep Unnikrishnan, Awarded the Ashoka Chakra, India's highest peacetime gallantry award, posthumously for his valour during Operation Black Tornado. He led his team in the Taj Mahal Hotel and fought terrorists in close combat, ultimately losing his life while trying to rescue an injured fellow commando. 
– Photo Unavailable
Lieutenant Commander Praveen Kumar, Awarded the Shaurya Chakra, India's third-highest peacetime gallantry award, for his leadership during Operation Leech. He and his team successfully infiltrated the island of Landfall, posing as arms dealers, and eliminated six rebel leaders.
Lieutenant Commander Abhinav Nagori, Awarded the Nao Sena Medal (Gallantry), India's fourth highest peacetime gallantry award, for his bravery during Operation Cyclone. He and his team used amphibious vehicles to rescue people from flooded villages in Odisha, distributing relief materials and restoring essential services.
The MARCOS are some of India's finest soldiers who have made significant contributions to their country's security and saved lives in various challenging situations. They are a force to reckon with in the Indian Navy and the Indian Armed Forces. They have proved their mettle in various operations and missions across the globe and have earned the respect and admiration from their counterparts and adversaries alike. 
These few and fearless marine commandos of the Indian Navy, are a source of pride and inspiration for the nation and its people.