Working as an Allied spy undercover was demanding. They pretended to be ordinary citizens, creating false names, documents, and cover stories while establishing confidence within secretive networks created through shared sorrow and purpose. And they did it all while fearing being found by French double agents, Nazi sympathisers, or the Gestapo. Many were apprehended and killed by gunshot or hanging.
Members of the French Resistance, the Special Operations Executive (SOE), and the Office of Strategic Services (OSS) fought complicated and sophisticated fights that helped reverse the course of World War II. Virginia Hall Goillot was one of their most notorious operators. 
Hall worked with the SOE, OSS, and CIA for almost 20 years. Her French Resistance colleagues dubbed her La Dame Qui Boite or the woman who limps. The Gestapo eventually used the term in whispers about her victories against them. Fascination and intrigue were all she got – she was never arrested by the people who were after her. Even after her legendary career, she avoided discussing it.
Foray into the World of Spies
Hall attended Radcliffe and Barnard Colleges for a short time. She then moved to Paris to study and fell in love with the country. She opted to pursue a career as a diplomat.
She wanted to be an ambassador, but the State Department turned her down despite her repeated applications. It's worth noting that women made up only six out of 1,500 US ambassadors at the time. Hall was hired as a clerical assistant at a US consulate in Turkey. However, she shot herself in the foot while bird hunting. Her left leg was amputated below the knee due to gangrene. Her rehabilitation was arduous and painful, as she learnt to walk with a clumsy wooden limb. It was, however, a watershed moment. Her injury may have actually strengthened or reawakened her resilience, allowing her to do great things.
When Nazi Germany invaded France during World War II, Hall volunteered to drive an ambulance for the French. France was quickly surrounded and forced to evacuate to Britain. She was introduced to British intelligence after an accidental meeting with a spy. This one-legged American woman was among the first British spies dispatched into Nazi-occupied France in 1941 after receiving scant training. She pretended to be a New York Post reporter.
Cover tales are vital for any effective spy, not just to escape foreign foes but also to maintain secrets among peers in the case they are apprehended. People and families with legitimate names, real locations, and real occupations face huge reprisals from the Germans. The Gestapo's standard practice was interrogation and torture, and many people's spirits were broken. Because the United States was still a neutral nation in the war, Hall's cover as a French-American stringer for the New York Post allowed her dispatches to be published unfiltered. Brigitte LeContre became her public persona, and her SOE reports were sent under a variety of codenames throughout the war, including Marie Monin, Diane, Germaine, and Nicolas.
Encounters with the Gestapo
There were setbacks, particularly in the beginning, when members of her network were apprehended and killed. Hall, on the other hand, was a natural spy, always one step ahead of the Gestapo, the German secret police. Virginia Hall was, to some extent, unnoticed. She was able to exploit the Gestapo's chauvinism at the time. Neither the Germans nor the British believed that a woman could be a spy early in the war.
Hall was based in Lyon, a city in eastern France. She first sought refuge in a convent, where she persuaded nuns to assist her. She made friends with a female brothel owner and learned that French prostitutes had obtained intelligence from German troops. Hall arranged and provided safe shelters and intelligence to French resistance fighters. This was not overlooked. The Germans realised they were pursuing a hobbling lady.
Hall's look was continually changing. In the course of an afternoon, she might be four distinct ladies with four different code names. Klaus Barbie, the notorious Gestapo officer known as "the Butcher of Lyon" for the thousands of people tortured and slain by his men in France, was the guy she was after. "The Enemy's Most Dangerous Spy — We Must Find And Destroy Her!" Barbie ordered "wanted" posters of Hall, which featured a drawing of her above the words "The Enemy's Most Dangerous Spy — We Must Find And Destroy Her!
Around the end of 1942, the Nazis appeared to be closing in on Hall. She narrowly escaped to Spain after a difficult trek that entailed travelling 50 miles in heavy snow through the rugged Pyrenees Mountains for three days. Hall was detained when she arrived in Spain because her passport lacked an entry stamp. She was liberated after six weeks and returned to the United Kingdom.
Back to France
The United States, on the other hand, was beefing up its own intelligence arm, the Office of Strategic Services, or OSS, which had little presence in France. The Americans required Hall, but Nazis were everywhere, making her job much more difficult.
In 1944 and 1945, Hall's second tour in France was even more successful than the first. She ordered airdrops for the resistance fighters, who detonated bombs and destroyed railways. Villages were recaptured long before Allied forces marched deep into France. Hall's network grew to 1,500 people at its peak, including a French-American soldier named Paul Goillot, who would later become her husband.
She relocated frequently, took numerous aliases, and used techniques unique to her character while working with the OSS. Gestapo and Nazi sympathisers were on the lookout for suspected spies as D-Day approached, and she was the most wanted. Hall pretended to be a milkmaid, dressed in ancient, flimsy clothes and bleached her naturally brown hair grey. During the day, she worked as a farmer in secret, and at night, she ran resistance missions. During some of the contacts, German troop movements and information were exchanged, while others included airdrops to the Maquis. Hall put the parachutes in a donkey cart and handled the supplies to obscure the evidence of the drops from adjacent surveillance teams.
And what did Hall say about the war? She never talked about it.
Both the British and the French privately acknowledged Hall's assistance. President Harry Truman intended to honour Hall with a public ceremony at the White House. Hall declined, stating that she preferred to stay anonymous. The Distinguished Service Cross was awarded to Hall by William Donovan, the OSS chief, making her the only civilian woman to win one during WWII. The only outsider at the wedding was Hall's mother.
Hall subsequently went on to serve for the newly founded CIA, which succeeded the OSS, for 15 years, largely at the headquarters. These were not her most joyful days. She thrived on the adrenaline rush of acting on her own in the field during a battle. She was now mostly confined to a desk. Hall left the company in 1966 and never spoke publicly again. Her tale was kept hidden from the public until she died in Maryland in 1982. Much of her World War II work is still classified. Virginia's bag radio, British ID, and several personal files are on display at the International Spy Museum in Washington, DC.
She rarely spoke of her wartime work, saying, "Many of my friends were killed for talking too much."
India US Military Exercise Amidst China's Taiwan Conflict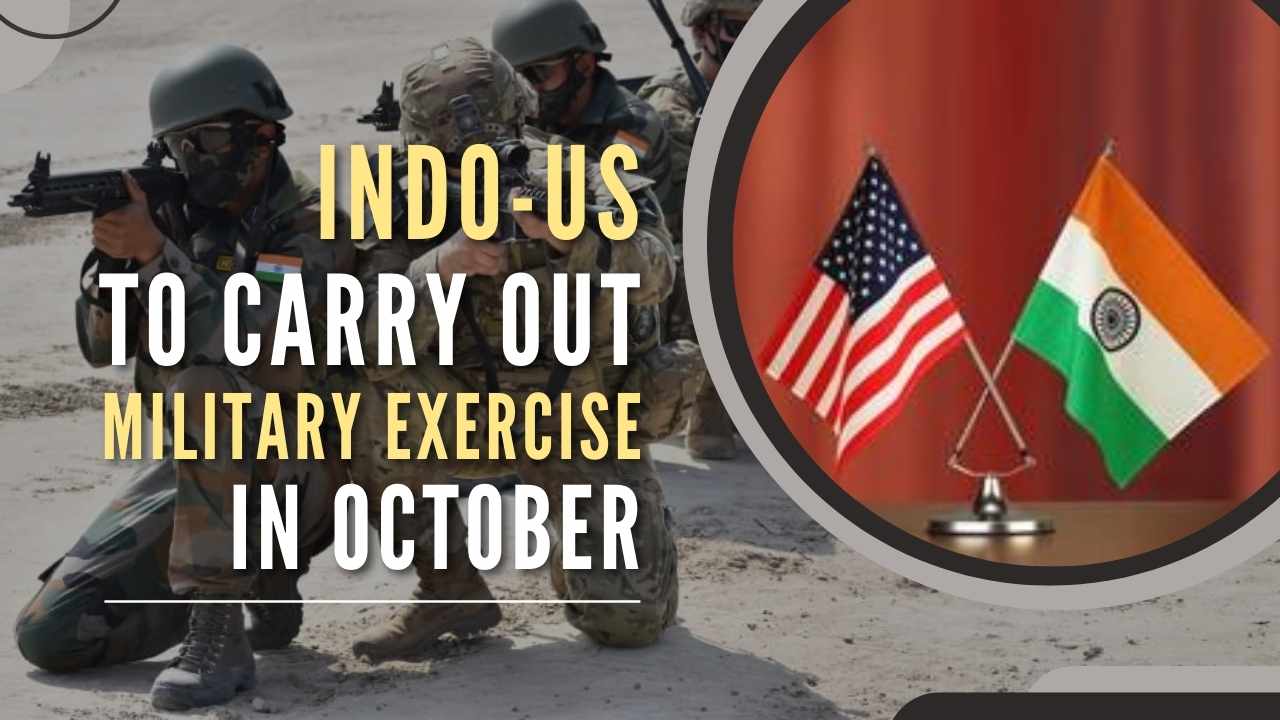 Indian and American military forces will conduct the periodic 'Yudh Abhyas' or 'War Practice' from October 14 to 31, 2022 at Auli in Uttarakhand, which is 95 km away from the Line of Actual Control. The India US military exercise is undertaken to enhance the interoperability between the two armies, and the joint exercise will carry out maneuvers to exploit the full scope of high-altitude warfare.
The occurrence of 18th edition is happening at a very crucial moment as both countries have strife relations with China. The Indian side will showcase its high-altitude warfare strategies and US forces will complement them by exposing various technologies that can be used in challenging scenarios.
This edition will witness the participation of the Indian Air Force in the effective utilization of aerial and ground assets. Also, the India America Military Exercise develops the social relationship with country.
More About India America Yudh Abhyas in Uttarakhand
Yudh Abhyas is the largest running joint India US military exercise and defence cooperation between the countries. The program was started in 2004 under the US Army Pacific Partnership Program.
It is hosted alternately between both countries. The 17th edition was held in Alaska in October 2021. The exercise aims at enhancing understanding, cooperation, and interoperability between the two armies.
Also, the moto of India America military exercise is successfully achieved in Auli Uttarakhand. Also, the impact of this social training is shown on different countries, and various controversies has been made.
Why India-China Standoff? Facts & Statements
In the last two years, there has been a constant rise in tensions between India and China, as the Chinese People's Liberation Army (PLA) made an effort to unilaterally change the status of LAC. Also, the good relationship of India with powerful countries, terrify the China government, and such social activities such as joint India US military exercise, helps to more strong relations.
The Indian army struck back and thwarted the Chinese attempts. The External Affairs Minister while describing New Delhi's efforts had said, "We've been resolute when challenged in border areas. 2 years ago, in the middle of COVID, we had China move forces in violation of an agreement. But we stood our ground and have been working it out without making concessions. The world recognizes that a country is capable of defending its interests".
As per the latest news reported on 13 September 2022, the armies of both countries have confirmed their return from PP-15 (Patrolling Point) in the Gogra-Hot Springs area of eastern Ladakh, and Indian officials are hopeful for further negotiations on more crucial face-offs of Depsang Plains and Demchok.
US-China Tussle
Following the controversial Taiwan visit of the Speaker of the United States' House of Representatives Ms. Nancy Pelosi, and the support extended by China to Russia in the ongoing Russia-Ukraine war, the US-China relationship has also deteriorated further. The two economic superpowers are generally also involved in a cold war in the
China's Reaction on India US Military Exercise
Chinese officials strongly opposed the military exercise, referring to it as a violation of past agreements between New Delhi and Beijing, and following conversation has been made:
"We firmly oppose any third party to meddle in the China-India border issue in any form", Senior Colonel Tan Kefei, spokesperson for the Chinese defence ministry said. "In light of the relevant agreements signed by China and India in 1993 and 1996, neither side is allowed to conduct military exercise against the other in areas near the LAC", Tan said.
He further added, "It is hoped that the Indian side will strictly abide by the important consensus reached by the leaders of the two countries and the relevant agreements, uphold its commitment to resolving border issues through bilateral channels, and maintain peace and tranquillity in the border area with practical actions".
New Delhi's Reply to China's Allegations
In response to China's allegations, "I do not understand the reference to third party interference. The India US military exercise is something completely different and I do not know what color has been given that it is targeted there or it is violating any existing agreement", External Affairs Ministry spokesperson Arindam Bagchi said.
"The two sides should stick to the agreements (signed) in the past and obviously that did not happen", Bagchi said, referring to China violating the agreements which led to the face-off in eastern Ladakh.
After the coming together of like-minded countries for informal dialogue, namely Quad (Quadrilateral Security Dialogue), China's apprehension has increased and it has levelled the grouping as an 'Indo-Pacific NATO'.
"The Indo-Pacific strategy cooked up by the United States, in the name of 'freedom and openness,' is keen on forming cliques", Foreign minister of China, Wang Yi had said. He further criticized the grouping as 'it claims that it intends to change China's surrounding environment, but its purpose is to contain China and make Asia-Pacific countries serve as pawns of US hegemony'.
All the members of Quad had cleared their agenda and said they are committed to cooperation with partners in the region who share the vision of a free and open Indo-Pacific region. India being an essential part of the grouping has always put its best efforts to maintain peace and stability in the region.
India's Prospective with All Countries
India has always called for peace and co-operation in the region, that's why the concept for India US military exercise has been conducted. Being a member of SCO, the two Asian giants have resolved their misunderstandings.
New Delhi has always asked countries to respect each other's sovereignty, territorial integrity, and international agreements. In the coming years, one can hope for a free and open Indo-Pacific region which will be beneficial for all the countries situated in this region.