Drones have been essential in the Russia-Ukraine conflict for both reconnaissance and strike operations. Drones have been assiduously utilised by Ukraine to monitor the movements of Russian troops, gather intelligence about them, and engage in infantry and artillery combat. Particularly, their military has targeted the Russians using loitering munition "spy ghost," designed by the US for Ukraine. The Ukrainians have made considerable use of the Turkish Bayraktar drone for both attack and intelligence operations. One facet of contemporary warfare—the employment of drones for both observation and retaliatory action—has been highlighted by the ongoing conflict between Russia and Ukraine and the earlier conflict between Azerbaijan and Armenia. 
To address demand in the security and defence sectors, the Government of India (GOI) has concentrated on obtaining cutting-edge technologies. India has long relied on nations like Israel for its drone needs, but this reliance is gradually giving way to domestic solutions. The drone-related culture in the Indian military is evolving. The Army Aviation Corps is now responsible for ensuring the most effective use of drones, which was formerly handled by the artillery. In light of the ongoing standoff with China, the Indian Army is now using drones at the LAC for observation purposes, which is a big move. Previously only used by the Indian Air Force (IAF), the Army is now for the first time pursuing loitering weapons.
Despite the effects of the worldwide pandemic on several sectors of the economy, the India UAV market, which was valued at $830 million in FY2020, is anticipated to increase at a compound annual growth rate (CAGR) of 14.5% between 2021 and 2026. By the end of 2021, the Indian UAV market might reach $900 million, which is important given that the worldwide UAV market is now valued at $21.47 billion, according to the Observer Research Foundation (ORF).
UAVs have been essential during the COVID-19 epidemic in a variety of capacities, including as a tool for law enforcement, a platform for the delivery of medical supplies, and an e-commerce platform. However, because of sporadic lockdowns imposed in nations around the world that produce and supply UAVs and associated parts, there have been halts or delays in production supply chains because of a lack of raw materials and the labour force required to carry out manufacturing and assembly operations. Although there are prospects for American UAVs and component makers to sell to India, it should be highlighted that the domestic manufacturing market is expanding, which is raising the level of local competition, both for civil and defence uses. Joint ventures have emerged in the UAV industry as a result of the ambitious "Make in India" project of the Indian government, which aims to promote homegrown production in a variety of industrial sectors. Indian startups have also made a lot of forays into the UAV market.
Indian UAV Policies & Reforms
For anyone flying an unmanned aerial vehicle in India, the Ministry of Civil Aviation (MoCA) India published a new set of drone laws and regulations in June 2021. The operator of a UAV must apply for and get a unique identification number in accordance with the new regulations before operating the UAV, unless an exemption is granted. UAV operators will have to submit information on the Digital Sky platform, which is a MoCA-led initiative to control UAV operation and traffic in India, in order to obtain this identifying number. In order to draw investments into this industry, certain Indian state governments have also developed original UAV policies. 
Opportunities
The Indian UAV industry is divided into three major segments, similar to the worldwide UAV market: Original Equipment Manufacturers (OEM), End Users, and Aftermarket. Rotating wings, fixed wings, high-altitude long-endurance (HALE), medium-altitude long-endurance (MALE), and unmanned combat aerial vehicles are among the UAV kinds that are currently available (UCAV). In addition to manufacturing, there are prospects in the fields of hardware, software, and value-added components.
In India, the use of commercial UAVs is expanding at an exponential rate in the following industries: forestry, mining, power, railways, construction, highways, e-commerce, homeland security, smart city and urban development initiatives, and media. Applications for collecting and sharing real-time data include site inspections, surveillance, and monitoring. 
Opportunities for anti-drone systems exist in the defence industry, particularly in the fields of sensors, phased array radar, radio frequency (RF) sensor, electro-optical and infrared (EO/IR) systems, navigational satellite jammer systems, and RF jammer and laser-directed energy weapon (Laser-DEW) systems. After the recent UAV attack on the Indian Air Force station in Jammu, the need for anti-drone equipment has grown even more. Border security, crime prevention and control, and anti-terrorism applications are other potential areas of application.
Challenges
Potential end-users are prevented from maximising the use of UAVs in their operations by the policy environment for UAVs in India. The present drone regulations state that all UAV importers must first get a "Certificate of Manufacture" before submitting an application via the Digital Sky platform to the Directorate General of Civil Aviation (DGCA). The importer must submit an application for the granting of an import clearance certificate to the Directorate General of Foreign Trade after receiving approval from DGCA (DGFT). The Directorate General of Foreign Trade shall regulate the import of unmanned aircraft vehicles and systems (DGFT).
To impart the essential skills to operate their UAVs in India, international providers may need to engage in training and certification programmes. Building up this infrastructure is crucial to preventing supply-related sector bottlenecks. International suppliers may be encouraged to form joint ventures or participate in the production or assembly of UAVs in India via "Make in India" incentives, such as the relaxing of FDI laws. This will increase the number of local rivals in the already crowded field of domestic producers, making it harder for global OEMs to compete on price.
India clearly has the potential to become the worldwide hub for the newest drone technology because of its persistent commitment to embracing innovation to address societal and environmental problems. Government encouragement and loosened regulations will also provide manufacturers and drone businesses the much-needed boost they need to reach previously unimaginable heights.
"Let people eat cake" says Pakistan Navy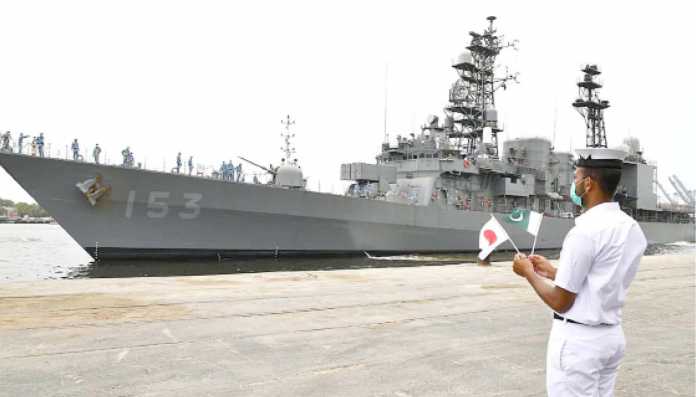 In 1789 during yet another famine in France, the princess Marie Antoinette upon being told that the peasants had no bread, is said to have replied with frivolous disregard for the starving peasants with the words "Let them eat cake". Today, the condition of the Pakistani citizens is quite similar to the French peasants of 1789.
The desperate economic conditions in Pakistan and the impact of floods has led the Finance Ministry to issue directives for implementing strict austerity measures for year 2022 – 2023. These measures aim to curtail operating expenditure and reduce the economic burden of the people.
However, it seems that these directives never reached their Navy.
Very recently, Pakistan Navy Ships Shamsheer and Nasr visited Yokosuka Port in Japan with an aim to participate in the International Fleet Review. In much contrast to the government verdict of "no unnecessary expenditure", the visit was neither mandatory nor of importance. However much to the citizen's dismay, neither the empty coffers nor the grave economic situation of the people seemed to deter the Navy from going on a tourism cum shopping spree.
Pakistan Navy Ships visit Yokosuka Port in Japan
In economically stable conditions, a Naval ship's visit to a foreign port would have been welcomed by the citizens. However the economic burden posed by  these activities have quadrupled the fear of a complete breakdown of society. While the cost of fuel for such a long voyage is in itself a huge deterrent, the fact that the ships will be stopping at almost five to seven countries during the futile passage, has made matters worse.
Monetary Implications of this cruise
Let's look at the basic requirement of a naval voyage. The mandatory requirements include buying stores, fuel/lubricants, undertaking necessary repairs, paying the crew in international currency etc. But is this all? Definitely not. Each stop at a foreign port will require a mandatory interaction with the diplomats, exchange of gifts, parties with great pomp and show to announce the naval ships' arrival, preparation of native cuisines etc.…The expenditure is definitely mind boggling.
Who is paying for this?
All this is paid through already depleting foreign reserves. Therefore understandably, if news of such frivolous expenditure, especially in these trying times were to reach the general public there would be a furore, and a well justified one. But Pakistan's Navy has been clever, or at least it thinks it has been.
Where normally, all port visits are turned to a media circus by the Navy, this time not a single press release is available on the open media. Why? Because of a stringent gag order on issuing media bites by the government. The Navy has warned cruising ships to conduct events without the presence of press. The aim apparently is to prevent citizens from becoming aware of this trip to Japan. Pakistan's naval commanders seem to be relying on their belief (definitely flawed and misguided) that – ordinary Pakistani citizen are like the proverbial ostrich with its head buried in the sand – what it cannot see, does not exist!
In today's world where information travels faster than light – there are enough people who monitor everything. Which is why hiding the journey of two huge warships was definitely worthless. As soon as a local net-hawker identified the movement of the naval ships – the world and entire Pakistan was made aware of the secret journey.  The Maverick could not outfox these people.
Frivolous Spending in Desperate Times
While one may still be able to find an excuse for Navy's foreign visits, but what about the inflating expenditure on the procurement and projects, which are of no immediate importance? As pointed out by social media users a few days earlier, the Pakistan navy has been planning to procure four Frigates (each from Turkey and China), four to eight Corvettes (from the Netherlands), eight submarines (from China) and almost ten new aircraft for its maritime fleet.
Which brings a very interesting scenario to light – the huge lack of communication between the Pakistan's government and its navy. On one hand the government has been insisting on cutting down operating costs and even travel/fuel usage by every ministry and service, but on the other, the Armed Forces are on a shopping spree. And whose money are these forces using?  The question that the citizens of Pakistan need to ask is despite the mushrooming economic crisis, why is there a need to undertake such frivolous expenditure/cruises? And if they are really necessary, why the extra effort to hide it?
Many Pakistanis have already started asking such questions, a mass outcry is not far. And while the Pak armed forces especially its navy may pretend to be blissfully unaware of their countrymen's plight, they must realize that secret voyages will not help the deplorable situation of their country and their fellow countrymen.
This article has been contributed by Commander Abhishek Rathi (Retd), Indian Naval Officer
Commander Abhishek Rathi (Retd) is a retired executive officer and holds an experience of commanding two naval warships. He has a keen interest in maritime history and technology. The officer is also an avid nature photographer and likes traveling all across India for it.