Drones have been essential in the Russia-Ukraine conflict for both reconnaissance and strike operations. Drones have been assiduously utilised by Ukraine to monitor the movements of Russian troops, gather intelligence about them, and engage in infantry and artillery combat. Particularly, their military has targeted the Russians using loitering munition "spy ghost," designed by the US for Ukraine. The Ukrainians have made considerable use of the Turkish Bayraktar drone for both attack and intelligence operations. One facet of contemporary warfare—the employment of drones for both observation and retaliatory action—has been highlighted by the ongoing conflict between Russia and Ukraine and the earlier conflict between Azerbaijan and Armenia. 
To address demand in the security and defence sectors, the Government of India (GOI) has concentrated on obtaining cutting-edge technologies. India has long relied on nations like Israel for its drone needs, but this reliance is gradually giving way to domestic solutions. The drone-related culture in the Indian military is evolving. The Army Aviation Corps is now responsible for ensuring the most effective use of drones, which was formerly handled by the artillery. In light of the ongoing standoff with China, the Indian Army is now using drones at the LAC for observation purposes, which is a big move. Previously only used by the Indian Air Force (IAF), the Army is now for the first time pursuing loitering weapons.
Despite the effects of the worldwide pandemic on several sectors of the economy, the India UAV market, which was valued at $830 million in FY2020, is anticipated to increase at a compound annual growth rate (CAGR) of 14.5% between 2021 and 2026. By the end of 2021, the Indian UAV market might reach $900 million, which is important given that the worldwide UAV market is now valued at $21.47 billion, according to the Observer Research Foundation (ORF).
UAVs have been essential during the COVID-19 epidemic in a variety of capacities, including as a tool for law enforcement, a platform for the delivery of medical supplies, and an e-commerce platform. However, because of sporadic lockdowns imposed in nations around the world that produce and supply UAVs and associated parts, there have been halts or delays in production supply chains because of a lack of raw materials and the labour force required to carry out manufacturing and assembly operations. Although there are prospects for American UAVs and component makers to sell to India, it should be highlighted that the domestic manufacturing market is expanding, which is raising the level of local competition, both for civil and defence uses. Joint ventures have emerged in the UAV industry as a result of the ambitious "Make in India" project of the Indian government, which aims to promote homegrown production in a variety of industrial sectors. Indian startups have also made a lot of forays into the UAV market.
Indian UAV Policies & Reforms
For anyone flying an unmanned aerial vehicle in India, the Ministry of Civil Aviation (MoCA) India published a new set of drone laws and regulations in June 2021. The operator of a UAV must apply for and get a unique identification number in accordance with the new regulations before operating the UAV, unless an exemption is granted. UAV operators will have to submit information on the Digital Sky platform, which is a MoCA-led initiative to control UAV operation and traffic in India, in order to obtain this identifying number. In order to draw investments into this industry, certain Indian state governments have also developed original UAV policies. 
Opportunities
The Indian UAV industry is divided into three major segments, similar to the worldwide UAV market: Original Equipment Manufacturers (OEM), End Users, and Aftermarket. Rotating wings, fixed wings, high-altitude long-endurance (HALE), medium-altitude long-endurance (MALE), and unmanned combat aerial vehicles are among the UAV kinds that are currently available (UCAV). In addition to manufacturing, there are prospects in the fields of hardware, software, and value-added components.
In India, the use of commercial UAVs is expanding at an exponential rate in the following industries: forestry, mining, power, railways, construction, highways, e-commerce, homeland security, smart city and urban development initiatives, and media. Applications for collecting and sharing real-time data include site inspections, surveillance, and monitoring. 
Opportunities for anti-drone systems exist in the defence industry, particularly in the fields of sensors, phased array radar, radio frequency (RF) sensor, electro-optical and infrared (EO/IR) systems, navigational satellite jammer systems, and RF jammer and laser-directed energy weapon (Laser-DEW) systems. After the recent UAV attack on the Indian Air Force station in Jammu, the need for anti-drone equipment has grown even more. Border security, crime prevention and control, and anti-terrorism applications are other potential areas of application.
Challenges
Potential end-users are prevented from maximising the use of UAVs in their operations by the policy environment for UAVs in India. The present drone regulations state that all UAV importers must first get a "Certificate of Manufacture" before submitting an application via the Digital Sky platform to the Directorate General of Civil Aviation (DGCA). The importer must submit an application for the granting of an import clearance certificate to the Directorate General of Foreign Trade after receiving approval from DGCA (DGFT). The Directorate General of Foreign Trade shall regulate the import of unmanned aircraft vehicles and systems (DGFT).
To impart the essential skills to operate their UAVs in India, international providers may need to engage in training and certification programmes. Building up this infrastructure is crucial to preventing supply-related sector bottlenecks. International suppliers may be encouraged to form joint ventures or participate in the production or assembly of UAVs in India via "Make in India" incentives, such as the relaxing of FDI laws. This will increase the number of local rivals in the already crowded field of domestic producers, making it harder for global OEMs to compete on price.
India clearly has the potential to become the worldwide hub for the newest drone technology because of its persistent commitment to embracing innovation to address societal and environmental problems. Government encouragement and loosened regulations will also provide manufacturers and drone businesses the much-needed boost they need to reach previously unimaginable heights.
When a Chinese Spy Balloon Made UFOs, a Matter of Grave Concern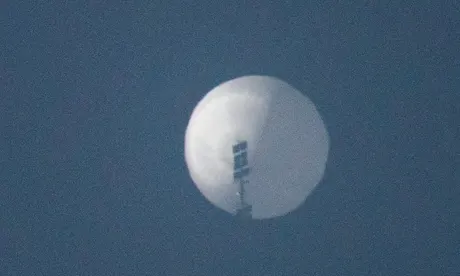 A year back, if someone told you that they spotted a "mysterious looking, white, balloon-shaped object" in the sky…you would have probably rubbished it, right? But what about today…how would you react to a news of 'mysterious balloons in the sky'? With a lot of concern, I presume…and rightly so! In this article we have discussed the incident of Chinese Spy Balloon aka Unidentified Flying Object.
From January 28 to February 4 this year, a giant white balloon was sighted across various parts of the North American airspace. This balloon, that was said to have traveled across South Korea, Japan, Alaska, Canada, and the contiguous United States, was later accepted by the Chinese government to be one of theirs – a Chinese 'Meteorological' Balloon that had drifted off-course due to the westerlies.
"The airship is from China. It is a civilian airship used for research, mainly meteorological, purposes. Affected by the Westerlies and with limited self-steering capability, the airship deviated far from its planned course."

– Chinese Foreign Ministry Spokesperson's Remarks on the Spy Balloon on 03 Feb 2023
But the American and Canadian intelligence services had different opinions – they claimed that the balloon was an instrument of surveillance which were endangering peace and security of these nations. On February 3, USA's Department of Defense reported that a second Chinese balloon was flying over Latin America, which China also claimed as its own. Following orders from U.S. President Joe Biden, the US Air Force shot down the balloon on February 4 in the Atlantic Ocean off the coast of South Carolina. 
But peace was not restored. The spy balloon incident has opened the pandora's box and the intelligence agencies now find themselves thinking on many fronts.
Before we dive into this, let's talk about China's "Civil-Military Fusion" program, under with such emerging technology is being developed.
China's National Strategy of Civil-Military Fusion (CMF)
"China encourages joint building and utilization of military and civilian infrastructure, joint exploration of the sea, outer space and air, and shared use of such resources as surveying and mapping, navigation, meteorology and frequency spectra. Accordingly, military and civilian resources can be more compatible, complementary and mutually accessible."

– China's Military Strategy, May 2015
To fulfill the Chinese goal of becoming a "world class military" by 2049, the Chinese government accelerated its program of CMF in 2015. Under this program, advanced technologies like Quantum Computing, AI, Big Data, nuclear, space and near-space technologies would be developed by exploiting both civilian and military capabilities. The importance of this Military Civilian Development Program can be identified by the fact that the President of the country, Xi Jinping, himself controls and oversees its progress. 
But why has the CCP government opted for this civilian-owned militarily empowered program? The reason is quite simple – 
If Caught – The government has the option to claim innocence by citing civilian–error and proving that there is no relation to the government or military. 
If Successful – The government successfully has access to the sensitive data of adversary and may weaponize this information as and when required for their benefit.
Now let's take another look at the Chinese Foreign Ministry Spokesperson's Remarks on the Spy Balloon –
"The airship is from China. It is a civilian airship used for research, mainly meteorological, purposes."
There should be no doubt that China's recent 'meteorological' balloons are a by-product of it's Civilian-Military Fusion program. The claim that the balloon's purpose was to spy on military installations in the Pacific region, cannot and should not be swiftly rejected. 
In the past few weeks, the North American Aerospace Defense Command has shot down four objects, and there are rumors of another balloon floating over the Middle East. What was once claimed to be a "civilian airship used for research, mainly meteorological, purposes", is now recognized as a component of a vast surveillance program.
Regardless of the quantity or caliber of the balloon's data gathered while flying over the United States, the controversy surrounding it has grown into an international incident, with multiple claims of similar "UFO" sightings all over the world – Japan, India, Taiwan, Colombia and list goes on.
What damage could the China's Spy Balloon inflict on the countries? Should we be bothered?
Let's answer the 2nd question first, should the spying balloon matter to us? 
YES, it definitely should. 
 It is no surprise that most members of Generation Z are unconcerned about data privacy, since they are so accustomed to being watched. In fact, a prevailing thought during a discussion about the balloon was, "Oh, the U.S. probably has comparable programs in China." The idea of a foreign competitor power gathering surveillance data on them therefore doesn't seem that terrifying to young people since. 
But, let's not forget this balloon was flying over the country's military areas, significant bases and important sites. 
Now let's come to the first question, what is the extent of damage that this balloon could cause? – Well, for this we leave you with two opinions to deliberate and make your own judgement.
Opinion 1
First, the chances of electronic surveillance to identify and possibly disrupt sensitive military communications cannot be ruled out at all. Second, is the possibility of cyber espionage or sabotage. With the cyber-skills and hacker army available with China's People's Liberation Army (PLA), it is a possible that this 'balloon-voyage' was a mere precursor to a full-fledged hybrid war. Third, the spy balloon could be a test, aimed to establish the reaction ability and potential of intelligence agencies worldwide. 
Opinion 2
Human brain is wired in a way to look at a shocking event with fear and assume that worst has happened. Therefore, had the Chinese diplomat in USA immediately met POTUS to explain China's position and taken strict (and public) against the civilian owners of this balloon, the matter would have been resolved peacefully without USAF interference. Diplomatic dialogue, should have been China's response, and not escalating the situation with threats – let's be clear 'cold-war' scenario, does more damage than good.
What's Next For China & USA Relations?
Chinese spy balloon illegal intrusion into USA's airspace has further deteriorated relations between the two countries. With Secretary of State Antony Blinken indefinitely postponing his trip to China, all prospects for a detente between the two superpowers seems to be eliminated. 
The incident has also heightened tensions and has accelerated alliance formation, not very different from the pre-Cold war era of USA and USSR!
"I believe in evidence. I believe in observation, measurement, and reasoning, confirmed by independent observers. I'll believe anything, no matter how wild and ridiculous, if there is evidence for it. The wilder and more ridiculous something is, however, the firmer and more solid the evidence will have to be."

-Isaac Asimov