 The Indian government is testing blockchain technology to
streamline its logistics industry
The Indian government has begun to embrace blockchain technology as a means of streamlining operations and services. Its most recent venture was in the realm of domestic commerce.
The country's finance ministry's central board of indirect taxes and customs began a prototype electronic cargo tracking system (ECTS) initiative based on blockchain technology on Oct. 15. This seeks to develop protected container documentation and GPS-based tracking.
How does blockchain technology work for trade?
Analysts believe that because all facts are kept digitally, blockchain technology would enable safe and efficient documentation among network participants.
"All transactions connected to consignment flow can be maintained on a blockchain in a tamper-proof manner with a date and unique cryptographic signature," said Sharat Chandra, a Bengaluru-based emerging tech enthusiast. "Information can be retrieved at any point throughout the journey with permission access, eliminating fraud and income leakages."
Traditional paper-based methods, in addition to being dangerous, create a lot of red tape due to the number of permissions required. Such new projects, on the other hand, can be more secure if each party's blockchain nodes are hosted on a decentralized server.
A blockchain node is a digital ledger that keeps track of all cryptocurrency transactions and makes the information available to anybody with an internet connection. Its primary function is to verify each block of network transactions. The finance ministry has cooperated with the Asian Development Bank for the effort at ICD Tughlakabad Import Commissionerate.
7 ways in which blockchain is changing the face of logistics:
Blockchain Mean Better Freight Tracking
Commercial transportation firms are challenged with an ever-increasing need to innovate as demand for same-day and on-demand delivery rises, and consumer expectations rise.
Many trucking businesses have invested in excellent tracking technology, but scaling it to meet more demanding customer requests has proven tough, particularly when it comes to identification. None of these problems would exist to the same extent if blockchain technology were used. The entire system can contribute and authenticate data when using the blockchain for data authentication, and it is no longer vulnerable to tampering. Enhanced tracking information reliability may also have an influence on the preservation of products in transit.
Using the Internet of Things (IoT) and AI to Increase Efficiency
With the support of IoT advancements, blockchain can be especially valuable for capacity monitoring. The cost of carrying freight is frequently determined by cargo volume. Shippers and transportation businesses can detect the amount of space taken up in a package and decide cost accordingly by deploying IoT sensors in trucks and other shipping vehicles, and then transfer all of this data to the blockchain.
Effective Tracking of Fleet or Vehicle Performance History
Tracking is important for more than just delivery success. It can also be used to evaluate the performance of individual vehicles in a fleet. When a major or small company wishes to buy a used delivery vehicle, the blockchain can help to validate information about the vehicle's prior performance and maintenance history.
Easier Carrier Onboarding
There would be a far more uniform and reliable approach to establishing pricing and other factors inherent in purchasing if all used components and automobiles were recorded on a secure, unchangeable ledger.
Just as blockchain may assist in the validation of a used vehicle's records, it can also assist in the validation of a new carrier's driver records.
Blockchain technology has the potential to create a decentralized network that can store all of the essential documents for carriers in the transportation and freight industries. It would be nearly impossible to fabricate this information, and it would be very instantaneous to validate it.
Using the Internet of Things for Vehicle to Vehicle Communication
Vehicle to Vehicle (V2V) Communications, which effectively allows many freight vehicles to form a platoon and communicate, boosting fuel efficiency and safety, is already being implemented by some organizations.
Using the blockchain to store and validate data generated by V2V Communications can assist transportation companies all around the world optimize their operations.
Making Load Boards More Reliable
Many transportation businesses are suspicious of load boards since the data on them is frequently jumbled or duplicated, resulting in an incorrect picture of demand.
Shippers can use the blockchain to upload timestamped cargoes that the decentralized network records and verifies. As a result, a specific load cannot be repeated, and the data will remain intact. Because the blockchain can authenticate load data, prevent duplication, and make it available to load boards, there is no need for an intermediary in the form of a broker.
Smart Contracts Cut Costs and Eliminate Middlemen 
Smart Contracts may be the most important blockchain feature for the freight business. Smart Contracts are self-executing tasks that are programmed into the blockchain and executed when a predetermined condition is satisfied.
Smart contracts might use blockchain to totally eliminate the need for all of these administrative stages, lowering expenses and almost eliminating the possibility of error. When we consider that administrative expenditures can account for up to 20% of total transportation costs, the amount of money saved by implementing smart contracts successfully could be enormous.
The transportation and freight industry's journey into blockchain technology poses some potential challenges, just as any large application of technology does. Certain, such as Lori Heino Royer, Director of Business Development at Daimler Trucks North America, see the benefits of blockchain in trucking but also perceive some hazards. Heino Royer contends that blockchain's immutability may backfire because every data entry is prone to human error at the start. She also points out that if a company's private key is lost or stolen, the blockchain will become untrustworthy, resulting in a significant data loss.
The majority of other reservations originate from the notion that blockchain implementation in trucking and logistics will be yet another flawed technological adaption. Some industry players are sceptical of the widespread adoption of new technologies because they have firsthand experience with failures.
Climate Crisis; Cries Asia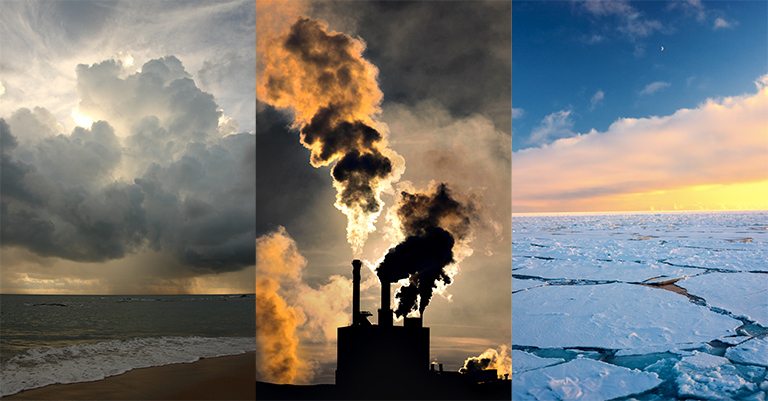 By 2050, regions of Asia may see rising average temperatures, deadly heatwaves, extreme precipitation events, catastrophic hurricanes, drought, and water supply problems (see figure below). The GDP of Asia is threatened by global warming, accounting for more than two-thirds of the total yearly global GDP at danger. According to McKinsey & Company's Climate Risk and Response in Asia report, countries in Frontier Asia (Bangladesh, India, and Pakistan) and Emerging Asia (Cambodia, Indonesia, Laos, Malaysia, Myanmar, the Philippines, Thailand, and Vietnam) are the most vulnerable to climate change consequences.
Climate change consequences are predicted to be less severe in advanced Asia (Australia, Japan, New Zealand, and South Korea) and China, which is a separate category. In fact, increased crop yields are predicted to constitute a net agricultural benefit from climate change in these countries. However, owing to more frequent extreme precipitation events and typhoons in many locations, hazards to infrastructure and supply systems will increase in these countries, which is especially critical given China's significance in global supply chains.
Warming has a significant impact on what is known as Natural Capital. By 2050, the glacial mass will have decreased by up to 40%, fisheries harvests may have decreased by half, and 90 per cent of coral reefs would have suffered significant degradation. Rising temperatures and deadly heatwaves have an impact on livability and effective working hours in key Asian countries, with up to 10% of daylight work hours likely to be lost by mid-century.
The paper by McKinsey & Company discusses possible solutions to this massive problem. They point out that, thankfully, Asia is ideally positioned to handle these issues and seize the benefits that come with efficiently managing climate risks — if they choose to do so. Many Asian countries are still developing their infrastructure and metropolitan centres. This gives the region an opportunity to make sure that whatever is built is more robust and capable of withstanding the increased hazards of climate change.
The paper by McKinsey & Company discusses possible solutions to this massive problem. They point out that, thankfully, Asia is ideally positioned to handle these issues and seize the benefits that come with efficiently managing climate risks — if they choose to do so. Many Asian countries are still developing their infrastructure and metropolitan centres. This gives the region an opportunity to make sure that whatever is built is more robust and capable of withstanding the increased hazards of climate change.
As the Himalayan glaciers have receded, the annual melting water supply used to feed farmland in India's Ladakh area has decreased. A system was devised to store meltwater in massive standing structures, allowing for year-round irrigation. However, without major decarbonization, these initiatives are likely to fail. Asia is responsible for about half of all greenhouse gas emissions. The research examines the transition from coal to renewables, which includes a combination of solar and wind power with battery storage, as well as rewards to coal asset owners for retiring assets before they reach the end of their useful lives.
These tactics have not proven to be very effective in the real world, and they consume a lot of energy. For everything, the amount of renewables required to reach these goals would require more steel than China now produces, and that doesn't include renewables to make green hydrogen to decarbonize steel manufacturing. Leading Asia through the challenges of a warming planet is a huge task, but one that is just as important as leading the rest of the globe to the same objective.