India is emerging as a strong contender for the permanent seat at the UNSC.
The presence of supranational organisations such as the League of Nations and then the United Nations were considered to be harbingers of global citizenship and world governance. However, in recent years and especially in the context of the COVID-19 pandemic, the call for democratising and reforming the UN Security Council and its permanent membership has grown louder.
It is now high time to understand the need for a fresh Asian perspective in the UNSC. It is here that India emerges as a strong contender for the permanent seat along with other countries like Japan.
India's journey in the bid to P5 Seat
India and its non-Permanent Status in the UNSC: As the world's largest liberal democracy and with the world's second-largest population, India has been elected eight times in the UN Security Council as a non-permanent member. The most recent election being for the new term of 2021-2022.
It must also be pointed out that India was the sole country from the Asia-Pacific region to have contested for this position. Previously, it has been elected as a member for the period of 1950-1951, 1967-1968, 1972-1973, 1977-1978, 1984-1985, 1991-1992, and 2011-2012.
What does it mean to be a non-permanent member of the UNSC? Unlike the P5 (permanent members) that enjoy the arsenal of veto power to pass and block a resolution, the non-permanent members have a collective right to veto. Any resolution that is passed by the UNSC has to be then passed by at least seven non-permanent members out of 15.
Every member country of the council, including the non-permanent members, also assumes the presidency of the council every month. The presidency is determined in alphabetical order. This allows them to decide the content and theme of the debates, which can draw attention to important issues for each member country with respect to international peace and security.
The demand for India's permanent membership in the UNSC has been in existence since 1947. Over the years, India has shown its capability as a strong global leader but yet it has been denied the permanent seat consistently. One of the major reasons behind this is the China-Pakistan-Italy nexus that has repeatedly foiled and diplomatically impacted India's bid for a permanent seat. China, being one of the P5 members has been vocal about using its veto power against all Indian plans and resolutions time and again.
Why does India deserve a Permanent Seat at the UNSC?
It must be noted that the UNSC was created on October 24, 1945, at a time when India had not even gained its independence from the British colonial rule. However, China, which at that time was merely a tiny island of Formosa or Taiwan was given a permanent membership leaving a large country like India out.
India's rich cultural and historical heritage has impacted the world significantly. Indonesia, Kampuchea (now Cambodia), and Central Asia have derived their names from Sanskrit words. India or in other words Hindustan is considered to be a mother of civilisations. Having no permanent membership in UNSC for a country like India seems obsolete and unfair as it has impacted so many regions in the world without the run of colonialism at play in its foreign policy.
India has been at the forefront of demanding active and immediate reform of the UNSC. It has time and again demanded concrete action in the process of enlarging the permanent membership of the global body. India has strongly stood with its diplomatic allies such as Germany, Brazil, Japan in their bid for permanent membership as well. India has supported the "Common African Position" – aspirations of the African people to get their rightful place in an expanded UN body.
India has shown its consistent commitment to the calls for reformed multilateralism. It has strongly asserted the Inter-Governmental Negotiations (IGN) in the Security Council. India has repeatedly questioned the nature of these negotiations being informal talks. The structure of the UN since its inception is no longer suitable nor tangible to address challenges of peace and security in the 21st century. The COVID- 19 pandemic has been an evidence of it. To remain relevant in today's world, the UNSC has to represent the reality of today's global power structure of which India is an important part.
India has been leading UN peace-keeping operations and has successfully upheld the principles and credentials of the UN on many occasions. India is the fourth largest contributor to UN Peacekeeping. 3802 troops from UN member-states have given their lives defending the UN Charter between 1948-2018. The highest number (164) is from India.

India was reappointed to the Organisational Committee of the Peacebuilding Commission in December 2010. More than 200,000 military and police personnel have served over the past 70 years and 168 Indian military personnel have lost their lives under the UN flag till 2019. India is the second-largest contributor of peacekeepers to the United Nations Mission in South Sudan (UNMISS) with more than 2,400 military and police personnel deployed in the mission. Today, most significantly, India has almost twice the number of peacekeepers deployed on the ground as much as by P5 countries.
India is a major emerging economic power and the world's fifth-largest economy and follows its own independent foreign policies, which signifies India's stand on any issue on multinational forums. For example, India opposed the bombing in Libya at the first stance and later abstained from voting in the UN.
Four P5 members have positively backed New Delhi's candidature several times. France, UK, US, and Russia have always supported India's bid for a permanent position. On the other hand, India has always enjoyed majority support from other UN members in its; non-permanent membership as well.

With the exception of China, diplomatically India is welcomed and supported by these big powers and this only goes on to show the democratic clout it enjoys from its contemporaries and the strategic engagement it has built with them – a sign of goodwill and successful diplomacy – cornerstones of modern-day international relations.
Indian Foreign Policy has been remapped and given a fresh new shape in order to suit its global inspirations and desire for international recognition. This is evidenced by the fact that Prime Minister Modi has visited places that were mostly off the radar of Indian diplomats. Be it the state of Mongolia which is strategically sandwiched between Russia and China, or the energy-rich nations of Central Asia i.e., Turkmenistan, Tajikistan, Kazakhstan, Kyrgyzstan, and Uzbekistan. India is trying to establish meaningful partnerships, reconnecting old lost ties, and developing a strong global presence.
India is ruled by a democratic, secular government that has never been upstaged by an army coup and can be labelled as a "responsible" nuclear power. The relative political peace and transition of power and governance in India cannot be undermined in context to the escalating civil unrest across the world.

If one has to compare India's governance structure with that of China, a P5 member that has a history of undemocratic practices. China's role in the COVID-19 pandemic cannot be denied and because of its political and economic clout, it has been able to get away with it. To add to it, Pakistan, the infamous nation has been calling out India as unsuitable for permanent membership. It is ironic that the pot is calling the kettle black.

On November 14, Pakistan's Foreign Minister Shah Mahmood Qureshi held a press conference to "expose" India's state-sponsored terrorism and its efforts in destabilising Pakistan. However, the minister lacked the necessary evidence to justify such allegations.

Time and again, the world at large has pointed out to Pakistan being at the helm of supporting and sponsoring regional and global terrorism. The Minister seems to have forgotten Pakistan's role in incidents like the 2001 attack on the Indian parliament by Pakistan-sponsored Lashkar-e-Taiba, Mumbai Terror Attacks of 2008, and Pulwama attacks.

Even today, Pakistan occupied Kashmir remains a hotbed of terrorist outfits.
For a country that finds it hard to differentiate between the parliament, judiciary, and military within its own territory, it will be better if Pakistan focusses on its own political instability and its role on the global stage before demanding India be ruled out of UNSC membership.
India's role in achieving the UN Sustainable Development Goals has highlighted the efforts the country has taken to address larger global concerns. India has improved its score and made notable progress on a number of indicators including health, water, and sanitation. India is the only country to publicly rank its sub-national governments on SDGs.

India's commitment to the SDGs is reflected in its convergence with the national development agenda as reflected in the motto of Sabka Saath Sabka Vikaas (Collective Efforts for Inclusive Growth). Based on the evidence from the SDG India Index, which measures progress at the subnational level, the country has developed a robust SDG localisation model centered on adoption, implementation, and monitoring at the state and district levels.
On a concluding note, the bid for India's permanent membership in UNSC does not mean cancellation for other competitor's bids. India has always been a supporter of diplomatic allies. Also, as the world's largest democracy and a thriving geopolitical entity, India deserves more. India deserves a seat at the high table.
(Article by Prapti Borah: A passionate MYP IB Educator, MUN Supervisor, History enthusiast of the 21st century, and ardent #vocalforlocal supporter!)
Assassination of Shinzo Abe & Salman Rushdie – Know Real Facts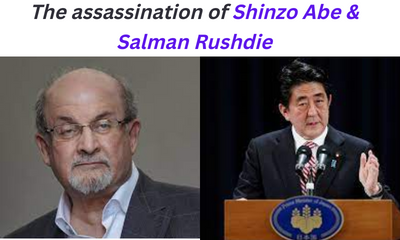 The months July and August of 2022 saw two cases of extermination to promote the fear of terrorism. One of the assassination of Shinzo Abe former Japanese Prime Minister, and another of the famous Novelist Salman Rushdie.
Shinzo Abe succumbed to a gunshot wound, whereas Rushdie's health conditions are improving and he is under medical supervision after the knife attack. However, various assassination attempt of Salman Rushdie has been made during the year.
These two terror acts force us to think about the impact of terrorism on society, the main objective of which is to create an atmosphere of fear so that citizens of the country cannot rely on their government.
This ultimately disturbs the law and order of the society, and serves the terrorists' purpose of creating a chaos.
Here we will see how these two attacks had different reasons but the objective remained the same – to stop someone from propagating his/her opinions independently, and also the factors that make attackers indulge in such acts.
Assassination Attempt of Salman Rushdie – Satanic Controversy
On 12 August 2022, Rushdie was attacked several times by a 24-year-old man Hadi Matar. The attacker's intentions can be linked to Rushdie's fourth novel, The Satanic Verses, published in 1988. Some Muslims considered the novel disrespectful towards Prophet Mohammed.
Soon after its publication, the novel sparked a 'fatwa' or a religious decree. The Iranian revolutionary leader Ayatollah Ruhollah Khomeini called for Rushdie's death in 1989. After, this various assassination attempt of Salman Rushdie has been made.
Complete conversation for Salman Rushdie Assassination:
When asked about the attack Hadi Matar said, "I don't like the person. I don't think he's a very good person. I don't like him very much". He further criticised Rushdie's work by saying, "He's someone who attacked Islam, he attacked their beliefs, the belief systems". Mr. Matar also told New York Post that he had only read 'a couple of pages' of the book and did not tell about whether the fatwa had inspired him or not.
While praising the Iranian religious leader, he stated, "I respect the Ayatollah. I think he's a great person. That's as far as I will say about that".
One can observe that the psychology of the attacker was that he simply disliked the novelist because of his work; although he read only two pages of the novel, but was rather influenced by the religious leaders and their sayings. Just, like this the assassination of Shinzo Abe has been made during this year, which we will discuss on next section.
Perceptions like these can have a long-lasting impact on future generations which can further deteriorate the situation. Violent acts like this demand proper scrutiny of the dissemination of information.
Extremists take advantage of such incidents and brainwash the young minds so that they can be used by them for their selfish purposes.
Assassination of Shinzo Abe – Complete Truth
On 8 July 2022, it was just another day of Abe's political campaign for the upcoming parliamentary elections. He was delivering a speech in Nara City, but no one is the aware about the assassination of Shinzo Abe that day. When a 41-year-old Tetsuya Yamagami shot him twice from behind from a distance of about 10 meters.
During the investigation, he confessed his intentions of killing and it was found that his motives had more to do with religious backing instead of a political reason.
It so happened that Yamagami's mother was a member of a religious group which she joined after her husband's death in 1998. She used to donate huge amounts of money as charity to the group, after the assassination of Shinzo Abe and Yamagami blames the sect for bankrupting his mother.
Confession Statement on Abe Case
The report reveal that Abe was closely associated with the sect, and wanted to take revenge against him for promoting it. "The suspect stated that he held a grudge against a particular organisation and that he committed the crime because he believed former Prime Minister Abe had a connection to it", a senior police officer in Japan's Nara region told reporters.
While the police hasn't given any clarification regarding the unidentified organization, social media in Japan has it that it could be the Unification Church.
Yamagami was unemployed, felt isolated in society, was against religious preaching and blind faith, and wanted to kill the leader of the religious organization but couldn't. One can see the psychological aspects of it that, the killer was anguished with the organisation and blamed them for his conditions and economic turmoil.
Ultimately his grudge converted into a motive of taking revenge for his loss and he did that by killing the perpetrator of the religious group, to give a message to the society and the world that one should avoid themselves from joining or contributing to such groups.
Japan has the strictest gun laws after the assassination of Shinzo Abe , so to bypass such stringent laws the killer used a handmade gun. The occurrence of such incidents in the island nation shows how much resentment the killer has and how strongly he was motivated to commit the murder.
Such incidents are eye-openers for the society that someone's freedom of belief can become others' pain, and teaches that as a society we should try to maintain a balance between them.
Two Paths to Crime
The above two accidents of assassination of Shinzo Abe, and the assassination attempt of Salman Rushdie has been terrifying for the country. First, being a part of a religious group the killer face hardship in his life, which forced him to commit the crime. In the second instance, the attacker got the impression that his religion is being targeted and that it is his responsibility to take revenge so that next time no one dares to do anything like that again.
Interpretation of things based on pre-assumed thoughts can lead to revenge, and revenge based on half-baked knowledge causes harm to the whole humanity, and not just the particular group concerned.