Google is testing a new app called 'Task Mate' in India that pays users for completing simple tasks like transcribing, translating, and taking photos of a nearby restaurant or shopfront.
What if I tell you that you can actually earn money by doing small tasks on your smartphones? Well…yes, Google has launched a new application called Task Mate in India that will help users earn some money. Search engine giant is testing a new crowdsourcing app Task Mate that asks users to perform some random tasks through smartphones and in return, it is promising a good payment.
In an effort to improve its mapping services and attract more online businesses towards it, Google is testing a paid version of a crowdsourcing service. As per the reports, the application is available on Google Play Store for users to install, but the app is restricted to selected users at the moment. The catch here is that the app is still in its beta version and for now the new users will only be able to join through the use of referral codes.
Google in past has a record of experimenting with similar apps. Google Pay gained immense popularity in India within a few years because of the cashback and other rewards it provides to its users for doing transactions on the app. The firm also has an app called Google Opinion Rewards that asks you questions about its own products or places you visited in exchange, for Play Store credit. But, this time, Google wants you to do simple tasks and in exchange it will reward you in your local currency.
Kind of tasks in Task Mate:
The new app called Task Mate rewards users for completing small tasks and promises to pay them in their local currency. According to the app's description on Google Play Store, users can choose tasks that interest them, and they can be completed at any time, from anywhere. The app lets users "earn money doing simple tasks on their smartphones". The tasks can apparently either be something from Google itself or one of its business partners from around the world.
The tasks basically are categorised as Sitting or Field tasks. In order to complete the former task, the user can fulfil the demand of the task from home with access to just a smartphone, while the latter kind of task requires folks to visit particular sites or locations.
For sitting tasks, the user has to just sit at home complete tasks such as transcribe audio content or record spoken sentences. While, on the other hand, for tasks that require fieldwork, Google asks users to go to a nearby shop and take photos of the storefront. Once done with the task, the user will get paid via cash transfer directly to the linked bank account.
The overall framework of the application is pretty straightforward and simple to understand. The users can search for 'tasks nearby' and then choose which one they would like to complete.
Earn easy payments:
In order to receive payments, the user will have to link an account with a third-party processor. In order to cash out the money earned through tasks, the user can register their e-wallet or account details with the payment partner in the Task Mate app. The user then has to visit his/her profile page and click on cash out.
As per the app's description, the user will then be able to withdraw the money in your local currency. To better understand follow the steps given:
Register your e-wallet or account details with the payment partner in the Google Task Mate app.

Visit your profile page, and click on cash out.

Post the above step, you will be able to withdraw the money in your local currency.
Motive behind the app:
The type of tasks Google is giving to the users gives us a hint that the search giant is trying to improve its popular services such as finding real-time information on local shops with photos on Google Maps basically to improve its mapping services. The transcribing tasks are likely to help improve the Machine Language (ML) models of live transcription feature on Android phones, YouTube, and other Artificial Intelligence (AI)-powered applications.
Google is known for its frequent experimentation when it comes to the introduction of new apps. For now, the app is only available in India and Kenya. Unfortunately, it is hard to find out that Google will release the app in other countries or not. But, according to the estimations, the release of Task Mate in other countries will depend upon the success of the application in India and Kenya as Google is quite well-known for trying and dropping apps frequently.
President Joe Biden's Conversation with the Cambodian Prime Minister Hun Sen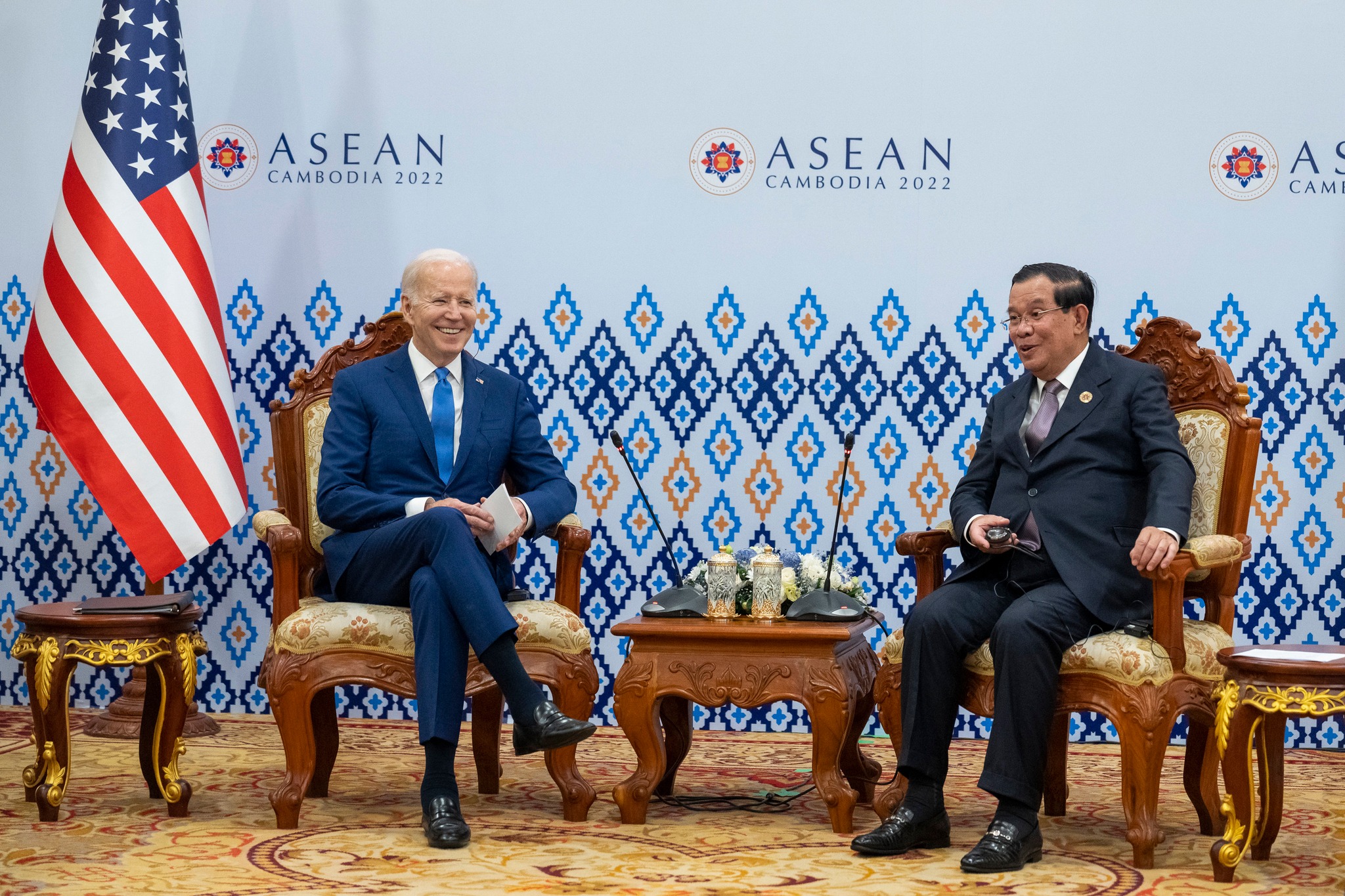 President Joe Biden landed in Cambodia on Saturday and supported the ASEAN nations. Before the eagerly anticipated Group of 20 summits next week in Indonesia, where Biden will meet with Xi for the first time in person since he took office, there will be a weekend of meetings in Cambodia. Before meeting with Xi, the president can engage with US allies at the ASEAN summits and the East Asia Summit on Sunday, both in Phnom Penh.
The US-ASEAN Comprehensive Strategic Partnership, which, according to Biden, "will tackle the biggest issues of our time, from climate to health security, defend against the significant threats to rule-based order and threats to the rule of law, and build an Indo-Pacific that's free and open, stable and prosperous, resilient and secure," was announced as "another critical step" toward building on the group's progress during his remarks at the summit. He cited a budget proposal for $850 million in support for Southeast Asia while praising the US's current financial commitments to ASEAN.
"This is my third journey and third summit, my second in person." The value reflects the United States' commitment to our relationship with ASEAN and our dedication to the region's centrality. The core of the Indo-Pacific strategy of my administration is ASEAN. In his opening remarks to the meeting, Biden said, "And we continue to reinforce our resolve to work in lockstep with an empowered, united ASEAN."
To build on the ASEAN leaders' conference in Washington earlier this year, the president's first meeting in Cambodia was with Prime Minister Hun Sen of Cambodia.
From the beginning of his presidency, Biden "was intent on elevating our engagement in the Indo-Pacific," according to national security adviser Jake Sullivan, and his attendance at the ASEAN and East Asia summits this weekend will highlight his accomplishments to date, including the Indo-Pacific Economic Framework unveiled earlier this year and security partnership initiatives.
"He's coming into this series of summits with that track record of success and purpose behind him, and he wants to be able to use the next 36 hours to build on that foundation to move American engagement forward, as well as to deliver several actual, practical initiatives," Sullivan said.
New initiatives on maritime cooperation, internet connectivity, and economic investment are some of these valuable measures, according to Sullivan. He added that Biden will soon begin a new maritime initiative that will "focus on using radio frequencies from commercial satellites to be able to track dark shipping, illegal and unregulated fishing, and also to improve the capacity of the countries of the region to respond to disasters and humanitarian crises."
Further, he added, Biden will also emphasize a "forward-deployed posture" toward regional defense to demonstrate that the US is actively pursuing security cooperation.
Biden also mentioned a brand-new US-ASEAN electric car infrastructure program during his speech.
He described the project as "a collaborative effort to build an integrated electric car ecosystem in Southeast Asia, enabling the region to achieve sustainable energy, economic growth, and ambitious emissions reduction targets."
Discussions on coordination "to continue to impose costs and build pressure on the junta" will also be centered on Myanmar, which was the subject of a February 2021 coup that ousted the country's democratically elected government.
Key Highlights
Concerns raised by Biden regarding Chinese activity at the Cambodian Ream Naval Base. The president expressed concern over the circumstances at Ream Naval Base and emphasized the value of complete transparency regarding the PRC (China's) military activities there.
The US President congratulated Cambodia's Prime Minister for backing Ukraine at the UN and spoke about the turmoil in military-ruled Myanmar.
President Biden also conveyed his gratitude to Cambodia for supporting resolutions at the UN to defend Ukraine from the brutal assault of Russia.
He thanked Cambodia for holding the ASEAN helm through a trying year.
The leaders "reflection on the historic US-ASEAN Special Summit's success in Washington, DC and applauded plans to establish a US-ASEAN Comprehensive Strategic Partnership at the annual US-ASEAN Summit later that day."
Along with the ASEAN Five Point Consensus, they also discussed the crisis in Burma and ASEAN's reaction, highlighting the international community's crucial role in restoring of democracy and stability in Burma.
In addition, Biden urged releasing activists like Seng Theory and a dual US-Cambodia citizen arrested on politically motivated allegations. The commitment of the United States to the Cambodian people and their goals for a more wealthy, democratic, and independent nation was reaffirmed by President Biden.