As we walk the streets of India, we realise that we're not alone. No, I'm not talking about being chased by an invisible force, I am talking about STRAY DOGS! Being a dog-lover is very different from being calm when you encounter a canine situation. Imagine this: You're walking down a road and a dog just stares at you, starts barking ferociously and then starts chasing you! Are you sweating already? Now, also imagine, being cold on a winter night, having to dig up garbage cans for food, being scared of speeding vehicles, lying dehydrated on the road, being looked at with disgust every day, having stones thrown at, being painted in Holi gulaal (colour) and having no place to call your home! THAT is the life of a stray dog!!!
According to the World Health Organisation (WHO), an estimated 35 million stray dogs live in India. The country faces about 20,000 cases of rabies every year. According to the WHO report, about 36% of the world's deaths from rabies happen in India itself.
Killing them is not a solution
In November 2015, the Supreme Court asked all states and union territories to follow central rules, which ban killing stray dogs in India. The Court ruled that only "irretrievably ill or mortally wounded" stray dogs can be eliminated, which should happen in a "humane manner."
Animal birth control
Animal Birth Control (Dogs) Rules, 2001 state, "The street dogs shall be sterilized and immunized by the participation of animal welfare organizations, private individuals and the local authority." Sterilisation is a routine surgery that prevents overpopulation at the source: sterilising one female dog can prevent 67,000 births in six years. Sterilised and rabies-vaccinated dogs who have been returned to where they were found no longer feel such a strong instinct to fight with each other to mate or protect their offspring and are less prone to getting into disputes over territory.
Experts estimate that barely 10 per cent of India's dogs have been sterilised and immunised out of a possible 60 million. Since the ABC rules were passed by the Ministry of Culture, it is a moot point whether the ministry had the authority in the first place to pass laws on a subject which it lacked domain knowledge. The ABC offers no scientific method for a systematic vaccination drive and stabilising the country's canine population.
India has by far the highest number of rabies cases in the world (around 33 per cent)
Who is scarier, dogs or humans?
God's own country, Kerala, recorded more than one Lakh incidents of dog bites in 2015. The very next year, a series of horrendous dog bites urged residents to hire dog-catchers and poachers. There were communities who would hire a dog-poacher and kill the dogs in cold blood. While there have been frightening incidents of children being mauled by stray dogs to the extent of blindness and loss of eyesight, it is to be understood that killing dogs and then parading with the carcasses is heinous and inhuman. Sources from Kerala revealed that gruesome public outrage against stray dogs has grown larger. To the extent of electing candidates who resolved to eradicate stray dogs. Hoardings and billboards of stray dogs shown as villainous creatures were catching the public eye. Hundreds of dogs were eliminated.
Sterilisation: the solution
Effective and efficient mass sterilisation is a boon for both society and stray dogs. It is better to sterilise a dog than to kill its entire family. As explained by the Pet Animal Welfare Society (PAWS), the Animal Birth Control (ABC) process begins with catching the dog/ bitch and giving them anti-tick medication. The dog is observed overnight and prepared for surgery that was conducted the next day. During the surgery, while the dog is still under the effect of anaesthesia, its right ear is notched for future identification.
A special post-surgery kennel is provided and administered with the necessary medication. After 4 days from the day of surgery, it is given Anti- Rabies vaccination. The dog is kept in the shelter for 5 to 6 days and a bitch for about 7 days till they recover completely. The animal was then released into its own territory from where it had been picked up. PAWS takes on the responsibility of conducting regular check-ups of animals thus being released.
NDMC said, in financial year 2018-19, as many as 27,804 dogs were caught and sterilised. In the same period, 235 monkeys and 1,941 stray cattle were caught.
In 2017-18, as many as 21,438 dogs, 1,681 stray cattle and 418 monkeys were caught, and in 2016-17 as many as 9,866 dogs, 4,373 stray cattle and 68 monkeys were caught, it said.
Organisations and initiatives that care
PAWS
Pet Animal Welfare Society (PAWS) is a non–government, non – profitable, registered animal welfare organization working for the prevention of cruelty towards animals and a better environment for mankind. PAWS is recognized by Animal Welfare Board of India which is a govt. body.
PAWS came into existence in 1998 and started working the very same day. The purpose of the society is to make people aware about the care, management and nutrition of pet and stray animals. For PAWS all animals on this planet are the pets of the society and hence we need to realize their importance in our everyday life and do our bit in exchange.
PAWS conducts regular awareness programs in and around Delhi besides its anti-rabies camps for strays. The society is doing its bit to help eradicate rabies and control the stray population by immunization and undertaking the ABC (Animal Birth Control) Program.
Delhi the Street Dog Foundation
Delhi the Street Dog Foundation was established in 2018 to address and combat the overwhelming stray street dog population in India. The Founder, Jessica Haltzman, was navigating a soul searching, solo-backpacking trip in New Delhi, India in 2017. While she was only hoping for a greater sense of self in her return home, she managed to not only find herself and her passion, but her forever best friend, Delhi the Street Dog.
Delhi the Street Dog Foundation provides safe passage and forever homes for Indian Street Dogs. By raising funds and by partnering with animal rescue organizations, Delhi the Street Dog Foundation covers transportation costs to street dogs from India to the United States where they can receive appropriate and safe care – and build an inseparable bond with their new family and community.
You can contact the organisation here: https://www.delhithestreetdogfoundation.org/contact
Selfless Diya's "Better Batter Bakes"
Diya Singh, a 10th grader from the Shri Ram School in Aravali, is turning heads with her dog-friendly initiative. Passion at any age is appreciated, and especially when the youth takes the lead for a good cause, fearlessly! Diya runs an initiative called "Better Batter Bakes" through which she helps numerous homeless dogs.
Speaking to The Wonk, the visionary schoolgirl said: "Throughout my childhood, my heart has gone out to animals and the way they need to fend for themselves, so I thought I should do something for them. I started the initiative "Better Batter Bakes" to use my passion for baking to help dogs. It aims to provide food to the street and orphaned dogs, I do this by selling home-baked goods like brownies and gluten-free ice cream. From the funds that are collected, I buy dog food and donate it to animal shelters like the Karma Animal Foundation."
Feeling motivated? What's your excuse?
Diya revealed that she started off by reaching out to the dogs around her colony, as the initiative grew its reach did too. Over time she has sold more than a staggering 800 boxes of brownies, supporting many dogs with food.
Meticulous rescuer: Anupam Mehta
Anupam Mehta, a common resident from Noida, has truly been an angel for stray dogs. Since the beginning of the COVID-19 lockdown, he has been running a campaign where he feeds 100-150 stray animals daily. Everyday he spends 3-4 hours providing food and aid to whom he refers as 'these beautiful creatures'. He ensures proper checkups and medical care for his furry friends. Anupam Mehta's #FeedTheStrays campaign is a boon for strays during this especially unfortunate situation. The COVID-19 pandemic has left many stray dogs unattended and starving.
Speaking to The Wonk, he said: "I'll do whatever I can to help them. My agenda is to ensure that every stray receives proper meals and that none should go hungry. In this journey, I've faced lots of problems, opposition but I've strived and fought everyone. However, to ensure that every stray is assisted, I'll require more help for my initiative and currently I'm facing difficulties to ensure that."
by Kunjan Ahluwalia
The problem with 'What I eat in a day' videos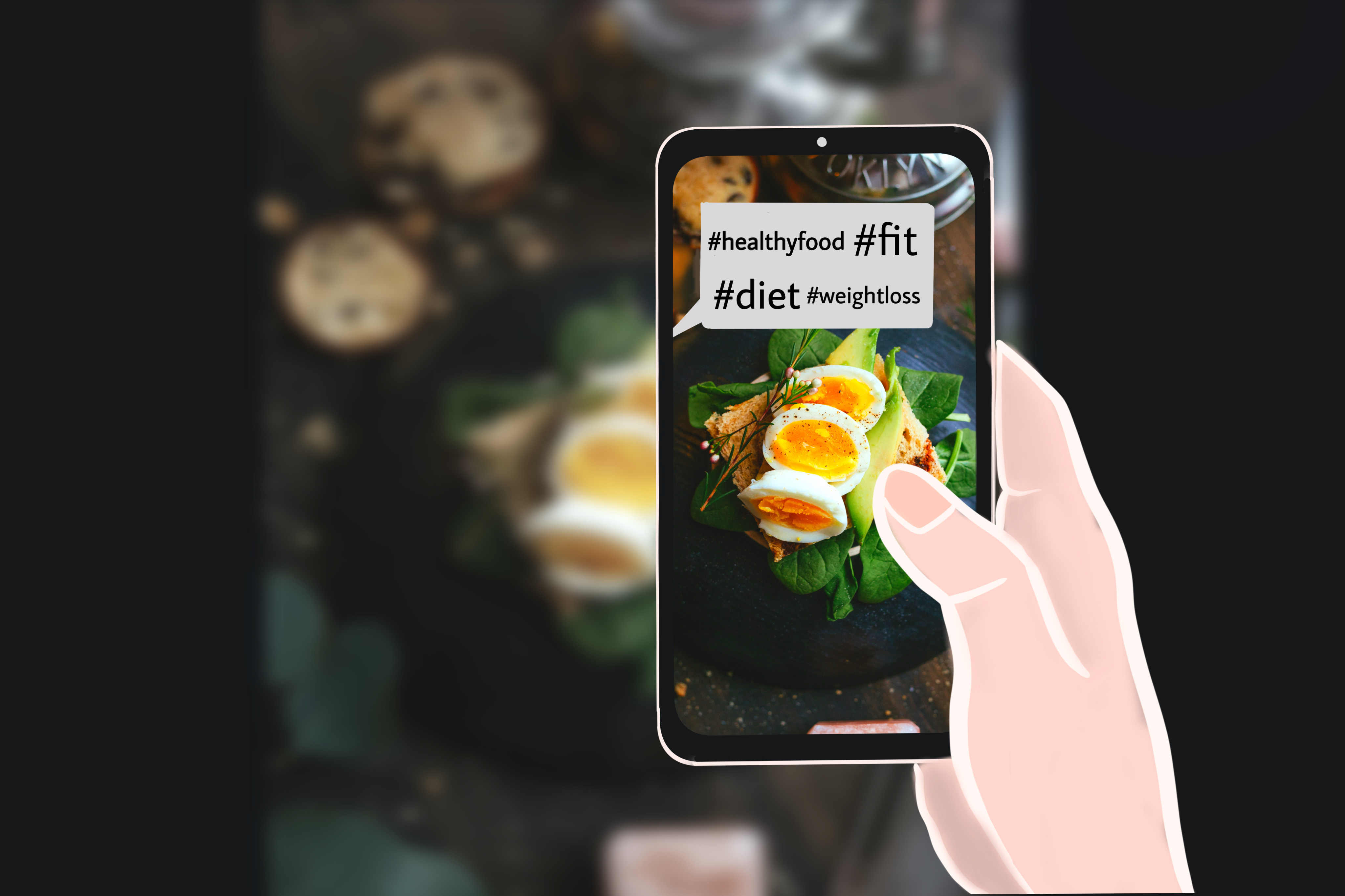 Exploring the harmful side of 'what I eat in a day' videos, with the pertinent question being – Is this content really healthy?
Let me start by asking a very simple question to you – What's 'what I eat in a day' videos for you? Let me guess – 'Doodh chodh do, dahi chodh do, ghee chodh do, atta chodh do, just don't eat anything' – at least, these videos on the face perpetuate this very idea of starving yourself to death if in any case, you want the so-called healthy, attractive or slim body. Right?
But you know what scares me the most – the idea that following a particular diet plan that just worked for a specific person will work for everyone on the planet. Honestly speaking, these trends in a sense are a bit problematic, why? Because most of us are now following a sedentary lifestyle with the lowest levels of physical activity, and watching these videos will give us the idea that following the same meal plan might help us achieve similar outcomes.
With every thumbs-up and thumbs-down on our screen, there's one thing common with these 'what I eat in a day' videos, and that's their thumbnails. Almost every time, I come across these videos online, the image of an extremely delicious-looking salad appears, but right next to it, there mostly appears an image of a woman wearing either a sports bra or a swimsuit making it just obvious that by eating this specific meal plan, you too are going to attain the same body structure.
Don't you think that meal plans are getting shared too much nowadays? Nonetheless, this craze of 'what I eat in a day' videos is hitting an all-time high in terms of its viewer tally.  However, some scroll down after watching these pseudo-professional nutrition tips without thinking of it much, but some on the other are obsessed with these videos and often fall for such diet plans which is alarming.
It is unquestionably true that today's generation is easily persuadable and which is why this leading 'what I eat in a day' content by many influencers and celebrities has increased the concerns of many health experts and nutritionists about its dangers as they believe that these videos made on misleading and incorrect information may encourage disordered eating which can lead to unfavourable outcomes. 
"I have seen a lot of celebrities, social media influencers and quacks post about such trends to engage their audience and influence them. Honestly, it's a wrong practice and misguides everyone. A large number of the young population receive inspiration from these videos which often leads to crash dieting and adverse health outcomes. Frankly speaking, there is no fixed meal or food that needs to be taken throughout the day, it keeps on changing and ultimately variety is needed. There has to be sustainability," said Margi Mankad, a Nutritionist based in Pune.
Most important! Differentiate between an Influencer & an Expert
"Just like brushing your teeth doesn't make you a dentist. Similarly, losing weight or having a healthy lifestyle does not make you a Nutritionist. This might sound weird, but it's true. Viewers need to understand that these meal plan videos will not only mislead them but will also not provide them with the benefits they are looking for. It's like blind leading the blind," said Aesha Mehta, Health Coach at GOQii technologies and Research assistant at Lilavati Hospital, Mumbai.
You will be misguided from your intention if you gain knowledge from unprofessional nutrition guidance. It is, therefore, important and necessary to have legitimate solid advice promoted by professionals as diet plans need to involve the right nutrition content and direction.
"What if a doctor prescribes a wrong medication to the patient? The patient will of course suffer and will have adverse health outcomes. Similar is the case with 'food'," Mankad said. "Incorrect practices may lead a person towards extreme weight-loss, being deficient in essential vitamins and minerals, and will ultimately decrease their quality of life."
Remember! Every 'body' is different, 'genes' have a role to play
It is important to note that these 'what I eat in a day' videos simply put out the message that following the same meal plan may lead any person to lose weight and can help them obtain the same physical appearance as that of the influencer. But the catch here is that these influencers or quacks not just conveniently forget about proper nutrition required by a human body but also discards the role of genetics in determining a person's weight loss journey.
"Sorry to burst your bubble, but weight loss also relies on genetics. Metabolism, presence of any hereditary or non-hereditary disease, family history, many such characteristics define a person's body weight and external appearance," said Vaidehi Apte, a food safety enthusiast and a postgraduate in Food Science from London Metropolitan University (UK).
 "It's good that celebrities and media influencers today are promoting health. But they should only be vocal about a healthy lifestyle, not a particular diet which is often showcased in 'what I eat in a day' videos." Further adding, she said, "It's high time that people should stop comparing themselves with a person who has a completely different body type and this is the very reason why one-on-one consultation from a professional is mandatory before experimenting with our beautiful bodies."
A complete deficiency of Body Positivity!
It is no secret that these 'what I eat in a day' videos are mostly posted by the influencers who possess the so-called 'standard or attractive body' which automatically makes the viewers compare themselves with those thin and small body sizes visible in the visuals.
Hardi Trivedi, a professional in Nutrition and Dietetics said, "These videos often portray the fact that the ultimate achievement of a healthy body is being thin. Most people believe that since their favourite influencer or a particular celebrity is following a certain diet, they can do it too and obtain similar results. But that's not the case. She also said, "In this whole process of looking attractive, we are losing ourselves and have stopped appreciating who we actually are."
Not just the viewers! It affects the creators too
Negative feedback and comments are a part of social media and therefore, sometimes it can relatively act toxic as well. Some people look at things with different glasses which can lead to negativity for some. The same is the case for social media.
"Non-stop negative feedback and comments about the creator's appearance, body or any personal aspect can lead to a drop in confidence. This can even make them become the victims of suicidal thoughts and severe depression," Trivedi added.
It is sometimes possible that instead of gaining likes, comments and praises for the content shared on social media platforms, the creator might even get trolled which can further hamper the mental health of the creator itself affecting their confidence leading them to depression, anxiety, disturbed mental health.
Therefore, various health experts and nutritionists warn against such social media trends as the visuals present in the videos often mislead people. It is not possible to end this trend at once, but proper knowledge and awareness of facts may help us cope with this catfishing.