A fanatic obsession with one wing of thought or expression is detrimental for other notions to find their locus-standi.
India is a Cricket-loving nation and has been once since time immemorial. The land of agriculture finally got its glorified version of gilli-danda when the British Sailors set their course towards India in the 18th century. Since then, India has never looked back and has enjoyed tremendous success both domestically and internationally. Having set up stupendous milestones in the sport, the Indian Cricket Board, BCCI, has even superseded the International Cricket Council, in terms of worth and financial play. Indian Cricket has further produced many superstars of the game, which are no less than Gods for the Indian Public. However, this unidirectional growth and unilateral development have only fuelled the pockets of agencies associated with Cricket. The over-involvement of Indians with cricket has never let other sports grow at a similar pace and scale. Even the course of Women Cricket is also a lukewarm tea for Indian watchers and hence no populous media coverage and satellite rights are awarded to Women Cricket, keeping it just sufficiently afloat.
Beyond Cricket
In this time and age, where even mobile games are considered as E-sports and have their own sets of enthusiasts and fanciers, organizing and participating in virtual tournaments, Cricket cannot stay as the epicenter of Indian Sports. The management, organizing committees, students of sports, and most importantly, Indian sports watchers need to look past the Cricket-lens and open their arms for sports beyond Cricket to thrive in the Indian circuit. It is not just the investing agencies and handling committees who should be blamed for the misfortune of other sports. It is the people of India who have given Step-Motherly treatment to our national game – Hockey or forced many athletes to sell their Olympic medals and carry out menial jobs. Upliftment or improvement, be it cinema, politics or sports is a Quid-pro-Quo game. If people are not interested in watching a certain sport, then the cause of private investors and government bodies to whole-heartedly invest in the sport would simply cease and vice-versa.
With the new blood of millennials looking for options beyond cricket even just for the sake of virality, shores for other sports have opened. Beginning with the commercialized Kabaddi league and domestic soccer leagues, the satellite viewership and even the number of stadium spectators have grown. 2016 marked a significant year with respect to non-cricket sports as it observed a sharp rise in Kabaddi sponsorship alone. But how is it that Cricket, a widely known and accessible market with domestic leagues running beyond a decade and housing international brands, is no longer a go-to option for the market to captivate the audience? Is the population's hunger for virality in viewership sports the only reason for the growth in non-cricket sports or is there something more?
Non-Cricket Sports – A new chapter in Indian Sports
The sheer need for virality cannot be the only reason for non-cricket sports to stem up. India has always been a cricket-loving nation and that sentiment is intact at its core. But it would not be wrong to state that there has been an evident paradigm shift in viewership taste, brands and sponsorers approach, and even State recognitions. According to the data published by Broadcast Audience Research Council, BARC, in 2018, though cricket was the most watched sport in the country, football has gained popularity with a 50 percent rise in viewership. Regional channels have further facilitated the reach of non-cricket sports to a wider audience. FIFA World Cup 2018 was aired in Malayalam and Bangla, giving it a major surge in the football-loving linguistic states. Furthermore, it has also been the surge of digital games especially FIFA, that has encouraged youngsters to dwell more into the sport whilst enjoying the immersive experience.
The overdose of cricket has also tested the patience of the public. IPL which is fairly one of the most celebrated domestic cricket leagues in the world, also irked the audience when it ran for almost 3 months in its last edition. However, it is just not the audience and sports enthusiasts that were tested. Each year with the new IPL edition around the corner, the tournament challenges brands to push the envelope. Slogans are changed, the packaging is revised; the need to create an overall new identity never ends. Whilst the core of IPL always strives to give the feeling of being one with all of India with its ever-changing slogans and taglines, it's ultimately the game and its long schedule that inadvertently becomes too much to bear.
Cricket naturally triggers a visceral attachment for Indians, and sports like kabaddi, football, and wrestling comes with a more local, rural, and community feel. Cricket being a mass sport disguisedly invites brands and sponsors to move over to localized sports to advertise their products on. For instance, a brand that sells ghee would naturally prefer a more local sport instead of a mass sport to fix its banners on. Retrospectively, it would also sit well with the viewers to have a bulked-up wrestler have a generous amount of ghee instead of a lean cricketer. Furthermore, sports like Kabaddi, an Indian-homed and nurtured sport that has conducted international world cups on Indian soil, facilitate a different kind of connection to the rural side of the country. People in rural areas may fancy a glamorous Virat Kohli hitting an absolutely scintillating cover drive, but they surely would worship a different kind of athleticism – raw, earthy, and contrastingly opposite to 'cosmopolitan'. Rural backing to a sport and players is a significant aspect and is one of the many reasons that it catapulted, MS Dhoni, a nobody from Ranchi to superstardom as a large sect of people in India found him more relative.
Social media has further added another platform for non-cricket players to amplify their stories and incidents and give their admirers a chance to see a humane side of them beyond sports. CRED, a credit card bill payment platform, immediately captured the glory of Olympic Medal- winner Neeraj Chopra and made a popular ad that was widely well received. People got to see a more funny, humane, and relatable side of the player that aided CRED as well as the player in great reception from the public.
 Conclusion
Non-cricket sports are still a tough nut to crack. Numerous instances depict that a sport other than cricket is only celebrated when a player wins a medal or if the country wins. Instances where Para-athletics were not provided with shabby flats and dysfunctional toilets at the 15th National Para-Athletic Championships, or numerous bronze medal players selling their laurels and working as domestic helps for their bread and butter, hurts the conscience and raise critical questions against the management. Broadcasters and brads are yet not completely 'in it to win it' mode. But the experimental phase of non-cricket sports is critical for the growth of India in sports in its entirety.
Why Olaf Scholz, Chancellor of Germany, is sending a message of Independence by visiting China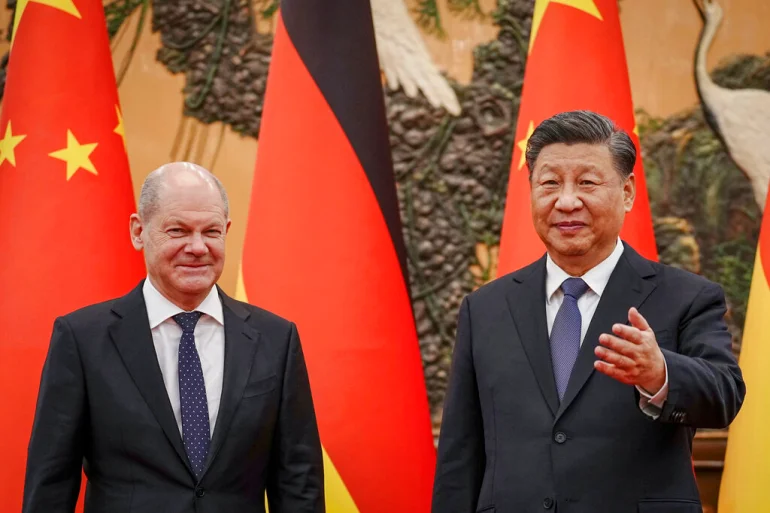 German Chancellor Olaf Scholz was the first G7 head of state to visit China since the outbreak. After the public health crisis, the world changed. The relationship between China and Germany seems to be returning to normal. Since Xi Jinping was re-crowned as the General Secretary of the Communist Party of China, Scholz is the first prominent European figure to visit China.
Nguyen PhuTrong, the head of the Vietnamese Communist Party, Shehbaz Sharif, and Samia Hassan, the president of Tanzania, arrived in Beijing before Scholz. Given that China's relations with Europe have deteriorated due to Uyghur human rights in Xinjiang and Chinese support for Russia in the Ukraine conflict, the Scholz visit last week was positive for Beijing.
Germany's biggest European economy will be even more reliant on China in the first quarter of 2022. During this time, Germany invested €10 billion in China. The amount of bilateral commerce increased by 0.9% to $173.57 billion. Imports from Germany are up 54%. The medium-term ambitions of Germany are in jeopardy due to its 1.9% growth rate.
German investment in China grew by 30% in 2022 despite the Ukraine crisis and criticism of China. A €69.5 billion railway project connecting Tianjin, in North China, and Beijing Daxing International Airport is being financed by KfW (the German state-owned development and investment bank), BASF, Hella, and Robert Bosch. For a total of $17 billion, China is purchasing 140 Airbus planes. Costco, a Chinese shipping business, was permitted to invest in Germany's busiest port, Hamburg, prior to the visit, but with a smaller share. Additionally, the arrival of Scholz coincided with polarization and deteriorating US-China ties. Due to the Ukraine conflict, Germany soon adopted a similar strategy to the US, breaking its contact with Russia.
It maintains caution regarding China because its economic interests are crucial. Scholz met with PM Modi in Berlin after starting his Asia strategy with a visit to Japan rather than China. Germany's foreign policy did not give China top priority, but it is nevertheless significant. It looks inconvenient that the visit comes right after the CCP's 20th National Congress.
Germany confronting China alone has angered Europe. Germany rejected the joint Scholz-Macron visit. The visit by Scholz and a corporate delegation demonstrates a duplication of Angela Merkel's approach. German businesses, which are already suffering from the epidemic, the energy crisis, and the break from Russia, according to the ruling SPD, cannot afford to decouple from China. The German Foreign Ministry criticizes China's human rights record and is developing a new China strategy to counter the systemic rivalry that the EU anticipated.
The Scholz visit revealed strategic independence in Germany. When viewed from the perspective of German relations with Russia, the same autonomy is apparent.
If Germany sways away for its own reasons, how will it continue to lead Europe? Scholz needed to pull many savvy rabbits out of his Beijing visit if he wanted to position Germany and potentially Europe as independent players in the inevitable US-China polarization.
Scholz provided background information for his visit in an opinion piece that was published in the FAZ the day before. Since Merkel's most recent trip to China in 2019, he admitted that the world had undergone significant upheaval. It was crucial to have a face-to-face meeting with Xi in order to address the world's unresolved problems, not because he intended to carry on as normal. China had seen a major upheaval. The German approach had to adapt as well because China had changed.
Additionally, the world had changed. Russia posed a menace that needed Chinese assistance to counter. China was reminded of its unique duty to uphold the UN Charter's ideals and exert influence over Russia as a permanent member of the UN Security Council. This is similar to what China claims about Russia in its Global Security Initiative, which it has yet to put into action. Scholz talked about the necessity of increasing Germany's partnerships and the multipolarity of the world.
Berlin works with various partners because he does not want to see blocs reemerge. China shouldn't be left alone, and a Chinese-dominated world system cannot be cozy. Germany and Europe continue to value China as a trading partner. Berlin didn't want to cut its ties with it. With China, Germany would want more parity and economic diversification. When it came to rare earth, cutting-edge technologies, or raw resources, "risky dependencies" had grown. German enterprises were developing different supply chains. China and Germany will now look for a differentiated basis for trade and investment. Instead of "protectionism and withdrawal," Germany prefers diversity and strengthening.
Scholz's fourth goal was that the disparities between China and Germany, notably those involving political and civil rights, including in Xinjiang, could not be overlooked. Scholz stated that while Germany adheres to the One-China policy, any change to Taiwan's status must be peaceful and reached via mutual consent.
Germany's China policy, according to Scholz, will be effective if it is in line with European policy. In his opinion, there were various areas where China should have a role, including dealing with the G 20, the SDGs, and other things. Before his visit, he consulted with the EU, French President Macron, and the US.
The Chinese readout supports the majority of what Scholz claimed. To preserve Germany's strategic autonomy, Xi is courting it. Despite Scholz's concerns, it stated that "there should be no self-imposed constraints or unrealistic expectations" and publicly disregarded the Taiwan and Xinjiang issues.
This visit is significant because Germany has again demonstrated its desire for strategic independence from the US. Before the Ukraine crisis, which caused them all to flee in the wake of NATO and US leadership, the German coalition and other German and European nations had this as their top priority. Europe is suffering from sanctions and a diminished energy supply due to the standoff in the Ukraine conflict. Despite resistance from within Germany and outside Europe, Germany appears prepared to continue its relationship with China. It must protect its economic growth against the ravages of conflict.