Second in line for the US presidency, Nancy Pelosi's prospective vacation plans had already sparked a domestic political controversy and a ruckus in international policy before she even touched down on the democratic island.
On Pelosi's schedule, everyone from President Joe Biden to former members of the Trump administration to the Kremlin has voiced their opinions. Antagonized by the fact that a high-ranking American official intended to visit the neighbouring island that Beijing claims as its own, China quickly started issuing threats. China conducted military exercises, including the firing of missiles and other live-fire training, in the waters near Taiwan on Thursday as a show of might. The manoeuvres, which according to experts seem to envelop Taiwan and simulate a Chinese invasion of the island, will last for four days, according to the Chinese authorities.
Pelosi travelled to Taiwan with a group of five House Democrats, where they met with President Tsai Ing-wen and other officials. Pelosi stated in a Washington Post op-ed that "our congressional delegation's visit should be perceived as an unequivocal declaration that America stands with Taiwan, our democratic partner, as it protects itself and its freedom."
The now-completed visit—the first by a sitting House speaker in 25 years—raises fresh interest in the delicate juggle the US maintains on Taiwan's status. It's a nuanced diplomatic approach that aims to improve relations with China while simultaneously defending Taiwan against Chinese aggression. The US has concentrated its efforts on containing China's influence globally in response to its swift economic and military development.
Because of this, there is now hazardous competition between the two nuclear-armed nations, and even travelling overseas can have strategic repercussions.
Members of Congress routinely travel to hotspots abroad; for instance, just last week, House Armed Services Committee Chair Adam Smith (D-WA) led a delegation of congressmen to Ukraine. The last time a candidate for the US presidency visited Taiwan was when Republican Rep. Newt Gingrich was the speaker in 1997. But the relationship with China has gotten worse since the 1990s, in addition to Pelosi being a prominent member of the same party as Biden. China has adamantly threatened "serious actions" against Taiwan in response to Pelosi's visit and has expressed grave reservations to the White House over the trip. Chinese warplanes flew along the line dividing the Taiwan Strait on Tuesday before Pelosi arrived.
The timing of the trip may be a large part of the unease in Washington and Beijing. The 20th congress of the Chinese Communist Party will take place this fall. This important event is held every five years, and it is anticipated that Xi Jinping will be elected to an unprecedented third term as party leader. He'll probably talk about Taiwan at the conference at a time when analysts compare China's desire to dominate Taiwan to Russia's invasion of Ukraine. (Many people are curious about the lessons China is learning from Vladimir Putin's ruthless adventurism and the West's response.) Last week, Biden and Xi spoke over the phone for two hours to improve US-China relations.
Lev Nachman, a scholar at the Harvard Fairbank Center for China Studies, told me last week that there are terrible timings and worse timings, and this is unquestionably the latter. It is feared that Pelosi's resignation might be the straw that breaks the camel's back.
China often irritates Taiwan with military exercises, but this week's live-fire drills are very near to the island's coastline and are the closest in 25 years. However, there might be something far more offensive. China makes a big deal out of virtually every congressional delegation and every arms transfer that goes through to Taiwan, Nachman claimed. "The concern is: Will that be like, you know, the same shtick they always give us when China says they're going to do something in retaliation? Otherwise, will there be something more?
The goal of House Speaker Nancy Pelosi's trip to Asia was to emphasise the US's "strong and unwavering" commitment to the area. Many nations were left speechless in shock as China carried out unprecedented military exercises near Taiwan.
Days, after she returned to Washington, the shockwaves from the highest-level US visit to Taiwan in a quarter-century, are still echoing throughout the region. Days after firing missiles that most likely flew over Taipei and into waters Japan claims as its exclusive economic zone, China's military has continued training exercises meant to demonstrate its ability to encircle the island and cut off the Taiwan Strait, one of the busiest trade routes in the world.
Such a spectacle would typically lead to considerable criticism of China on its own. However, many governments viewed Pelosi's visit as going too far, and they don't want to get drawn into the controversy. While other security partners in the region remained silent, longtime allies Japan and Australia joined the US in denouncing China's response. Members of the Association of Southeast Asian Nations hurried to reiterate that they only recognise One China after South Korea's leader snubbed Pelosi following the visit, India remained silent, and this is the basic framework Beijing demands diplomatic relations, though interpretations vary across nations.
According to Shahriman Lockman, a director at the Institute of Strategic and International Studies in Malaysia, "most Southeast Asian countries will perceive the United States as having prompted China's entirely inevitable overreaction." "The takeaway for ASEAN members is that you must always hedge your bets. Whose actions might trigger the next crisis in US-China ties is impossible to predict.
Since entering office, President Joe Biden has worked to forge a wide alliance in Asia to oppose Chinese expansionism, in part by reassuring smaller economies that they do not need to choose sides. In stark contrast, the Trump administration pushed the region's nations to impose sanctions on Huawei Technologies Co. and take other actions that would compel them to choose between the two largest economies in the world. The strategy was exemplified by the Indo-Pacific Economic Framework, which Biden presented while travelling to South Korea in May. Although China was left out of the IPEF launch, the US was able to enlist seven Southeast Asian nations as well as Fiji by adamantly stating that it was open to Beijing and excluding Taiwan, even as the administration started parallel trade negotiations with the government of the island.
Despite falling short of the comprehensive trade agreement many in the area hoped for, those broader negotiations signalled a stronger US leadership presence in Asia to confront China in a way that was agreeable to countries that depend on close commercial relations with Beijing to grow their economies. They also praised other US counter-Chinese efforts, such as a drive for closer cooperation in commerce, public health, and cybersecurity, as well as the introduction of an alternative to President Xi Jinping's Belt and Road infrastructure expenditures.
However, Pelosi's visit abruptly forced Asia to take a position on China's most delicate subject after months of trying to make it easy for nations to support the US. However, a lot of governments simply hid their faces.
May Fourth Movement at Tiananmen Square- China's Awakening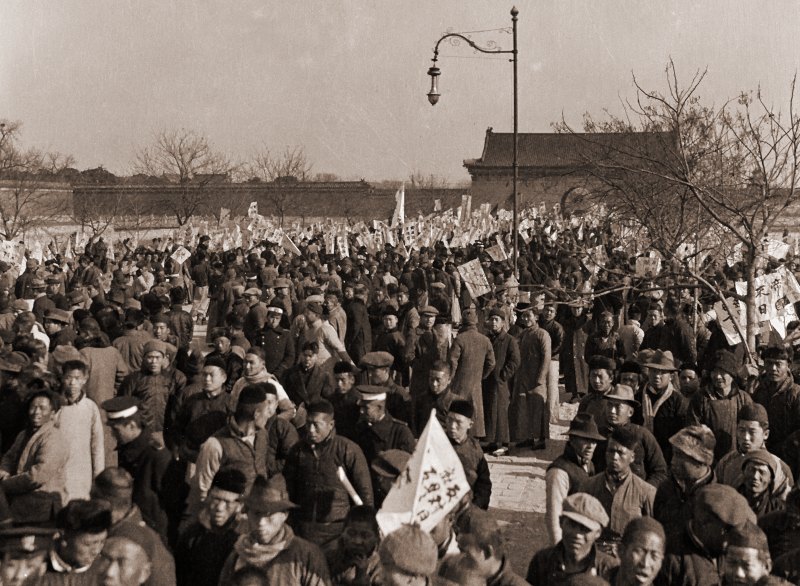 Early in the 20th century, China had a significant socio-political and intellectual movement known as the May 4th Movement, often called the New Culture Movement. It gained support from a wide range of intellectuals, laborers, and business people as it migrated from Beijing to other significant Chinese cities with demands to abandon ancient Confucian principles and to adopt the Western ideals of democracy, freedom, and equality instead. 
While aiming to imbibe the modern thought, these protesters demanded that foreign imperialism be ceased and control be given back to the Chinese. By challenging long-standing conventions and paving the way for a more progressive and open society, this Movement had a significant impact on Chinese intellectual and cultural history.
What Happened on May 4th 1919? 
On May 4, 1919 Chinese students started a series of demonstrations in Beijing, notably in Tiananmen Square. They took to the streets to protest and express their dissatisfaction with the government. Gradually this movement spread to parts of Shanghai and Guangzhou, making it a large-scale student protest. 
What was the Reason of the Student Protest on May 4, 1919?  
First, The Treaty of Versailles & Shandong Problem – The discussion of the Treaty caused much resentment over how China was being treated during the post-World War I by Western powers, especially with regards to Shandong. The German concessions in Shandong were not returned to China but instead were given to Japan. Intellectuals and students in China therefore could not help but be patriotic and anti-imperialist.
Second, existing sociocultural problems in the Chinese society – Disillusionment with traditional Chinese culture and values were growing among Chinese intellectuals and students. Discontentment with existing and belief on the new concepts and philosophies, especially those acquired from the West, were sought to replace these established principles. Thus, fostering science, democracy, and individuality became very important.
What Made May Fourth Movement so Successful?
The Movement's ability to win widespread support from various facets of society was one of the main factors in its success.

Unlike any previous protests in China, the

May 4

Movement

was organised and led by students and intellectuals. They planned gatherings, marches, demonstrations, printed newspapers, and pamphlets to disseminate their views and unite participants. It was this initiative that attracted more people to join, including workers, business people and warlords. This increased the movement's power, and the government was pressured to respond to its demands thanks to this wide-ranging support.
Utilizing new media and communication channels effectively was another key.

Students published their ideas through newspapers, journals, and speeches to get support from the public. They also built relationships with activists and intellectuals who shared their views in other places, which helped the cause extend outside of Beijing. The Movement was able to unite thanks to these communication tactics and develop a sense of a common goal.
The next reason of the movement's success can be traced to its appealing and distinct goals

. The Movement had a clearly stated mission, which included calls for democracy, the democratization of China, and the nation's revitalization. A sizeable segment of the populace, demanding modernization and reform in the face of foreign dominance, identified with these goals.
The Movement also capitalized on a potent anti-imperialist and sense of national pride.

The 'Shandong Problem' that was viewed as a violation of Chinese interests in the Treaty of Versailles sparked a strong sense of fury and served as the Movement's unifying cause. The participants shared rage against foreign imperialism, and the need for national self-determination was a potent unifying force.
What was the May Fourth Movement Significance & Impact on Post World War 1 China?
The success of the May 4th Movement left a long-lasting influence on Chinese politics and society. The movement produced an intellectual and cultural awakening that significantly changed Chinese values and thought. Some major political and social reforms in China that are still cherished and recognised as attributes to the May 4 movement are-
Anti-Imperialist and anti-Warlord Feelings: The Movement stoked a genuine anti-imperialist feeling among the Chinese. It stepped up the fight against foreign meddling and prepared the way for the eventual downfall of imperial control. The Movement also helped reduce the influence of warlords by exposing their corruption and incompetence, further damaging their reputation among the populace.
Founding of Communist Party in 1921: The Chinese Communist Party (CCP) was established mainly due to the May 4th Movement. Many academics and students identified with the Movement's emphasis on social justice, anti-imperialism, and the empowerment of the working class. Therefore, this Movement offered a favourable environment for the propagation of communist doctrine, resulting in the CCP's founding in 1921. The party would later be crucial in determining the course of China's development.
Anti-Japanese Sentiments: The Movement also stoked prejudice towards the Japanese, which is still present today. The Movement's hostility to the Treaty of Versailles's unfair treatment of China, particularly the transfer of German concessions in Shandong to Japan, strengthened a sense of national outrage towards that country. This attitude was the impetus for later resistance to Japanese aggression, culminating in the Sino-Japanese War (1937–1945), and the present that hate that since liberation was kept alive by CCP leaders especially Mao Zedong and Xi Jinping. 
Large-scale but not widely supported – Controversies & Criticisms of May 4th Movement
Despite its enormous support and influence, the May 4th Movement came under fire from 
several groups, notably Chinese Muslim Community and Kuomintang (KMT) – affiliated nationalists. 
The Chinese Muslims & ethnic groups were concerned about the Movement's emphasis on Westernisation and rejection of traditional values, most notably by people in Northwest China. They felt that the calls for a secular society and the adoption of modern ideas were in opposition to Islamic doctrine and cultural norms. Chinese Muslims saw the Movement as a potential danger to their identity and way of life since they connected so closely with their religious and cultural history. They were concerned that the emphasis on Westernisation might undermine their Islamic principles and push their communities to the margins.
The KMT Nationalists under the leadership of Chiang Kai-shek criticized the Movement's extremism and connection to communist philosophy. Chiang and other KMT members thought the Movement's focus on the class struggle and worker emancipation would erode social stability and impede national unity. They said that the Movement's emphasis on urban intellectuals ignored the requirements and ambitions of the rural masses, who comprised most Chinese citizens. As a danger to Chinese culture and social order, the KMT also criticized the Movement's rejection of traditional Confucian principles.
A revolution is not a dinner party, or writing an essay, or painting a picture, or doing embroidery; it cannot be so refined, so leisurely and gentle, so temperate, kind, courteous, restrained and magnanimous. A revolution is an insurrection, an act of violence by which one class overthrows another.

– Mao Zedong
Despite the criticism, it is essential to note that the May 4th Movement it must be accepted that the Chinese history underwent significant change during this Movement. It brought about substantial political, social, and cultural transformations that influenced the development of contemporary China. The Movement's legacy still impacts Chinese society today and represents youth activism, pride in one's country, and the desire for social change.