Second in line for the US presidency, Nancy Pelosi's prospective vacation plans had already sparked a domestic political controversy and a ruckus in international policy before she even touched down on the democratic island.
On Pelosi's schedule, everyone from President Joe Biden to former members of the Trump administration to the Kremlin has voiced their opinions. Antagonized by the fact that a high-ranking American official intended to visit the neighbouring island that Beijing claims as its own, China quickly started issuing threats. China conducted military exercises, including the firing of missiles and other live-fire training, in the waters near Taiwan on Thursday as a show of might. The manoeuvres, which according to experts seem to envelop Taiwan and simulate a Chinese invasion of the island, will last for four days, according to the Chinese authorities.
Pelosi travelled to Taiwan with a group of five House Democrats, where they met with President Tsai Ing-wen and other officials. Pelosi stated in a Washington Post op-ed that "our congressional delegation's visit should be perceived as an unequivocal declaration that America stands with Taiwan, our democratic partner, as it protects itself and its freedom."
The now-completed visit—the first by a sitting House speaker in 25 years—raises fresh interest in the delicate juggle the US maintains on Taiwan's status. It's a nuanced diplomatic approach that aims to improve relations with China while simultaneously defending Taiwan against Chinese aggression. The US has concentrated its efforts on containing China's influence globally in response to its swift economic and military development.
Because of this, there is now hazardous competition between the two nuclear-armed nations, and even travelling overseas can have strategic repercussions.
Members of Congress routinely travel to hotspots abroad; for instance, just last week, House Armed Services Committee Chair Adam Smith (D-WA) led a delegation of congressmen to Ukraine. The last time a candidate for the US presidency visited Taiwan was when Republican Rep. Newt Gingrich was the speaker in 1997. But the relationship with China has gotten worse since the 1990s, in addition to Pelosi being a prominent member of the same party as Biden. China has adamantly threatened "serious actions" against Taiwan in response to Pelosi's visit and has expressed grave reservations to the White House over the trip. Chinese warplanes flew along the line dividing the Taiwan Strait on Tuesday before Pelosi arrived.
The timing of the trip may be a large part of the unease in Washington and Beijing. The 20th congress of the Chinese Communist Party will take place this fall. This important event is held every five years, and it is anticipated that Xi Jinping will be elected to an unprecedented third term as party leader. He'll probably talk about Taiwan at the conference at a time when analysts compare China's desire to dominate Taiwan to Russia's invasion of Ukraine. (Many people are curious about the lessons China is learning from Vladimir Putin's ruthless adventurism and the West's response.) Last week, Biden and Xi spoke over the phone for two hours to improve US-China relations.
Lev Nachman, a scholar at the Harvard Fairbank Center for China Studies, told me last week that there are terrible timings and worse timings, and this is unquestionably the latter. It is feared that Pelosi's resignation might be the straw that breaks the camel's back.
China often irritates Taiwan with military exercises, but this week's live-fire drills are very near to the island's coastline and are the closest in 25 years. However, there might be something far more offensive. China makes a big deal out of virtually every congressional delegation and every arms transfer that goes through to Taiwan, Nachman claimed. "The concern is: Will that be like, you know, the same shtick they always give us when China says they're going to do something in retaliation? Otherwise, will there be something more?
The goal of House Speaker Nancy Pelosi's trip to Asia was to emphasise the US's "strong and unwavering" commitment to the area. Many nations were left speechless in shock as China carried out unprecedented military exercises near Taiwan.
Days, after she returned to Washington, the shockwaves from the highest-level US visit to Taiwan in a quarter-century, are still echoing throughout the region. Days after firing missiles that most likely flew over Taipei and into waters Japan claims as its exclusive economic zone, China's military has continued training exercises meant to demonstrate its ability to encircle the island and cut off the Taiwan Strait, one of the busiest trade routes in the world.
Such a spectacle would typically lead to considerable criticism of China on its own. However, many governments viewed Pelosi's visit as going too far, and they don't want to get drawn into the controversy. While other security partners in the region remained silent, longtime allies Japan and Australia joined the US in denouncing China's response. Members of the Association of Southeast Asian Nations hurried to reiterate that they only recognise One China after South Korea's leader snubbed Pelosi following the visit, India remained silent, and this is the basic framework Beijing demands diplomatic relations, though interpretations vary across nations.
According to Shahriman Lockman, a director at the Institute of Strategic and International Studies in Malaysia, "most Southeast Asian countries will perceive the United States as having prompted China's entirely inevitable overreaction." "The takeaway for ASEAN members is that you must always hedge your bets. Whose actions might trigger the next crisis in US-China ties is impossible to predict.
Since entering office, President Joe Biden has worked to forge a wide alliance in Asia to oppose Chinese expansionism, in part by reassuring smaller economies that they do not need to choose sides. In stark contrast, the Trump administration pushed the region's nations to impose sanctions on Huawei Technologies Co. and take other actions that would compel them to choose between the two largest economies in the world. The strategy was exemplified by the Indo-Pacific Economic Framework, which Biden presented while travelling to South Korea in May. Although China was left out of the IPEF launch, the US was able to enlist seven Southeast Asian nations as well as Fiji by adamantly stating that it was open to Beijing and excluding Taiwan, even as the administration started parallel trade negotiations with the government of the island.
Despite falling short of the comprehensive trade agreement many in the area hoped for, those broader negotiations signalled a stronger US leadership presence in Asia to confront China in a way that was agreeable to countries that depend on close commercial relations with Beijing to grow their economies. They also praised other US counter-Chinese efforts, such as a drive for closer cooperation in commerce, public health, and cybersecurity, as well as the introduction of an alternative to President Xi Jinping's Belt and Road infrastructure expenditures.
However, Pelosi's visit abruptly forced Asia to take a position on China's most delicate subject after months of trying to make it easy for nations to support the US. However, a lot of governments simply hid their faces.
Brutal Assault on the Brazilian Government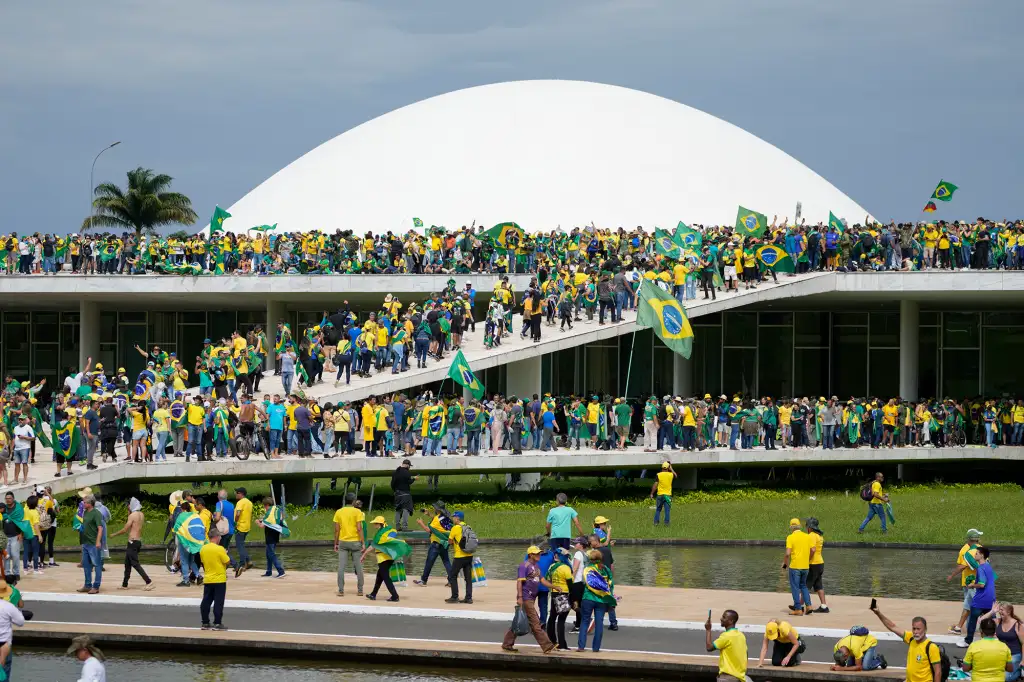 Many believed that thousands of Jair Bolsonaro's followers assaulted Congress, the presidential mansion, and the highest court in Brasilia on Sunday to start a military coup. Since President LuizInácio Lula da Silva triumphed in a closely fought runoff election on October 30, many Bolsonaro supporters have pleaded with the military to intervene. After a divisive campaign highlighting the country's bitter divisions, it was the most significant attack on Brazil's key institutions since the end of a military dictatorship and the return to democracy in the 1980s. Here is what you need to know about brutal assault on the Brazilian government.
Why was the election such a spectacular event:
This election was so dramatic because it depicted two enormous characters representing opposites in politics. Leftist Lula, a former labor union leader, is admired by those who credit him with putting policies in place that lifted millions out of poverty during his two terms in power from 2003 to 2011, but despised by those who see him as a symbol of corruption. In 2017, he was found guilty of corruption and money laundering and was given a nearly 10-year prison term. He was a 77-year-old cancer survivor who was released in 2019 following the adoption of a new detention policy by the Supreme Court. The Court later overturned his conviction on procedural grounds in 2021. Former army captain Bolsonaro, 67, has been hospitalized several times since being stabbed while campaigning in 2018. His supporters view him as a defender of traditional family values and a campaigner against corruption, which are crucial campaign issues in a predominantly conservative country. The president's opponents have referred to him as a far-right authoritarian and said he has promoted sexism, racism, and homophobia.
How did the vote count turn out:
Lula won the runoff election by a razor-thin margin of 51% to 49% over Bolsonaro. He entered office on January 1 with the promise of uniting a nation whose divides had, if anything, grown worse throughout the campaign. On the day Lula was validated, Bolsonaro supporters set fire to vehicles in the city's downtown area, and in late December, a device was discovered in a fuel truck close to the airport.
Why were Bolsonaro's followers calling for military action
Bolsonaro's supporters want the military to intervene because, during the election campaign last year, Bolsonaro and his allies spread a significant amount of false information and made snide remarks about the political process. When the country's long-established electronic voting system was attacked with unsubstantiated accusations by the then-president, his supporters began to question the validity of the results. Conflicts with the country's courts arose as a result. Even though his followers organized sizable rallies and spread conspiracies, Bolsonaro waited two days after the runoff to make an unclear speech and has never publicly admitted defeat.
After the election, What did his followers do:
In the days following the election, trucks were used to block roadways all around the nation before being removed on a court order. Then, in anticipation of a military intervention they believed Bolsonaro, who frequently talked favorably of Brazil's previous dictatorship, had hinted at in his rallies, crowds of supporters started to amass outside army headquarters across the nation. Even when Lula assumed power, hundreds still camped outside the bases.
What transpired in Brazil:
In Brasilia, On January 8, tens of thousands of rioters assaulted Congress, the presidential palace, and the Supreme Court, leaving a path of devastation with many clad in Brazilian flags or sporting the yellow and green national jersey. Historic structures were defaced, while journalists and police officers came under attack. The palaces' windows were broken by furniture being hurled through them. The doors to the closet where Judge Moraes' robes were stored were pulled off, and the justice's chairs in the highest court were thrown around. Videos online showed the vandals carrying the piece of wood bearing the justice's name as if it were a trophy. Several works of art were torn or scratched, including the well-known 20th-century painter Di Cavalcanti's painting Asmulatas.
What were people's responses to the attack:
Members of the military police began removing the rioters from the buildings after they had been free to wander for around three hours. It took another four hours for the attackers to leave the area. While in Sao Paulo to assess the effects of the recent torrential rains, Lula delivered an enraged address in which he demanded immediate intervention in the Federal District government. He accused Bolsanaro of being the reason for the disturbance and pledged to punish anyone who took part or helped finance it. After clearing the premises of the rioters, Bolsonaro denounced the "depredations and invasions of public facilities, but claimed that the incident was comparable to acts done by the left in 2013 and 2017. Both of those years saw sizable but significantly less violent public demonstrations. Bolsonaro denied Lula's accusation that he was complicit. Moraes also ordered the removal of the encampments in front of the army headquarters, which resulted in around 1,500 arrests, and suspended the Bolsonaro-supporting governor of the Federal District for 90 days at the same time.
Numerous inquiries started practically right away, and more are currently being explored. The Federal District's civil police kept track of the several people detained following the riot. The federal police and the federal highway police are looking into who may have helped Bolsonaro's supporters set up camp in front of the army headquarters for such a long time, as well as the funding of the buses that transported rioters from other states to Brasilia. To receive information about people accountable for the turmoil on January 8, the Ministry of Justice set up a dedicated email account. The municipal and federal governments are conducting internal investigations to look into potential collusion between the security officers and the vandals. It's being discussed to launch a congressional investigation in February.