Second in line for the US presidency, Nancy Pelosi's prospective vacation plans had already sparked a domestic political controversy and a ruckus in international policy before she even touched down on the democratic island.
On Pelosi's schedule, everyone from President Joe Biden to former members of the Trump administration to the Kremlin has voiced their opinions. Antagonized by the fact that a high-ranking American official intended to visit the neighbouring island that Beijing claims as its own, China quickly started issuing threats. China conducted military exercises, including the firing of missiles and other live-fire training, in the waters near Taiwan on Thursday as a show of might. The manoeuvres, which according to experts seem to envelop Taiwan and simulate a Chinese invasion of the island, will last for four days, according to the Chinese authorities.
Pelosi travelled to Taiwan with a group of five House Democrats, where they met with President Tsai Ing-wen and other officials. Pelosi stated in a Washington Post op-ed that "our congressional delegation's visit should be perceived as an unequivocal declaration that America stands with Taiwan, our democratic partner, as it protects itself and its freedom."
The now-completed visit—the first by a sitting House speaker in 25 years—raises fresh interest in the delicate juggle the US maintains on Taiwan's status. It's a nuanced diplomatic approach that aims to improve relations with China while simultaneously defending Taiwan against Chinese aggression. The US has concentrated its efforts on containing China's influence globally in response to its swift economic and military development.
Because of this, there is now hazardous competition between the two nuclear-armed nations, and even travelling overseas can have strategic repercussions.
Members of Congress routinely travel to hotspots abroad; for instance, just last week, House Armed Services Committee Chair Adam Smith (D-WA) led a delegation of congressmen to Ukraine. The last time a candidate for the US presidency visited Taiwan was when Republican Rep. Newt Gingrich was the speaker in 1997. But the relationship with China has gotten worse since the 1990s, in addition to Pelosi being a prominent member of the same party as Biden. China has adamantly threatened "serious actions" against Taiwan in response to Pelosi's visit and has expressed grave reservations to the White House over the trip. Chinese warplanes flew along the line dividing the Taiwan Strait on Tuesday before Pelosi arrived.
The timing of the trip may be a large part of the unease in Washington and Beijing. The 20th congress of the Chinese Communist Party will take place this fall. This important event is held every five years, and it is anticipated that Xi Jinping will be elected to an unprecedented third term as party leader. He'll probably talk about Taiwan at the conference at a time when analysts compare China's desire to dominate Taiwan to Russia's invasion of Ukraine. (Many people are curious about the lessons China is learning from Vladimir Putin's ruthless adventurism and the West's response.) Last week, Biden and Xi spoke over the phone for two hours to improve US-China relations.
Lev Nachman, a scholar at the Harvard Fairbank Center for China Studies, told me last week that there are terrible timings and worse timings, and this is unquestionably the latter. It is feared that Pelosi's resignation might be the straw that breaks the camel's back.
China often irritates Taiwan with military exercises, but this week's live-fire drills are very near to the island's coastline and are the closest in 25 years. However, there might be something far more offensive. China makes a big deal out of virtually every congressional delegation and every arms transfer that goes through to Taiwan, Nachman claimed. "The concern is: Will that be like, you know, the same shtick they always give us when China says they're going to do something in retaliation? Otherwise, will there be something more?
The goal of House Speaker Nancy Pelosi's trip to Asia was to emphasise the US's "strong and unwavering" commitment to the area. Many nations were left speechless in shock as China carried out unprecedented military exercises near Taiwan.
Days, after she returned to Washington, the shockwaves from the highest-level US visit to Taiwan in a quarter-century, are still echoing throughout the region. Days after firing missiles that most likely flew over Taipei and into waters Japan claims as its exclusive economic zone, China's military has continued training exercises meant to demonstrate its ability to encircle the island and cut off the Taiwan Strait, one of the busiest trade routes in the world.
Such a spectacle would typically lead to considerable criticism of China on its own. However, many governments viewed Pelosi's visit as going too far, and they don't want to get drawn into the controversy. While other security partners in the region remained silent, longtime allies Japan and Australia joined the US in denouncing China's response. Members of the Association of Southeast Asian Nations hurried to reiterate that they only recognise One China after South Korea's leader snubbed Pelosi following the visit, India remained silent, and this is the basic framework Beijing demands diplomatic relations, though interpretations vary across nations.
According to Shahriman Lockman, a director at the Institute of Strategic and International Studies in Malaysia, "most Southeast Asian countries will perceive the United States as having prompted China's entirely inevitable overreaction." "The takeaway for ASEAN members is that you must always hedge your bets. Whose actions might trigger the next crisis in US-China ties is impossible to predict.
Since entering office, President Joe Biden has worked to forge a wide alliance in Asia to oppose Chinese expansionism, in part by reassuring smaller economies that they do not need to choose sides. In stark contrast, the Trump administration pushed the region's nations to impose sanctions on Huawei Technologies Co. and take other actions that would compel them to choose between the two largest economies in the world. The strategy was exemplified by the Indo-Pacific Economic Framework, which Biden presented while travelling to South Korea in May. Although China was left out of the IPEF launch, the US was able to enlist seven Southeast Asian nations as well as Fiji by adamantly stating that it was open to Beijing and excluding Taiwan, even as the administration started parallel trade negotiations with the government of the island.
Despite falling short of the comprehensive trade agreement many in the area hoped for, those broader negotiations signalled a stronger US leadership presence in Asia to confront China in a way that was agreeable to countries that depend on close commercial relations with Beijing to grow their economies. They also praised other US counter-Chinese efforts, such as a drive for closer cooperation in commerce, public health, and cybersecurity, as well as the introduction of an alternative to President Xi Jinping's Belt and Road infrastructure expenditures.
However, Pelosi's visit abruptly forced Asia to take a position on China's most delicate subject after months of trying to make it easy for nations to support the US. However, a lot of governments simply hid their faces.
Assassination of Shinzo Abe & Salman Rushdie – Know Real Facts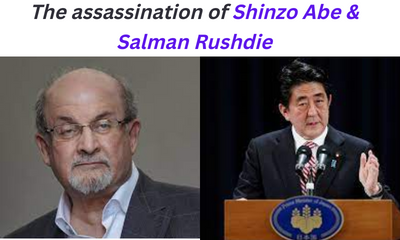 The months July and August of 2022 saw two cases of extermination to promote the fear of terrorism. One of the assassination of Shinzo Abe former Japanese Prime Minister, and another of the famous Novelist Salman Rushdie.
Shinzo Abe succumbed to a gunshot wound, whereas Rushdie's health conditions are improving and he is under medical supervision after the knife attack. However, various assassination attempt of Salman Rushdie has been made during the year.
These two terror acts force us to think about the impact of terrorism on society, the main objective of which is to create an atmosphere of fear so that citizens of the country cannot rely on their government.
This ultimately disturbs the law and order of the society, and serves the terrorists' purpose of creating a chaos.
Here we will see how these two attacks had different reasons but the objective remained the same – to stop someone from propagating his/her opinions independently, and also the factors that make attackers indulge in such acts.
Assassination Attempt of Salman Rushdie – Satanic Controversy
On 12 August 2022, Rushdie was attacked several times by a 24-year-old man Hadi Matar. The attacker's intentions can be linked to Rushdie's fourth novel, The Satanic Verses, published in 1988. Some Muslims considered the novel disrespectful towards Prophet Mohammed.
Soon after its publication, the novel sparked a 'fatwa' or a religious decree. The Iranian revolutionary leader Ayatollah Ruhollah Khomeini called for Rushdie's death in 1989. After, this various assassination attempt of Salman Rushdie has been made.
Complete conversation for Salman Rushdie Assassination:
When asked about the attack Hadi Matar said, "I don't like the person. I don't think he's a very good person. I don't like him very much". He further criticised Rushdie's work by saying, "He's someone who attacked Islam, he attacked their beliefs, the belief systems". Mr. Matar also told New York Post that he had only read 'a couple of pages' of the book and did not tell about whether the fatwa had inspired him or not.
While praising the Iranian religious leader, he stated, "I respect the Ayatollah. I think he's a great person. That's as far as I will say about that".
One can observe that the psychology of the attacker was that he simply disliked the novelist because of his work; although he read only two pages of the novel, but was rather influenced by the religious leaders and their sayings. Just, like this the assassination of Shinzo Abe has been made during this year, which we will discuss on next section.
Perceptions like these can have a long-lasting impact on future generations which can further deteriorate the situation. Violent acts like this demand proper scrutiny of the dissemination of information.
Extremists take advantage of such incidents and brainwash the young minds so that they can be used by them for their selfish purposes.
Assassination of Shinzo Abe – Complete Truth
On 8 July 2022, it was just another day of Abe's political campaign for the upcoming parliamentary elections. He was delivering a speech in Nara City, but no one is the aware about the assassination of Shinzo Abe that day. When a 41-year-old Tetsuya Yamagami shot him twice from behind from a distance of about 10 meters.
During the investigation, he confessed his intentions of killing and it was found that his motives had more to do with religious backing instead of a political reason.
It so happened that Yamagami's mother was a member of a religious group which she joined after her husband's death in 1998. She used to donate huge amounts of money as charity to the group, after the assassination of Shinzo Abe and Yamagami blames the sect for bankrupting his mother.
Confession Statement on Abe Case
The report reveal that Abe was closely associated with the sect, and wanted to take revenge against him for promoting it. "The suspect stated that he held a grudge against a particular organisation and that he committed the crime because he believed former Prime Minister Abe had a connection to it", a senior police officer in Japan's Nara region told reporters.
While the police hasn't given any clarification regarding the unidentified organization, social media in Japan has it that it could be the Unification Church.
Yamagami was unemployed, felt isolated in society, was against religious preaching and blind faith, and wanted to kill the leader of the religious organization but couldn't. One can see the psychological aspects of it that, the killer was anguished with the organisation and blamed them for his conditions and economic turmoil.
Ultimately his grudge converted into a motive of taking revenge for his loss and he did that by killing the perpetrator of the religious group, to give a message to the society and the world that one should avoid themselves from joining or contributing to such groups.
Japan has the strictest gun laws after the assassination of Shinzo Abe , so to bypass such stringent laws the killer used a handmade gun. The occurrence of such incidents in the island nation shows how much resentment the killer has and how strongly he was motivated to commit the murder.
Such incidents are eye-openers for the society that someone's freedom of belief can become others' pain, and teaches that as a society we should try to maintain a balance between them.
Two Paths to Crime
The above two accidents of assassination of Shinzo Abe, and the assassination attempt of Salman Rushdie has been terrifying for the country. First, being a part of a religious group the killer face hardship in his life, which forced him to commit the crime. In the second instance, the attacker got the impression that his religion is being targeted and that it is his responsibility to take revenge so that next time no one dares to do anything like that again.
Interpretation of things based on pre-assumed thoughts can lead to revenge, and revenge based on half-baked knowledge causes harm to the whole humanity, and not just the particular group concerned.