Ho dukki tikki puri thok thok rakhda
Danger te jaan leva shauk rakhda
Doori foot di bana ke mandeer khad di
Dabb vich bhar ke glauk rakhda….
I beat up and keep small gangsters in his control
My hobbies are life-threateningfe threatening
The guys group keeps a distance of foot from me
I keep a loaded gun in hand….
The above lyrics and many others of the same kind have been blasting and reverbing in all major significant clubs of Delhi and Punjab, now with more zeal and enthusiasm as the infamous Punjabi rapper-rockstar Siddhu Moosewala, was unfortunately shot dead by unidentified assailants on 29th May 2022. His songs reflected current Punjabi culture – Gaana, Gun and Gangster. However, it was not exactly him who started the culture or even stemmed a new branch in the existing one. This culture can be traced long before the prevalence of Hip-hop music or Rap-rock. Punjabi songs, for decades, have valorized physical prowess and domination. But those were pertinently countrysongs and pop-music. However, as hip-hop got assimilated into pop music, the songs which came out, especially in the past two decades, have only served as a medium to reinforce the societal norms that define the Jatt machismo.
Moose Wala's tryst with Controversies
Moosewala, nevertheless, enjoyed a meteoric rise in his craft as a musician and enjoyed a massive fan following in his 20s. His musical career took off when he penned lyrics for the song "License" which was anchored by Ninja. The late-singer's tryst with controversy began in 2019 when he released the song titled 'Jatti Jeone Morh Wargi" wherein he was alleged to have showcased the 18th-century Sikh warrior Mai Bhago in bad light. The wide uproar resulted in several FIRs registered against Moose Wala for hurting the religious sentiments of the Sikh community. The singer however tendered an official apology but somewhere also enjoyed the negative publicity that the sensational lyrics garnered. As a result, the artist went onto release another hit song 'Sanju' in July, 2020 wherein he compared himself to the infamous actor Sanjay Dutt, as the singer along with five others, was booked under Arms Act for firing an AK-47 rifle at Badbur firing range. The instance resembled striking similarities with the arrest of Dutt in 1993. Another FIR was also registered against the singer for a video showing him flaunting and shooting his pistol at Ladda Koth firing range. The singer, although, was granted bail but it did not deter him from writing lyrics that undermined the judiciary, police, and advocates. The Punjab Additional Director General of Police Arpit Shukla commented that the said musical projects are being used as a medium to redefine 'masculinity and manhood'. He added that Moosewala has been booked for similar offenses and even called the singer incorrigible who is shaping up to be a hardened goon.
Moose Wala's Impact
The average teenager, adolescent or even an early adult started to idolize the late singer, especially for the fearless vocalization of contemporary issues which resonated with the Punjabi audience. Even his physical appearance the – a bulked up body and extremely imposing handlebar moustache with an inherent liking for arms and guns, gelled well with the young audience. As a result, his sudden death resulted in huge crowd going berserk and manic. Many protested the state government's decision to sack his and many others' security, the day prior to the unfortunate incident. Being a Congress leader as well, the singer's death sparked a political blame game, along with political representatives and spokespersons, targeting the AAP-led Punjab government calling the cabinet immature and relatively unripe.
A rebel without a cause, Sidhu Moosewala's own idol was the late American rapper, Tupac Shakur. The last song of Moose Wala 'The Last Ride' which was released just 15 days ago of his sad demise and was invariably a tribute to his idol, Tupac, depicted stark similarities between the two deaths. For starters, both the artists were sitting in the driver's seat when they were shot. While Tupac Shakur's killing remains an unsolved mystery, an arrest however is made in Moose Wala's case. A gangster named Lawrence Bishnoi has taken the responsibility for the killing of Moose Wala during the interrogation by Punjab Police.
America's Influential Rap Culture and its relationship with guns
Moose Wala started his singing career in Canada after getting inspired by the likes of Tupac Shakur. While Punjab had its own league of artists promoting gun-culture through gangster rap, America was a veteran in this field. Tupac Shakur and many artists like him who have been the flag bearers of gangster-rap culture and suffered a similar fate as that of Moose Wala, show how the increased use of slurs, guns and derogatory slang in street raps has been a major contributor to the increase of gun violence in the recent past. Tupac, for instance, was heavily affiliated with a blood gang from Compton called the mob pirus. He even got a tattoo that said, 'MOB' acronym for 'Members of Blood.' The artist even shouted at them in songs and live performances. The affiliation with street hood gangsters eventually cost him, his life as he was shot out by another gang called the Southside Crips.
This is only one such instance from the bushel. America has a problem with guns, inherently. According to Politico Magazine, 140 mass-public shootings in the US since 1976. The number of mass shootings per year has increased exponentially in the last five years. The United States also is miles ahead of the country which has the second highest shooting i.e., the Philippines. Hence for a country, which is fighting hard against racism and hip-hop being a genre historically villainized by White Americans as promoting violence and celebrating crime, the rappers do need to re-evaluate their relationship with guns and by virtue, projecting it in their songs.
The Stereotype is an exception that leads to biased opinions against a certain group. For instance, Colorado police publicly blamed rap music mentioning that the current positioning of the said art form glorifies, and promotes the demeaning of women. There have been many instances, like the above, wherein the State machinery has targeted the African-American community and burdened them with prejudice and racist ideologies. A very valid argument stands tall against keeping the rap-culture as a whole genre under the microscope just because it flaunts guns and violence as the same can be seen in films made by prolific directors like Martin Scorsese, and Quentin Tarantino, etc. However, the debate revolves around the magnitude of projections of violence or even styling guns as a valued ornament of sorts, The more in-your-face, loud and crystallized form of projection is more accessible through music videos than a prolonged movie with characters having the motive to resort to the ways that they did. While movies have a story and a somewhat arc of black and white (positive and negative), music videos on the other hand are just lyrics embodying heroism and flamboyance.
The moral turpitude of associating violence with rap or vice-versa is huge. According to the CDC data from 2003-2008 from the National Violent Death Reporting System, a big part of homicides among young people is gang-related. And as rappers, historically, have been active members so gangs and therefore are more likely to project it onto their music videos.
Conclusion
Now, while assassination or killing of a person is not justified, a must-answer question arises that, with the growing gun and gangster culture in Punjab, do artists vehemently go out of their way to use abhorrent slang in their songs to gain publicity and fuel their overnight stardom? Moose Wala's loud and brash conduct was no news but was significantly marketed well. With making songs on polarized subjects and flaunting guns to uphold the vigor of manliness, it fits well with the Punjabi youth that was already fighting with drugs.
America on the other hand has an ugly spat with gun violence, and more so with the authorities regulating it. Now more so, as availing of a gun license is easier than getting an abortion. Hence, one can understand, that rap or no rap, projection, and production of guns is not going to slow down if not severed from the root.
Why Olaf Scholz, Chancellor of Germany, is sending a message of Independence by visiting China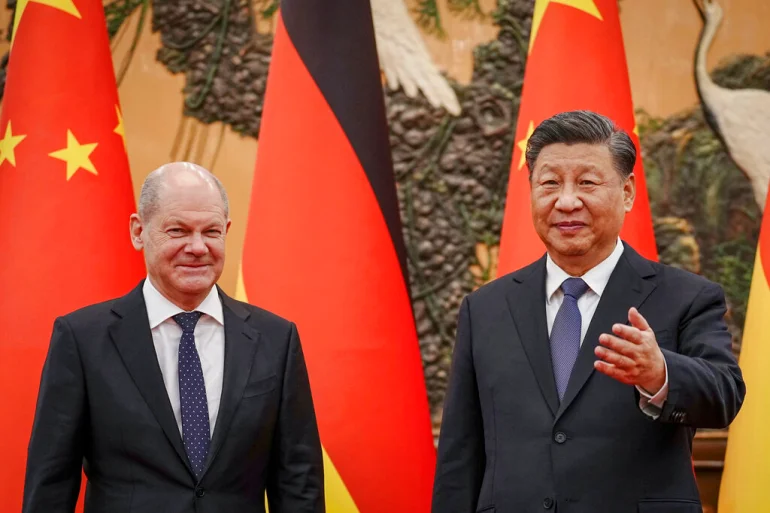 German Chancellor Olaf Scholz was the first G7 head of state to visit China since the outbreak. After the public health crisis, the world changed. The relationship between China and Germany seems to be returning to normal. Since Xi Jinping was re-crowned as the General Secretary of the Communist Party of China, Scholz is the first prominent European figure to visit China.
Nguyen PhuTrong, the head of the Vietnamese Communist Party, Shehbaz Sharif, and Samia Hassan, the president of Tanzania, arrived in Beijing before Scholz. Given that China's relations with Europe have deteriorated due to Uyghur human rights in Xinjiang and Chinese support for Russia in the Ukraine conflict, the Scholz visit last week was positive for Beijing.
Germany's biggest European economy will be even more reliant on China in the first quarter of 2022. During this time, Germany invested €10 billion in China. The amount of bilateral commerce increased by 0.9% to $173.57 billion. Imports from Germany are up 54%. The medium-term ambitions of Germany are in jeopardy due to its 1.9% growth rate.
German investment in China grew by 30% in 2022 despite the Ukraine crisis and criticism of China. A €69.5 billion railway project connecting Tianjin, in North China, and Beijing Daxing International Airport is being financed by KfW (the German state-owned development and investment bank), BASF, Hella, and Robert Bosch. For a total of $17 billion, China is purchasing 140 Airbus planes. Costco, a Chinese shipping business, was permitted to invest in Germany's busiest port, Hamburg, prior to the visit, but with a smaller share. Additionally, the arrival of Scholz coincided with polarization and deteriorating US-China ties. Due to the Ukraine conflict, Germany soon adopted a similar strategy to the US, breaking its contact with Russia.
It maintains caution regarding China because its economic interests are crucial. Scholz met with PM Modi in Berlin after starting his Asia strategy with a visit to Japan rather than China. Germany's foreign policy did not give China top priority, but it is nevertheless significant. It looks inconvenient that the visit comes right after the CCP's 20th National Congress.
Germany confronting China alone has angered Europe. Germany rejected the joint Scholz-Macron visit. The visit by Scholz and a corporate delegation demonstrates a duplication of Angela Merkel's approach. German businesses, which are already suffering from the epidemic, the energy crisis, and the break from Russia, according to the ruling SPD, cannot afford to decouple from China. The German Foreign Ministry criticizes China's human rights record and is developing a new China strategy to counter the systemic rivalry that the EU anticipated.
The Scholz visit revealed strategic independence in Germany. When viewed from the perspective of German relations with Russia, the same autonomy is apparent.
If Germany sways away for its own reasons, how will it continue to lead Europe? Scholz needed to pull many savvy rabbits out of his Beijing visit if he wanted to position Germany and potentially Europe as independent players in the inevitable US-China polarization.
Scholz provided background information for his visit in an opinion piece that was published in the FAZ the day before. Since Merkel's most recent trip to China in 2019, he admitted that the world had undergone significant upheaval. It was crucial to have a face-to-face meeting with Xi in order to address the world's unresolved problems, not because he intended to carry on as normal. China had seen a major upheaval. The German approach had to adapt as well because China had changed.
Additionally, the world had changed. Russia posed a menace that needed Chinese assistance to counter. China was reminded of its unique duty to uphold the UN Charter's ideals and exert influence over Russia as a permanent member of the UN Security Council. This is similar to what China claims about Russia in its Global Security Initiative, which it has yet to put into action. Scholz talked about the necessity of increasing Germany's partnerships and the multipolarity of the world.
Berlin works with various partners because he does not want to see blocs reemerge. China shouldn't be left alone, and a Chinese-dominated world system cannot be cozy. Germany and Europe continue to value China as a trading partner. Berlin didn't want to cut its ties with it. With China, Germany would want more parity and economic diversification. When it came to rare earth, cutting-edge technologies, or raw resources, "risky dependencies" had grown. German enterprises were developing different supply chains. China and Germany will now look for a differentiated basis for trade and investment. Instead of "protectionism and withdrawal," Germany prefers diversity and strengthening.
Scholz's fourth goal was that the disparities between China and Germany, notably those involving political and civil rights, including in Xinjiang, could not be overlooked. Scholz stated that while Germany adheres to the One-China policy, any change to Taiwan's status must be peaceful and reached via mutual consent.
Germany's China policy, according to Scholz, will be effective if it is in line with European policy. In his opinion, there were various areas where China should have a role, including dealing with the G 20, the SDGs, and other things. Before his visit, he consulted with the EU, French President Macron, and the US.
The Chinese readout supports the majority of what Scholz claimed. To preserve Germany's strategic autonomy, Xi is courting it. Despite Scholz's concerns, it stated that "there should be no self-imposed constraints or unrealistic expectations" and publicly disregarded the Taiwan and Xinjiang issues.
This visit is significant because Germany has again demonstrated its desire for strategic independence from the US. Before the Ukraine crisis, which caused them all to flee in the wake of NATO and US leadership, the German coalition and other German and European nations had this as their top priority. Europe is suffering from sanctions and a diminished energy supply due to the standoff in the Ukraine conflict. Despite resistance from within Germany and outside Europe, Germany appears prepared to continue its relationship with China. It must protect its economic growth against the ravages of conflict.